Pharaohs, pyramids, tombs, camel riding, boating on the Nile and a visit to a village school. Combine this with plenty of free time to swim and relax by your hotel pool. A tour designed for children aged 5 and over that is fun and educational holiday for all the family.
Trip Highlights
Cairo – Discover the treasures of King Tut at the Egyptian Museum and see the mummies of mighty pharaohs at the National Museum of Egyptian Civilization
Aswan – Sail the Nile to Elephantine Island aboard a traditional felucca sailboat and visit a local school
Luxor - Uncover the tombs of pharaohs at the Valley of the Kings and explore the vast Karnak Temple complex
The Great Pyramids – Enjoy a tour of this legendary Ancient Wonder of the World and gaze at the iconic Sphinx
Monastery of St Simeon - Ride a camel across the rolling desert sands to this 7th century monastery
Kom Ombo - Visit the perfectly symmetrical Nile side Temple of Kom Ombo and see a mummified crocodile
Included
Breakfast daily, 1 lunch and 1 dinner
1 overnight train from Cairo to Aswan (private 2 berth sleeper cabin) including meals
Aswan - Camel ride to St Simeon's Monastery
Airport arrival and departure transfer, day 1 and day 9
Guided excursions to the Pyramids of Giza, Egyptian Museum, Philae Temple, Aswan Market, Kom Ombo Temple, the Valley of the Kings and Karnak Temple
All relevant transfer and transportation in private modern air-conditioned vehicles
7 nights 4-5 star hotels
Economy flight from Luxor to Cairo
Felucca sailing on the Nile and visit to Elephantine Island
Touring - Cairo, Giza, Aswan and Luxor
Escorted by an Egyptian tour guide, degree qualified in Egyptology
Not Included
International flights and visa
Entrance Fees: Adult USD$90-110pp / Child USD$50-60pp, paid in local currency
Gratuity for your tour guide. We recommend USD$25–35 per adult for the entire tour. Tipping your tour guide is an entirely personal gesture
Tipping Kitty: Adult / Child USD$30-40pp, paid in local currency

Saturday. Welcome to Cairo! Your family will be met by our representative and transferred to the hotel to spend tonight at leisure.
Overnight: Cairo
Cairo
This morning enjoy a guided tour of the Grand Egyptian Museum and discover treasures including the famous gold burial mask of King Tutankhamun. Then we head over to National Museum of Egyptian Civilization to visit the Royal Mummies' Hall, where the mummies of powerful pharaohs are on display. Some of the mummies are so well preserved, they still have thick locks of hair, visible finger nails and smooth, if blackened skin! After our tour we return to the hotel where the rest of the day is free for you to relax and have fun in the pool with your family.

Please Note: the Grand Egyptian Museum is scheduled to open in late 2022, though an official opening date has yet to be released. If travelling prior to the opening of the new facility we'll visit the Egyptian Museum instead.
Overnight: Cairo | Breakfast
Cairo - Aswan. Today, we visit the legendary pyramids and iconic Sphinx at Giza Plateau. Sole survivors from the ancient Greek-listed Seven Wonders of the World. Gaze in awe at the largest of the three great pyramids - Cheops, constructed from over 2.5 million limestone blocks it took more than 20 years to construct. We explore this area on foot and there's the opportunity to venture inside one of the great pyramids. The afternoon is free to relax by the hotel pool with your family or independently explore Cairo before we take the comfortable overnight sleeper train to Aswan.
Overnight: Sleeper Train | Breakfast, Dinner
This morning we arrive into Aswan and take a boat out to Agilika Island to visit the beautiful Philae Temple. After exploring this famous site we make a stop at a perfume oil emporium, the rest of the day is free for you to relax, enjoy the hotel facilities or take a stroll along the riverside corniche and explore. This evening, we'll visit the Aswan market and enjoy the smells of herbs and spices being sold by the local tradespeople.
Overnight: Aswan | Breakfast
Today we enjoy a sailing trip aboard a traditional felucca (small wooden sailing boat) as we cruise the mighty Nile to Elephantine Island. During our guided walk of the island discover many archaeological sites and pay a visit to a local school (if open) before enjoying lunch and some family time back on board. This afternoon is free for you to spend at leisure or join our optional excursion to the fascinating Nubian Museum. The museum is home to more than 3,000 artefacts and scale models from across Egypt's ancient history, from the Pharaohs to the Romans.
Overnight: Aswan | Breakfast, Lunch
Aswan - Luxor. This morning we take a motorboat across the river to the west bank of the Nile, where we enjoy a camel ride across the desert sands to the 7th century Monastery of St Simeon. We explore this site before bidding farewell to Aswan and travelling to Luxor, stopping en route to visit the temple of Kom Ombo. The northern half of this temple was dedicated to the falcon god Horus, whilst the southern half was dedicated to the crocodile god Sobek. The two are perfectly symmetrical and you'll think you're seeing double as we explore.
Overnight: Luxor | Breakfast
We visit Luxor's legendary West Bank this morning - home to the famous Valley of the Kings, the imposing colonnaded temple of Queen Hatshepsut and the gigantic Colossi of Memnon. See how the ancient Egyptians confounded tomb robbers with the construction of elaborate catacombs, once filled with treasures and highly decorated to allow the pharaoh passage to the afterlife.

The day continues with an afternoon trip to the colossal Karnak Temple, which took 1,500 years to complete. Karnak is a spectacular complex of sanctuaries, pylons, chapels, halls and obelisks and the vast Hypostle Hall with its gargantuan columns has to be seen to be believed, it's a great place play hide and seek with the kids! This evening can be spent at leisure with your family, or you can join our optional tour of Luxor Temple, which is beautifully illuminated at night.
Overnight: Luxor | Breakfast
Luxor & the Valley of the Kings
Luxor - Cairo. This morning we leave Luxor, transfer to the airport and fly back to Cairo, where you can enjoy the rest of the day relaxing at the hotel pool with your family or exploring as you please.
Overnight: Cairo | Breakfast
Sunday. Today your Egyptian adventure comes to an end - after breakfast we'll transfer you and your clan to the airport for your onward flight.
Breakfast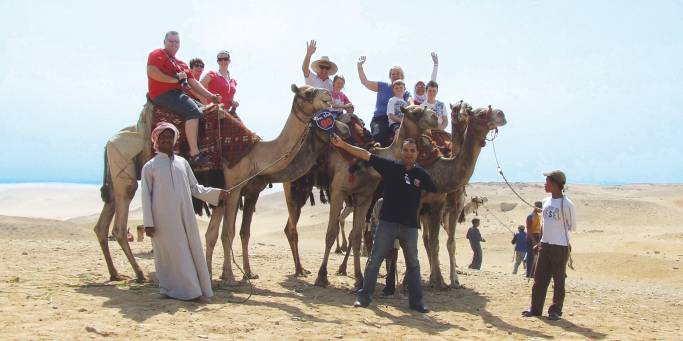 Extend your stay and head to the beach!
Egyptian Family Adventure & Red Sea - 13 days
Enjoy a fascinating, fun-packed and educational family adventure. See the best of legendary ancient Egypt and end your adventure with a beach break in Hurghada, by the Red Sea. It's an interactive adventure for all the family - especially visiting the Nubian island and people of Aswan.
The hotels listed below are ones which we frequently use on this tour. We reserve the right to substitute these hotels to ones of a similar standard.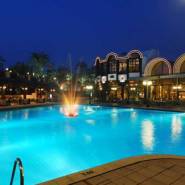 Oasis Hotel, Cairo
Just a stone's throw from the Pyramids, the Oasis Hotel is a classic Egyptian hotel with beautiful expansive gardens. Rooms are very spacious with comfortable beds and fantastic en suite facilities. Wi-Fi is available and the buffet breakfast offers a good spread. In the evening the outdoor pool and fountains are lit up making the restaurant and bar the perfect place to spend an evening sipping on a cold glass of beer.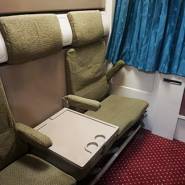 Sleeper Train, Cairo
When travelling on an overnight train in Egypt, sleeper carriages offer the highest level of comfort. Cabins are equipped with two beds (one above the other), a basin, electric points and air conditioning. Freshly laundered bedding is provided and in the early evening an attendant will come round and make up your bed for you. The carriages have toilets at each end and there is a club car which serves snacks and beverages. In the morning a very basic breakfast is provided.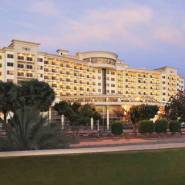 Tolip Hotel, Aswan
Set in manicured gardens, the Helnan Aswan is an elegant hotel with impressive views of the Nile. Guest rooms are spacious with modern interiors and located next to the beautiful pool. Wi-fi is available in the lobby and by the pool. There are also two restaurants and bars, a bowling alley, a swimming pool and a cinema. Why not relax by the pool before exploring the rest of Aswan.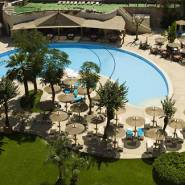 Aracan Hotel, Luxor
Offering a prime location in the centre of Luxor, this 4-star hotel is close to top attractions including the Luxor Museum and Luxor Temple. Surrounded by manicured gardens, the contemporary-style guestrooms are well-equipped with air conditioning, a minibar and a balcony overlooking the garden or River Nile. Guests can enjoy a rich breakfast, lunch and dinner in the sun-lit restaurant or outdoors by the resort style pool. There you'll also find a poolside bar and sun deck, so you can enjoy a cocktail or two as you soak up the rays.
"
What an amazing trip, On the go tours surely covered alot. They have looked after us from day one, the tour guide Sherif most definitely made us all feel at home. His was thorough. He made sure everyone came back to the hotel safely. We were spoilt with water everyday, wake up calls, assistance to super locations, A big welldone. He assisted with excellent service in order to visit extra sites. I could not rate Egypt lower than Excellent"
Kevin Abdurahmann
• Submitted 27 Jan 2020
Tour





Guide





Country





"
My daughter and I thoroughly enjoyed our Egyptian Family Adventure Tour and we would definitely recommend this tour to any family! Our Tour Guide, Ahmed, was extremely approachable and helpful, making sure that we are comfortable and have everything we need, especially at the start and the end of the tour.
Our Tour Guide, Helal, was so friendly, flexible and accommodating, so that everyone felt at ease, whether sightseeing, having meals or shopping at a market. He was prepared to change plans to suit everyone, at the same time making sure that we were not missing out on any of wonderful experiences!
Helal's fantastic knowledge and passion for the History of Ancient Egypt made sure that all of us learnt amazing details about it! This included adjusting his explanations to keep children interested, making them a part of a story.
Any parent knows how hard it can be to travel with kids, especially on long trips overseas, when they are trying to adjust to time difference, picky eaters, tired and grumpy... Helal made it so easy for us all, ensuring the kids were having fun and a good play, allowing parents to relax and have a bit of a break too.
Safety being one of the main concerns before the trip, we were so impressed by how safe we were made feel by our Tour Guide and Leader, who were always there for us with a helpful advice at any time and about anything.
Overall, we had fantastic time, learnt a lot and loved our experiences! We would love to come back again and would recommend this tour to everyone.
Thank you so much!"
Elena McLuskie
• Submitted 15 Apr 2019
Tour





Guide





Country





"
Helal was a very professional tour guide with a thorough knowledge of ancient Egypt. We really enjoyed learning about the ancient gods and pharaohs.
Helal also provided cultural experiences and information, chose a range of different restaurants, was respectful, attentive, patient, funny and kind. He was fantastic with the kids and adults.
Special thank you from us for taking special care of our dietary needs. I have a severe food allergy (wheat) and my husband is a vegetarian. We were never unwell and had plenty of delicious food to eat.
He kept us safe discretely, and gave clear directions about safety, meeting places etc. We appreciate his efforts and care.
My only suggestion would be to add activities I to the last day in Cairo. Perhaps Saqqara and Memphis. We also would suggest a change to the first hotel near the Sphinx."
June Cleverly
• Submitted 01 Jan 2019
Tour





Guide





Country





"
The tour was great. It was busy, but there wasn't anything that we would have wanted to miss out! The hotels were all of good quality, comfortable and in good locations.
Helal was a great guide and was not only knowledge and generous with his time, but tirelessly patient with the children. He took us to some really interesting local restaurants and really helped with tired children. His pitch for explaining the complexity of the ancient relationships and timelines was perfect, enough information for adults and quirky stories for the children.
We were also happy to have the change to flights as I think it probably worked for us better than the overnight trains would have.
I would highly recommend the tour and especially Helal to anyone thinking about visiting Egypt."
Caroline Sparke
• Submitted 12 Nov 2018
Tour





Guide





Country





"
Dear On The Go Tours,
My family and I have just completed a 10 day tour of Egypt with your company, and I want to tell you we've been thrilled with your service. Your Egyptian Family Adventure was ideal for us and our children aged 10 and 9.
Before we came we were a little worried about our security in Egypt, particularly since the first democratic election results were announced while we were here, but you've helped us feel completely at ease during our time in Egypt. Your company was very well organised - our transport and accommodation was well managed throughout the tour. Your tour guides gave us excellent advice for staying in Egypt e.g. what we needed to bring with us and how to respond to people wanting to sell us souvenirs.
Seeing the ancient Egyptian pyramids, tombs and temples first hand was absolutely amazing - pictures and words cannot properly describe their sheer awesome scale. Our personal guide Mr. Helal was a true expert w ho was able to clearly explain the meaning of what we were seeing and answer our questions.
I recommend visiting Egypt with 'On The Go' without reserve."
Paul Sanderson
• Submitted 03 Sep 2018
"
We had a marvelous time -- and Halel was so kind and helpful. We only wish more people would visit Egypt!"
John Nagle
• Submitted 01 Jul 2018
Tour





Guide





Country





"
We spent 10 weeks travelling around the world, including a visit to Egypt on your 10 Day Family Adventure in September. The children both agree that your tour was the highlight of the entire journey and I have to say I agree with them! We were made so welcome by your staff and the people we encountered. We absolutely loved the quirky opportunities such as camel riding and haggling in the local bazaars. The hotels were excellent - clean and refreshing and our tour guide, Helal, was like a favourite uncle to the kids on the tour. He was the perfect tour guide - organized, relaxed and friendly. Apart from keeping the kids entertained, he made it so easy for the adults to enjoy the sights too. This tour was so well thought out and combined so many amazing elements. I just hope many more people take the opportunity to visit this amazing country and do so with one of your tours. We certainly intend to travel with On the Go again! Thank-you so much. "
Michael McLean
• Submitted 27 Apr 2018
Tour





Guide





Country





"
We are so glad we went on this trip. We loved it! We covered a lot of Egypt that we would not have done on our own. Our guide worked tirelessly for the group. He was very informative. Helal was very good with everyone especially the kids. He taught them a lot of new games. We learnt a lot of history and he explained everything at the kids level so everyone could understand. Love the Egyptian cuisine he took us to. Helal coordinated mini buses, trains and us and very efficient. The man has patience! All the accommodations of very good standard. Would highly recommend trip and guide!
Fernando says, 'Our trip was great, I have learnt many things from that trip. Our breakfast buffet was always amazing. The historical sites we visited were fantastic'. "
Carlos, Tinny & Fernando Hunte
• Submitted 27 Apr 2018
Tour





Guide





Country





"
The small group was wonderful, Sam really made the tour work, he was so brilliant. | had the time of my life!"
Evan Predavec
• Submitted 28 Jan 2011
"
This tour was beyond my expections in so many ways, the beauty of this country is amazing, our guide was absolutely incredible he had a wonderful knowledge of Egyptology."
Michelle Brunton
• Submitted 28 Dec 2010
In Brief
Range
Trip Type
Starts
Cairo
Ends
Cairo
Departs
Saturdays
Group Size
Min 4 / Max 18
Hotel Rating
4 - 5 star
Tour Guide
Yes, escorted by a tour guide
Meals
Breakfast: 8, Lunch: 1, Dinner: 1
Visiting
Cairo, Aswan, Luxor, Pyramids of Giza
Countries
Tour Add-ons
Enhance your trip with these amazing added extras and add-ons
"
What an amazing trip, On the go tours surely covered alot. They have looked after us from day one, the tour guide Sherif most definitely made us all feel at home. His was thorough. He made sure everyone came back to the hotel safely. We were spoilt with water everyday, wake up calls, assistance to super locations, A big welldone. He assisted with excellent service in order to visit extra sites. I could not rate Egypt lower than Excellent"
Kevin Abdurahmann
OTG000278
Egyptian Family Adventure - 9 Days
Middle East & North Africa
Signature
Middle East & North Africa
false
0
Egypt
https://www.onthegotours.com/nz/Egypt/Egyptian-Family-Adventure-9-Days
https://www.onthegotours.com/repository/ClassicFamilyAdventureItineraryMainGroupTourEgypt-47491241518466_crop_flip_300_300_f2f2f2_center-center.jpg
Family_Holidays