Enjoy a fun and educational family adventure in ancient Egypt. Explore the iconic Pyramids of Giza and the tomb strewn Valley of the Kings in Luxor, camel ride across the dunes in Aswan, sail on a felucca and visit a local school, before heading to the beach on the beautiful Red Sea Riviera. This tour welcomes children aged 5 years and above.
Trip Highlights
Cairo – Discover the treasures of King Tut at the Egyptian Museum and see the mummies of mighty pharaohs at the National Museum of Egyptian Civilization
Aswan – Sail the Nile to Elephantine Island aboard a traditional felucca sailboat and visit a local school
Luxor - Uncover the tombs of the pharaohs at the Valley of the Kings and explore the vast Karnak Temple complex
Kom Ombo - Visit the perfectly symmetrical Nile side Temple of Kom Ombo and see a mummified crocodile
The Great Pyramids – Enjoy a tour of this legendary Ancient Wonder of the World and gaze at the iconic Sphinx
Monastery of St Simeon - Ride a camel across the rolling desert sands to this 7th century monastery
Hurghada – Relax on the beach and enjoy an optional snorkelling adventure in the tranquil Red Sea
Included
Breakfast daily, 1 lunch and 2 dinners
1 overnight train from Cairo to Aswan (private 2 berth sleeper cabin) including meals
Aswan - Camel ride to St Simeon's Monastery
Airport arrival and departure transfer day 1 and day 13
Guided excursions to the Pyramids of Giza, Egyptian Museum, Philae Temple, Aswan Market, Kom Ombo Temple, the Valley of the Kings and Karnak Temple
Escorted by an Egyptian tour guide, degree qualified in Egyptology, days 1 to 10
2 nights 4 star hotels and 9 nights 5 star hotels - all with swimming pools
Economy class flight from Hurghada to Cairo
Aswan - Felucca sailing on the Nile and visit to Elephantine Island
Touring - Cairo, Giza, Aswan, Luxor and Hurghada
4 night Hurghada Red Sea stay - Swim, sun and sand
All relevant transfer and transportation in private vehicles
Not Included
International flights and visa
Entrance Fees: Adult USD$90-110pp / Child USD$50-60pp, paid in local currency
Gratuity for your tour guide. We recommend USD$25–35 per adult for the entire tour. Tipping your tour guide is an entirely personal gesture
Tipping Kitty: Adult / Child USD$40-50pp, paid in local currency

Welcome to Cairo and the beginning of your Egyptian adventure. Arrive at the airport where our representative will meet your family before you're transferred to the hotel to spend tonight at leisure in Egypt's capital.
Overnight: Cairo
Cairo
This morning enjoy a guided tour of the Grand Egyptian Museum and discover treasures including the famous gold burial mask of King Tutankhamun. Then we head over to National Museum of Egyptian Civilization to visit the Royal Mummies' Hall, where the mummies of powerful pharaohs are on display. Some of the mummies are so well preserved, they still have thick locks of hair, visible finger nails and smooth, if blackened skin! Returning to the hotel, the rest of the day is free for you to relax with your family by the pool.

Please Note: the Grand Egyptian Museum is scheduled to open in late 2022, though an official opening date has yet to be released. If travelling prior to the opening of the new facility we'll visit the Egyptian Museum instead.
Overnight: Cairo | Breakfast
Cairo - Aswan. Visit Egypt's most iconic attraction today as we discover the legendary Pyramids of Giza and the Sphinx at the Giza Plateau. Sole survivors of the ancient Greek-listed Seven Wonders of the World, they were constructed from over 2.5million limestone blocks, taking more than 20 years to build. We enjoy a guided tour of the site and there is also the opportunity to enter one of the pyramids itself. Spend the afternoon exploring Cairo at leisure or relaxing by the hotel pool with your family, before we take the comfortable overnight sleeper train to Aswan this evening.
Overnight: Sleeper Train | Breakfast, Dinner
On arrival in Aswan we visit the scenic Philae Temple, on Agilika Island in the Nile, followed by a stop at a perfume oil emporium. We then check-in to the hotel, where the afternoon is at leisure. Perhaps take a stroll along the riverside corniche, visit the Aswan Botanical Gardens or enjoy an afternoon by the pool. This evening, we'll visit the bustling Aswan market and enjoy the smells of herbs and spices being sold by the local merchants.
Overnight: Aswan | Breakfast
Enjoy a traditional felucca ride today as we sail on the mighty Nile to Elephantine Island. During our guided walk of the island we discover many archaeological sites and pay a visit to a local school (if open) before enjoying lunch and some family time back on board. This afternoon is free for you to spend at leisure or there is an optional excursion to Aswan's Nubian Museum. The museum is home to more than 3,000 artefacts and scale models from across Egyptian ancient history.
Overnight: Aswan | Breakfast, Lunch
Aswan – Luxor. Today begins with a motorboat ride across the Nile to the West Bank. Here we enjoy an exciting camel ride across rolling sand dunes to the 7th century St Simeon's Monastery. Later today we drive to ancient Luxor, stopping en route at the famous double temple of Kom Ombo. This perfectly symmetrical temple was dedicated to both the crocodile god Sobek and the falcon god Horus.
Overnight: Luxor | Breakfast
This morning we explore the famous Valley of the Kings on Luxor's West Bank, where mighty pharaohs including Tutankhamun were laid to rest. Explore two of the ancient tombs and discover the beautiful carvings and hieroglyphs on the walls to get a sense of the power and importance of these ancient kings. Later, we'll visit the beautiful Temple of Queen Hatshepsut and see the towering Colossi of Memnon, two giant statues of the Pharaoh Amenhotep III.

The adventure for today doesn't end there - this afternoon we visit the gigantic Karnak Temple, which took around 1,500 years to complete. See the Avenue of Sphinxes and gaze at the enormous columns and statues which make up this complex site. The evening is free to relax with your family at leisure, or you may wish to join our optional tour of Luxor Temple, brilliantly illuminated by hundreds of lights at night.
Overnight: Luxor | Breakfast
Luxor's Valley of the Kings
Luxor - Hurghada. Say goodbye to Luxor today as we drive to the popular resort of Hurghada, on the shore of the Red Sea. Enjoy a short orientation walk before spending the rest of today relaxing on the beach with your family.
Overnight: Hurghada | Breakfast, Dinner
Enjoy free time to relax in Hurghada today or join our optional snorkelling trip on the beautiful Red Sea. Sail to a nearby coral reef and swim alongside colourful fish, turtles and maybe even a friendly dolphin or two. Later, enjoy lunch and drinks onboard before we return to shore.
Overnight: Hurghada | Breakfast
Spend days 10 and 11 independently in Hurghada, enjoying the vibrant resort with your family. Soak up some sun and swim in the turquoise waters, relax on the beach or by the pool, and enjoy the many bars and restaurants that the city has to offer.
Overnight: Hurghada | Breakfast x 2
Our Egyptian adventure comes to an end today with an included transfer to the airport for your flight home.
Breakfast
The hotels listed below are ones which we frequently use on this tour. We reserve the right to substitute these hotels to ones of a similar standard.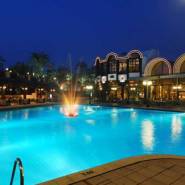 Oasis Hotel, Cairo
Just a stone's throw from the Pyramids, the Oasis Hotel is a classic Egyptian hotel with beautiful expansive gardens. Rooms are very spacious with comfortable beds and fantastic en suite facilities. Wi-Fi is available and the buffet breakfast offers a good spread. In the evening the outdoor pool and fountains are lit up making the restaurant and bar the perfect place to spend an evening sipping on a cold glass of beer.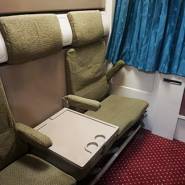 Sleeper Train, Cairo
When travelling on an overnight train in Egypt, sleeper carriages offer the highest level of comfort. Cabins are equipped with two beds (one above the other), a basin, electric points and air conditioning. Freshly laundered bedding is provided and in the early evening an attendant will come round and make up your bed for you. The carriages have toilets at each end and there is a club car which serves snacks and beverages. In the morning a very basic breakfast is provided.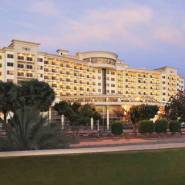 Tolip Hotel, Aswan
Set in manicured gardens, the Helnan Aswan is an elegant hotel with impressive views of the Nile. Guest rooms are spacious with modern interiors and located next to the beautiful pool. Wi-fi is available in the lobby and by the pool. There are also two restaurants and bars, a bowling alley, a swimming pool and a cinema. Why not relax by the pool before exploring the rest of Aswan.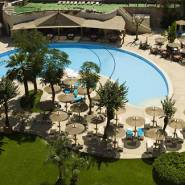 Aracan Hotel, Luxor
Offering a prime location in the centre of Luxor, this 4-star hotel is close to top attractions including the Luxor Museum and Luxor Temple. Surrounded by manicured gardens, the contemporary-style guestrooms are well-equipped with air conditioning, a minibar and a balcony overlooking the garden or River Nile. Guests can enjoy a rich breakfast, lunch and dinner in the sun-lit restaurant or outdoors by the resort style pool. There you'll also find a poolside bar and sun deck, so you can enjoy a cocktail or two as you soak up the rays.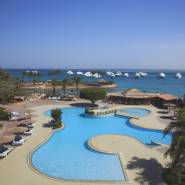 Marriott Beach Resort, Hurghada
The Marriott Beach Resort is a luxurious beachfront hotel, with every room enjoying a view of the Red Sea and Hurghada city centre just a few minutes drive away. There is a choice of 8 restaurants and bars for hungry travellers, and a health club, tennis & squash courts, and fitness centre to stay in shape. During the day, soak in the heated outdoor pool or book a watersport activity. The hotel even has its own private island if you fancy a massage among the palm trees.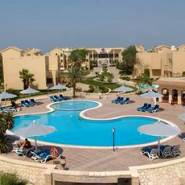 Swiss Inn Resort Hurghada, Hurghada
Set in tropical gardens, the Swiss Inn Resort makes for a comfortable and relaxing stay. The property is equipped with large swimming pools and a private beach. All rooms have a balcony or terrace with views of the garden, pools or sea. Guests can work out in the onsite fitness centre, get active at the watersports centre, enjoy a game of tennis or simply relax with a drink in one of the many bars or lounges.
"
Great itinerary! Great Guide!"
Scott Mulcahy
• Submitted 10 Jan 2020
Tour





Guide





Country





"
We enjoyed this tour very much. Our tour guide Helal was awesome and made sure we were well taken care of. He was always by our side if we ever needed anything. His knowledge was very impressive and made the tour really interesting. "
Dimithri Wijenaike
• Submitted 23 Jul 2019
Tour





Guide





Country





"
We had a fantastic tour through Egypt which was due mainly to the friendliness and professionalism of our guide, Yasser El Sayed.
We were lucky enough to have Yasser solely to ourselves as our family was the only people on this particular tour. Yasser's in depth knowledge of his tour subject matter was amazing and he was able to explain things to us in such a clear and understandable manner which allowed us to experience Egypt's history as though we were actually living it. Yasser's knowledge, professionalism, friendliness and care for us was nothing short of exceptional. If we are fortunate enough to return to Egypt in the future, we would definitely travel with On the Go Tours and absolutely request for Yasser to be our guide. "
Peter Sawyer
• Submitted 05 Apr 2019
Tour





Guide





Country





"
Our guide was a gem very knowledgeable and thorough in his guiding. Gave us great tips on how to navigate our way around Egypt (especially the markets) and always made sure we were safe and looked after. The kids loved him and the little gifts he gave everyone to introduce us to Egyptian culture. We're especially grateful for the effort he made to make my mother's birthday so special on Christmas Day, it was a memorable time for us all. Thanks On The Go."
Waimen Chan
• Submitted 08 Jan 2019
Tour





Guide





Country





"
Tour was amazing, Helal was so unbelievably helpful, friendly, safe to be around, trustworthy."
Samantha Presland
• Submitted 10 Nov 2018
Tour





Guide





Country





"
This was the trip of a lifetime. The tour was a excellent mix of all the ancient sites in Egypt we have always wanted to visit; a view into modern day life; time for relaxation in the great hotels and the amazing snorkeling in the Red Sea, and was well paced for our family with 3 children. Our guide, Ahmed Helal was endlessly knowledgeable and caring - our children just told me to describe him as "#best tour guide ever". We were so well looked after by On the Go from the moment we landed in Cairo until passport control as we left, with all arrangements seamlessly completed. This is a great time to visit Egypt to see the wonders of the ancient world as well as life today in this amazing country. "
Jake Mcgrane/McClean Family
• Submitted 10 Oct 2018
Tour





Guide





Country





"
Hi Charlie,
Just a note to say thanks for an excellently organised trip. We had a fantastic time.
In particular I would like to complement your staff in Egypt. All the reps were superb, the organisation was impeccable and they all went out of their way to make sure everything went according to plan. The two guides we had were equally brilliant with amazing knowledge and real enthusiasm about their subjects. The kids were fascinated throughout.
We had a problem with our return flights. Swiss Air did not have us on the passenger list. Not your problem of course but despite this your airport guy spent a very stressful and increasingly frantic 3 hours fixing the problem and dealing with a myriad of airport staff who really couldn't care less. He managed to get us onto the flight with 10 minutes to spare! The guy is a hero. If it weren't for his efforts there is no way we would have been able to sort it out so big thanks there.
Cairo, Aswan and Luxor were wonderful and exciting with great hotels and brilliant tours.
All in all a great trip, well done. I wont hesitate to recommend this trip and to recommend On The Go. "
Jez Campbell
• Submitted 03 Sep 2018
"
The family tour has meant that the pace was not too hectic, although even then the kids have been wilting a bit under the onslaught of sights, sounds and general excitement combined with too little sleep. A great guide has made an enormous difference there. Mo is very knowledgeable, very patient and sensible enough to adjust the itinerary if it will make things easier. Having one single guide also means that he's been able to reinforce the stories and information he's given us and that made each site we visited more meaningful.
The most significant thing, though has been the kids being able to play with, and just be with, other kids. For the last week our two boys have been part of a little group of kids doing their own thing. They cluster down the back of the mini-bus, they scream around the pool, last night they sat at their own table in the restaurant.
We'd highly recommend an On the Go family tour to anyone who wants to see Egypt with their kids. With 20-20 hindsight we'd add in the few extra days at the Red Sea at the end to relax."
Regina Bent
• Submitted 17 Mar 2018
Tour





Guide





Country





"
Dear Sarah
I just wanted to write and thank you for organising our unforgettable trip to Egypt. We had the most amazing time and will treasure our memories of it.
The representative of On The Go were wonderful - they looked after our every need and often went beyond the call of duty to make sure we had the best experience. Our guide Ahmed Helal was excellent. His thorough knowledge of Egyptology was evident and he managed to convey information in a very skilful way, introducing a subject and later picking it up so that our knowledge deepened and the things that we saw made more sense as we put it all into context. He also ensured that we had the best experience of our tour, seeing temples and picking out details that we would never have seen otherwise.
Ahmed was not only a wonderful and incredibly knowledgable guide but he was also excellent at getting things done. He sorted out all practical details pf our stay, making sure that we had adjoining rooms etc in such a way that we had a very comfortable and wonderful experience. He made sure that we always knew where he was so that we could contact him if we needed to, so we had no concerns of any kind throughout the trip.
In Cairo we were excellently looked after by Abdul, who took us to Khan al-Khalili Bazaar on our last night, which gave us a truly memorable end to our stay. Abdul (Midou) was so much fun and very charming and we all really enjoyed his company.
The tour itself was incredible and the variety of location and what they had to offer meant that each day brought a fresh marvel! The Pyramids and Sphinx were phenomenal - to actually be was amazing. The camel rides were great fun too! Visiting Aswan and sailing on the Nile to visit the Nubian village was an unexpected hi-light for me. The Nile is such a beautiful river! Luxor blew us all away - it is just such an incredible place. The Valley of the Kings has such an eerie desolation about it, and we were lucky enough tho find Tutankamun's tomb open so fulfilled a lifelong wish to visit that. That night we visited Luxor Temple in the evening, which was magical. We had a hot air balloon ride the next morning and then visited Karnak. Each day enriched the others and it gave us a very full and many layered experience.
The journey to Hurghad was another unexpected high point - discovering the country and the change from lucy Nile valley to arid but beautully colourful desert was eye opening. Then the last few day spent in Hurghada was a wonderful way to digest and relax, and very popular with our teenage children. The snorkelling was out of this world!
All the hotel we stayed in were amazing in different ways, but Hurghada was so much fun, and the staff were very friendly. The food was great throughout and the rooms luxurious and comfortable.
Thank you once again for a truly wonderful experience. We would not hesitate to recommend it to everyone and will be telling our friends all about it!
With very best regards "
Jeannie Donald-McKim
• Submitted 05 Jan 2017
Tour





Guide





Country





"
Great Staff! Great organisation! Great Tour! Thank you. "
Anthi Campbell King
• Submitted 16 Sep 2014
In Brief
Range
Trip Type
Starts
Cairo
Ends
Cairo
Departs
Saturdays
Group Size
Min 4 / Max 18
Hotel Rating
4 - 5 star
Tour Guide
Yes, escorted by a tour guide
Meals
Breakfast: 12, Lunch: 1, Dinner: 2
Visiting
Cairo, Aswan, Luxor, Hurghada, Pyramids of Giza
Countries
Tour Add-ons
Enhance your trip with these amazing added extras and add-ons
"
Great itinerary! Great Guide!"
Scott Mulcahy
OTG000279
Egyptian Family Adventure & Red Sea - 13 days
Middle East & North Africa
Signature
Middle East & North Africa
false
15
Egypt
https://www.onthegotours.com/nz/Egypt/Egyptian-Family-Adventure-and-Red-Sea-13-days
https://www.onthegotours.com/repository/EgyptianExplorerItinerary2FamilyToursEgypt-148871314001120_crop_flip_300_300_f2f2f2_center-center.jpg
Family_Holidays