Embark on a 6-day small group tour through irresistible Italy. Explore the ancient city of Pompeii, frozen in time by the eruption of Mount Vesuvius. Experience the glamour of the Amalfi Coast with its pastel-hued villages, chic boutiques, and stunning sea views. Discover the rural delights of Puglia, including Trani, Lecce and Alberobello. Hike to the crater of Mount Vesuvius and uncover the rich history of this remarkable region. It's an unforgettable Italian adventure that captures the essence of la dolce vita.
Trip Highlights
Montecassino Abbey - Marvel at this working monastery and pilgrimage site, a centre of art, culture and learning
Lecce - Stroll through the old town and admire the city's unique 'Lecce Baroque' architecture
Matera - Explore the historic centre of the city, Sassi di Matera, which is known for its cave dwellings carved into a river canyon
Mount Vesuvius - Hike up this infamous volcano, which buried Pompeii in 79 AD, reaching the rim of the volcano's crater
Alberobello - Wander around the narrow streets and discover the more than 1500 small, rounded, white, UNESCO listed houses known as trulli
Gallipoli - Take a trip to this vibrant coastal town, known for its pretty harbour and historic outer walls
Amalfi Coast - Enjoy a ferry cruise along the Amalfi Coast as you marvel at the vibrant colours and stunning views of the seaside towns
Pompeii - Discover the history and tragedy of the most famous eruption in history and learn about the lives of those who lived in Pompeii
Included
5 breakfasts
Escorted by an English-speaking guide
Entrance to Montecassino Abbey
Entrance to Pompeii Archaeological Site
20kg luggage - see Trip Notes for details
5 nights in 3-4 star hotels
Transportation in an air-conditioned luxury mini-coach with a local driver
Entrance to Vesuvius Volcano Crater
Amalfi Coast ferry tickets
Tourist taxes
Not Included
International flights & visas
Meals not specified in itinerary
Entry fees unless specified
Airport transfers
Tipping - an entirely personal gesture!
Rome - Montecassino - Benevento - Ariano Irpino. Departing Rome this morning, we head south to serene Cassino. Perched atop a mountain, Montecassino Abbey, a working monastery and pilgrimage site, boasts a rich history of art, culture, and learning. It was also a pivotal World War II battle site. The entrance ticket is included, allowing us to explore the monastery and contemplate its war-torn past.

Next, we visit the overgrown ruins of San Pietro Infine before journeying through hilltop villages and mountains to Benevento. This ancient city is steeped in memories of Samnites, Romans, and Longobards. Legends even tell of witches gathering by an ancient walnut tree along the local river. After a day filled with history, legends, and stunning views, we continue southeast to Ariano Irpino where we stay overnight.

Please note: Pick up point for this tour is at 8:15 on day 1 (tour departs at 8:30) - Rome Pick Up, Hotel American Palace, Rome.
Overnight: Ariano Irpino
The Pearl of Apulia, Alberobello & Lecce
Ariano Irpino - Trani - Alberobello - Lecce. Today we head south to Puglia, the 'hell' in Italy's boot. We begin our day with a journey south to Trani, known as the 'Pearl of Puglia.' This historic stone-built port and fishing town features a marina promenade, medieval churches, cathedral, and a historic Jewish quarter to explore. Next, we head to Polignano a Mare, an idyllic seaside town perched on cliffs. Enjoy lunch independently amidst sun-bleached stone buildings and watch brave cliff divers disappear into the Adriatic waters.

Our adventure continues in Alberobello, home to over 1,500 unique trulli houses, which are round and made of stone. They have been awarded UNESCO World Heritage status. Stroll through the charming streets and marvel at these photogenic dwellings. Finally, we head south to Lecce, which serves as our base for the next two nights.
Overnight: Lecce | Breakfast
Exploring Lecce, Otranto & Gallipoli
Lecce - Otranto - Gallipoli - Lecce. This morning, there is free time after breakfast to explore Lecce's old town, admiring its unique Baroque architecture, often referred to as 'Lecce Baroque.' In the afternoon, we depart for the relaxed seaside towns of the Salento Peninsula. We travel through ochre-coloured fields and olive groves to Otranto, where we can stroll along the fortifications, harbour promenade, and sample local cuisine.

Continuing our journey, we head to the aptly named "beautiful city" of Gallipoli, a charming beachside town with crystal blue waters surrounding its old town. Here we take a leisurely walk before concluding our coastal exploration. Finally, we journey back to Lecce for the evening.
Overnight: Lecce | Breakfast
Matera & The Lucanian Dolomites
Lecce - Matera - Castelmezzano - Salerno. We leave Lecce for the UNESCO World Heritage Site of Matera, a city seamlessly integrated into rocky cliffs with a maze of ancient cave dwellings, houses, and churches. Here we explore its rich history by visiting churches adorned with stone cave wall paintings and discovering locations featured in Mel Gibson's "Passion of the Christ."

Our adventure continues as we journey into the heart of the Lucanian Dolomites, arriving at Castelmezzano, one of the Basilicata region's highest villages perched dramatically on a narrow ledge overlooking a gorge. We can discover its rich history and hike to the castle ruins that inspired its name. After an eventful day, we traverse the hills and mountains of Basilicata, heading towards the west coast of Italy, where we spend two nights in Salerno.
Overnight: Salerno | Breakfast
The Amalfi Coast
Salerno - Amalfi - Salerno. Today we indulge in the glamour of the Amalfi Coast, where pastel-hued houses, chic boutiques, and gourmet dining embody La Dolce Vita. We begin by exploring Sorrento, a town famous for its lemons and dramatic cliffs, which have inspired literary greats throughout history. We can wander sun-soaked piazzas and savour a glass of cold limoncello. Next we reach Positano, a vibrant and colourful, multi-tiered town clinging to the sea cliffs. Enjoy lunch at a scenic restaurant overlooking the Tyrrhenian Sea, and then peruse local boutiques, or descend to the beach for a swim and sunbathing.

After our Positano visit, we board a ferry for a leisurely cruise along the dazzling Amalfi Coast, with stops in charming towns and opportunities for photos. As the day winds down, we return to Salerno in the late afternoon. We recommend watching the sunset this evening with a drink in hand.
Overnight: Salerno | Breakfast
Mount Vesuvius, Pompeii & Rome
Salerno - Vesuvius - Pompeii - Rome. This morning we head north to find Mount Vesuvius, once considered divine and associated with Jupiter, the god of sky and lightning. Legends even speak of giants inhabiting the volcano, explaining its rumblings. Now dormant, we enjoy an unforgettable hike to its crater - remember to pack suitable walking shoes!

Following this, we visit Pompeii, a city frozen in time by Vesuvius' 79 AD eruption. We explore this archaeological site which offers a glimpse into ancient Roman life. Then we begin our journey back to Rome, leisurely travelling through Campania and Lazio. Arriving back in Rome in the early evening, our tour comes to an end.

Please note: This tour finishes at 18:30 - Rome Pick Up, Hotel American Palace, Rome.
Breakfast
The hotels listed below are ones which we frequently use on this tour. We reserve the right to substitute these hotels to ones of a similar standard.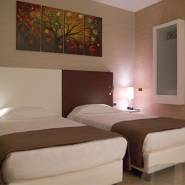 Hotel Incontro, Ariano Irpino
Hotel Incontro is a luxurious haven nestled in the heart of Campania. Its perfect location offers easy access to Ariano Irpino's historic town centre, where guests can explore local culture and attractions. The hotel's rooms are elegantly designed, providing a comfortable and upscale atmosphere for a rejuvenating stay. Amenities include a world-class spa, fitness centre, indoor pool, and a gourmet restaurant serving delectable Italian cuisine. With its serene surroundings and top-notch facilities, Hotel Incontro is the perfect choice for travellers seeking both relaxation and convenience while immersing themselves in the cultural richness of Campania.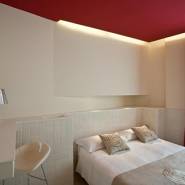 Eos Hotel, Lecce
Eos Hotel Lecce is a charming oasis in the heart of Lecce, Italy. Its location allows guests to explore the enchanting Baroque architecture and rich history of the city, with the historic centre just a short stroll away. The hotel's rooms offer a comfortable and contemporary retreat, perfect for both business and leisure travellers. Amenities include a bar for relaxation and a rooftop terrace offering panoramic views of this picturesque city. Eos Hotel Lecce is an excellent choice for those seeking a delightful stay in Lecce while enjoying modern comforts and easy access to local attractions.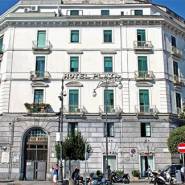 Hotel Plaza, Salerno
Hotel Plaza enjoys an enviable location along the stunning Amalfi Coast. With its position overlooking the Tyrrhenian Sea, guests can relish breathtaking sea views and easy access to the vibrant Salerno city centre. The hotel's rooms are comfortable and inviting, perfect for a restful stay. Featuring a bar, Hotel Plaza is a superb choice for travellers seeking a delightful stay on the Amalfi Coast while enjoying modern comforts and the convenience of exploring both Salerno and the surrounding coastal treasures.
At a Glance
Range
Trip Type
Starts
Rome
Ends
Rome
Departs
Mondays
Group Size
Min 2 / Max 16
Hotel Rating
3-4 star hotels
Tour Guide
Yes - escorted by a tour guide
Meals
Breakfast: 5
Minimum Age
15 yrs, accompanied by an adult
Arr. Transfer
No
Dep. Transfer
No
OTG002763
Puglia, Pompeii & Amalfi - 6 days
Europe
Europe
false
https://www.onthegotours.com/nz/Italy/Puglia-Pompeii-and-Amalfi-6-days
https://www.onthegotours.com/repository/Puglia-Pompeii--Amalfi-main-image--POsitano-Italy-821391695131309_crop_flip_300_300_f2f2f2_center-center.jpg
Group_Tours