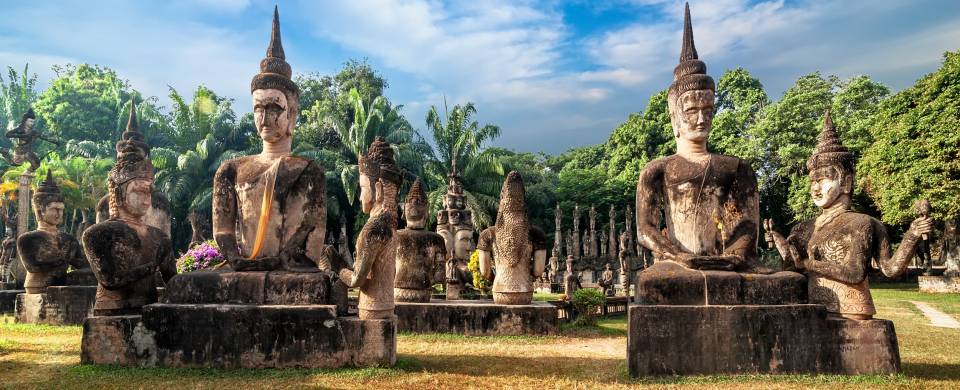 Trips and Tours to Vientiane
About Vientiane
The capital of Laos, Vientiane, manages to retain the charm of a provincial town despite being the largest and most populated city in the country. Sitting along the banks of the Mekong River, the city streets, lined with elegant French mansions, bloom with bougainvillea while the aroma of steaming noodle stalls fill the air. The tree-lined boulevards and friendly locals endow the city with a relaxed yet captivating ambiance and the riverside cafes provide the perfect place to enjoy a beer while watching the sun set over the Mekong.
Read More
Vientiane is full of things to see – the monument of Patuxai, a Laotian version of the Arc de Triomphe, testifies to its years under French rule, while Buddha Park is an unusual collection of sculptures from Buddhist and Hindu philosophy, mythology and iconography. Once the sun sets, round off your day of culture with a trip to the night market. Often filled with locals buying clothes, make up, toiletries and more, it is a good chance to mingle and make friends. There is also a plethora of snack stalls selling fresh and delicious treats.
For an insight into the turbulent history of Laos, a trip to the COPE Visitor Centre is highly recommended. The main exhibit is free to explore and shows the devastating effects of the numerous UXOs (unexploded ordinances) that have been left all over the country after the ferocious bombing of the country that took place during the Vietnam war. With thousands of bombs still waiting to go off, life for farmers in Laos can be perilous. Donations made here go to furthering the work of COPE in helping those who have been physically handicapped by a UXO.