Portugal Tours & Package Trips
Portugal Group Tours
Staying in a mix of well-located 4-star hotels and fully escorted by a local tour leader, our Portugal tours ensure you see the sights of the country in comfort. There is plenty of included sightseeing and activities including a Douro River cruise, port wine cellar visit and traditional Fado show help you get to grips with the destination. All of our Portugal tours start and end in Madrid, and also include sightseeing of Spain, and in some cases, Morocco!
From Lisbon to Porto, uncover the pretty cities, incredible food and enticing history of Portugal with our tour packages
The Iberian Peninsula is dominated by mainland Spain, but tucked away to the west is Portugal, a worthy travel destination in its own right. Although much of Spain's culture and history is shared with its neighbour, the two countries are very much distinct from one another. Many of our Spain group tours also visit neighbouring Portugal, making them a great option for those travellers looking for a more all-encompassing trip to the Iberian Peninsula. Some of our Portugal tours also visit Morocco!
As well as being renowned as a beach destination, Portugal boasts a number of incredible cities that are popular with travellers from across Europe and beyond. Porto and Lisbon in particular are worth exploring, which is why we spend a minimum of two nights in each city on our tours.
So, what are you waiting for? It's time to start planning your Portugal adventure!
Explore more countries like Portugal
Frequently asked questions about our Portugal tours and package trips
Where will I visit in Portugal?
Our Portugal tours take in the main cities and towns, namely Porto, Lisbon, Fatima and Coimbra. There is included sightseeing and free time for you to explore your way, and all of our tours also include sightseeing in neighbouring Spain.

They all start and end in Madrid, and you can choose to head north to Bilbao, San Sebastian and Santiago de Compostela, or south to Seville, Granada and the Costa del Sol. Some tours also take the ferry to to Morocco, for touring in Marrakech, Fes, Rabat and Casablanca.
What is the pace of these Portugal trips like?
Our tours are quite fast-moving. You will see lots of different places and there is plenty of free time in which to further sightsee independently. However we spend plenty of time in the major attractions, with at least two nights in both Porto and Lisbon included on our Portugal tours.
When is the best time to visit Portugal?
Portugal boasts a warm Mediterranean climate, and the summer months from June - August are high season, with the best weather. But attractions are busy and prices higher at these times. The shoulder seasons from March - May and September - October offer a nice compromise and a good time to explore Portugal, with fewer crowds and still pleasant temperatures. Check out our guide on when to visit Portugal for more information.
What transport do you use on your Portugal package trips?
In Portugal we travel by deluxe coach, as this is the most efficient way to get around.

Our deluxe coaches offer comfortable seating, free Wi-Fi, and audio headsets. The coaches are 50-seater, so even on a sold-out tour you will have plenty of room!

Please note that although there are no toilet facilities on the coach, regular stops are made and additional comfort breaks can be made if needed, though this will slow the tour down for other passengers.
How big are the groups on your Portugal tours?
On our Portugal tours, the maximum group size is 24, and the majority of trips do sell out in the peak season from June - August. If travelling at quieter times of the year then you may enjoy a smaller group of 15 - 20 passengers.
Will I be escorted by a tour guide when I visit Portugal on your trips?
Yes - in Portugal we offer escorted tours. Your local English-speaking tour leader will travel on the coach with you. You will also enjoy the services of expert local guides for included sightseeing and guided tours.
Is Portugal a safe destination for travellers from the LGBTQ+ community?
According to the 2023
LGBTQ+ Travel Safety Index
, Portugal scores an A rating for LGBTQ+ traveller safety, ranking 6th out of 203 countries.
Same sex marriage is legal and there are constitutional protections in place for people of all sexual orientations. 51 - 75% of consulted citizens consider Portugal a good place to live for gay and lesbian people. There are no legal punishments for same sex relations and virtually all trips for LGBTQ+ travellers to Portugal are trouble-free.
The LGBTQ+ Travel Safety Index is designed to provide a good overall picture of attitudes towards the LGBTQ+ community in each country and may not reflect the experience of foreign travellers to the country.
Can I drink the tap water when I visit Portugal?
Yes, the tap water across mainland Portugal is safe for human consumption and meets all EU regulations. We recommend bringing a reusable water bottle on your Portugal tour. This will save you money and is good for the environment, helping you to reduce your plastic footprint.

Please note that you may not like the taste of the water as it is fairly heavily chlorinated and has a high mineral content. Although safe to drink, many Portuguese choose instead to consume bottled water, which is readily available. It's up to you!
What is the current travel advice for Portugal?
As a UK-based company, we follow the latest up to date advice from the UK Foreign and Commonwealth Office (FCDO). You can see the latest travel advice for Portugal
here.
Portugal, Spain & Morocco!
Our longest Portugal tour is the 23-day Spain, Portugal & Morocco Encompassed. This 3-week tour takes in all the highlights of Portugal, including Porto, Fatima, Coimbra and Lisbon, as well as the best of Spain and Morocco. From Madrid to Marrakech and Cordoba to Casablanca!

Recommended tour: Spain, Portugal & Morocco Encompassed →
The Best of our Portugal Trips
These are the highlights of our Portugal package tours. From the wonderful city break destinations of Porto and Lisbon to the Christian pilgrimage sites of Fatima. See all of these destinations and much more besides with our range of Portugal tours!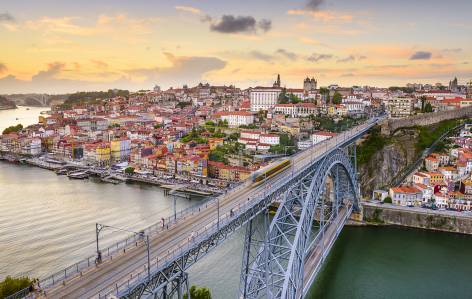 Porto
You can't visit Porto without sampling the city's port wine, which is why all of our Portugal tours include a visit to a port wine cellar. They also include a cruise on the Douro River, a mighty waterway which winds through this picturesque city. Known also for its beautiful bridges, you'll certainly want to take a walk along the riverside Cais da Ribeira boardwalk to enjoy Porto at its prettiest.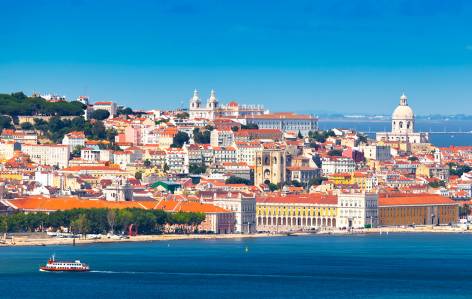 Lisbon
Portugal's capital city is a popular city break destination, with a laid back attitude, great food and plenty of pretty plazas that are perfect for enjoying a coffee or a glass of wine and watching the world go by. Highlights of the city include the fortified Belem Castle and the Sao Jorge Castle, nestled in the charming Alfama district, oldest part of the city. The best thing about Lisbon? The city enjoys more than 300 days per year of sunshine!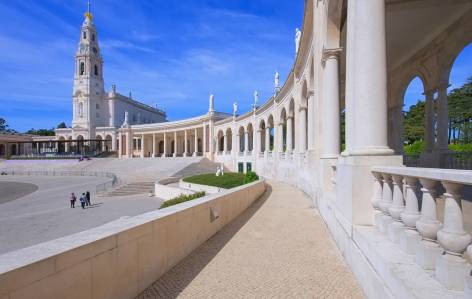 Fatima
Fatima is an important pilgrimage site in the Christian faith, home to the Sanctuary of Fatima. It is here, at the Cova de Iria that the Virgin Mary appeared before three local shepherd children. There is the possibility to attend the candlelit procession at the Sanctuary for those who are interested on our Portugal package trips.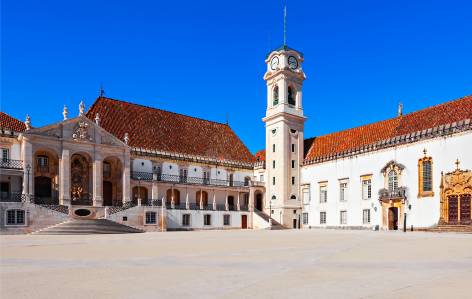 Coimbra
Riverfront Coimbra was Portugal's medieval capital for more than a century. It's a pretty but lesser-visited destination that we explore on all of our Portugal tours. Coimbra is a university city, home to the famous University of Coimbra and a well-preserved medieval old town which is well worth exploring for an hour or two.