Depart from Casablanca, explore the capital Rabat, fascinating Fes, impressive Ait Benhaddou and spend the night in the beautiful Sahara and explore the marvels of Marrakech - all in 9 intoxicating days!
Trip Highlights
Marrakech - Wander around the buzzing UNESCO-listed medina and explore vibrant Djemaa el Fna
Rabat - Take a guided tour of Morocco's capital city, and visit the Chellah necropolis and Royal Palace
Volubilis - Marvel at some of Morocco's best and most famous Roman ruins
Sahara Desert - Ride a camel into the desert and spend your night gazing at the stars from our Berber camp
Ait Benhaddou - Delve into the narrow streets of this ancient fortified kasbah, a UNESCO World Heritage Site
Casablanca - Explore Morocco's largest and perhaps most famous city and visit the beautiful Hassan II Mosque
Meknes - Discover the imperial city, known by many travellers and locals as the 'Versailles of Morocco'
Fes - Discover the oldest medieval city in the world and visit its dye pits and tanneries
Todra Gorge - Admire the towering red canyon, which changes colour as the sun moves from east to west
Included
Breakfast daily, 3 lunches and 3 dinners inclusive of a traditional Berber meal at our Sahara camp
Guided sightseeing - Casablanca, Rabat, Volubilis, Fes, Merzouga, Todra Gorge, Ait Benhaddou and Marrakech
Escorted by a licensed English speaking Moroccan tour guide
Airport arrival and departure transfer on days 1 and 9
All road taxes and tolls
7 nights 3-4 star hotels and traditional riads. 1 night camping at a Berber desert camp in the Sahara Desert (hotel upgrade available)
Camel trek into the Sahara Desert
Specialist local guides at some sites
All transportation and transfers in private air-conditioned tourism vehicles
Not Included
International flights and visa
Entrance Fees: USD$70-90pp, paid in local currency
Tip for your tour guide and driver. We recommend you allow USD$2-3 per day, per traveller for your guide and USD$1-2 per day, per traveller for your driver. Tipping your guide and driver is an entirely personal gesture
Tipping Kitty: USD$40-50pp, paid in local currency

Saturday. Upon arrival at Casablanca airport you'll be met and transferred to our hotel. The rest of the day is at leisure.
Overnight: Casablanca
Marrakech City Tour
Casablanca - Marrakech. This morning after breakfast we head to Marrakech to meet the rest of the group before embarking on a guided city tour of Marrakech. Inside the rose coloured medina walls is a tangle of winding streets and alleys that open onto verdant gardens and bustling souks. At the heart of the medina is Djemaa El Fna, the city's exuberant market place and towering over it, is the famous Koutoubia Mosque, the tallest building in the city.
Overnight: Marrakech | Breakfast, Dinner
Marrakech
Ait Benhaddou - UNESCO World Heritage Listed
Marrakech - Ait Benhaddou - Ouarzazate. Departing the city this morning we travel across the plains of haouz and reach the great High Atlas mountains. Climbing over the pass of Tizi n Tichka, we stop for lunch and then continue onwards with great views over the Mountains and valleys to Ait Benhaddou. This incredible ancient fortified Kasbah was built for defence purposes high on a hill and is a stunningly well preserved medieval city which has famously featured in many blockbuster movies, including Gladiator and Laurence of Arabia as its beauty is unequal to any other fortified kasbah in south Morocco. Carrying on we continue south to the Hollywood of North Africa – Ouarzazate (pronounced war-zazat). Ouarzazate is famous for being the filming location for many other Hollywood blockbusters and famous TV shows including James Bond – The Living Daylights, The Mummy and more recently Game of Thrones.
Overnight: Ouarzazate | Breakfast, Lunch, Dinner
Ouarzazate - Todra Gorge - Merzouga (Sahara). This morning we begin our journey into the Sahara with a medley of palm trees, rose fields and magnificent gorges. Travelling from Ouarzazate, there is a possibility of visiting the kasbah Amherdhil in Skoura before seeing the rose fields and reaching scenic Todra Gorge. Surrounded by towering vertical limestone cliffs reaching heights of 1000ft, it is known as Morocco's Grand Canyon. The charm of Todra lies in its changing colours as the sun slowly moves from east to west. After time to wander through Todra we hit the road again for Merzhouga – our base before we head into the Sahara. Depending on the time of year, spend the afternoon relaxing and swimming before climbing aboard our camels for an incredible trek into the Sahara Desert to watch a beautiful sunset and spend the night at our remote Berber Camp, nestled amongst the dunes of Erg Chebbi. We enjoy local food, music and an amazing night camping in the Sahara.

If you would prefer the comfort of a hotel with en-suite facilities this evening, opt for our Sahara hotel alternative at no additional cost. Please do let us know your preferred option at the time of booking.
Overnight: Berber Camp | Breakfast, Lunch, Dinner
Merzouga (Sahara) - Fes. Departing early, we climb back on our camels disembarking for a truly stunning sunrise. After freshening up and breakfast in Merzouga we're back on the road heading for Fes. It's a long drive today however there is a lot to see on the way. We'll pass through cedar forests full of Barbary Macaque monkeys on our way through the Moyen Atlas mountains. Just before Fes we stop at Ifrane – a beautiful town often likened to a Swiss Alpine resort. Along the way we also start to see our first glimpse of Morocco's nomadic Berbers – travelling across the mountains and often staying in make shift tents as they head to their next destination. We arrive into Fes in the early evening.
Overnight: Fes | Breakfast, Lunch
Fes
Fes is the oldest and largest medieval city in the world and its medina is a cacophony of aromas, sights and sounds. This morning we enjoy a guided tour of Fes el Bali - the old walled city. This fascinating medina is a veritable rabbit warren of 9400 alleys that often finish with dead ends – so be sure to stay close to the group! We also visit the dye-pits and tanneries before lunch in the medina. The remainder of the day is at leisure – why not take part in an optional Tagine Making Class or a night of Moroccan entertainment and food at a restaurant in town (both payable locally).
Overnight: Fes | Breakfast
Fes - Volubilis - Meknes - Rabat. Departing Fes this morning we visit the fascinating UNESCO listed Roman ruins of Volubilis, which date back to AD40. Continuing on we stop at the Imperial City of Meknes, which became known as the Versailles of Morocco due to its impressive buildings and elaborate monuments. After lunch and some free time our final stop of the day is Rabat – Morocco's capital where we overnight.
Overnight: Rabat | Breakfast
Rabat - Casablanca. This morning we take a guided tour of Rabat and visit some of the capital's highlights, including the impressive Chellah - a necropolis and complex of ancient, medieval ruins, the Royal Palace and the Mausoleum of Mohammed V. After lunch we continue to Casablanca where we visit the Hassan II Mosque, which has the tallest minaret and is the third largest mosque in the world - it can hold 25,000 worshippers at any one time. After our visit to the mosque we say goodbye to our fellow passengers continuing on to Marrakech and check in to our hotel in Casablanca.
Overnight: Casablanca | Breakfast
Sunday. Casablanca - Our amazing tour of Morocco ends today after hotel check out. An included onward departure transfer to airport will be provided.
Breakfast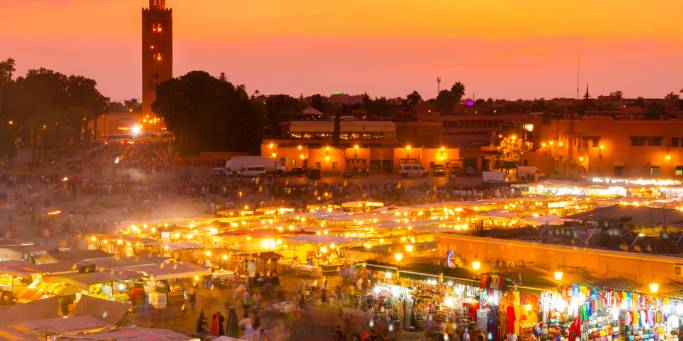 Need to start your tour in Marrakech?
If you find that Marrakech is the better airport for you to fly to and from then why not check out our Totally Morocco tour. The start dates and duration is the same and you'll still visit everything the same as what's included in this tour.
The hotels listed below are ones which we frequently use on this tour. We reserve the right to substitute these hotels to ones of a similar standard.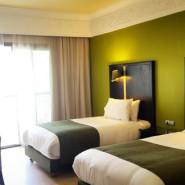 Hotel Diwan , Casablanca
Located close to the city centre, Hotel Diwan is a contemporary hotel just a short walk from the main train station. The modern guest rooms are air conditioned with flat screen TVs and en suite facilities. The onsite restaurant offers a buffet breakfast every morning as well as an array of international cuisine in the evenings for dinner. The hotel also has an on site gym, spa and complimentary wi-fi is available.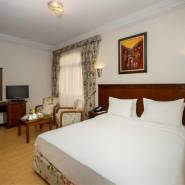 Hotel Club Val D'Anfa , Casablanca
Located between the sea and Anfa mount, Hotel Club Val d'Anfa is in one of the most prestigious residential districts of Casablanca. Combining warm colours, ceramic tiles and fine wood, the interior decor was inspired by Amazigh art. The attractive guest rooms contain all the modern amenities needed for your stay and face either the sea, hotel gardens or the Casablanca Corniche. Boasting three restaurants, two bars, a fitness centre, spa and pool - there's certainly plenty to keep guests entertained.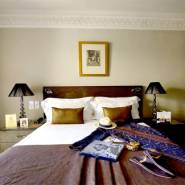 Adam Park Hotel & Spa, Marrakech
Guests can expect a very comfortable stay at the Adam Park Hotel & Spa. Each of the elegant rooms feature a patio or balcony with views of the surrounding area. Guests are spoilt for choice when it comes to dining. Several restaurants offer a variety of options including Italian specialities, Moroccan favourites and international cuisine. There are also plenty of ways to unwind after a day exploring Marrakech, with an outdoor pool, fitness centre and a spa offering rejuvenating massage treatments.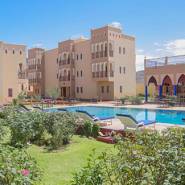 Ksar Ben Youssef, Ouarzazate
Ksar Ben Youssef is a newly built, traditional hotel located just 5kms from the centre of Ouarzazate. Offering 18 spacious air-conditioned rooms, with a variety of bedding configurations. Its large pool, overlooked by a rooftop terrace with shady nooks, is the perfect respite from the desert heat. Guests can enjoy a buffet style breakfast from the on-site restaurant or dine on one of the many terraces.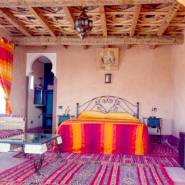 Dar Amoudou, Ouarzazate
Nestled in the heights of Ouarzazate's old district of Ait kdif, Dar Amoudou is a guest house with nine traditional styled rooms that offer all the modern comforts of a luxury hotel including; air conditioning, heating, free Wi-Fi, satellite channels and of course, en-suite facilities. Offering breathtaking views of Ouarzazate and the Atlas Mountains, the attractive terrace is the perfect place to relax and enjoy the magical surroundings, whilst also enjoying traditional Moroccan cuisine.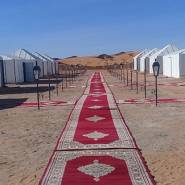 Camp Touareg, Merzouga
Set amongst the bright orange dunes of Erg Chebbi, Touareg Berber camp is designed with a traditional Moroccan theme. Tents are simply furnished with metal framed double, twin or triple beds. All bedding is provided including a pillow, sheets and a blanket (more blankets in winter). A Moroccan rug on the floor and solar generated electricity (after night fall). The camp has two toilet blocks and a large dining tent. Camping out in the desert is an incredible experience. Watch the sunset over the dunes, enjoy simple but tasty Moroccan cuisine and spend the evening by the camp fire, under a spectacular star filled sky.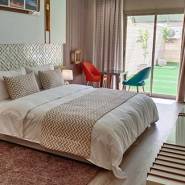 Hotel Atlas Saiss Fes, Fes
Hotel Atlas Saiss Fes is a popular 4 star hotel, conveniently located just a 15-minute walk from Nouvelle Ville. The hotel offers spacious and comfortable guest rooms, equipped with free WiFi, flat screen TVs, air conditioning and en suite bathrooms. Facilities include a restaurant, 24 hour room service and a sauna (at an additional cost). Start the day with a generous continental breakfast before heading out to explore the enchanting imperial city of Fes. After a busy day, relax on the hotel terrace, enjoy a tasty meal at the restaurant or rejuvenate in the sauna.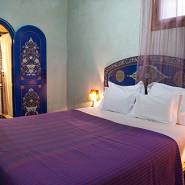 Riad Dar Alia, Rabat
Boasting a fantastic location, just a short walk from the entrance to the Kasbah of the Udayas, Riad Dar Alia is wonderful choice for a stay in the capital. It offers a number of uniquely decorated rooms in a traditional Moroccan style. Free WiFi is provided throughout the property and a restaurant serves a variety of Moroccan specialities.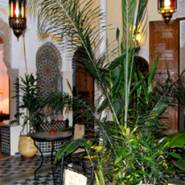 Riad Dar Zouhour, Rabat
Riad Zouhour has been recently and lovingly restored in a charming and traditional style. Located in the Medina District of Rabat, and just a two-minute walk to the UNESCO World Heritage Site of the Kasbah of the Udayas; the Hassan Tower Mosque and Royal Palace of Rabat are also within easy walking proximity to the riad. Its rooms are quiet and comfortable, and you can enjoy some R&R in the hamman after a busy day exploring, or just sit and relax on the sun terrace and patio.
"
I couldn't recommend a guide more highly than Jamal. He was always watching after us and making sure that all our needs were met. He went above and beyond his duties many times. Above all he has a wonderful sense of humor, warmth and a great deal of knowledge. He made our holiday and because of him I would book with On the Go Tours again! "
Leanda Howell
• Submitted 24 Aug 2019
Tour





Guide





Country





"
If I had to pick one word to describe my trip to Morocco it would be amazing. A large part of this is due to our tour guide Abdellatif and driver Solaiman. They went above and beyond in every aspect. From the start of the trip Abdellatif was waiting for me at the airport even after my flight was delayed. This level of service remained throughout the entire trip. He was always available to answer questions, provide tips, translate, and everything in-between. They took us to restaurants that they normally go to which provided us with local food and atmosphere. Even when driving in the bus the tour did not stop. Abdellatif would play local music and share stories to help us feel immersed. On one particular day we even made a stop along the way to meet a nomad family (which was not part of the tour). This is just another example of them going above and beyond to help us leave with a deeper understanding of the culture. This trip would not have been nearly as informative, cultural, and fun were it not for Abdellatif and Solaiman. To top it all off I felt completely safe throughout the trip both while on and off the buss."
Angela Sommese
• Submitted 04 Aug 2019
Tour





Guide





Country





"
When I signed up for this trip I was a little hesitant due to the general warnings that I saw about travelling through Morocco as well as the large amount of time this tour spends on the road. This was completely forgotten after the first day due to our tour guide Abdell. His friendly nature and immense knowledge of Moroccan culture made me feel at ease and allowed me to enjoy myself without any worries. He went above and beyond what I would expect from a good tour guide, whether it be having frequent stops on the road to point out interesting cultural facts, sites that were not included in the travel plan or picking up local specialities here and there for us to try.
I can honestly say that at some point during the tour I completely forgot that I was on a guided tour, it felt like I was just on a bus with friends travelling through Morocco and that is what really made this tour for me. This has been the best experience of my life and I just wanted to take the time to thank your company for having such great staff. I don't think I would have enjoyed myself anywhere near as much as I did if it wasn't for Abdell.
If all of your guides are like this then I cant wait to book my next trip!"
Gokulan Yogeswaran
• Submitted 09 Jul 2019
Tour





Guide





Country





"
Hisha was great. He went above and beyond to make sure that all travellers in the group were comfortable and happy. The tour was so well organised and had a nice itinerary that was so varied. There was something to appeal to everyone's interests. I enjoyed every stop on the tour. The accommodations were wonderful.The camp out in the Sahara Desert was amazing and beautiful.
I loved the entire tour."
Dawn Laveau
• Submitted 11 Jun 2019
Tour





Guide





Country





"
The tour allowed us to get a good overview of Morocco in a relatively brief amount of time, at a reasonable cost. Hotels were well-located, and there was a good balance of modern with more traditional accommodation.
Our guide was patient and personable. He seemed to establish a good rapport with everyone in our group. "
David Reddin
• Submitted 31 May 2019
Tour





Guide





Country





"
My family and I recently went to Morocco with On the Go. From the moment our tour started to well after it ended, our guide, Hicham, made sure the group was well looked after. Taking us city to city (or kasbah to kasbah as the case may be), sharing his knowledge on the culture and history, Hicham guided us on an amazing adventure through Morocco. When I decided to stick around to travel solo after the family trip, he provided great insight and made sure I got to where I needed to go. At all times I felt that Hicham went out of his way to take care of us and all our needs with a huge smile on his face. I had an amazing time in Morocco and would well recommend On the Go, particularly Hicham, to others."
Sadaf Asifi
• Submitted 16 Apr 2019
Tour





Guide





Country





"
Hicham was an excellent guide, knowledgeable, courteous, cheerful and helpful - overall, the sort of guide you'd wish for on every tour! Our driver, Sliman, gave us every confidence when he negotiated mile upon mile of difficult roadworks in the High Atlas and fog, rain and low cloud in the peaks.
We thoroughly enjoyed this tour. It was great to see so much of the country and have it all explained so well.
Overall, thank you for an enjoyable trip."
Terence Scott
• Submitted 07 Apr 2019
Tour





Guide





Country





"
We have never done a tour before but we wanted to cover a lot and were not comfortable driving ourselves such distances in a country where we didn't know the culture. It was a great choice; we covered so much more than we would have been able to do by ourselves. Morocco is a surprisingly diverse country and the tour does a good job covering it - from the High Atlas Mountains to the Sahara to the coast. Our guide Aziz was fantastic. The group was small and everyone was friendly. We built up a great camaraderie over the trip and the group of people and fun we had together added to the experience. Already considering our next tour. "
Jane Banks
• Submitted 02 Jan 2019
Tour





Guide





Country





"
This was my first group tour and also my first visit to Morocco and the experience completely exceeded my expectations. The 9 day tour was well planned with pleasant, comfortable and clean hotels and Riad experiences as well as delicious tasty Moroccan food! Three highlights for me was visiting Ait Ben Haddou (the ancient Kasbah), the overwhelming Sahara adventure (trekking via camel during sunset into the desert) and the experience of travelling with a diverse group, with an excellent tour guide (Lhoucine Ouzaouit). Lhoucine ensured that we saw and experienced the beauty of Morocco and he always went out of his way for the group. His sense of humour, calmness and respectable nature added to the overall pleasant experience. Thank you On the Go Tours and thank you Lhoucine for taking extra good care of us!"
Amina Ebrahim
• Submitted 18 Dec 2018
Tour





Guide





Country





"
What an experience my first visit to Morocco was. With many thanks to Lhourcine who was so informative and helpful for our 9 day adventure making it a trip to remember. I believe Lhourcine went the extra mile to make all of our group feel truly at ease and in awe of his beautiful country. "
Cathy Alvisio
• Submitted 13 Dec 2018
Tour





Guide





Country





In Brief
Range
Trip Type
Starts
Casablanca
Ends
Casablanca
Departs
Saturdays
Group Size
Min 4 / Max 24
Hotel Rating
4 star hotels & traditional riads
Tour Guide
Yes - escorted by a tour guide
Meals
Breakfast: 8, Lunch: 3, Dinner: 3
Visiting
Casablanca, Marrakech, Ouarzazate, Merzouga, Fes, Rabat
Countries
"
I couldn't recommend a guide more highly than Jamal. He was always watching after us and making sure that all our needs were met. He went above and beyond his duties many times. Above all he has a wonderful sense of humor, warmth and a great deal of knowledge. He made our holiday and because of him I would book with On the Go Tours again! "
Leanda Howell
OTG001635
Road to Casablanca - 9 Days
Middle East & North Africa
Signature
Middle East & North Africa
false
10
Morocco
https://www.onthegotours.com/nz/Morocco/Road-to-Casablanca-9-days
https://www.onthegotours.com/repository/Camel-Trekking-in-the-Sahara--Morocco-Tours--On-The-Go-Tours-236111403270381_crop_flip_300_300_f2f2f2_center-center.jpg
Group_Tours