It is understandable that the risk of malaria can be a cause for concern for those looking to plan an African safari. There are numerous ways to avoid the disease, such as by taking antimalarial medication and using mosquito nets. But these may not be practical for everybody for health, or other reasons. And so you may be wondering if it is possible to avoid malaria zones altogether, but still enjoy a safari in search of the Big Five.

You'll be glad to know that South Africa fits the bill. The country is home to world-class national parks and all of the Big Five, as well as plenty of other animal species. And with the exception of the north-eastern part of the country, near the border with Zimbabwe and Mozambique, there's no malaria. This means travellers to the country normally don't need to worry about medication or other means of protecting themselves. For these reasons, South Africa may be the best African destination for the elderly, or for those travelling with young children.
So, to help you plan your perfect safari, here's our selection of recommended reserves, parks and lodges, where you can enjoy a malaria-free wildlife experience with peace of mind.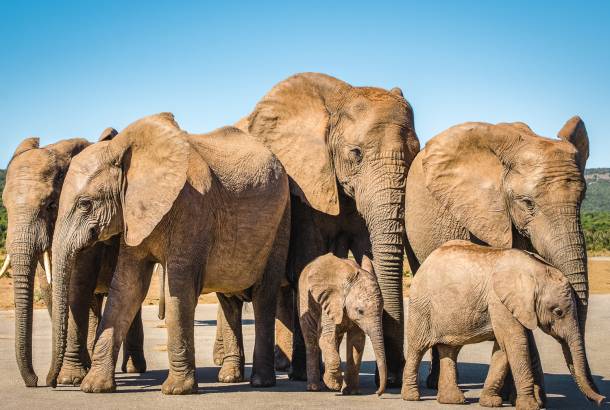 Eastern Cape
This coastal province boasts a collection of malaria-free reserves, offering you the chance to see the celebrated Big Five and more of the continent's most iconic wildlife. It's also incredibly popular for combining a safari with the Garden Route and Cape Town. And with a coastline of over 800 kilometres, the Eastern Cape offers pristine beaches, excellent surf and a variety of watersports, so you can enjoy some downtime after your wildlife adventure.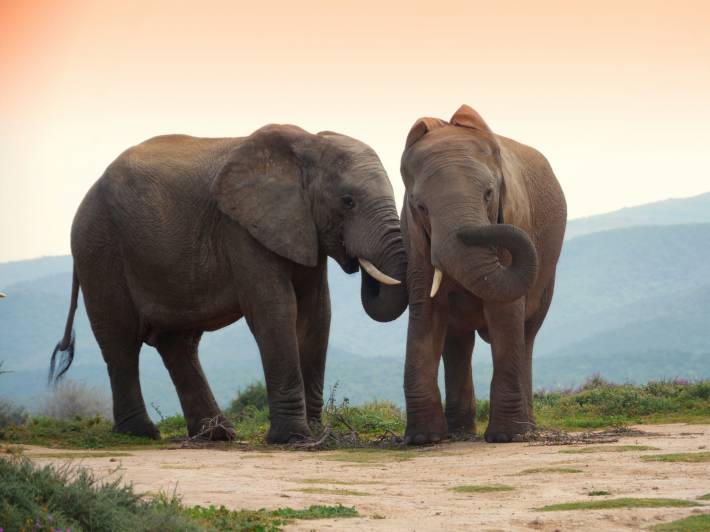 Just over an hour's drive from Port Elizabeth, this malaria-free national park lies in the Sundays River Valley. Offering some of the world's best elephant viewing, the park is home to around 550 of these gentle giants – one of the densest African elephant populations on Earth. Addo also extends down to the coast, where you'll find the largest African Penguin colony.
Recommended Lodge:
Addo Rest Camp - Offers a lookout platform and underground hide with views over a waterhole that's floodlit at night.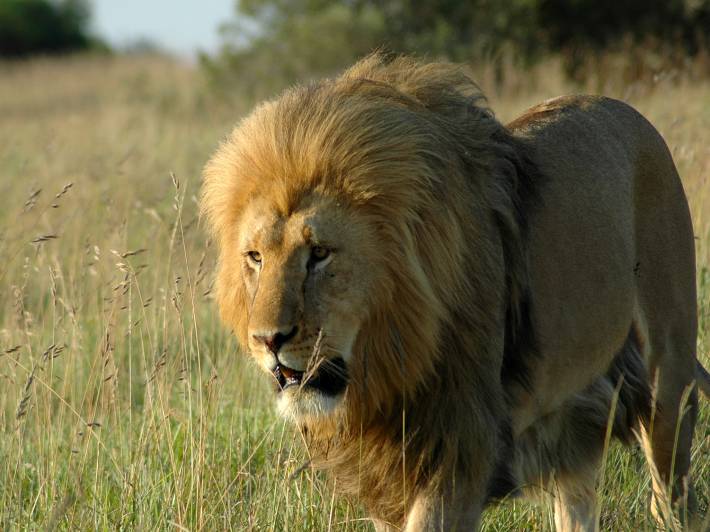 Shamwari Game Reserve
Once a small farm, Shamwari now offers 25,000 hectares of protected land and six luxury lodges. It contains incredible ecological biodiversity, with five of South Africa's seven biomes found here, as well as the much sought after Big Five. As one of South Africa's most successful private conservation initiatives, the park is renowned for combining responsible tourism with a 5-star safari experience.
Recommended Lodge
Eagles Crag Lodge - 5-star accommodation with delicious cuisine and incredible views of Shamwari.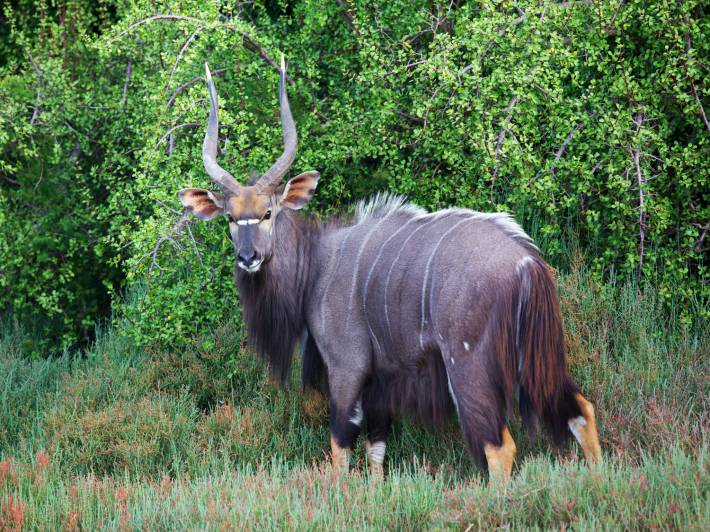 Kariega Game Reserve
Situated along the Garden Route, this family-owned game reserve boasts 10,000 hectares of pristine African wilderness surrounding the Kariega and Bushmans rivers. Visitors not only enjoy close up game viewing of the Big Five, but river cruises, canoeing, fishing and guided bush walks. The reserve is also home to the first rhino to ever survive a poaching attack and contributes towards conservation and local community development.
Recommended Lodge:
River Lodge - One-of-a-kind lodge with tranquil riverside setting and daily boat to the beaches of the coast.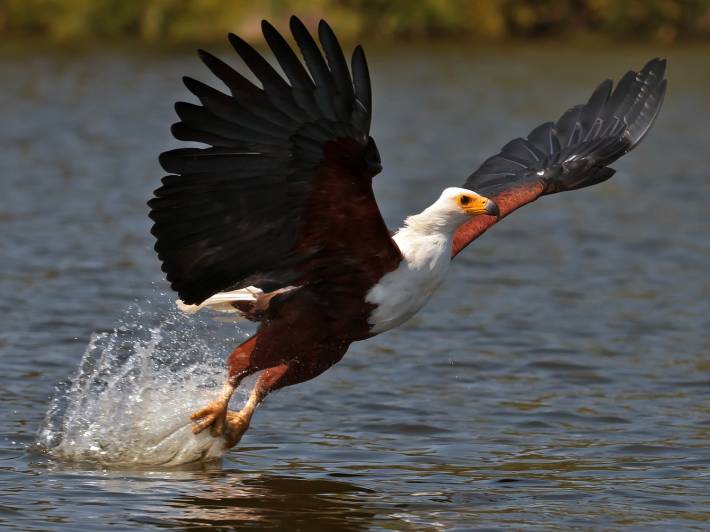 Kwandwe Game Reserve
Accommodating a maximum of 52 guests, Kwandwe Game Reserve has one of the highest land-to-guest ratios in South Africa. Stretching either side of the Great Fish River, this 22,000-hectare reserve is roamed by the Big Five as well as a remarkable variety of other wildlife. And as a paradise for bird watchers, Kwandwe is also home to the Fish Eagle and endangered Blue Crane.
Recommended Accommodation:
Great Fish River Lodge - Luxurious suites with floor-to-ceiling framed glass doors that fold back to showcase the scenery.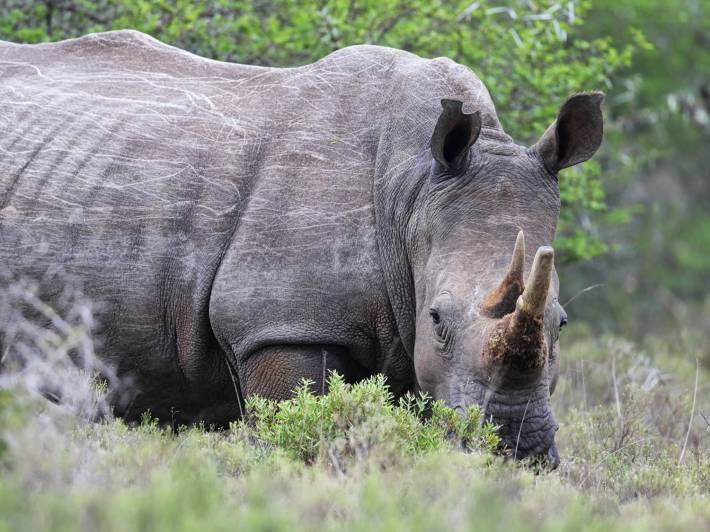 Amakhala Game Reserve
Located at the northern end of the Garden Route, this malaria-free reserve offers a relaxing atmosphere and warm hospitality. Of its resident animals, visitors can spot the Big Five as well as giraffe, zebra, cheetah, wildebeest and plenty of antelope species. The park also offers horse riding trails and a day safari option, perfect for those short on time when travelling in South Africa.
Recommended Accommodation:
Bukela Game Lodge - Secluded lodge surrounded by indigenous trees at the top of a hidden valley.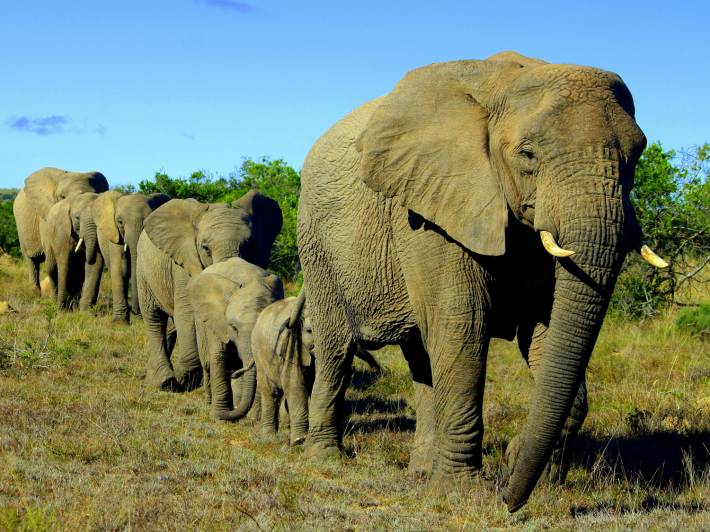 Pumba Game Reserve
Situated on the banks of Lake Cariega, this private game reserve allows you to explore either aboard a custom Land Rover or on a guided walking safari. Expect magnificent views and abundant wildlife, with the Big Five, hippo, hyena and over 300 bird species. The reserve is also involved in the reintroduction of the rare white lion and free-roaming leopard.
Recommended Accommodation:
Bush Lodge - Luxurious thatch and glass chalets, each with their own private setting and stunning mountain views.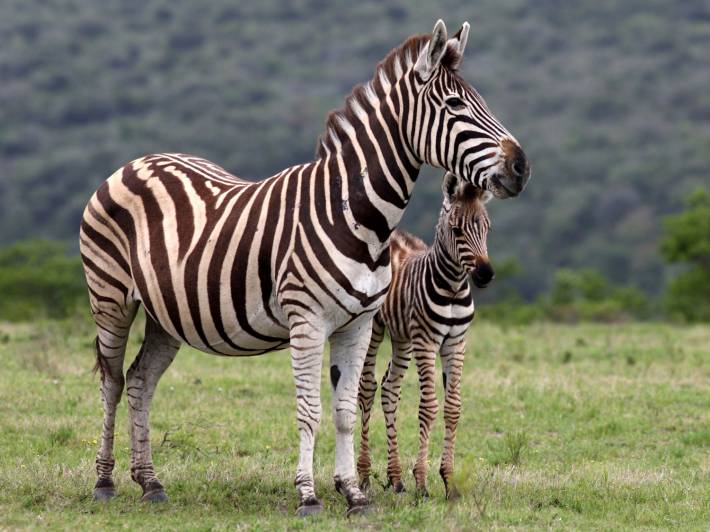 Lalibela Game Reserve
Blessed with vast areas of savannah grassland, Lalibela is able to sustain large herds of game such as zebra and wildebeest, as well as antelope species including impala, red hartebeest, blesbuck and eland. This, in turn, means the reserve is home to a host of predators and the densest population of free-roaming lions in South Africa.
Recommended Accommodation:
Tree Tops Safari Lodge - Luxury safari tents perched high on thatched platforms and connected by raised walkways, with fantastic views of the surrounding valley.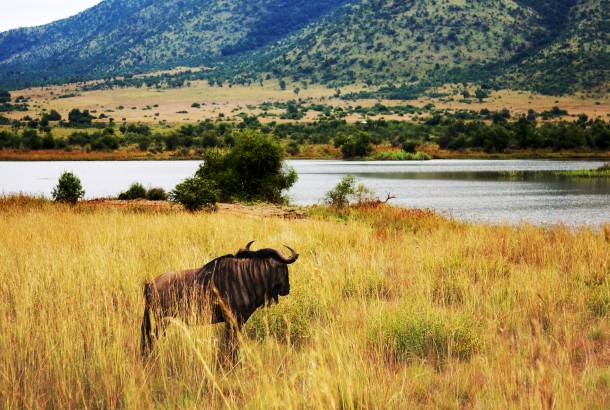 Northwest Province
Extending from the Botswana border and Kalahari Desert to the province of Gauteng, the Northwest Province is predominantly a vast grassland. Offering views stretching into the distant horizon, its landscape is dotted by trees with the Magaliesberg mountains running along the eastern flank. It's also home to two of South Africa's premier game reserves, providing malaria-free Big Five safari experiences.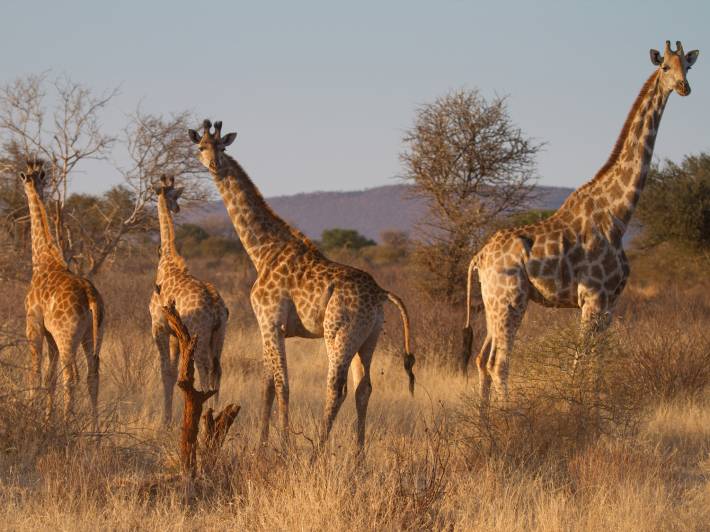 One of South Africa's lesser-known parks, Madikwe is a hidden gem offering luxurious lodges and Big Five safaris. Regarded as a huge conservation success, the reserve was formerly farmland before the successful relocation of over 8,000 animals. During your visit, you may be lucky enough to spot the African Wild Dog, one of the world's most endangered mammals.
Recommended Lodge:
Jaci's Tree Lodge
- Custom-built treehouses with outdoor jungle showers and en-suite bathrooms, great for families.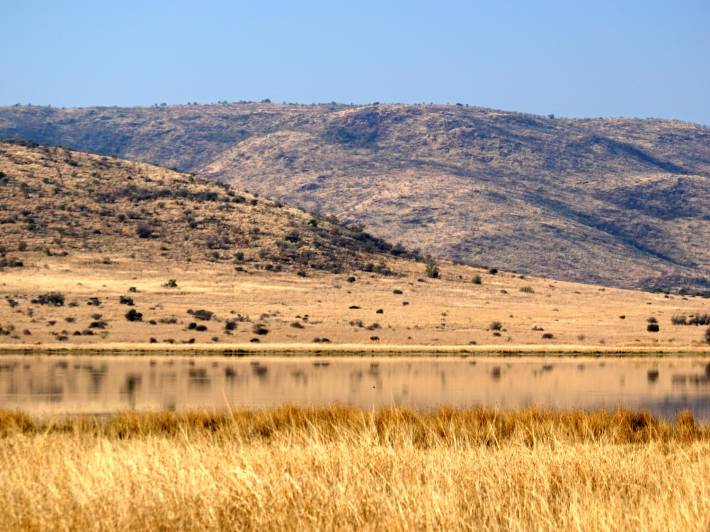 Pilanesberg National Park
Set within the crater of an ancient volcano, Pilansberg National Park promises thrilling big game viewing and a variety of accommodation options. Thanks to its position between the Kalahari and the Lowveld, this is an ecologically rich transition zone where nearly all of the animal species native to southern Africa can be found, including more than 360 species of bird.
Recommended Accommodation:
Ivory Tree Game Lodge
- Set in a natural amphitheater offering a spa, large pool and outdoor dining.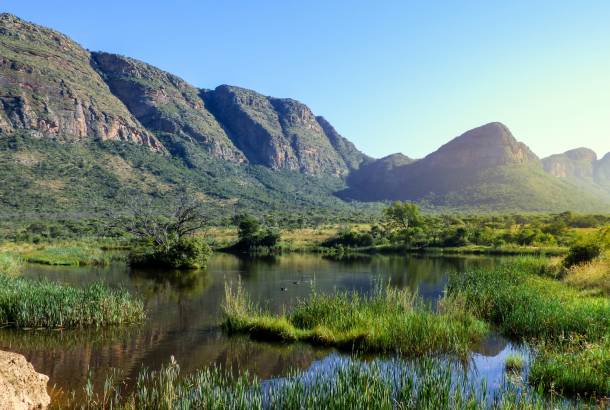 The Waterberg
Running from north of Johannesburg to the Botswana border, the Waterberg is a vast malaria-free area. Mountains and rivers sweep through woodland and savannah, offering rugged scenery unlike anywhere else in South Africa. A collection of reserves and parks are also scattered throughout the landscape, where you can enjoy excellent wildlife viewing and the beautiful scenery.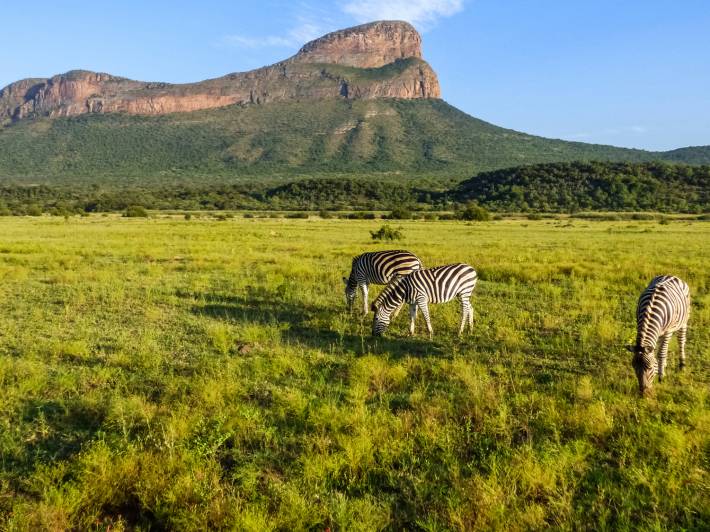 Entabeni Game Reserve
Translating to mean 'The Place of the Mountain', it's no surprise that Entabeni Game Reserve is set within beautiful mountain scenery. Visitors can enjoy guided game drives, horse riding, bush walks, sunset cruises on the lake and even helicopter air safaris of this spectacular reserve, offering plenty of options when it comes to wildlife viewing.
Recommended Accommodation:
Lakeside Lodge - Spacious guestrooms with private decking and an awe-inspiring backdrop of Entabeni Mountain.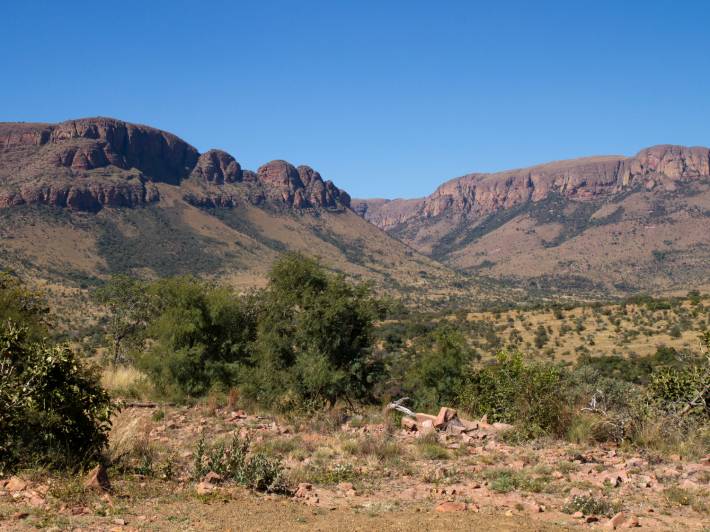 Marakele National Park
Set in the heart of the Waterberg Mountains, Marakele is a beautiful national park which wows its visitors with magnificent landscapes and an impressive array of African wildlife. As well as the Big Five, you'll spot a variety of other creatures including the spotted hyena, wild dog and giraffe. You have the choice of taking your game drive or bush walk in the morning or at sunset.
Recommended Accommodation:
Marataba Safari Lodge
- Canvas-and-stone tented suites with breathtaking views of the Waterberg Mountains.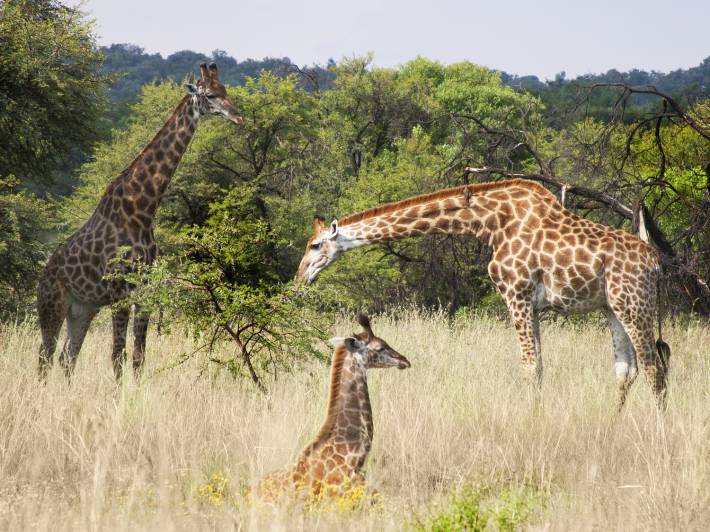 Mabalingwe Nature Reserve
Consisting of grasslands, rocky ravines and majestic mountain tops, Mabalingwe is packed with spectacular landscapes and iconic wildlife. As well as the daytime game drives, visitors can opt for a night safari, where trained guides will shine some light on nocturnal animals such as bushbabies, jackal and owls. There's also the option of bird watching drives, with over 250 different species to spot.
Recommended Accommodation:
Itaga Private Game Lodge - Affordable luxury lodging offering outdoor 'bush showers' and a cocktail bar with a viewing deck overlooking a floodlit waterhole.
**Whilst these are our recommended reserves and parks, we are not health care professionals. You'll need to do your research thoroughly and speak to your local health practitioner before travelling.**