Visit the Gallipoli Peninsula on ANZAC Day with On The Go Tours
Experience ANZAC Day at Gallipoli in 2024 with On The Go Tours. 25th of April 2023 marks the 108th anniversary of our brave ANZACs landing on the shores of ANZAC Cove. Every year for almost two decades now we've been operating tours to the Gallipoli Peninsula for the ANZAC Day Commemorations that honour the 36,000 Commonwealth servicemen who died here during the campaign.
For 2024 we have a range of award-winning ANZAC Day tours between 4 - 13 days with varied itineraries to suit everyone. These include our 4-day express tour, as well as longer itineraries that include sightseeing in Turkey. From the Grand Bazaar and Blue Mosque in Istanbul to Ephesus, Troy, and Cappadocia, you can take in all the highlights of Turkey alongside your ANZAC Day trip. You can even combine your visit with a trip to Egypt to see the pyramids and the Valley of the Kings.
But whichever trip you choose, all of our tours include attendance at the Dawn Service at ANZAC Cove on 25 April, as well as visits to some of the war memorials and battlefields in the area. So, whether you're looking for something short and sweet or a longer ANZAC Day tour that takes in the best of Turkey and Egypt, we can help. This is a really poignant and unforgettable experience.
ANZAC Day Group Tours
Our ANZAC Day tours all start in Istanbul, with the exception of Egypt & Gallipoli for ANZAC Day. From Istanbul, you will be transferred to Gallipoli where you will attend the poignant Dawn Service at ANZAC Cove. Australians can then pay their respects at the Lone Pine Memorial Service, whilst New Zealanders will be transferred to Chunuk Bair for the memorial service here.

Our 4-day ANZAC Express itinerary concludes after the Dawn Service at ANZAC Cove with visits to some of the cemeteries and a return transfer to Istanbul. But our longer itineraries continue to explore the country, with sightseeing of Troy, Ephesus, Pamukkale, Cappadocia, and nearby Egypt. These tours are fully escorted by our expert tour guides and stay in quality 4-star hotels.
The Gallipoli Campaign
ANZAC Day commemorates those 36,000 Australian and New Zealand service personnel who tragically lost their lives during the 1915 Gallipoli Campaign, a vicious nine-month conflict fought between the Allies and the Turks during the First World War. Our ANZAC Day tours allow travellers to pay their respects to the fallen at ANZAC Cove and the other cemeteries and ANZAC Day services across the Gallipoli Peninsula.
Frequently asked questions about our ANZAC Day group tours
What is ANZAC Day?
Held on the 25 April each year, ANZAC Day is the anniversary of the day that ANZAC forces landed in Gallipoli during a vicious campaign against the Turks in the First World War. During the nine-month conflict, more than 36,000 Australian and New Zealand troops were killed, and the vast majority are buried in Gallipoli, at several large cemeteries and memorials. For many Australian and New Zealand families, making the trip to Gallipoli for the ANZAC Day service is an important milestone, a chance to honour lost relatives and pay respects. We run our ANZAC trips every year, and have taken hundreds of travellers to the Dawn Service at ANZAC Cove, as well as the ANZAC commemorative site.
Do you have any more information about ANZAC Day on the Gallipoli Peninsula?
Will I explore Istanbul on your ANZAC Day tours?
All of our ANZAC Day tours visit Istanbul. And they all include guided sightseeing of the city, with the exception of our shortest tour, ANZAC Day Express. This tour is designed for those short on time, who are coming to Gallipoli solely for the Dawn Service.
How big are your ANZAC Day tour groups and what is the age of your travellers?
On our ANZAC Day group tours, the maximum group size is 32, and these trips do fill up most years. As these tours are specially designed around ANZAC Day, you will be travelling with other Australians and New Zealanders, mostly with family connections to the Gallipoli campaign. Ages range from those in their 20s all the way up to people in their 60s and beyond.

Please note that the Dawn Service at ANZAC Cove is a public event, and you will be joined by other members of the public, veterans, and politicians, as well as the rest of your tour group.
What is the standard of accommodation on your ANZAC Day tours?
We use high-quality, well-located 4-star hotels for our ANZAC tours. We list many of the hotels we commonly use on the tour page for each trip, though we reserve the right to substitute these for other hotels of a similar standard, should the need arise.
Will I have a tour guide on my trip?
Our three longer ANZAC Day itineraries are all fully escorted by one of our expert guides. Our 4-day express ANZAC Day tour does not involve much sightseeing so is not escorted, though our representatives will be on hand at the ANZAC Cove Dawn Service, and all of your transportation is also included, with the exception of a departure airport transfer.
What is Turkish food like and can I drink the tap water?
The short answer: Turkish food is AMAZING!

Turkish food is renowned around the world. You'll eat plenty of meze and hummus, and the kebabs are nothing like the ones you find in London at 3am! Other famous Turkish dishes include pide, a kind of Turkish pizza, and kofte (meatballs). There's more information about the food in Turkey on our top tips page.

The tap water in Turkey is generally considered safe to drink, so bring a reusable water bottle with you to save money and plastic waste!
What is the current travel advice for Turkey?
As a UK-based company, we follow the latest up to date advice from the Foreign and Commonwealth Office (FCDO). You can see the latest travel advice and local laws for Turkey here.
ANZAC Day 2024: The 109th Anniversary
With over two decades of experience running tours to the Gallipoli Peninsula on ANZAC Day, our tour guides, representatives and leaders work with us year in year out. They know the best spots and best traffic routes, allowing you to get the most out of your day. Many of our tours include a boat cruise on the Bosphorus as well as guided touring of some of the First World War battlefields and memorials. And on all of our trips, you'll attend the ANZAC Day Dawn Service at ANZAC Cove.
The Best of Turkey
If you choose one of our longer ANZAC Day group tours then you will enjoy plenty of sightseeing in Turkey, as well as the ANZAC Day Dawn Service at the Gallipoli Peninsula. Here are some of Turkey's highlights, from Istanbul to Cappadocia and Pamukkale.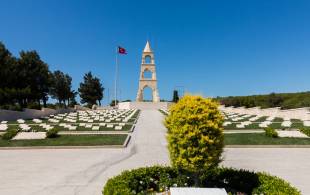 Gallipoli
The setting for the ANZAC Day DAwn Service, the Gallipoli Peninsula is home to numerous cemeteries where those who lost their lives in the First World War campaign were laid to rest. As well as visiting ANZAC Cove for the Dawn Service, travellers on our ANZAC Day tours can pay their respects at the cemeteries of Lone Pine and Chunuk Bair.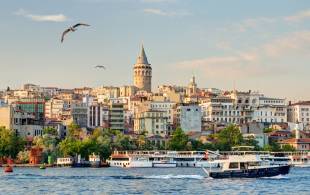 Istanbul
Gateway to Asia and the starting point for all of our Turkey group tours, Istanbul is the place to be in Turkey. Take in the historical sites and other highlights on a guided tour, from Hagia Sofia to the Blue Mosque, barter at the Grand Bazaar, and don't forget to take to the Bosphorus on a cruise.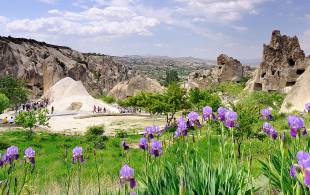 Cappadocia
A magical land of fairy chimneys, subterranean churches and underground cities, Cappadocia is a place like no other. Head below ground to take it all in, then hop aboard a hot air balloon and sail serenely over the fairytale landscape for tremendous views.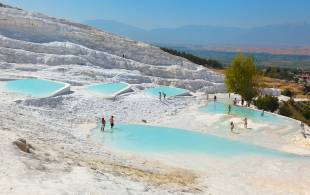 Pamukkale
Known locally as the Cotton Castles, these calcium formations are unlike anywhere else. Bask in the thermal pools that overlook the stunning cliffs of Pamukkale and walk along the beautiful terraces, then head to the nearby Roman spa town of Hierapolis.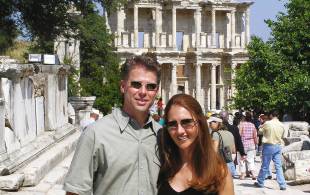 Ephesus
For history buffs, it doesn't get better than the ancient city of Ephesus. These well-preserved Roman ruins are crowned by the extraordinary Library of Celsus, but you will also want to check out the amphitheatre. Imagine the city of old as you stroll amongst marble columns, taking it all in.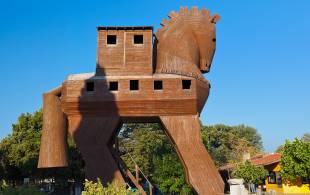 Troy
Made famous by Greek mythology, the ancient ruins of Troy showcase centuries of history and are worth visiting in their own right. But the replica Trojan Horse towering over the site is another great highlight - especially when you can go inside!