Top 10 Active Adventures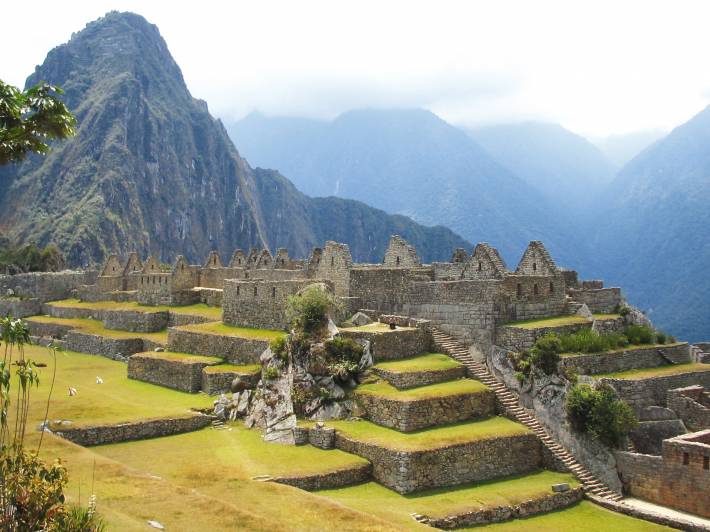 Ancient ruins and Andean beauty...
Inca Trail Trek to Machu Picchu
Passing through the cloud forests and alpine tundra of the Andes, the famous Inca Trail Trek follows an original Incan construction to arrive at the incredible citadel of Machu Picchu. The four day hike starts close to Ollantaytambo in the Sacred Valley and passes many Inca ruins along the way including the lone, circular Runcuracay building and the stone baths of Puyupatamarca. The undulating route reaches its highest point on day two of the hike at Warmi Wañusqa, or 'Dead Woman's Pass' as it is commonly known, standing at an altitude of 4,200 meters above sea level. The final leg of the hike takes place early in the morning in order to reach the Sun Gate, once the main entrance to the site, in time for sunrise. At this point hikers are greeted with slowly dispersing clouds that reveal the spectacular stone complex of Machu Picchu.
Want to enjoy this experience? Explore our Peru tours!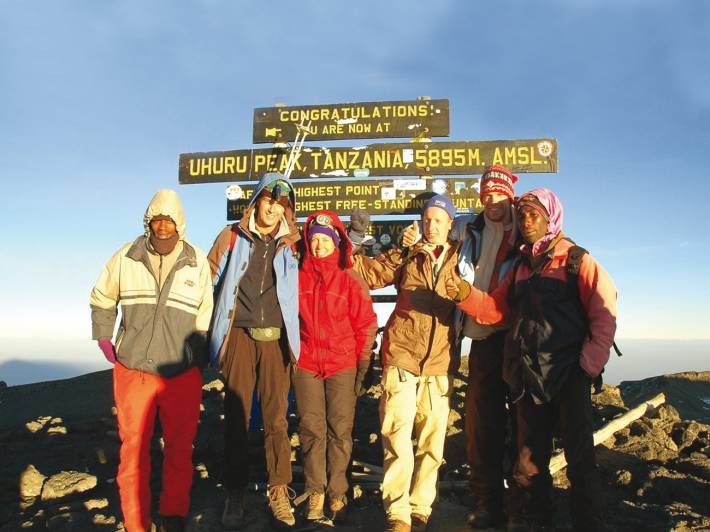 Challenging climb for incredible vistas...
Climbing Mount Kilimanjaro
Rising to a height of 5,895 meters above sea level, the dormant volcanic peak of Mount Kilimanjaro is Africa's highest mountain and forms the centerpiece of the Kilimanjaro National Park, Tanzania's most visited. Comprised of three volcanic cones known as Kibo, Mawenzi and Shira, the mountain is a major climbing destination, attracting some 25,000 people each year attempting to scale the summit. Only two thirds succeed, battling the extreme altitude and glacial terrain. Those that do are rewarded with incredible vistas from Uhuru Peak above the clouds, literally touching the sky. There are seven official routes leading to the summit, approaching from different sides and striking through different terrains. But no matter which route you choose, the challenge of scaling Mount Kilimanjaro's imposing height is guaranteed to provide the experience of a lifetime.
Want to enjoy this experience? Explore our Tanzania tours!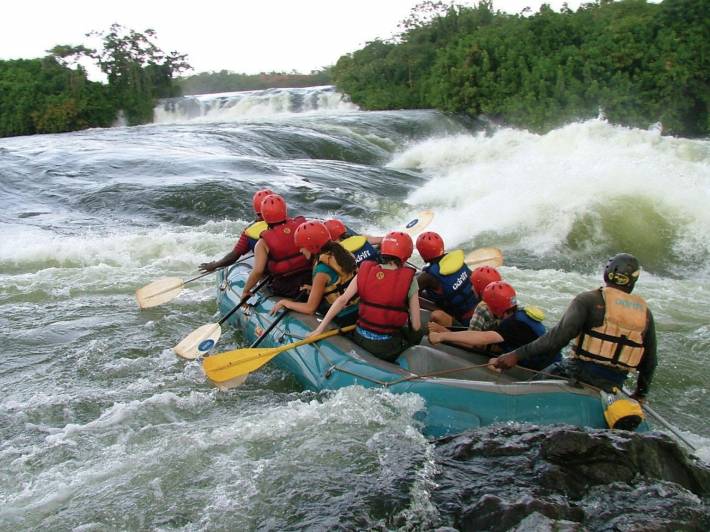 For thrills and beautiful scenery...
White water rafting down the Zambezi River
Flowing through six countries from the border between Zambia, Angola and the DRC to Mozambique where it empties into the Indian Ocean, the Zambezi River is the fourth longest river in Africa and attracts visitors for its excellent water-based activities and game viewing opportunities. At various points along the river hippo, crocodiles, elephants and lion populate the largely calm waters and the banks. Midway along its course the Zambezi River creates the spectacular Victoria Falls, a monstrous sheet of water crashing over a basalt cliff face into a gorge hundreds of feet below. Where the river continues its course at the bottom of Vic Falls is considered to be the best spot in the world for white water rafting with wild rapids and stunning scenery. Rafting on the Zambezi beneath one of the world's greatest natural wonders is definitely not something you'd forget in a hurry!
Want to enjoy this experience? Explore our Zambia safari tours and Zimbabwe safari tours!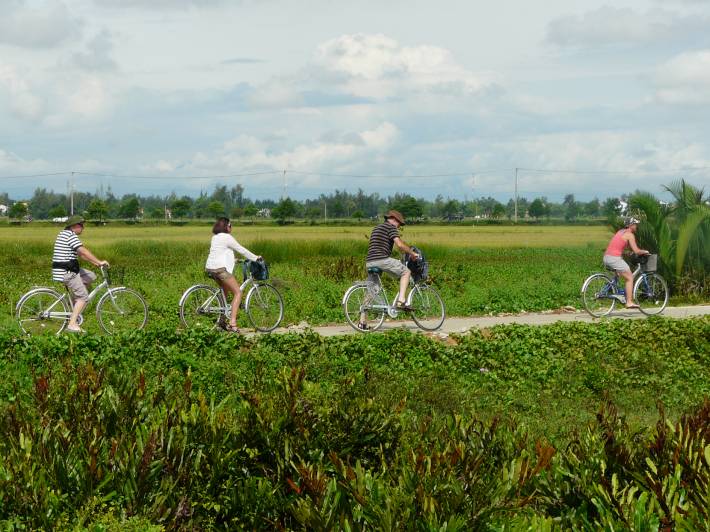 Leisurely journey in the countryside...
Cycling through Vietnam
With breathtaking natural beauty of terraced rice paddies, undulating mountains carpeted with lush vegetation, and pristine sand beaches lining the coast, combined with an alluring cultural heritage that covers attractive temples, delicious cuisine and enthralling cities, Vietnam is a highly rewarding travel destination. The Central Coast between the imperial city of Hue and the historic port town of Hoi An is packed with interesting monuments and scenic rides through green countryside. The largely flat terrain makes it an ideal spot for cycling, a leisurely adventure that gets you up close and personal with local farmers and their traditional way of life. Discover beautifully preserved citadels, elaborate royal tombs, colorful rural markets, idyllic beaches and poignant memorials whilst cycling along peaceful back-roads with the occasional challenging pass.
Want to enjoy this experience? Explore our Vietnam tours!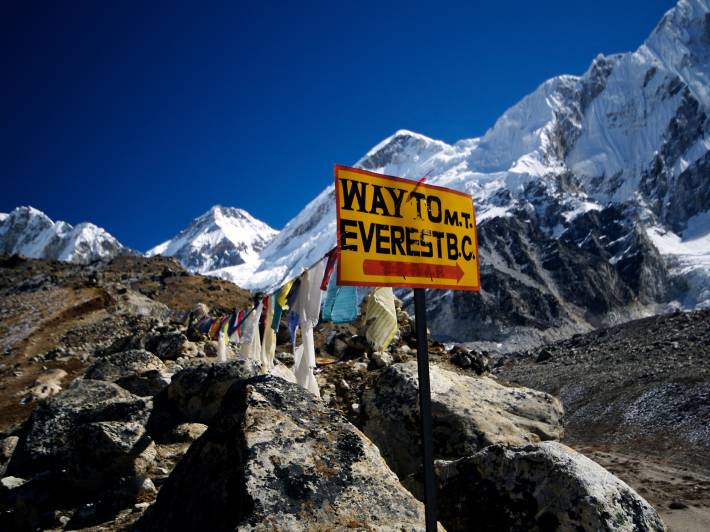 Famous trekking point on world's tallest mountain...
Trek to Everest Base Camp
Ever since New Zealand mountaineer Sir Edmund Hillary and local Nepalese Sherpa Tenzing Norgay became the first climbers to reach the summit of Mount Everest, the world's highest mountain, more than 4,000 people have followed in their footsteps since 1953. Standing at a height of 8,848 meters above sea level, the mighty mountain represents the ultimate challenge for climbers and it's certainly not for the faint hearted - around 250 people have died attempting to scale Mount Everest. At an elevation of 5,364 meters, Everest Base Camp on the Nepalese side of the mountain represents a far more achievable goal with everything you'd expect of the Himalayas - spectacular scenery and unique Sherpa culture with a number of monasteries and colorful prayer wheels dotted along the two-week long trekking route.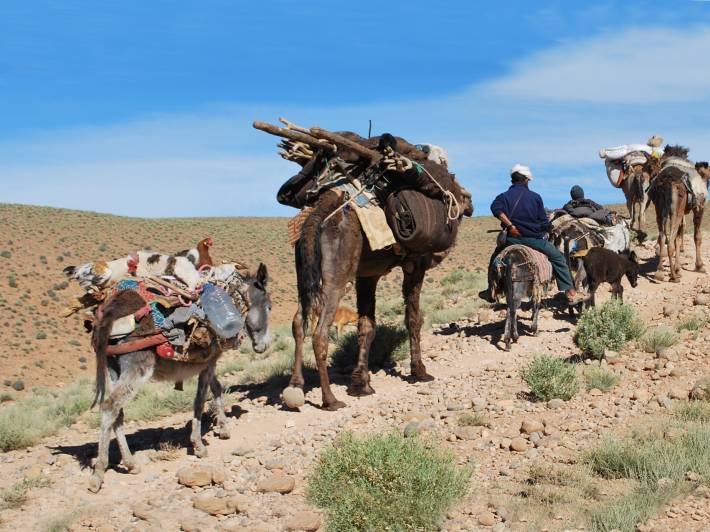 Bi-annual journey through the high atlas...
Migration of the Berbers in Morocco
Twice a year Morocco's native Berber tribes undertake an arduous journey from the edge of the Sahara Desert to sacred pastures in the Atlas mountains, a path that has been trodden by their ancestors for thousands of years. With their livestock in tow, numbering hundreds of goats, sheep, camels, and donkeys, nomadic Berber communities ascend to cooler plateaux in the summer months, usually in May, and return to lower slopes in the winter, usually in September, where temperatures are warmer. Join the Berbers for a unique experience following a scenic route through rugged terrain that has been passed on from generation to generation, with nights spent in rustic camps in picturesque valleys and stories shared beside the campfire.
Want to enjoy this experience? Explore our Morocco tours!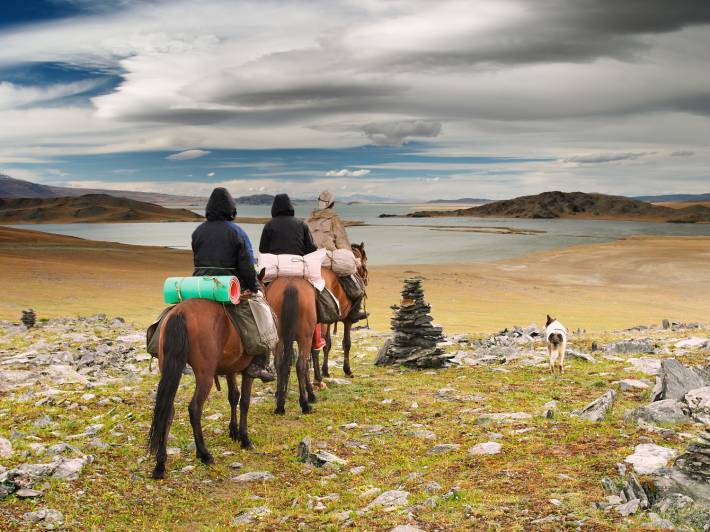 Endless grasslands and open sky...
Horseback journey through Mongolia
The gently undulating grasslands of Mongolia were once home to the world's largest herd of horses, shepherded by nomadic communities in search of fresher pastures for their livestock. Today horse culture continues to play a pivotal role in Mongolia where ancient traditions are maintained and families still live in ger, traditional felt yurts that punctuate the unending steppe, which forms a large crescent around the Gobi Desert. Travelling across the vast grasslands by horse-back is the best way to appreciate the unique natural beauty of Mongolia from rugged mountains to pristine lakes as you pass by local communities untouched by modern life. As you ride through the wilderness it'll be days before you see a telegraph pole, fence or road, the ultimate off-the-beaten-track adventure.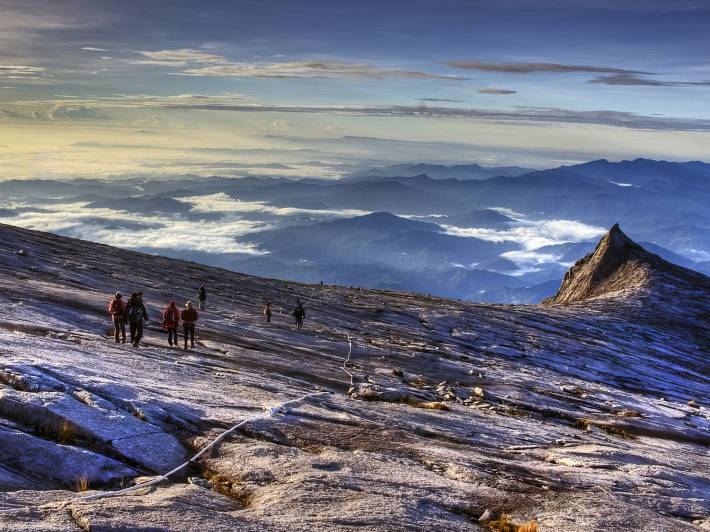 Malaysia's first UNESCO-listed site...
Climb Mount Kinabalu in Borneo
Standing at a height of 4,095 meters above sea level, the distinctive jagged peak of Mount Kinabalu is the tallest point on the island of Borneo and Malaysia's first UNESCO World Heritage Site. It dominates the Kinabalu National Park, a 750 km² expanse of alpine meadows and mountain grasslands that are home to some 6,000 species of plants, over 300 species of bird and 100 different mammals including the famous orangutan. Reaching the summit is an attainable ambition for many with an official trail following a steep ascent through jungle that gives way to a lunar-like landscape of uneven granite mountain surface. Climbers are rewarded with spectacular views reaching as far as the Philippines on a clear day though the peak is often shrouded in an eerie early morning fog that slowly dissipates.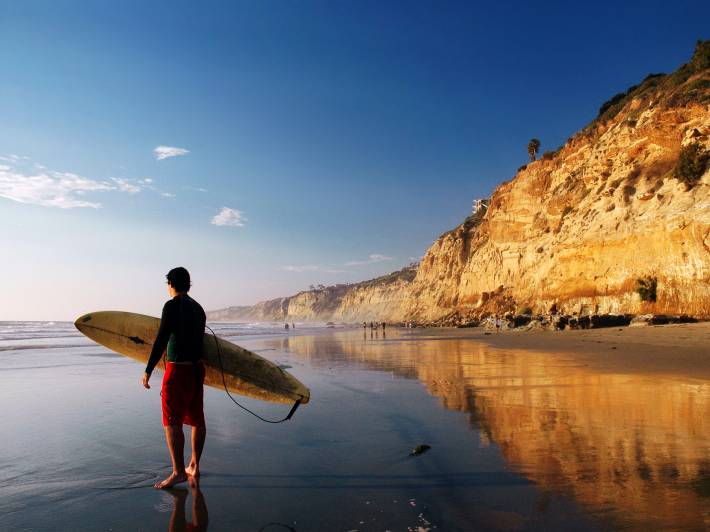 World-class waves and beach-side bliss...
Surfing in Morocco
The region around Essaouira on the southwest of Morocco's Atlantic coast is growing as a popular surfing destination thanks to the favorable conditions for beginners to start their surfing adventures. Better known for windsurfing, in recent years changes in local climatic conditions have meant the waves stay quiet enough for traditional surfing, especially during the winter months. There are also a number of more challenging surf spots further along the coast for those that are more experienced and there's always the option to try a host of wind sports. With a rich cultural heritage and delectable cuisine, Morocco is an ideal travel destination to combine beach with culture, explore ancient imperial cities, and hitting the waves for adventure in the water.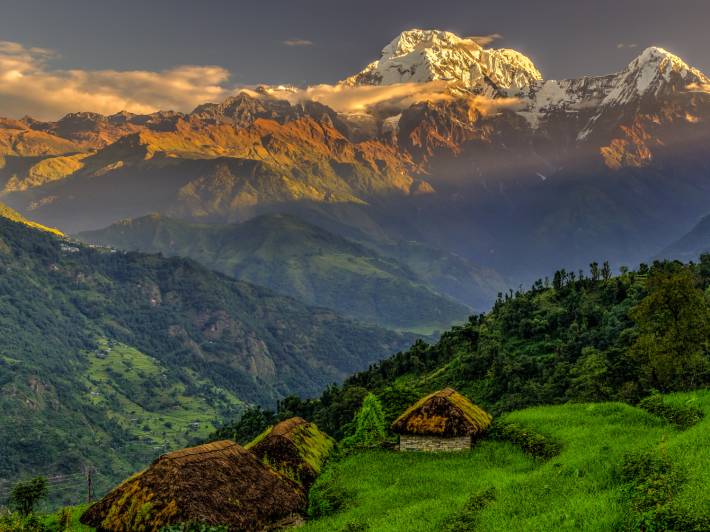 Stunning mountain range and hill tribe culture...
Trekking the Annapurna range in Nepal
The Annapurna mountain range in the Himalayas is one of the most popular trekking options in Nepal and with stunning scenery, dramatic vistas, charming hill culture and excellent accessibility, it's not difficult to see why. A number of trekking routes start or finish close to the attractive lake-side town of Pokhara with something to suit all abilities and fitness levels. Journey into the heart of the mountain range on the Annapurna Sanctuary trail, stopping at local tea houses each hour, or trek through lush hill country to Poon Hill for amazing panoramas of the Himalayas. For serious trekkers the Annapurna Circuit takes on average 15-20 days with numerous river crossings over vertigo-inducing steel and wooden suspension bridges on a challenging route that passes Tibetan-style villages and deep valleys carpeted in green.
Want to enjoy this experience? Explore our Nepal tours!
Tours featuring our top active adventures
Exciting Days, Comfortable Nights
Our Signature group tours place local interaction and authenticity at the heart of your travel experience.
For our Signature range, we maximize your days with excitement and then bring you home to specially selected accommodation with extra character, convenience and comfort, whether that's a five-star river boat on the Nile or a traditional Japanese Ryokan. Accommodation in this range features comfortable western standards, air-conditioning, WiFi and, where appropriate, a swimming pool.
On a Signature holiday, you'll be escorted throughout your trip by our qualified English-speaking local guides who'll show you all the must-see attractions and even the lesser-known sights.
To further add to that special touch, the group sizes in our Signature range are mid-sized: small enough to be intimate, but large enough that you can bond with new friends over common interests.
Trek and Sightsee
Our Active range brings you thrilling trekking holidays to some of the world's most popular destinations. Whether it's trekking to the Lost City of Petra in Jordan or climbing Mount Kilimanjaro in Tanzania, you'll get to explore more of your chosen destination than just the standard highlights. You'll need a good level of fitness and an intrepid spirit for all of our private and group tour treks.
While trekking, the accommodation you'll be staying in reflects the off-the-beaten track nature of these trips with simple tea houses, wild & fixed camping, homestays, and local guest houses.
Iconic Experiences, Local Partners
On our Handpicked range we bring you the most iconic experiences in destinations where you'll join travellers from other travel brands on your tour, safari or sailing holiday. Collaborating with our carefully handpicked portfolio of local partners, these holidays represent exceptional value and there'll be plenty of cultural experiences shared with other like-minded travellers.
Group sizes and accommodation standards vary by destination where typical group size is 28 travellers and hotels, boats and safari lodges are of a 3-4 star standard.
Unforgettable Journeys
With our Overlanding range, we give you amazing adventures, on and off-road, through Africa's most loved destinations. Travelling aboard large, purpose-built trucks, with all the equipment necessary for camping and cooking onboard, overlanding allows you to cover large distances and explore multiple countries in an affordable and fun way. As well as taking in key highlights, our Overland tours are able to get off the beaten track, getting under the skin of the countries you visit.
Whether it's going in search of the Big Five in Africa's flagship national parks, floating through the Okavango Delta in a mokoro, or scaling the Sossusvlei dunes in Namibia, spend your days enjoying a wide range of exciting activities and camp out each night under a blanket stars.
Group sizes tend to be a little larger on our overland Camping Safaris (with an average of 24), providing a social and fun travel experience with like-minded travellers. Group participation is all part of the experience, helping to set up camp, shop for local produce and cook meals, all creates great camaraderie.
Our Comfort Camping Safaris are slightly different. You won't need to lift a finger, as your experienced three-person crew sets up camp, prepares your meals and cleans up, so you can relax. In addition, you'll enjoy the comfort of a camp bed rather than a roll mat and travel in a small group (maximum size of 16) escorted by a licensed African guide.
All of our Overlanding tours include a local payment. As well as keeping up front costs down for you, it means that even more of your money stays within the local area. Cost-effective trips and great for the community; can't be bad!
