Dubai Package Trips & Tours
Glistening skyscrapers and stunning deserts. Book a Dubai package with On The Go Tours.
If you are passing through Dubai en route to another one of our destinations, take the opportunity to explore this fascinating city with
our 4-day Dubai package
Home to the world's tallest building in the Burj Khalifa and other incredible buildings such as the Burj al Arab hotel, Dubai is an exceptional city. But looking beyond Dubai's gleaming facade you can find historic buildings, colorful spice souks, and traditional dhows scattered on The Dubai Creek. Intrepid travelers who venture outside the city limits can explore rolling golden dunes by 4x4 and enjoy dinner under the stars at an authentic Bedouin Camp.
The glitz and glamour of Dubai translates into its hotels and we offer a choice of properties to ensure a sumptuous night's sleep on your Dubai package. Whether you are looking for contemporary comfort on an affordable budget, want to live the high life in one of the most glamorous cities on earth, or fancy basking in the sun while overlooking the Arabian Gulf, you are bound to find respite at one of our centrally-located hotels.
Dubai Package Trips
Our 4-day city break in Dubai is perfect for those travelling long haul to join one of our group tours in the Middle East or elsewhere, and can easily be combined with one of our other trips. The city is a gleaming mix of skyscrapers and traditional Arab culture, all located in a stunning desert setting. Our Dubai package includes guided sightseeing at the city's world famous sights, free time to relax, and a desert safari adventure. It's the perfect length of time to fully explore Dubai before you continue to your next destination!
Explore more countries like the United Arab Emirates
Frequently asked questions about our Dubai package
When is the best time of year to visit Dubai?
Dubai is hot. And in summer, Dubai is very hot. The temperature in this desert city rarely drops below 25 degrees Celsius in the daytime all year. To avoid the hottest time of year, we recommend booking Dubai trips in the winter, from December to March. If you are travelling in summer then we strongly recommend you avoid being outside during the hottest part of the day, when temperatures regularly exceed 40 degrees. All buildings in Dubai are air-conditioned, including hotels, malls, shops and restaurants.
What standard of accommodation do you offer with your Dubai package?
The price of our
Dubai Stopover
is based on 4-star hotels. But if luxury holidays are more your thing then it is possible for you to book this tour with 5-star accommodation instead. And if you're travelling to Dubai on a budget, we can also book this tour with 3-star accommodation, to help you keep costs down. Please speak to our team for more information.
Are airport transfers included with your Dubai package?
Yes. We will pick you up from the airport when you arrive in Dubai and will take you to your hotel. And at the end of the trip we will take you back to the airport for your onward flight. This is another great reason to tack our
Dubai Stopover
onto your trip to Egypt, Jordan, Morocco, Israel or elsewhere!
Will I have a tour guide as part of my Dubai package?
Our Dubai Stopover is a semi-independent tour. This means that you will still enjoy the services of a local, English-speaking guide for all included sightseeing and activities, you just won't be fully escorted by a guide.
What is the currency in Dubai?
The currency of Dubai and the rest of the UAE is the United Arab Emirates Dirham (AED). Check
OANDA
for current exchange rates.
Can I drink the tap water?
Fresh water is extremely scarce in the United Arab Emirates, a desert country. As a result, the country's tap water largely comes from desalinated seawater. Officially this is safe to drink, but there are questions regarding the hygiene of the tanks the water is stored in and it has been known to make people unwell. To be on the safe side, we recommend sticking to filtered or bottled water during your Dubai city break - though you should be fine to brush your teeth with the tap water.
Are there local laws that I need to be aware of?
The United Arab Emirates is an Islamic country, and there are strict rules in place that many travelers from western countries may be unfamiliar with, particularly around clothing, language, alcohol, and public displays of affection (between both heterosexual and homosexual couples). As a popular tourist destination, Dubai is not as strict as other places in the country, but it is important to read up on the local laws before you travel on your Dubai city break. We have a guide to the essential do's and don'ts.
Is Dubai a safe destination for travellers from the LGBTQ+ community?
According to the
2022 LGBTQ+ Travel Safety Index
, the United Arab Emirates scores an F rating for LGBTQ+ traveler safety, ranking 189th out of 203 countries. Same sex marriage is illegal and there are no constitutional or worker protections in place for the LGBTQ+ community. 0 - 25% of consulted citizens consider the UAE a good place to live for gay and lesbian people. Laws prevent the discussion of pro-LGBTQ+ issues and male homosexual activity is punishable by death under Article 354 (since 1987).
This does not mean members of the LGBTQ+ community shouldn't visit the UAE, but precautions should be taken when travelling. As long as you use common sense and discretion, travelling in the UAE shouldn't be a problem.
The LGBTQ+ Travel Safety Index is designed to provide a good overall picture of attitudes towards the LGBTQ+ community in each country and may not reflect the experience of foreign travelers to the country.
What is the current travel advice for the United Arab Emirates?
As a UK-based company, we follow the latest up to date advice from the Foreign and Commonwealth Office (FCDO).
You can see the latest travel advice for your Dubai and UAE trip
here.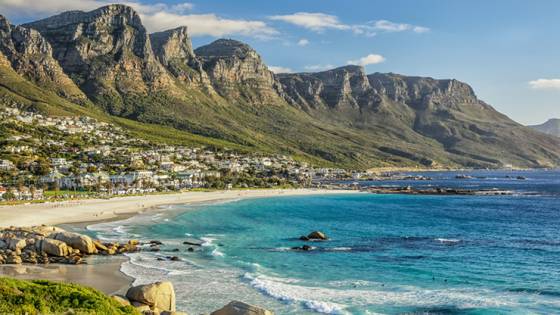 Sri Lanka
November 1, 2018 • By OTG Team
For those in the northern hemisphere, winter can be long and dreary. From November to February, the...
THE PERFECT TRANSIT DESTINATION
Thanks to its handy location in the Middle East, Dubai has fast become one of the most popular transit stops on the Asia-Pacific to Europe route with the world-class airline of Emirates continually adding new routes to its operations. With glamorous restaurants and hotels, mind-boggling shopping opportunities and desert safaris on the doorstep, discover Dubai with a stopover package en route elsewhere. From the Burj Khalifa to the Dubai Creek and the Mall of the Emirates, see it all!
The Best of our Dubai Trips
From the world's tallest building - the Burj Khalifa, the vast Dubai Mall and the Burj al Arab to the empty beaches and rolling dunes of the desert outside the city, these are the best places to visit and things to experience on your Dubai package.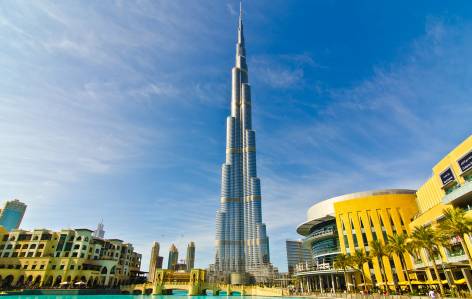 Burj Khalifa & Dubai Fountain
Inaugurated in 2010, the Burj Khalifa is a skyscraper in Dubai that is renowned as being the world's tallest building. It tops 828 meters, which is 150 meters taller than the building in second place, the Merdeka 118 tower in Kuala Lumpur, Malaysia. Impressive! Visit the Burj Khalifa in the evening to see the famous Dubai Fountain show too.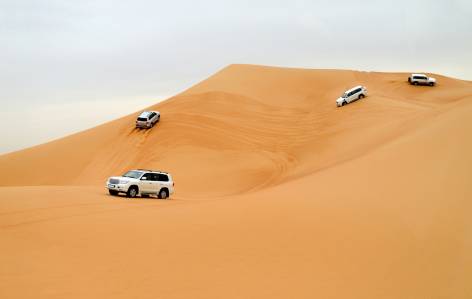 Desert safari
Getting out of the city and into the desert is strongly recommended for any visitor to Dubai. You can book different excursions but on our Dubai tours you will board an SUV for an exhilarating off-road experience over the dunes, before watching the sunset from a Bedouin camp.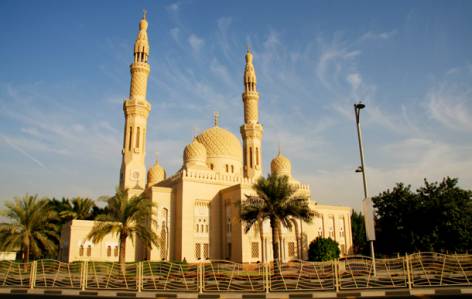 Jumeirah Mosque
The pearly white Jumeirah Mosque is the only mosque in Dubai that can be visited by non-Muslims (dress conservatively and women must wear headscarves). Guided tours of the mosque teach visitors about Islam as well as taking in the staggering architecture of this 20th century building.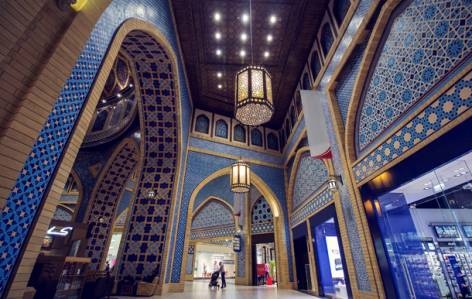 Dubai Mall
Dubai's sprawling main mall is a city within a city. It's the premier shopping destination for travelers, with more than 1,200 retailers housed here. But there is more to the mall than just shops, including an ice skating rink, a cinema complex, an incredible variety of dining options and Dubai Aquarium - one of the largest in the world.