A one week family holiday with camel riding, boating on the Nile, a visit to a village school, pyramids, tombs and Tutankhamun's treasure. This tour is set at a pace ideal for families with children aged 5 years and above and offers valuable insight into the life, culture and the mysteries of ancient Egypt, coupled with plenty of free time for relaxing by the pool.
Trip Highlights
Cairo – Discover the treasures of the Grand Egyptian Museum and browse the Khan el-Khalili bazaar
Aswan – Sail the Nile to Elephantine Island aboard a traditional felucca sailboat and visit a local school
Luxor - Uncover the tombs of pharaohs in the Valley of the Kings and explore the vast Karnak Temple complex
The Great Pyramids – Enjoy a tour of this legendary Ancient Wonder of the World and gaze at the iconic Sphinx
Monastery of St Simeon - Ride a camel across the rolling desert sands to this 7th century monastery
Kom Ombo - Visit the perfectly symmetrical Nile side Temple of Kom Ombo and see a mummified crocodile
Included
Breakfast daily, 1 lunch and 1 dinner (included onboard the train)
1 overnight train from Cairo to Aswan (private 2 berth sleeper cabin) including meals
Aswan - Felucca sailing on the Nile and visit to Elephantine Island
Touring - Cairo, Giza, Aswan and Luxor
Escorted by an Egyptian tour guide, degree qualified in Egyptology
6 nights 4-5 star hotels
Aswan - Camel ride to St Simeon's Monastery
Airport arrival transfer from Cairo International Airport on day 1 and departure transfer from Luxor International Airport on day 8
Guided excursions to the Pyramids of Giza, Egyptian Museum, Philae Temple, Aswan Market, Kom Ombo Temple, the Valley of the Kings and Karnak Temple
All relevant transfers and transportation in private modern air-conditioned vehicles
Not Included
International flights and visa
Entrance Fees: Adult USD$90-110pp / Child USD$50-60pp, paid in local currency
Tip for your tour guide. We recommend USD$40 per adult for the entire tour. Tipping your tour guide is an entirely personal gesture
Tipping Kitty: Adult / Child USD$35-45pp, paid in local currency

Saturday. Welcome to the land of the Pharaohs! At Cairo airport your family will be met and transferred to our hotel. The rest of the day is free to relax at leisure.
Overnight: Cairo
Cairo
Today we discover the treasures of King Tutankhamun, ancient mummies and more on a guided tour of new Grand Egyptian Museum and the Royal Mummies' Room at the National Museum of Egyptian Civilization. After our tour we return to the hotel where the rest of the day is free for you to relax with your family by the pool.

Please Note: the Grand Egyptian Museum is set to open late 2024. An official date has yet to be released. If travelling prior to the opening of the new facility we'll visit the Egyptian Museum instead.
Overnight: Cairo | Breakfast
Cairo - Aswan. Today, we visit the legendary pyramids and iconic Sphinx at Giza Plateau, the sole survivors from the ancient Greek-listed Seven Wonders of the World. Gaze in awe at the largest of the three great pyramids - Cheops. Constructed from over 2.5 million limestone blocks, it took more than 20 years to construct. We explore this area on foot and there's the opportunity to venture inside one of the great pyramids. The afternoon is free to relax by the hotel pool with your family or independently explore Cairo before we take the comfortable overnight sleeper train to Aswan.
Overnight: Sleeper Train | Breakfast, Dinner
We arrive into Aswan this morning and and take a boat out to Agilika Island to visit the beautiful Philae Temple and then make a stop at a perfume oil emporium. The rest of the day is free to independently explore or relax by the hotel pool. Scenically located on the Nile, a walk along the riverfront corniche to view the many boats is a real treat. This evening we'll visit the Aswan market and enjoy the smells of herbs and spices being traded by local merchants.
Overnight: Aswan | Breakfast
Sail onboard a traditional felucca as we enjoy a visit to Elephantine Island. Take a guided walk to many important archaeological sites and a local school (if open), before lunch on board the felucca. This afternoon is free for you to spend in Aswan as you please. You may wish to join our optional excursion to the Nubian Museum. The museum is home to more than 3,000 artifacts and scale models from across ancient Egyptian history, from the Pharaohs to the Romans.
Overnight: Aswan | Breakfast, Lunch
Aswan - Luxor. This morning we take a motorboat across the river to the west bank of the Nile and enjoy a camel ride across the desert to the 7th century Monastery of St Simeon. We explore this site before bidding farewell to Aswan and travelling to Luxor, stopping en route to visit the temple of Kom Ombo. The northern half of this temple was dedicated to the falcon god Horus, whilst the southern half was dedicated to the crocodile god Sobek. The two are perfectly symmetrical and you'll think you're seeing double as we explore.
Overnight: Luxor | Breakfast
We visit Luxor's legendary West Bank this morning - home to the famous Valley of the Kings, the imposing colonnaded temple of Queen Hatshepsut and the gigantic Colossi of Memnon. See how the ancient Egyptians confounded tomb robbers with the construction of elaborate catacombs, once filled with treasures and highly decorated to allow the pharaoh passage to the afterlife.

Later, visit the colossal Karnak Temple, which took around 1,500 years to complete. Imagine you're a pharaoh as you stroll around Hypostyle Hall and see the impressive Avenue of Sphinxes. Return to the hotel and enjoy your last night in Luxor at leisure with your family. You may wish to join our optional tour of Luxor Temple, beautifully illuminated at night.
Overnight: Luxor | Breakfast
Luxor & the Valley of the Kings
Saturday. Today your Egyptian adventure comes to an end. You will be transferred to Luxor airport for your onward flight.
Breakfast
Extend your stay and head to the beach!
Egyptian Family Adventure & Red Sea - 13 days
Enjoy a fascinating, fun-packed & educational family adventure and top it off with a beach break in Hurghada on the beautiful Red Sea Riviera. See the best of legendary ancient Egypt & experience the local way of life. It's an interactive adventure for all the family.
The hotels listed below are ones which we frequently use on this tour. We reserve the right to substitute these hotels to ones of a similar standard.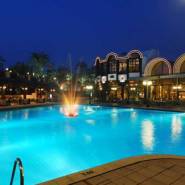 Oasis Hotel, Cairo
Just a stone's throw from the Pyramids, the Oasis Hotel is a classic Egyptian hotel with beautiful expansive gardens. Rooms are very spacious with comfortable beds and fantastic en suite facilities. Wi-Fi is available and the buffet breakfast offers a good spread. In the evening the outdoor pool and fountains are lit up making the restaurant and bar the perfect place to spend an evening sipping on a cold glass of beer.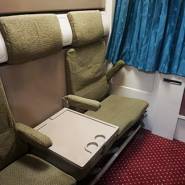 Sleeper Train, Cairo
When travelling on an overnight train in Egypt, sleeper carriages offer the highest level of comfort. Cabins are equipped with two beds (one above the other), a basin, electric points and air conditioning. Freshly laundered bedding is provided and in the early evening an attendant will come round and make up your bed for you. The carriages have toilets at each end and there is a club car which serves snacks and beverages. In the morning a very basic breakfast is provided.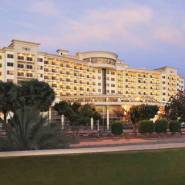 Tolip Hotel, Aswan
Set in manicured gardens, the Helnan Aswan is an elegant hotel with impressive views of the Nile. Guest rooms are spacious with modern interiors and located next to the beautiful pool. Wi-fi is available in the lobby and by the pool. There are also two restaurants and bars, a bowling alley, a swimming pool and a cinema. Why not relax by the pool before exploring the rest of Aswan.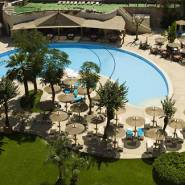 Aracan Eatabe Luxor Hotel, Luxor
Offering a prime location in the centre of Luxor, this 4-star hotel is close to top attractions including the Luxor Museum and Luxor Temple. Surrounded by manicured gardens, the contemporary-style guestrooms are well-equipped with air conditioning, a minibar and a balcony overlooking the garden or River Nile. Guests can enjoy a rich breakfast, lunch and dinner in the sun-lit restaurant or outdoors by the resort style pool. There you'll also find a poolside bar and sun deck, so you can enjoy a cocktail or two as you soak up the rays.
Reviews
Travellers have rated this tour as 5 out of 5 based on 4 recent reviews
"
The whole tour was amazing. The standard of accommodation was much better than I had expected. Our tour guide Momo - incredible. His knowledge was extensive and his patience lasts a long time. Momo was the reason that our tour was so good. "
Rosemary Win
• Submitted 22 May 2019
Tour





Guide





Country





"
My husband, 11 year old daughter and I have just returned home from our 8 day long Egypt Express for Families tour. We had a fantastic time and all of the many On the Go team members who helped us were exceptional, We especially appreciated our booking agent, Nina Hanscomb, and our main guide in Egypt, Ahmed Helal. Ahmed went out of his way to accommodate our needs, interests and preferences as much as possible throughout the whole tour. Our family travels extensively and we normally do it all independently on our own. For our first trip to the Middle East, though, we appreciated the extra assurance and feeling of security of having a knowledgeable and Arabic speaking local guide smooth the way for us, Apart from a disappointing experience with our first hotel in Giza, every moment of the tour from being welcomed at the airport through accessing the sites and finding good places to eat and shop, worked seamlessly and quickly and exceeded all of our expectations. As a museum professional and lifelong archaeology buff, I appreciated Ahmed's vast knowledge of Egyptology and his obvious personal pride in his country's fantastic history. He did a great job of keeping all three of us (with our very different interests) thoroughly engaged throughout the whole tour. I would not hesitate to recommend this tour to other families and look forward to future tours with this company!"
Dee Stubbs-Lee
• Submitted 19 Mar 2019
Tour





Guide





Country





"
Our guide was friendly and very knowledgeable. He was so good with my 11 year old daughter, she loved this tour! "
Karen O'Sullivan
• Submitted 15 Feb 2019
Tour





Guide





Country





"
My 11 year old son and I recently returned from the adventure of a lifetime. Egypt is amazing.
From the moment we arrived at Cairo airport and were met by the On The Go representative, and for the remaining 7 days of our tour, everything was organised beautifully. This was a family tour and our group consisted of more kids than adults – a great group of Aussies, English and South Africans.
Our fabulous guide for the tour was Alam whose obvious knowledge and passion for Egyptian culture and history rubbed off on us all.
Alam managed to keep both adults and kids entertained with enough information to satisfy the adults but not too much to overwhelm the kids. He was always happy to answer any questions and give more background if we wanted it.
Too many wonderful sights to mention but the highlights for me were definitely the Valley of the Kings (those tombs are amazing – the colour in them was overwhelming). And of course what 12 year boy is not going to be excited about seeing Tutankhamen's mummy!
We felt cared for and safe. Egypt is a marvellous place to visit and it is a safe place to travel. The locals need the tourists back and I hope tourists won't be put off by recent events in this remarkable country. Thank you Alam and On The Go for a most memorable holiday. "
Peter Grand & Callum Grand
• Submitted 13 Sep 2018
Tour





Guide





Country





"
Keep up the good work and excellent service.:) "
Kareeshma Kana
• Submitted 27 Oct 2014
At a Glance
Range
Trip Type
Starts
Cairo
Ends
Luxor
Departs
Saturdays
Group Size
Min 4 / Max 24
Hotel Rating
4 - 5 star
Tour Guide
Yes, escorted by a tour guide
Meals
Breakfast: 7, Lunch: 1, Dinner: 1
Countries
Minimum Age
5 yrs, accompanied by an adult
Arr. Transfer
Yes
Dep. Transfer
Yes
Tour Add-ons
Enhance your trip with these amazing added extras and add-ons
"
The whole tour was amazing. The standard of accommodation was much better than I had expected. Our tour guide Momo - incredible. His knowledge was extensive and his patience lasts a long time. Momo was the reason that our tour was so good. "
Rosemary Win
OTG000916
Egyptian Express for Families - 8 days
Middle East & North Africa
Signature
Middle East & North Africa
false
0
Egypt
https://www.onthegotours.com/us/Egypt/Egyptian-Express-For-Families-8-days
https://www.onthegotours.com/repository/Children-at-the-Valley-of-the-Kings-in-Luxor--Egypt-Family-Tours--On-The-Go-Tours-791291663076990_crop_flip_300_300_f2f2f2_center-center.jpg
Family_Holidays