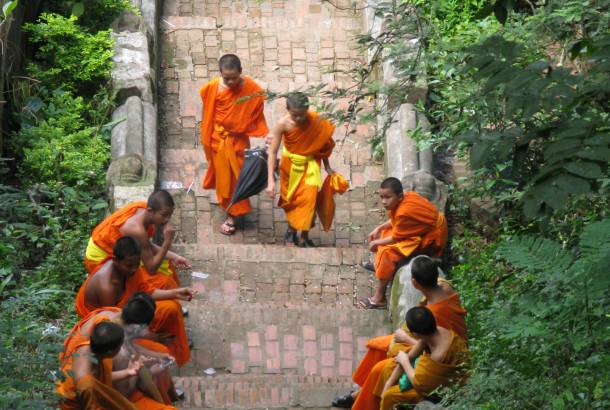 Are you visiting Laos and unsure what to expect? Need more information about the food, or what to do when it comes to tipping? Worried about how to behave in Buddhist temples or curious as to whether bargaining is acceptable? We cover this and more with our Top Travel Tips.
What vaccinations do I need for Laos?
You should seek medical advice from your local health practitioner before travelling to Laos and ensure that you receive all of the appropriate vaccinations. As a guide: Tetanus, Typhoid, Hep A, Diptheria and Polio are recommended.
Do I need anti-malaria tablets for Laos?
Aside from Vientiane, the capital of Laos, there is a high risk of Malaria throughout the entire country. Anti-malarials such as Malarone, Doxycycline or Atovaquone should be taken during your trip along with extra precautions to avoid mosquito bites. This can be achieved by sleeping under the protection of a mosquito net and by wearing a strong insect repellent, containing at least 50% DEET. For more health information in Laos visit the
NHS Fit to Travel
page or the
CDC Traveler's Health
page.
Is it safe to drink tap water in Laos?
No. Don't drink the tap water. It can make you very unwell. Visitors to Laos should stick to bottled or purified water for the duration of their trip and avoid drinking anything with ice in it.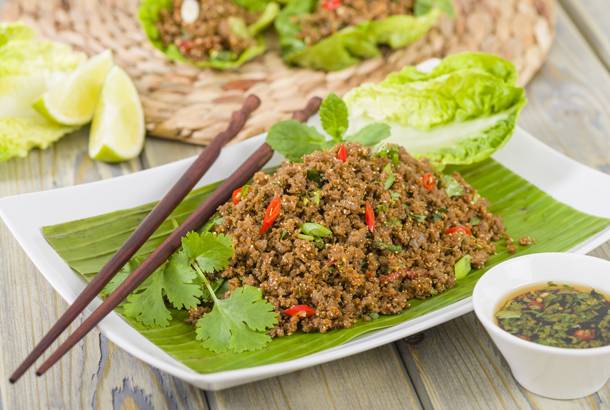 What's the food like in Laos?
Lao food is simple, fresh and flavorsome. Sticky rice rather than steamed rice is the main staple. Almost all of Lao dishes are cooked with fresh ingredients whether they are vegetables, chicken, duck, pork, fish and beef. Som tum, a spicy green papaya salad is a signature dish as is Larb, made with diced chicken, pork, fish or vegetables tossed with lime juice, garlic, powdered rice, green onions, mint leaves and chilies.
With a French colonial influence, delightful French pastries and croissants can be found on most street corners in addition to the local favorites of barbecued pork, beef jerky (Sinh Savan) and meatballs. International cuisine is also popular and top gourmet restaurants without the price tag can be found in most major cities and tourist hot spots.
Beer Lao is the lager of choice. Whiskeys, vodkas and wines are also served in hotels and restaurants though air on the side of caution as the quality does vary. Strong black coffee is drunk with condensed milk as it is in Vietnam and Cambodia though often comes accompanied with warm water or a light tea. Fruit juices are easily available and taste good. Fresh fruit juices pulped in front of you are even better. International brand soft drinks imported from Thailand are inexpensive and can be found everywhere.
Safe eating while travelling in Laos
Laos is still very much a developing country and therefore the food hygiene standards there are different to what we would expect in the West. Take extra care when eating meat and fish by making sure it has been cooked through thoroughly and is served piping hot. Given that the water is not safe to drink, you should not eat anything that could have been washed in it such as unpeeled fruits, uncooked vegetables and salad. Unpasteurised dairy products should also be avoided.
Is it standard to tip in Laos?
Tipping is not expected in Laos but a little spare change left at the end of a meal or taxi journey will be highly appreciated and will probably make a big difference to the worker's daily wage. 10% at the end of a meal and rounding up a taxi fare is a generous way of showing your thanks for good service.
Our Tipping Made Easy policy takes the hassle out of tipping while on tour with a nominal pre-determined amount collected from all tour participants on the morning of day 2 in local currency. This tipping kitty is then divided among bellhops, luggage handlers, local guides and other support staff throughout the tour. The amounts collected for tips per person for our tours are listed on the relevant tour page.
Please note that our Tipping Made Easy amount does not include a tip to your group tour leader, where we suggest an amount of approximately USD $3-$6 per day of your tour. Naturally, though, the amount is up to you. If travelling on a group tour with less than 6 participants or on a Tailor-made holiday, in place of Tipping Made Easy we recommend the following amounts per person per day be allocated to cover tips paid directly by you to bellhops, luggage handlers, your driver and local guides: USD $10 if the day includes a local guide & sightseeing, and USD $5 if the day does not include a local guide and sightseeing.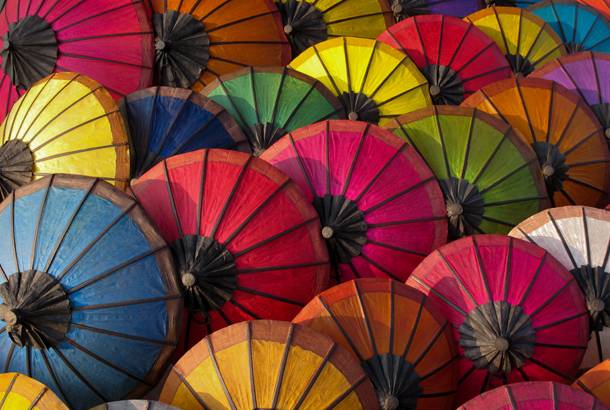 What souvenirs should I shop for in Laos?
Popular souvenirs from Laos include handicrafts and textiles. One of the largest and best markets in Vientiane is Talaat Sao where you can get everything from electrical goods, fabrics, silverware, gems and gold. Local markets and minority villages are a good place to shop at bargain prices, while cities and towns also have larger tourist markets and shops that offer a wide range of local handicrafts from around the country.
The art of weaving is still very much a home industry in Laos, where some of the finest silk and cotton weavers in the world ply their trade in the smallest of communities. Antique woven pieces are still available but are becoming increasingly rare, often fetching very high prices.
Hand woven textiles are made from locally produced silk and cotton, and traditional designs and patterns vary from province to province. Saa paper is made from the mulberry tree and its bark. Like many things in Laos, it is made by hand and is very labor intensive. However the results are intricately layered sheets of paper produced to make photo albums, notebooks, paper and envelope sets.
The crafting of gold and silver jewelery is another skill of which the Lao people excel. Many of the best examples of silver jewelery come from the hill tribes, including chunky bangles, pendants, belts and earrings. In more remote areas the language barrier can restrict negotiations!
How to bargain in Laos
The general rule for bargaining in Laos is that if it has a price tag, it is probably not up for negotiation. Restaurants, hotels and supermarkets are usually off-limits whereas street vendors and markets are absolutely fine. Once you and the vendor have come to an agreement on a price you should then go through with the transaction. It is very poor form to spend all that time haggling and then decide that actually you don't want it anymore. Also make sure that you stay polite and friendly throughout the entire interaction.
Is it safe for a single woman to travel in Laos?
Most women will not encounter any trouble in Laos. With an almost entirely Buddhist country, the population is laidback, respectful and hospitable, and the vast majority of women feel warmly-welcomed and in no way threatened. Nevertheless, no country is 100% safe and women should be wary of being out alone at night and avoid wearing particularly revealing clothes in order to blend in better.
What is the etiquette when visiting temples in Laos?
When entering temples in Laos it is important to remember to take your shoes off beforehand. Women wearing trousers or a short skirt will usually be required to put a long skirt on over the top. These are available to borrow at most temples. It is never acceptable to touch somebody on the head in Laos as it is the highest point of the body and therefore considered the most important and holy. On the flipside, feet are the lowest part of the body and gesturing with them will often be considered both disrespectful and disgusting.
A 'nop' is a gesture that involves placing your hands together, palm to palm, and bowing the head slightly. This should be done when meeting other Laotians and when walking past a temple or Buddha or some other monument of religious significance as it is a way of showing your respect.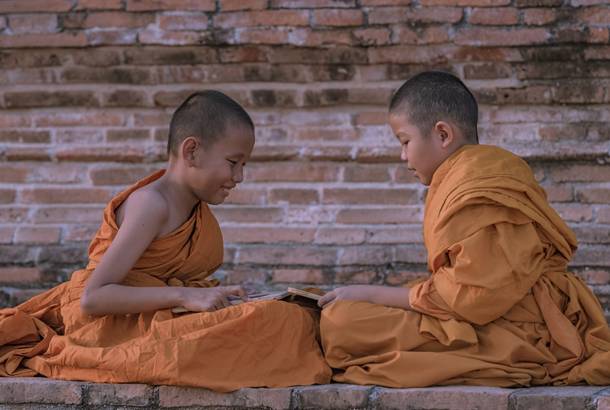 Is Laos a suitable family holiday destination?
Boasting a wealth of unspoiled nature and a whole population of laidback and friendly people, Laos is an excellent destination for families with children. There are numerous physical activities, including swinging from treetops, caving, kayaking and exploring the jungle, which all appeal to youngsters with energy to burn. There is also a plethora of delicious Laotian snacks to try and plenty of opportunity to mingle with friendly locals.
Being far less developed than the West, Laos can hit hard with culture shock, even for the most experienced traveler. It can be incredibly valuable to expose young children to how other people live, in order to broaden their appreciation of material goods. However, with inferior health services, it can also be challenging if your child falls ill and requires medical attention.
We accept children aged 5 and over on our Laos private tours and Tailor-made holidays (dependent on itinerary) so get in touch to arrange your perfect family holiday.
What is the duty free allowance for Laos?
Travelers over the age of 16 are permitted to bring the following into Laos:
200 cigarettes, 50 cigars or 250g of tobacco
1 liter of spirits and 2 liters of wine
50ml of perfume and 250ml of eau de toilette
Goods up to the value of USD $50
You must declare any antique items purchased in other countries. The following are banned from being imported into Laos: products affecting national security and stability or public health, narcotics, wildlife, endangered species, and historical artifacts.
The following may not be taken out of Laos: any antiques of great historical value. You should check with the Ministry of Information and Culture before exporting cultural artifacts.
What is the currency in Laos?
The official Laos currency is known as the Lao Kip, although three currencies are used interchangeably for everyday transactions. These are Kip, Thai baht and US Dollars. All major currencies are exchangeable in the main towns but USD is the most useful currency (cash) to hold as it can be exchanged and used in most places. Dollar bills must be in good condition and not torn or ripped.
Check OANDA for the latest exchange rates.
In smaller towns and villages, Kip is usually preferred. The rule of thumb is that for everyday small purchases, prices are quoted in Kip. ATMs are only available in Vientiane, Vang Vieng and Luang Prabang and dispense a maximum of approx USD$70 (in Kip) at any one time - it isn't advisable to rely upon them as they are commonly not working. Licensed money changers exist in Vientiane and Luang Prabang. Their rates are similar to the banks and they stay open longer. We recommend you take a mixture of cash (preferably USD) and credit/debit cards for ATMs.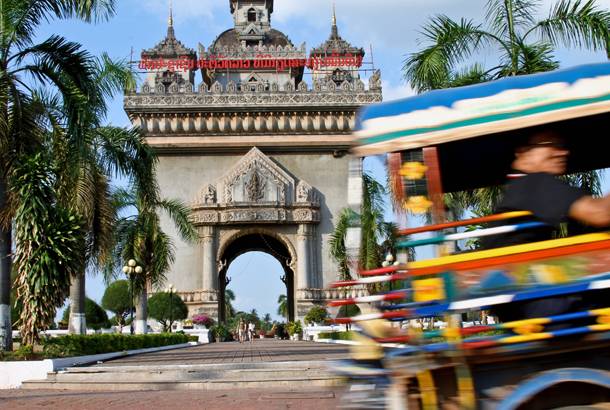 What do things cost in Laos?
Laos is an incredibly cheap country to visit and when it comes to accommodation, air-conditioned double rooms in small guesthouses can often be found for less than USD $10. Transport is equally cheap with public buses working out to be around USD $1 per hour of journey. Tuk tuks are just a couple of dollars or less for most journeys and can be negotiated.
Eating out is very affordable as well with street food costing just a dollar or two (depending on whether you are in a touristy area or not). Meals in proper restaurants can usually be enjoyed for approximately USD $7-10. Bottled water will set you back around 70 cents for a 1.5 liter bottle and 640ml beer bottles come in at about USD $1.25.
What sort of plugs do I need for Laos and what is the voltage?
The voltage in Laos is 220AC, 50HZ. Plugs are not standard as many electical products are imported from China and Thailand. As such all sort of socket variations exist. The most common types found are: 2 flat prong (type A), the 2 round pin (type C) plugs. To cover all bases, it is best to pack an international travel adaptor!
Is WiFi widely available in Laos?
Although Laos is a developing country, WiFi is widely available in the big cities, particularly Vientiane. Most restaurants, bars, cafes, hotels and malls will have a connection for customers.
What time zone is Laos on?
Laos is 7 hours ahead of GMT and does not observe daylight saving.