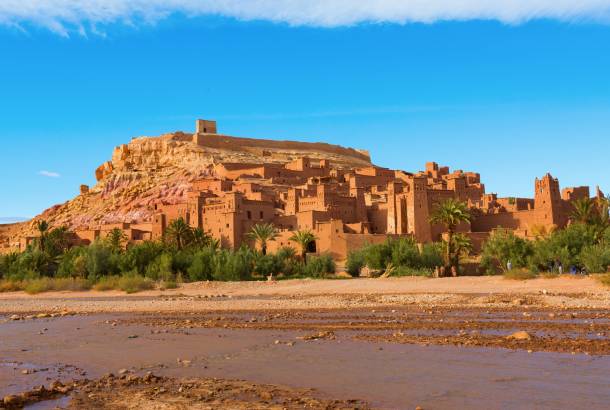 Thinking of heading off to Morocco and need a little advice to help the preparation? Start your vacation planning the right way with our top travel tips that cover everything from health precautions to take before you set off to what to expect of the food and shopping when you land.
What vaccinations do I need for Morocco?
You should seek medical advice from your local health practitioner before travelling to Morocco and ensure that you receive all of the appropriate vaccinations. As a guide: Tetanus and Hepatitis A are strongly recommended. For more information on health precautions for Morocco, check out the NHS Fit to Travel page or the CDC Traveler's Health page.
Is it safe to drink tap water in Morocco?
The tap water in Morocco is not considered safe for drinking. Bottled water is readily available in shops, restaurants and hotels. Make sure the seal on your bottle is unbroken before you drink from it. If for whatever reason you cannot get access to bottled water during your stay in Morocco, then make sure the tap water is boiled or treated with water purification tablets before you drink it.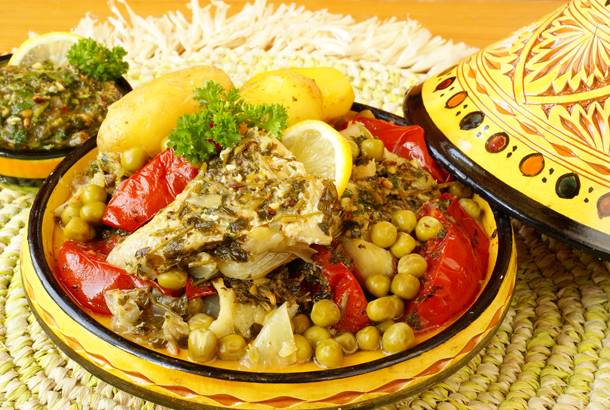 What's the food like in Morocco?
Food in Morocco is a magnificent explosion of taste and color. One of the most popular dishes, and one that can be found throughout the entire country, is tagine. This fragrant stew consists of chunks of meat - usually beef, lamb or chicken, vegetables, dried fruits (typically apricots) and nuts, and is cooked in a large earthenware pot with a conical lid.
Many meals are accompanied by couscous or rice, which are considered staples in a Moroccan diet. As a meat-centric cuisine, some other national favorites include brochettes, skewers of meat, keftas, herby meatballs, and merquez, spicy beef or lamb sausages that are often served with spicy harissa paste. Bread is also served with every meal and is used for dipping and mopping up sauces.
For dessert, many Moroccans will indulge in a piece of super sweet, syrupy baklava, which consists of flaky pastry stuffed with chopped nuts. In the afternoons, it is also not uncommon to see friends gather around a pot of mint tea which has been sweetened with a generous amount of sugar.
Safe eating while travelling in Morocco
Generally, it is best to avoid anything that might have been washed in tap water and drinks with ice in them. Only eat fruit that you can peel. Stay away from street food that looks like it has been sitting in the sun for hours and be sure that if your food is meant to be hot, it is served piping hot! Busy restaurants are usually a good sign and will normally have good quality food that is not likely to make you sick. Anywhere that looks run-down or abnormally empty should be avoided.
Is it standard to tip in Morocco?
There is no hard and fast rule when it comes to tipping in Morocco but people will normally leave a 10% tip in a restaurant if the service has been of a reasonable standard. Taxi fares should be rounded up to the nearest multiple of 5 and bellboys can be tipped around USD $1 for taking your bags. In more upmarket hotels a tip of USD $10 per week is acceptable to leave for maids and housekeeping.

When browsing markets and wandering through medinas, it is not unusual for friendly locals to pop up out of nowhere and offer you assistance, perhaps to find the way out. Be careful around these people, sometimes they will try to lead you to their stall before demanding a large tip. On the other hand, many are genuinely just being pleasant and helpful, and they will appreciate a tip of USD 0.5-1.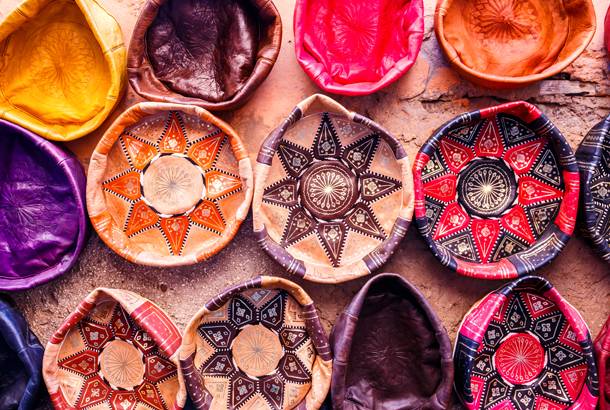 What is good to shop for in Morocco?
Moroccan markets are known for their dazzling colors and fabulously diverse array of items, making the experience of exploring these bustling bazaars a dream come true for avid shoppers. Carpets and rugs are probably the single most popular purchase for travelers as they can be found in every color imaginable and are usually woven with beautiful patterns.
Brightly colored traditional Moroccan clothing such as djellabas, tunics, kaftans and bed linen can be found in abundance and are made using either cotton or silk thread. Leather bags and belts are also a favorite with visitors. While slightly trickier to transport, ceramics, lamps and lanterns make beautiful souvenirs that will transport you straight back to Morocco every time you look at them.
Argan oil is another popular product in Morocco and is great for your hair and skin as well as for cooking. Culinary and cosmetic argan oil is different though, so be sure of which one you are purchasing. Spices and dried goods can also be bought in most markets and are easy to transport home.
Is bargaining acceptable in Morocco?
Absolutely. In markets and bazaars especially, bartering plays a huge role in Moroccan culture. Unless there is a clear "fixed price" sign in these markets, the vendors will generally be open to haggling. You may find it slightly nerve wracking, but it is perfectly normal and the vendors will mostly be good humored about it. You can also haggle in many shops and with taxi drivers, though hotels and restaurants almost all have fixed prices.
Is it safe for a single woman to travel in Morocco?
Morocco can generally be considered safe for women travelling alone, although there are some caveats to this. Solo female travelers should be prepared for some attention from men, which can be annoying or intimidating. Hisses, stares and possibly even an attempted grope will unfortunately be regular experiences for women travelling alone in Morocco.

There are mitigation measures one can take to reduce these problems, such as wearing a wedding ring (a fake will do!), wearing sunglasses to help avoid making eye contact and dressing conservatively. Unfortunately in Morocco, more skimpy clothing will be associated with loose morals.

If you are a female solo traveler and you join one of our group tours then your guide will be able to shield you from many of these unwanted interactions.
Is Morocco a family-friendly holiday destination?
Morocco is a great place for the whole family with a host of experiences that appeal to all ages from camel trekking in the Sahara to enjoying the beaches along the Atlantic coast. We have three family tours which are suitable for children over 5 years of age, in addition to our Morocco Adventure For Teenagers tour which is suitable for parents with children aged 12 and above. On our standard group tours, we welcome teenagers who are 16 years or older, accompanied by a parent/guardian if under the age of 18. We also welcome children of all ages on our private tours and tailor-made holidays.
What is the duty free allowance for Morocco?
The following goods may be brought into Morocco without incurring customs duty:
200g of tobacco products
One bottle of spirits and one bottle of wine
150ml of perfume and 250ml of eau de toilette
Gifts to the value of USD $200
The following are banned from being imported in to Morocco: firearms and ammunition, narcotics, absinthe, immoral publications, and plants and plant products considered a threat to national flora.
What is the currency in Morocco?
The currency of Morocco is the Moroccan Dirham. It is a restricted currency which means that it cannot be taken out of the country and is not available abroad. It is possible to buy and sell Dirham outside of Morocco but there is an import and export limit of 2000DH. It is recommended that you withdraw Dirham from an ATM when you arrive at the airport rather than exchanging money before you arrive. Check OANDA for the latest exchange rates.
Pound Sterling, US Dollars and Euros can be exchanged in Morocco at various bureau de changes in major cities and towns, and most banks have ATMs. Please note that at this time it is still not possible to exchange Australian dollars whilst in Morocco. Credit cards are virtually useless outside main cities and towns. It's advisable to request bank notes in smaller denominations, as it can sometimes be hard to get change from large notes and smaller notes are handy for smaller purchases and gratuities.
Traveler's Checks are not recommended as they're often difficult to exchange and incur high fees.
What do things cost in Morocco?
Morocco, despite its African location, may no longer be the budget-friendly destination travelers expect, owing to recent economic shifts. Whilst still a relatively affordable destination, Morocco now stands shoulder-to-shoulder with European destinations in terms of costs. Mid-range accommodation will usually cost around USD $60 per night. A decent meal from a street food vendor or cheap restaurant normally won't cost more than about USD $7-10 but alcohol will set you back a bit more as beer in a bar can come to about USD $4. Public transport is readily available but renting a car will cost at least USD $300 per week.
What sort of plugs do I need for Morocco and what is the voltage?
Standard voltage is 220 volts. Primary sockets require the European 2 pronged variety. We recommend that you pack a universal travel adaptor. You will need a voltage converter and plug adaptor in order to use U.S. appliances.
Is WiFi widely available in Morocco?
WiFi is available throughout the majority of the country with most restaurants, hotels, bars, cafes and malls offering a connection free of charge for customers. Internet cafes are also widespread so people can get connected even when WiFi can't be found. Please note that currently it is not possible to use VoIP (voice over internet protocol) services like Whatsapp, Viber, Skype and Facebook Messenger in Morocco. The text options on these services are still fine to use. It is understood that the Moroccan telecom providers have done this in order to push as much voice calls onto their networks rather than people being able to use these free services.
What time zone is Morocco on?
Morocco is on Greenwich Meantime (GMT). Daylight Saving is currently being observed. However, it changes frequently and is not observed during the holy month of Ramadan.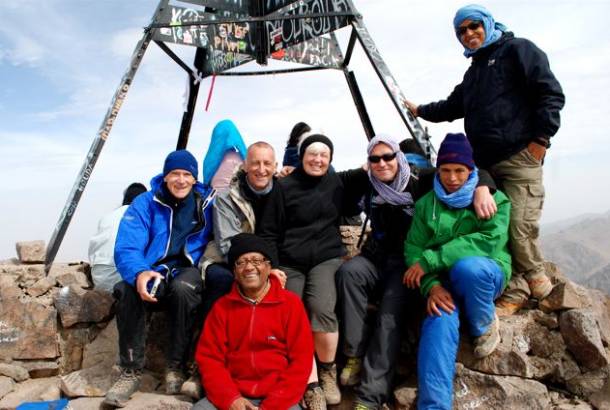 Atlas Trekking & Camping
If you're trekking in the Atlas Mountains, you will require a good level of fitness and should ensure that you pack a decent pair of walking boots that have been worn in before the trek to avoid blisters and painful feet.
Hike to the summit of Mount Toubkal, the highest peak in North Africa, on our wonderful trek across Morocco's rugged High Atlas Mountains. There are several long walking days (8- 9hrs) along rocky trails but there isn't any technical difficulty. On the trek we spend four nights wild camping in simple 3 person tents for twin occupancy, with mattresses. There's a mess tent for dining and gathering in the evenings. All cooking equipment and eating utensils are provided and the meals are prepared by our trek cook. Please note that there are no showers while camping but water is provided for washing and there are toilet tents. The final night of the trek is spent at a gite, which is a simple mud brick house with dormitory style accommodation (2 - 6 people sharing a room) and communal bathrooms with showers.
Trekking Insurance
Most travel insurance does not cover for trekking above 2000m as standard and you may have to pay a premium to cover yourself for higher altitudes. It is essential that you get the correct level of cover so please check the maximum altitude you'll be trekking to before arranging your insurance. Our Mount Toubkal trek reaches a maximum altitude of 4167 meters with just one night spent above 3000m.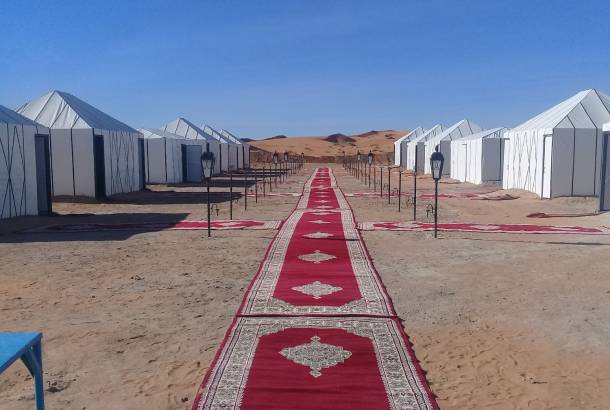 Camping in the Sahara
The majority of our Morocco group tours include a memorable night, spent at a remote Berber camp on the edge of the Sahara Desert. After an incredible camel trek across the rolling dunes to our camp, watch the sunset over the dunes, enjoy simple but tasty Moroccan cuisine and spend the evening under a spectacular star filled sky.

On our Morocco Signature tours we stay at Touareg Berber camp. At this camp you will stay in private tent, simply furnished with metal framed double, twin or triple beds. All bedding is provided including a pillow, sheets and a blanket (more blankets in winter). There is a Moroccan rug on the floor and solar generated electricity (after night fall). The camp has two toilet blocks and a large dining tent. Please Note: for those who would prefer not to camp, we offer a Sahara hotel alternative at no additional cost on our Signature tours.

On our Morocco Handpicked tours (Camels Souks & Kasbahs, Camels Souks & Kasbahs from Casa and Geminids Meteor Shower), we stay at a simple Berber camp with a toilet tent, an outside area for eating and a large communal tent to sleep in. Sleeping mats and blankets are provided. You can choose to either sleep under the stars (weather permitting) or inside the tent. Blankets are provided at the camp but we recommend you bring a sleep sheet (May to October) or if you are travelling between November and April, a sleeping bag will be required.