The Tear Drop Isle
Sri Lanka is perhaps THE destination if you're looking to combine beach and culture. Along with spectacular ancient ruins, lush tea plantations and wildlife-rich national parks, the country is home to some of the Indian Subcontinent's most beautiful beaches. Whether you're a couple looking for a romantic getaway, a family looking to entertain the kids or a solo traveler seeking peace and quiet, Sri Lanka has a beach for everyone. Find the beach for you from our guide below.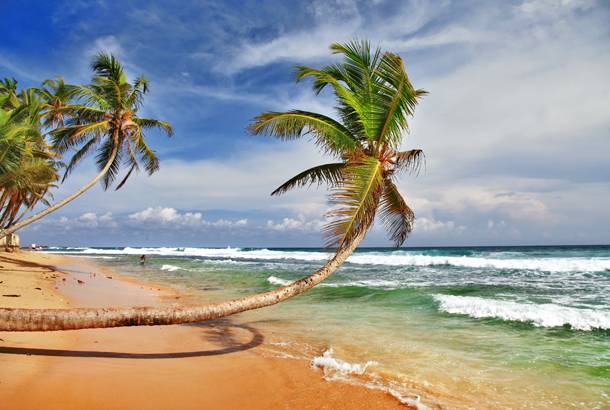 Top 10 Beaches in Sri Lanka
With so many beaches to choose from, it's difficult to choose just ten. But that's exactly what we've done. So have a read from our selection of the most idyllic, the most fun and the most charming beach destinations from all corners of the island.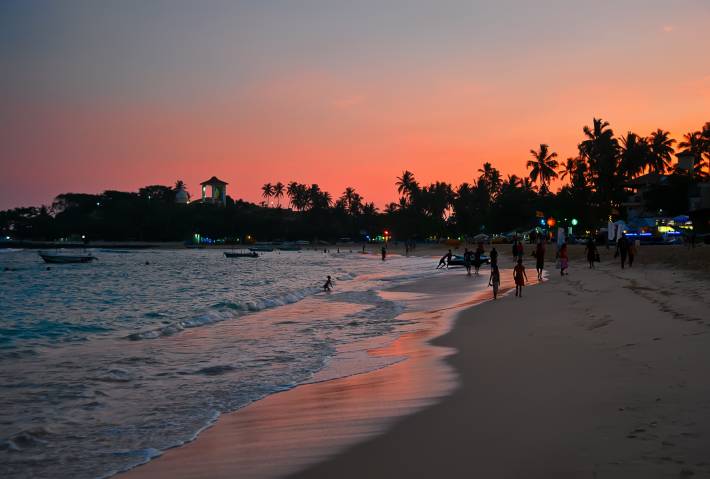 Best for: all round appeal
Unawatuna
Situated on Sri Lanka's south coast roughly 5km from the charming colonial town of Galle, the popular beach resort of Unawatuna has it all - good looks with a pretty beach, backed by a striking rocky outcrop. There's good swimming in the well sheltered bay and for those that like to party, there's great night life in the form of thumping discos and fun activities. There are also plenty of good accommodation options to suit all budgets. Its distance from Galle makes it a popular weekend getaway for locals, with a towering dagoba offering magical views at sunset.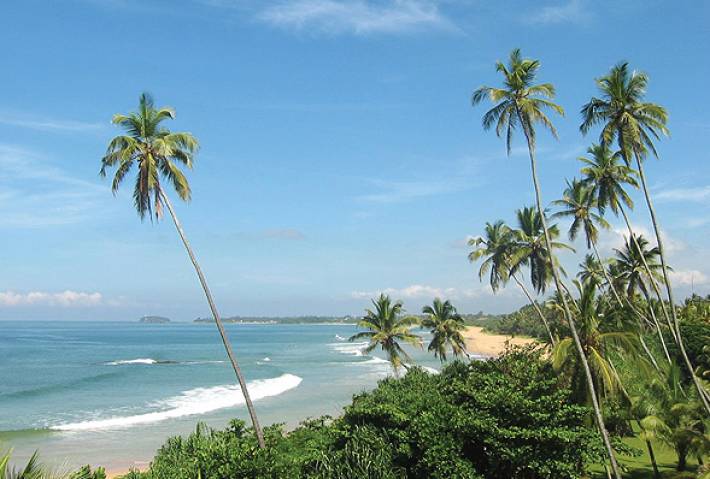 Best for: year-round watersports
Bentota
Backed by the still waters of the Bentota Ganga and fronting a fine stretch of sandy beach on Sri Lanka's west coast, Bentota is a first choice for many sun-seekers. The resort town is home to a great variety of accommodation options and is a particular favorite with those who love water sports. Waterskiing, jetskiing, sailing and windsurfing are just some of the water-based sports available year-round thanks to the nearby lagoon. It's also possible to take a boat safari along the connecting Bentota River for a chance to spot aquatic birds and enjoy the mangrove scenery.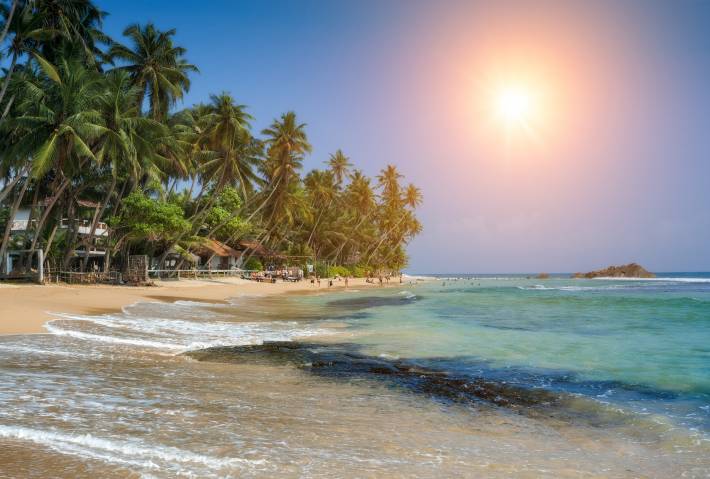 Best for: beach parties
Hikkaduwa
Popular with the hippy crowd back in the 1970s, Hikkaduwa on the west coast is undergoing something of a renaissance with its famous Coral Gardens and beach slowly returning to their former glory after years of over-development. Resorts and hotels have been given a makeover after the devastating effects of the tsunami back in 2004 and the beach town continues to draw visitors with its lively nightlife and the yearly three-day Beach Fest when international DJs spin out tunes all night long out on the beach.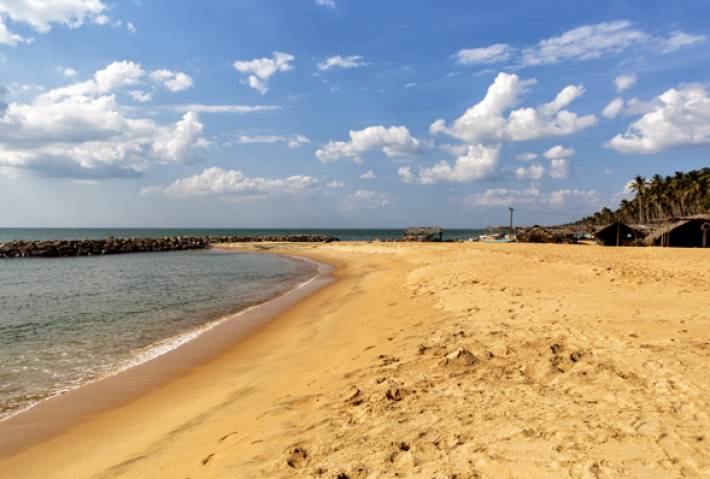 Best for: airport access
Negombo
Just 10km away from the Bandaranaike International Airport and an hour's drive from Colombo, the beach town of Negombo on the west coast is ideally located for those in need of a quick break on golden sands before flying home. You'll find plenty of activities to keep you entertained at this lively resort, from wetland boat trips to kitesurfing, with a few architectural flourishes left over from the colonial era including St. Mary's Church, the remnants of the old Dutch fort and the attractive mansions along Main Street.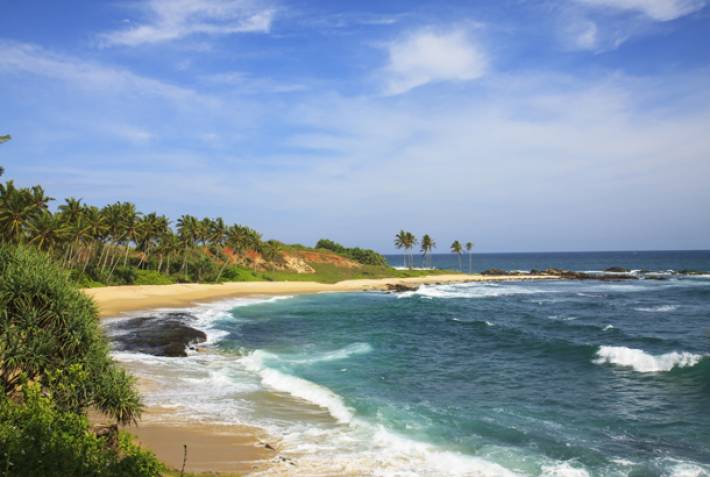 Best for: countryside attractions
Tangalle
Set along the visually-pleasing south coast marked by rocky promontories and quiet coves, the beaches of Tangalle (also spelled Tangalla) are exactly what you want a tropical beach to resemble with swaying palms, expansive sands and turquoise waters. What makes this region stand out, however, are the attractions further inland that include a giant Buddha and surrounding shrines, the Hoo-maniya blowhole (best seen during the wet season), a bird sanctuary and an ancient monastery carved into rock.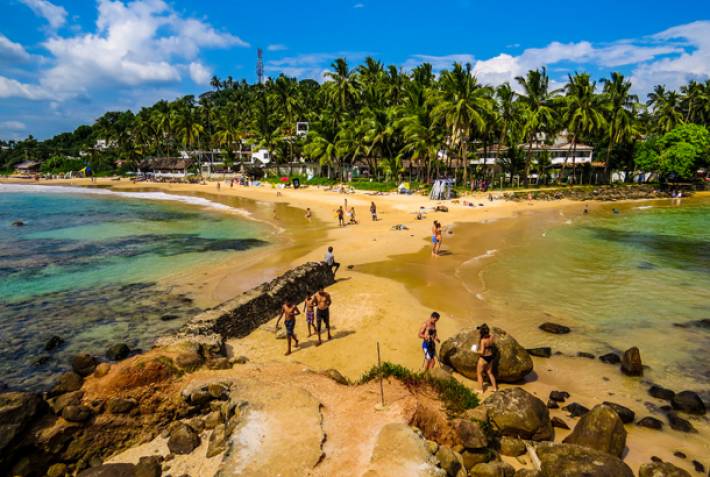 Best for: sea wildlife
Mirissa
Tucked into a small bay on the south coast, the picturesque arc of sand that forms Mirissa beach is one of Sri Lanka's most chilled destinations without the overwhelming development found in other spots. Modest guesthouses and rustic restaurants characterize the area and it's popular with those looking for more relaxed activities. Between the months of December and April it's also one of the best places in the world to enjoy whale-watching as blue and sperm whales make their migratory journeys around the coast of Sri Lanka.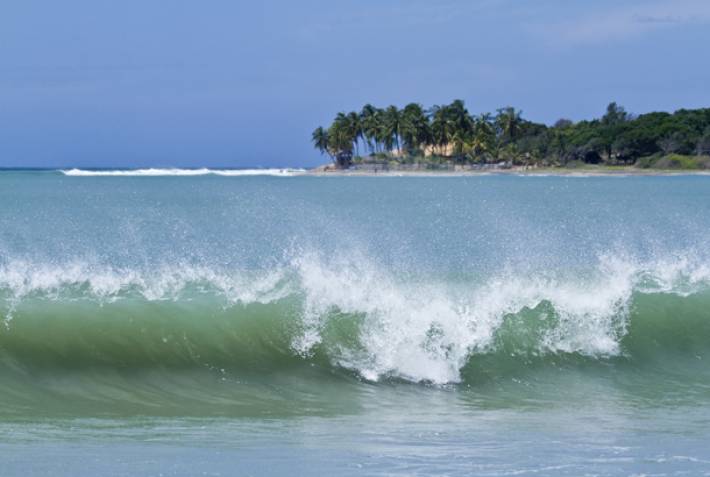 Best for: surfing and ethnic charm
Arugam Bay
Home to Sinhalese, Tamil and Muslim populations, Arugam Bay is easily the most multi-cultural beach resort in Sri Lanka with an eclectic character and laid-back vibe that entices a burgeoning expat community. Situated on the east coast of the island, the bay features an attractive palm-fringed beach and a famous break point that makes it particularly popular with surfers. Mainstream tourism developments have been kept largely at bay so it's a great place to enjoy a beach without the brashness of other more-established resorts.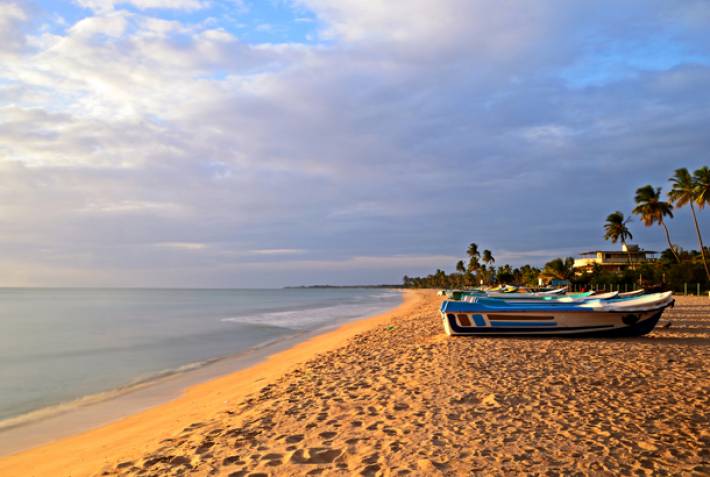 Best for: low-key atmosphere
Uppuveli and Nilaveli
Their location on the east coast has meant that the beaches at Uppuveli and Nilaveli have remained blissfully unspoiled due to the decades of civil war that kept visitors and developers out of the region. Palm trees, golden sands, fishing boats and a distinct lack of crowds are what you'll find here with just a smattering of places to stay, which means it stays peaceful and quiet. Off the coast Pigeon Island and its surrounding coral reefs make a good diving and snorkelling spot, particularly between May and September.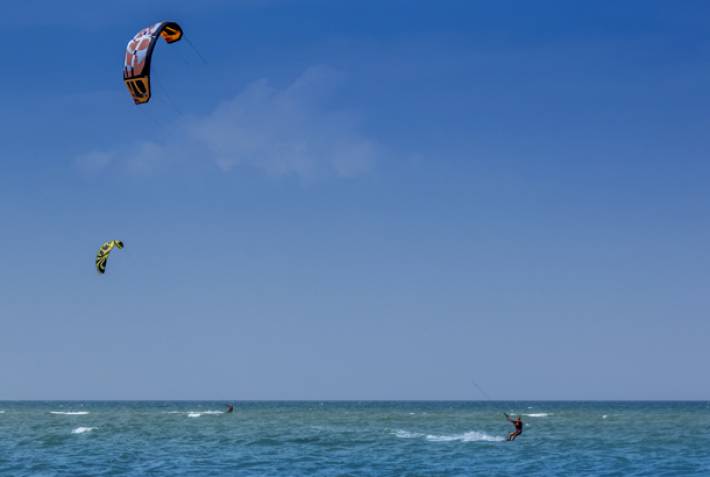 Best for: dolphins and kitesurfing
Alankuda
The beautiful Kalpitiya Peninsula on the west coast is home to the idyllic Alankuda Beach, a relatively new and undiscovered beach destination in Sri Lanka. The waters play host to schools of dolphins throughout the year making it the country's premier dolphin-watching spot with regular boat tours while the constant strong winds are ideal for kitesurfing. Another drawcard is the cluster of eco-resorts dotted along the coast that are a world away from the glitz and glamour of beach resorts further south, each with their own individual character and rustic appeal.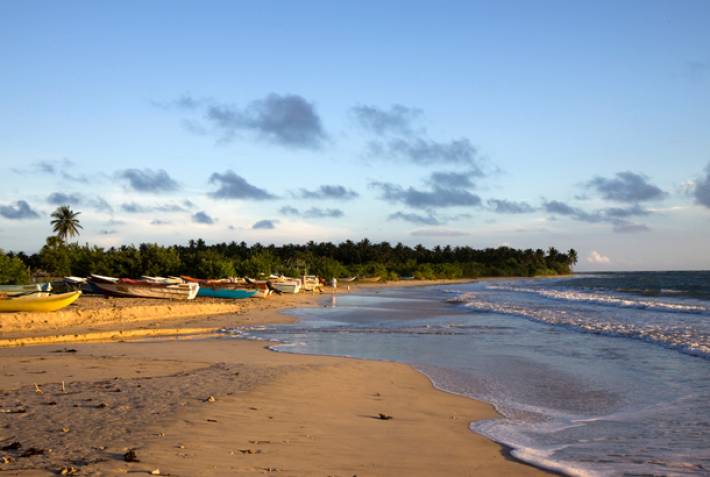 Best for: safe swimming
Passekudah and Kalkudah
Nestled along two bays of the same name, the twin beaches of Passekudah and Kalkudah are the perfect spot for swimming thanks to the gently sloping seabed and calm waters. Popular in the 70s and 80s before the outbreak of civil war, Passekudah was once one of the most developed beach resorts on the east coast and is set to be once again with on-going development of hotels and facilities while Kalkudah remains largely deserted with the vibe of a sleepy backwater and plenty of private spots to be found.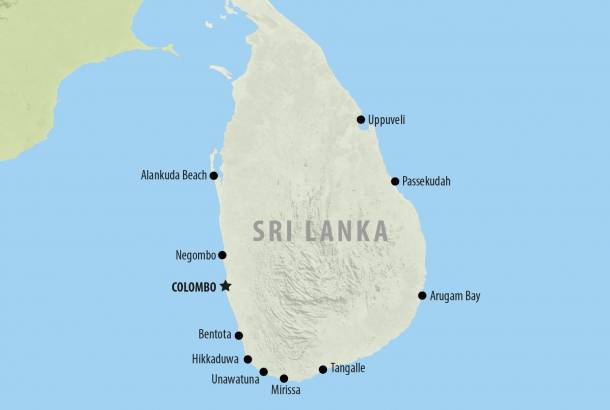 Best Time to Visit Sri Lanka for a Beach Holiday
Despite its small size, the island nation of Sri Lanka experiences a surprisingly varied climate, influenced by two monsoon seasons that affect different parts of the country at different times of the year. These seasons are rarely completely reliable as the rains shift their pattern each year but there are months where the weather is just right for a beach holiday and others where heavy rains mean sunbathing is off the cards. Here's a general overview of the best time to visit Sri Lanka for a beach holiday by coastal regions.
East Coast
Arugam Bay, Uppuveli & Nilaveli, and Passekudah & Kalkudah beaches
The best time to visit Sri Lanka's east coast is between the months of April and September with this part of the country free from monsoonal rains, which start in earnest in November and stick around until February. March and October are considered shoulder seasons with a chance of rain but not enough to ruin your beach holiday.
South Coast
Unawatuna, Tangalle and Mirissa
It's a different story on the south coast with the months between December and May peak holiday season with the absence of the Yala Monsoon that hits the region from June to October. Weirdly, rainfall drops dramatically in August, in comparison to the months either side, so it's possible to enjoy a beach holiday slap bang in the middle of the monsoon season. November is considered shoulder season as the rains start to decline.
West Coast
Bentota, Hikkaduwa, Negombo and Alankuda
The west coast experiences a similar monsoon pattern as the south coast with the rains at their heaviest between July and November. December through to April are the best months to visit the region with sunny, clear days and little rainfall. Once again, August is something of an anomaly with far less rain than the months its sandwiched between, while May and June can be a little unsettled with increasing rainfall.
Recommended Tours
To get you started with your holiday planning, take a look at our recommended tours that include time spent on Sri Lanka's coast. You can even explore Sri Lanka before heading to the nearby Maldives for some beachside relaxation. If you already know where you want to go or prefer the idea of a bespoke private tour and beach holiday, contact our Tailor-made team who will be happy to put together your dream trip.
Signature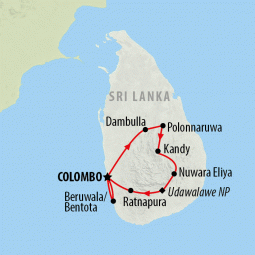 12 days FROM $1,635
Private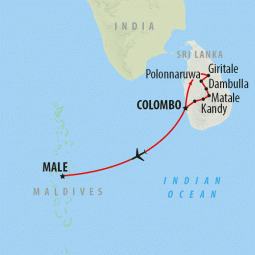 10 days FROM $3,025
Private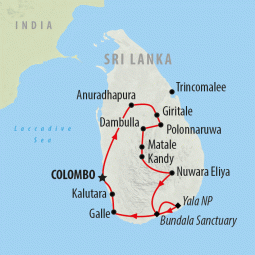 15 days FROM $2,925
Sri Lanka Trip Styles

Group Tours

Family Holidays

Private Tours