ACCOMMODATED SAFARI: Tick off one of Africa's greatest experiences with a bucket list gorilla trek into the jungles of Uganda on this 6-day accommodated safari. From the Ugandan capital of Kampala, trek to see chimpanzees and other wildlife in Queen Elizabeth National Park. Enjoy two days of boating, fishing, bird watching and relaxation at picturesque Lake Bunyonyi before or after your gorilla trek in Bwindi National Park. Watch these magnificent great apes from a safe distance and finish your tour back in Kampala.
Trip Highlights
Kampala - Start and finish your Ugandan adventure in the country's dynamic and vibrant capital city
Bwindi National Park - Trek to encounter endangered mountain gorillas in the remote, steamy jungles of Uganda (or Rwanda)
Queen Elizabeth National Park - See chimpanzees in the treetops and search for some of the 500 bird species and larger mammals in the park
Lake Bunyonyi - Spend two days unwinding beside this picturesque lake, surrounded by tropical jungle and rolling green hills
Included
5 breakfasts, 6 lunches & 5 dinners
Escorted by a licensed 2-person crew
All road tolls and vehicle taxes
Bwindi National Park gorilla trekking with expert guides (subject to payment of permits, see cost below)
5 nights simple twin share accommodation.
Transportation in a 24-seater overland truck with camping and cooking equipment
Queen Elizabeth National Park chimpanzee trekking with expert guides (subject to payment of permits, see cost below)
Not Included
International flights and visas
Airport transfers - can be booked on request
Optional activities (prices listed in Trip Notes)
Non refundable Gorilla & Chimpanzee Permit: USD $700pp (or equivalent in your currency) - pay at time of booking in addition to the deposit
Tipping - an entirely personal gesture
Kampala to Queen Elizabeth National Park
Kampala - Queen Elizabeth National Park. Welcome to Uganda! Departing the capital city, Kampala, we cross the Equator and pass through fertile green hills, tangled forests and rugged mountain ranges to the edge of Queen Elizabeth National Park. Originally Named Kazinga National Park on its inception in 1952, the reserve was renamed in 1954 after a visit by the newly crowned British monarch, Queen Elizabeth II.

Our first evening here is free for you to take a walk in the lush surroundings, who knows what wildlife you may spot! The reserve is home to elephant, buffalo, hippo, crocodile, chimpanzee and much more. Encouragingly, reports from the Uganda Wildlife Authority suggest that wildlife populations in the reserve are increasing, thanks to effective protection. This is largely down to your tourism money!

Please note: The pre-departure meeting is held at 18:00 on the evening prior to departure at Red Chili Hideaway in Kampala and the tour departs at 5am on Day 1. Please see the Trip Notes for further information.
Overnight: Queen Elizabeth National Park | Lunch, Dinner
Chimpanzee trekking
Today we are heading into Queen Elizabeth National Park, admiring the mountain views and stopping whenever we see something of interest. As well as the charismatic larger animals, the reserve is home to more than 500 bird species. Reaching Kyambura Gorge we head out on foot in search of chimpanzees. The rangers will have a good idea of where they are and the trek can vary in length from less than an hour to several. Chimps tend to stay in the treetops so you may have to crane your neck for a view of our closest relatives.

Please note: Chimpanzee Trek permits are issued by the wildlife authority in groups of up to 8 people per group. Depending on our group size, we may trek on the afternoon of day 1, morning or afternoon of day 2, or morning of day 3.
Overnight: Queen Elizabeth National Park | Breakfast, Lunch, Dinner
Mountain gorilla trekking
Queen Elizabeth National Park - Lake Bunyonyi. On day 3 we drive to Lake Bunyonyi, dotted with scenic islands and surrounded by lush forest and rolling hills. Over the next three days everyone in the group will enjoy their mountain gorilla trek, but we will split into smaller groups in order to avoid disturbing the gorillas. On the days when you are not trekking, you are free to take a boat trip to some of Lake Bunyonyi's islands, go bird-watching, visit a local village or hire canoes to paddle on the lake.

On the day of your trek, we will hike for anywhere between 30 minutes and 6 or 7 hours into Bwindi National Park (or occasionally Volcanoes National Park in Rwanda, this will be made clear to you in advance), depending on the location of the gorillas. A decent level of fitness is required as we trek through the steamy jungle. Your guide will know the location of the nearest gorilla family.

Once we have located the gorillas, you will spend around an hour watching from a safe distance. Keep quiet, keep low to the ground and follow all the instructions of your guide - this is for your safety and for the welfare of the mountain gorillas. You are welcome to take photos, as long as there is no flash.

One of the world's most endangered creatures, mountain gorillas are heavily protected, with around 1,000 animals now living in the rainforests of central Africa. Numbers have increased remarkably due to effective protection in recent years - keep your eyes peeled for the giant silverback alpha male, and some of the adorable youngsters that represent the future of their species.

When it is time to leave the gorillas, we trek back to Lake Bunyonyi, where you can reflect on what is sure to be the highlight of your African adventure. The rest of your time here is at leisure, whilst the rest of our group completes their trek.
Overnight: Lake Bunyonyi | Breakfast x 3, Lunch x 3, Dinner x 3
Return to Kampala
Lake Bunyonyi - Kampala. Leaving the mountain gorillas and Lake Bunyonyi behind, we return to Kampala, skirting around the northern edge of Lake Victoria. Our tour arrangements come to an end on arrival back in the city, late afternoon / early evening.
Breakfast, Lunch
The hotels listed below are ones which we frequently use on this tour. We reserve the right to substitute these hotels to ones of a similar standard.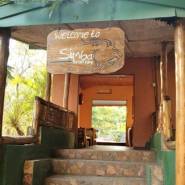 Simba Safari Camp (Lodge), Queen Elizabeth National Park
Nestled atop a hill overlooking Lake Kikorongo on the edge of Uganda's most popular Queen Elizabeth National Park this Safari Camp is the perfect base to explore this picturesque park. With views over the plains of Queen Elizabeth National Park and of the Rwenzori Mountains these comfortable rooms feature panoramic views for their occupants. Meals and drinks are served in the restaurant and bar where guests can relax after a day of safari.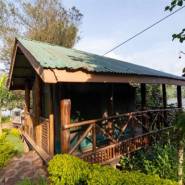 Bunyonyi Overland Resort (Cottage), Lake Bunyonyi
Placed on the picturesque shores of Lake Bunyonyi this resort and campsite is the perfect hub for guests to explore the lake and all it has to offer. Its location also makes it the perfect stop off for guests who are continuing to Bwindi National Park. The charming cottages and rooms with private bathrooms and complementary wifi offer panoramic views over the lake and its islands. Featuring a bar and restaurant you can enjoy a drink whilst watching the sunset over the lake.
At a Glance
Range
Trip Type
Starts
Kampala
Ends
Kampala
Departs
Tuesdays
Group Size
Min 6 / Max 16
Hotel Rating
Simple Accommodation
Tour Guide
Yes - escorted by a tour leader
Meals
Breakfast: 5, Lunch: 6, Dinner: 5
Countries
Minimum Age
18
Arr. Transfer
No - pax can book transfers with Red Chili Hideaway
Dep. Transfer
No - pax can book transfers with Red Chili Hideaway
OTG002735
Uganda & Gorilla Trek Express (Accommodated) - 6 days
Africa
Overlanding
Africa
false
10
Uganda
https://www.onthegotours.com/za/Uganda/Uganda-and-Gorilla-Trek-Express-Accommodated-6-days
https://www.onthegotours.com/repository/Baby-Gorilla-in-park-819631692798545_crop_flip_300_300_f2f2f2_center-center.jpg
Small_Group_Overland_Safaris