Live 'la dolce vita'. Renaissance architecture. Stunning scenery. Pizza. Italy will enthral you.
It's roaming the legendary St Mark's Square in Venice. It's getting lost amongst the cobbles and iconic landmarks of Rome. It's sipping Italian wine in the rolling green hills of Tuscany. It's discovering the laid-back lifestyle and Italian dishes of Sicily. Italy is irresistible. And it entices travellers from all over the globe.
With the helping hand of an expert local guide, you'll uncover the best of Italy on our group tours. Forgotten city streets. Gems of history. Divine regional dishes. And the most exceptional views.
Our trips to Italy offer what money can't buy. Once-in-a-lifetime experiences. Life-long memories. And new-found friendships with a group of like-minded travellers.
Italy Group Tours
From classic destinations including Rome, Florence and Venice, to the delights of Puglia and laid-back Sicily, our Italy group tours get you to the heart of this popular European destination. Travelling aboard a deluxe coach, you'll enjoy a well-balanced mix of included sightseeing with a local guide, and free time to discover destinations at your own pace. Staying in 4-star hotels and with lots of included meals, including proper pizza in Naples. Plus, enjoy 'skip the line' access to highlights including the Vatican City and Pompeii, meaning you don't waste a second of your trip!
Frequently asked questions about our Italy tours
Will I explore Rome on your tours?
It depends on which Italy tour you choose. Shorter tours starting in Rome depart the city early on day 1, so if you would like to explore the historic Italian capital then we recommend arriving in Italy a day or two before your tour starts.

On our Rome, Florence & Venice, La Dolce Vita, and Rome, Naples & Sicily Highlights escorted tours, an evening walking tour of Rome is included. And on Rome, Florence & Venice and La Dolce Vita, you will return to the city later to visit the Vatican and Vatican museums on a guided tour.

Make sure to check the itineraries before booking so you know exactly where you will visit on each tour, and contact us if you need more information!
What is the pace of the tours like?
Our Italy tours are quite fast-moving. You will see lots of different places but we often visit two or three destinations (including major cities) in a day, stopping for a couple of hours at a time. There is plenty of free time in which to further sightsee independently, and optional excursions to places like the Amalfi Coast can be booked at your leisure.

If it is your first time visiting Italy and you want to experience as much of the country as possible, then these tours are a great option. If you'd like a more in-depth, slower-paced visit to Rome, Venice or elsewhere then perhaps these tours aren't quite right for you.

Find out what other travellers thought with our Italy tour reviews here.
When is the best time to visit Italy?
The summer months from June - August are high season in Italy, with the best weather. But attractions are busy and prices higher at these times. The shoulder seasons from March - May and September - October offer a nice compromise, with fewer crowds and still pleasant temperatures. Check out our guide on when to visit Italy for more information.
What transport do you use?
In Italy we travel by coach, as this is the most efficient way to get around, and it means we can stop often in lesser-known destinations like Assisi and Montepulciano.

Our deluxe coaches offer comfortable seating, free Wi-Fi, and audio headsets. The coaches are 45-seater, so a sold-out tour will mean the coach is full. Outside high season groups are often closer to the 30-person mark. Please note that our small-group Perfect Puglia Italy tour operates with a maximum of 15 passengers.
How big are the groups on your Italy tours?
The size of the group varies depending on the season, but as a guide you can expect a group size of 30 - 45 on the majority of our Italy coach tours. There is lots of free time on all of our tours, so you will have plenty of opportunities to explore destinations with your partner, friends, or relatives in between our guided sightseeing excursions. And there are some optional excursions, to the Amalfi Coast and to see the Leaning Tower in Pisa - not everyone on the tour will join these excursions so groups will be smaller.

The exception here is our small-group Perfect Puglia tour, which operates with a maximum group size of 15 passengers. The perfect trip for those who have visited Italy before and are looking to get off the beaten track!
Will I have a tour guide?
Yes - in Italy we offer escorted tours. Your English-speaking Italian tour leader will travel on the coach with you and will act as the tour guide for your trip.
Is Italy a safe destination for travellers from the LGBTQ+ community?
According to the 2022 LGBTQ+ Travel Safety Index, Italy scores a C rating for LGBTQ+ traveller safety, ranking 53rd out of 203 countries.

Same sex civil unions or partnerships are legal, and there are worker protections in place for people of all sexual orientations. 76 - 100% of consulted citizens consider Italy a good place to live for gay and lesbian people. There are no legal punishments for same sex relations and most trips for LGBTQ+ travellers to Italy are trouble-free.

The LGBTQ+ Travel Safety Index is designed to provide a good overall picture of attitudes towards the LGBTQ+ community in each country and may not reflect the experience of foreign travellers to the country.
Can I drink the tap water?
Yes, the tap water across Italy is safe for human consumption. There are thousands of public water fountains dotted across the country's towns and cities, so we recommend bringing a reusable water bottle on your Italy tour. This will save you money and is good for the environment, helping you to reduce your plastic footprint.
What is the current travel advice for Italy?
As a UK-based company, we follow the latest up to date advice from the UK Foreign and Commonwealth Office (FCDO). You can see the latest travel advice for Italy here.
Exploring Sicilia
Combine Rome, Naples and Capri with Sicily, the largest Mediterranean island on our 11-day Rome, Naples & Sicily Highlights group tour. Enjoy an evening walking tour of the Italian capital, explore the famous ruins of Pompeii and discover the delightful city of Palermo, plus lots more!

Recommended tour: Rome, Naples & Sicily Highlights →
The Best of Italy
From the ancient Colosseum and the Forum in Rome, to the canals of Venice in northern Italy and the historic ruined city of Pompeii, in the shadow of Mount Vesuvius. Italy is a dream destination for lovers of history. Florence is the place to go for Renaissance architecture. Naples was the birthplace of pizza. The Amalfi Coast is, well, the Amalfi Coast. Away from mainland Italy, Capri, Sardinia and Sicily are Mediterranean paradises, whilst Mount Etna is one of Europe's most active volcanoes! On the east coast, Puglia is a great destination for travellers on their second or third visit to Italy. These are the country's unmissable highlights.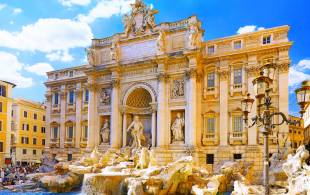 Rome
The Italian capital and former centre of the Roman Empire is home to the Colosseum, one of the Seven Wonders of the World. This rich history is further enhanced by a treasure trove of ancient wonders including the Forum, the Pantheon, Trevi Fountain and the independent Vatican City. There is a lot to be said for heading into ancient Rome without a plan, just enjoy a wander and embrace everything this fabulous city has to offer.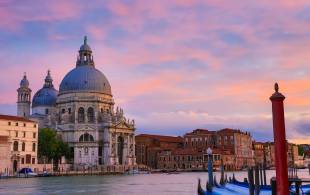 Venice
Is Venice the most romantic destination in the world? Located in northern Italy on the Adriatic Sea, the canal city has long been a destination for lovers, who relax on a gondola ride along the Grand Canal. A stroll around St Mark's Square is a must, and other iconic sites include the Palazzo dei Dogi, a reminder of the city's glorious past.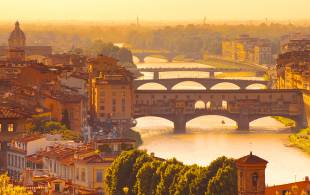 Florence
Italy's Renaissance capital is the place to head for fans of art and architecture. Home to Michelangelo, the crowing jewel of the city is the beautiful Duomo, and you'll want to enjoy the view from Piazzale Michelangelo. If you have time, a visit to the Uffizi Gallery and the Academia (home to Michelangelo's David) are also recommended.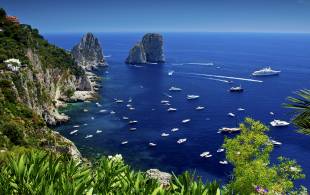 Capri
A small island off the coast of Sorrento, Capri is an exclusive destination. Historically popular with Roman emperors, today it is a favourite celebrity jaunt. A visit to the Blue Grotto sea cave is a worthy excursion, and you will also want to take in some of the island's magnificent rock formations.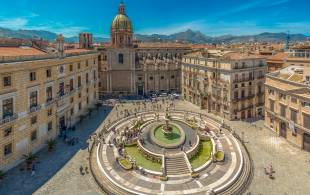 Palermo
Palermo is the capital of the southern island of Sicily, the largest island in the Mediterranean. It is more than 3,000 years old and the highlight is undoubtedly the city's historical center, the second largest old town in Europe. It is home to all manner of UNESCO World Heritage Sites, and is a culinary gem, birthplace of cannoli, and an expert in gelato.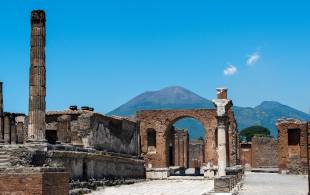 Pompeii
A ruined city frozen in time since the 79 AD eruption of Mount Vesuvius, the ancient ruins of Pompeii are one of the world's most important archaeological sites. This sophisticated Roman city was utterly destroyed during the volcanic eruption, but the mixture of ash and pumice has preserved the ancient city buildings, and even some of its people, making for an enthralling if sobering visit.