Uganda Tours & Gorilla Trekking Safaris
Trek through steamy jungles to come face to face with endangered mountain gorillas in Uganda.
Uganda, often referred to as the 'Pearl of Africa', is a country of striking beauty and home to the deepest crater lake in all of Africa, Lake Bunyonyi. Uganda's national parks and wildlife reserves boast over 300 species of mammal and more than 1000 species of birds. But it is the endangered mountain gorillas that most people visit Uganda to see.
There are around 1,000 of these animals in the dense jungles of Uganda, Rwanda, and DR Congo, an improvement of several hundred from the 1980s, thanks to dedicated conservation efforts. Mountain gorilla trekking, most often in Bwindi Impenetrable National Park, is the highlight of any Uganda tour - though you will need a gorilla permit to do the trek, which we organize for you. The permits are vital in helping finance patrols that are responsible for protecting the gorillas from poachers.
Uganda presents a unique experience and our overland camping safaris and gorilla trekking safaris offer you the chance to get up close and personal with our closest living relatives.
All of our Uganda tours also take in some of the highlights of the African continent; from Tanzania's Serengeti National Park and Kenya's Masai Mara in East Africa, to Namibia's Namib Desert and even Cape Town in South Africa. So whatever kind of trip you are planning, see more of Africa with our range of tours!
Uganda Tours & Safaris
Our Uganda overland safaris travel across much of eastern and southern Africa, including Kenya's Masai Mara and Victoria falls in Zimbabwe. Travel is in an overland truck, and you'll camp each night at designated campsites. Everyone in the group will help out with cooking and you'll sleep in twin tents under the stars, or can upgrade to simple accommodation. These trips are fully escorted by a 2-person crew, including a tour leader. Your mountain gorilla trekking begins at Lake Bunyonyi, and will involve hiking (most likely in Bwindi Impenetrable National Park) for anywhere between one hour and eight (depending on the location of the gorillas) with a dedicated team of rangers. You will be able to watch these incredible animals from a safe distance before returning to camp.

If you're short on time, there's also our 4-day Gorilla Express tour to neighbouring Rwanda. This trip includes a guided tour of Kigali before heading into the jungle to search for gorillas.
Explore more countries like Uganda
Frequently asked questions about our Uganda tours
Can I have some more information about mountain gorilla trekking?
Why do I have to pay for a gorilla permit on my Uganda gorilla trekking safari?
A mandatory gorilla & chimpanzee trekking permit costing USD $700 or equivalent per person is payable upon booking your trip. This is a charge levied by the Ugandan authorities and applies to all travellers trekking to see gorillas. This money is paid directly and in full to the Ugandan Wildlife Service, whose hard work and dedication to the gorillas has seen their global population rise from dangerous lows in the 1980s. Without this funding, anti-poaching patrols, ranger salaries and other conservation initiatives could not be funded, which would further threaten mountain gorillas. So you are very much doing your bit to protect this species when you book a Uganda safari with us!
Will I see the Big Five on my Uganda safari?
The Big Five are the five African species most sought after by travellers on an African safari. They are lions, leopards, elephants, rhinos, and buffalo.

Although you won't see the Big Five in Uganda, most of our tours take in neighbouring countries such as Kenya and Tanzania. There are included wildlife safaris in national parks such as the Serengeti and the Masai Mara, which are both home to the Big Five.

In terms of wildlife viewing on our Uganda trips, you'll get to see mountain gorillas in Bwindi Impenetrable National Park or Magahinga National Park. And mountain gorillas are rarer than all of the Big Five! We also visit Queen Elizabeth National Park in Uganda, where you will have the chance to trek to see chimpanzees. Lake Bunyonyi is also home to a variety of rare birds, making it a great spot for some peaceful bird watching.

Of course, no wildlife encounters can be guaranteed on our Uganda safaris or our trips to neighbouring countries, as wild animals are unpredictable. But you are sure to see some incredible wildlife. And success rates for seeing mountain gorillas are high, as the rangers track them day and night, and normally have a good idea where they are!
When is the best time to visit Uganda?
Uganda has two dry seasons from December - February, and June - August. These are generally considered the best months to visit for sightseeing and gorilla trekking. This is because the dry weather means trekking is easier and the vegetation less dense in the national parks, so gorillas are easier to spot. There is more information in our guide on the best time to visit.
What do I need to pack for my camping safari?
If travelling on one of our Uganda safari tours, we recommend you read our guide to overland camping safaris. You can also see a detailed packing list in the Trip Notes for each tour.

Some of the important items to remember to bring on your Uganda safari are: sleeping bag, travel pillow, towel, Mosquito spray (with active DEET ingredient), your own personal first aid kit, torch, antibacterial wipes, a photocopy of your passport data, and your Yellow Fever Vaccination Certificate.
What is the local payment for on your camping safaris?
The local payment is a cost per person that needs to be paid in US Dollars cash only. It is this payment that in part covers the park fees and other inclusions such as meals as detailed on each tour page. The local payment also covers your arrival transfer and first night's accommodation.

Please note that due to exchange rate fluctuations in the US dollar, the local payment amount may be subject to changes. This payment will be collected by your tour leader at the Welcome Meeting on day 1 of your escorted tour. Our Reservations team can give you more information about the local payment, the cost of which can be found on each tour page.

Please note that the local payment is separate from the gorilla trekking permit, which also needs to be paid for on your Uganda safari.
How big are the groups on your Uganda tours?
On our overland Uganda safari tours, the maximum group size is 16, and these tours depart with a minimum of 4 passengers.
Will I have a tour guide on my Uganda safari?
If you join one of our Uganda safari tours, you will be escorted by a qualified tour leader who will act as your guide, as well as another crew member.

For the gorilla trek, you will be escorted by fully qualified rangers working for the Ugandan wildlife authorities.
Is Uganda a safe destination for travellers from the LGBTQ+ community?
According to the 2022 LGBTQ+ Travel Safety Index, Uganda scores an F rating for LGBTQ+ traveller safety, ranking 173rd out of 203 countries.

Same sex marriage is illegal and there are no constitutional or worker protections in place for the LGBTQ+ community. 0 - 25% of consulted citizens consider Uganda a good place to live for gay and lesbian people. Laws prevent the discussion of pro-LGBTQ+ issues and homosexuality became illegal in 2021, punishable with life in prison.

This does not mean members of the LGBTQ+ community shouldn't visit Uganda, but precautions should be taken when travelling. As long as you use common sense, travelling in Uganda shouldn't be a problem.

The LGBTQ+ Travel Safety Index is designed to provide a good overall picture of attitudes towards the LGBTQ+ community in each country and may not reflect the experience of foreign travellers to the country.
Is the tap water safe to drink?
The tap water in Uganda is not safe for consumption and should be avoided at all costs throughout your Uganda safari, to avoid the risk of illness. Stick to filtered or sealed bottled water, which is cheap and readily available in Uganda.
As a solo traveller will I have to pay more to travel to Uganda?
Travelling solo doesn't have to cost more in Uganda. This is why, on our overland camping tours, solo travellers will be matched up with another solo traveller of the same sex, with whom they will share a tent. If there is no other solo traveller of the same sex on the tour, you will have a tent to yourself at no extra cost.
What is the current travel advice for Uganda?
As a UK-based company, we follow the latest up to date advice from the Foreign and Commonwealth Office (FCDO). You can see the latest travel advice and local laws here.
Gorilla trekking: what to expect
With a population of just 1,000 inhabiting the volcanic mountain ranges and dense forests of the Uganda - DRC - Rwanda border triangle, trekking to see the mountain gorillas is a once-in-a-lifetime experience. With our range of overland camping safaris to Uganda, you can come face-to-face with these mighty apes in Bwindi Impenetrable National Park. You will also take in the best of East Africa and beyond, from Nairobi all the way south to Cape Town.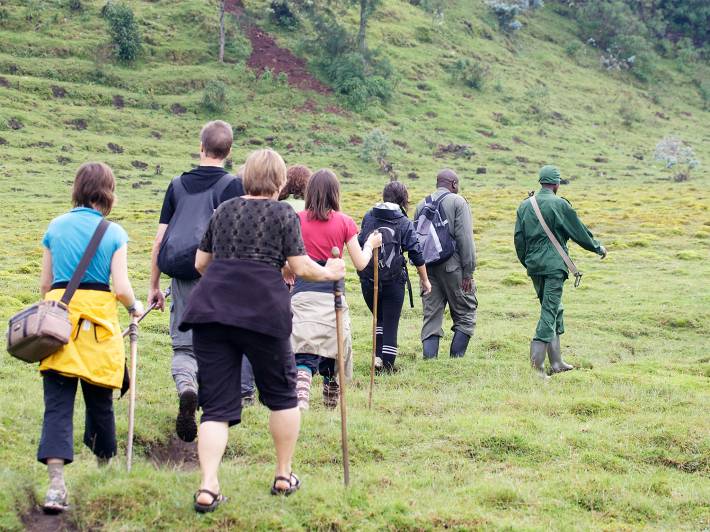 WHAT TO EXPECT
Trekking to the gorillas
The trek starts in the early morning and, your rangers will lead you through cultivated lands, then into dense rainforest and as close as is allowed to a gorilla family.

The rangers monitor the gorillas on a daily basis and have a fairly good idea of where they are. However, they are free-roaming wild animals, and their sighting cannot be guaranteed. Trekking can take anywhere from 45 minutes to 8 hours and can be quite strenuous, so a reasonable level of fitness is required.
WHAT TO EXPECT
Spending time with the gorillas
To ensure the gorillas don't get too used to human presence, and because they share many of our genes and are able to catch our diseases, the maximum time permitted to spend with them is 1 hour. This is plenty of time to watch their activity and take photographs.

The rangers will be able to provide you with a background to the family you are visiting. Then, once your hour is up, you trek back out of the rainforest to your meeting point.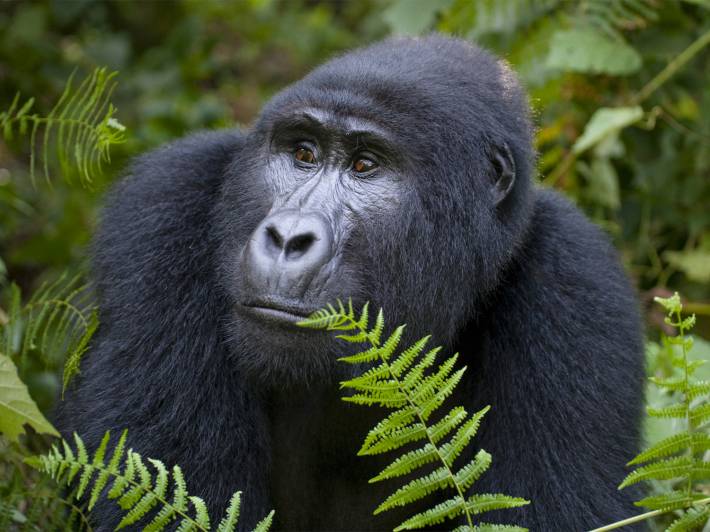 The Best of Uganda
From the fascinating capital city of Kampala to the Bwindi Impenetrable National Park and Magahinga National Park, home to mountain gorillas, here are the main places to visit on your Uganda safari or tour.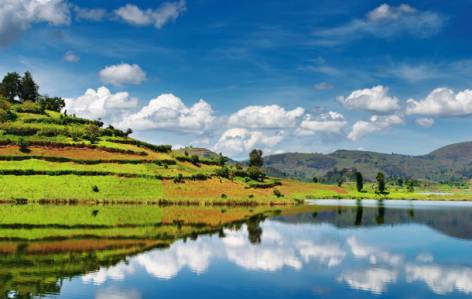 Lake Bunyonyi
Located near the Rwandan border, Lake Bunyonyi is one of Uganda's hidden gems, and the base for our mountain gorilla trek. It's a picturesque place to spend your time and a popular spot for bird watching, with plenty of hiking and boating opportunities too.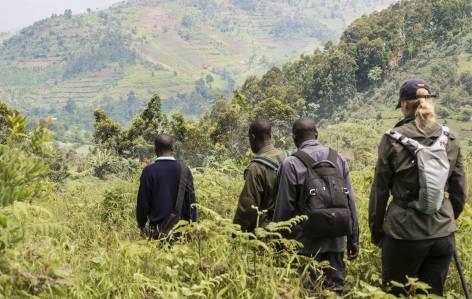 Bwindi Impenetrable National Park
The clue is in the name - impenetrable. This UNESCO World Heritage Site is one of the last strongholds of the mountain gorilla, characterized by steep jungle accessible only on foot - the perfect natural habitat for these elusive apes. As well as gorillas, other animals to see and hear include chimpanzee, forest elephant, and 10 species of monkey.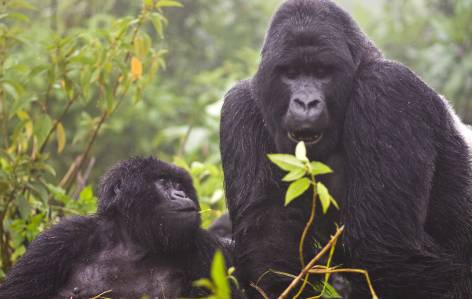 Magahinga National Park
Magahinga National Park is just a fraction of the size of the Bwindi Impenetrable National Park, at 34 square kilometers. But it is also an important habitat for the mountain gorilla, and is regularly used for gorilla trekking. Much of the park is characterized by bamboo forests, a favourite food of the large primates.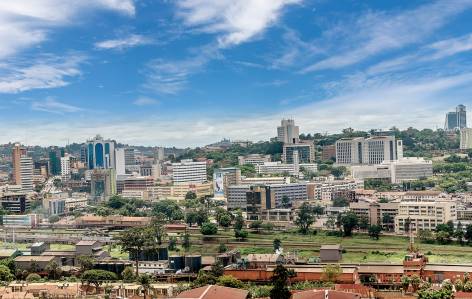 Kampala
Kampala is Uganda's capital and largest city, and all of our Uganda tours spend a night here. Surrounded by hills, it is clear that the city is Uganda's financial hub, with many high-rise buildings proof of development, though much of the city remains poor.