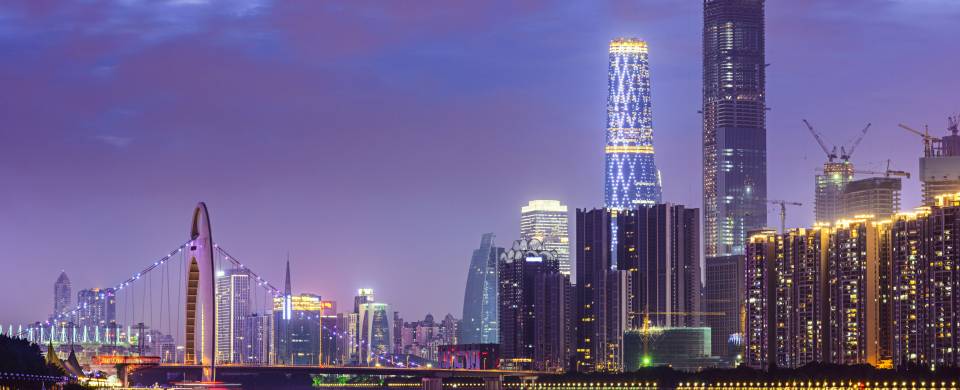 Trips and Tours to Guangzhou
About Guangzhou
Formerly known as Canton, Guangzhou is a vibrant city with a distinct cultural identity and an undeniable buzz. The towering skyline casts shadows over the leafy boulevards that divide up the city and along which a veritable mix of businessmen and travellers wander. Thanks to its convenient situation between Hong Kong and Macau, Guangzhou, China's third largest city, is of incredible economic importance. It is also a hub of education and science and continues to prosper. Unlike anywhere else in China, this fascinating region will captivate you and show you a different side of this magnificent country.
Read More
While wandering through the city, absorbing the atmosphere and admiring the exquisite architecture, is a must, there are certain hotspots throughout the city that should not be missed. One place of interest is the Temple of the Six Banyan Trees, which is home to a stunning pagoda raising up nine floors and topped with a vivid red roof. Once the site has been explored, guests to the region should try dining like a local by sampling one of the city's many tantalising delicacies such as golden roasted suckling pig and custard tart.
Another popular destination for travellers is the Chimelong Park, which comprises a safari park, circus, theme park, waterpark and bird sanctuary. With so much activity in one place, visitors will be occupied for days here and many of the attractions within this fun zone are considered, if not the best in the world, the best in Asia. Marvel at acrobats, gawp at elephants and crocodiles and squeal with delight as you race down the tracks of a rollercoaster at this exciting park.