Where Middle Eastern spirit meets Mediterranean charm. Fall in love with Turkey on an award-winning group tour.
On our tours to Turkey, we'll take you beyond the picture-perfect views. You'll feel the heat from the hot air balloons in Cappadocia. You'll get lost in the bustling bazaars of Istanbul. You'll swim in the sparkling Aegean Sea. Because our Turkey holidays win British Travel Awards for a reason; we dig that little deeper.

Whatever's tempting you to Turkey, our tour packages leave no stone unturned. History-lovers roam the ancient ruins, while sun-worshippers fall in love with the endless beaches. Culture vultures marvel at the mosques, while foodies can't get enough meze. Experience it all, with like-minded travellers by your side.

With its pristine coastline and fascinating ancient cities, Turkey regularly features on travellers' bucket lists. Istanbul is a treasure trove of architectural wonders from the Blue Mosque to Topkapi Palace. For many travellers, Turkey is a place for quiet reflection with the war memorials of Gallipoli and echoes of recent history. For others, Turkey is a place of awe and wonder with its incredible natural landscapes. From the calcium terraces of Pamukkale to the underground villages of Cappadocia, there's also plenty of coastline to soak up the sun.

We know planning the perfect trip can take time, especially when there's so much to explore. That's where we come in. From start to finish, we'll arrange the logistics - so you can make every second of your Turkey group tour count.
---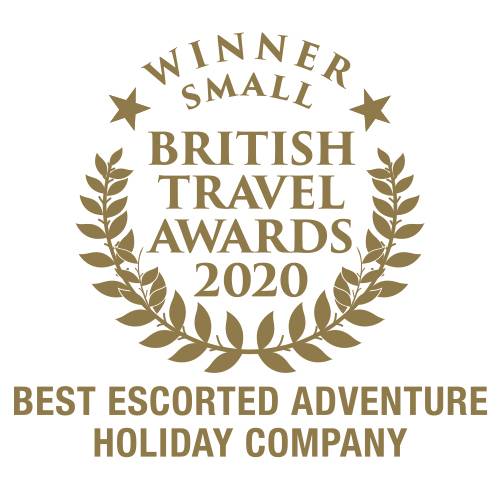 Turkey ANZAC Day 2023 Tours
More Turkey Tours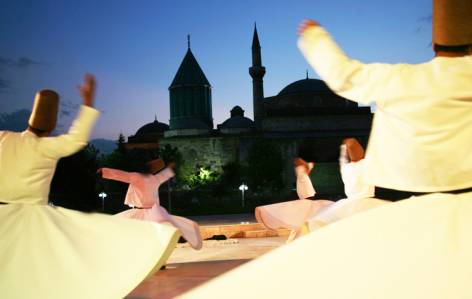 Turkey Private Tours
View Private Tours
We have a number of private tours to Turkey which take in the popular sites as well as hidden gems off the beaten track.
Read More
Explore the coast from Istanbul to Marmaris, follow a different route along the Black Sea visiting charming historic towns, discover the surreal landscapes of Cappadocia, marvel at brilliantly preserved ancient amphitheatres, island hop your way to Athens or combine classical touring with Mediterranean sailing.
Read Less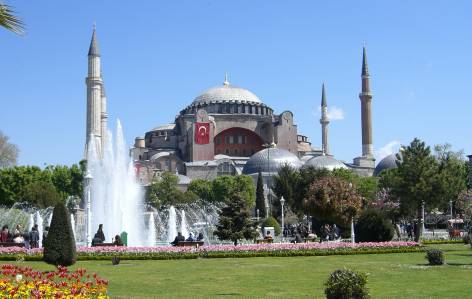 Turkey Short Stays
View Short Stays
Sample the exotic meeting of Europe and Asia in the city of Istanbul with our range of short stays in Turkey.
Read More
Spend 4 days in Istanbul marvelling at the grand Byzantine monuments and exploring the local bazaars or consider heading to the Dardanelles to learn all about the history of ANZAC at Gallopoli and whether a face really did launch a thousand ships at Troy. With accommodation, airport transfers, transportation and guided sightseeing included, these short stays are the perfect way to enjoy some of Turkey's most popular destinations.
Read Less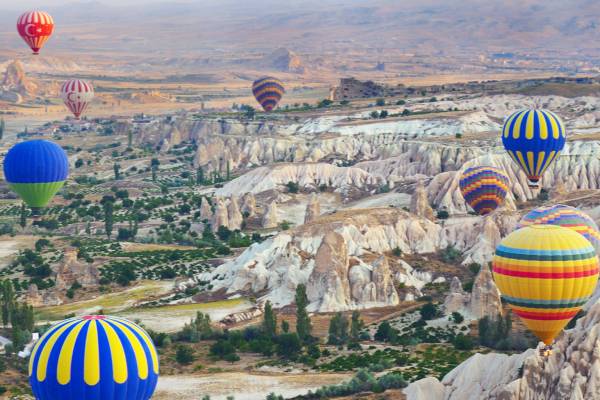 Whatever your travel style, we can design a Tailor-made holiday to Turkey around you. Can't wait to take a dip in the famous thermal pools? Dying to explore the famous Roman ruins of Ephesus? We'll create a one-of-a-kind trip that ticks all of your boxes; and all within a budget that works for you.

All you need to do is tell us what you'd like to see, your budget and timeframe - we'll take care of the rest.
Turkey tour reviews
Scoring an average traveller rating of 4.76 out of 5 based on 33 recent reviews — See All Turkey Reviews
"
Tour guide Lale was excellent - very knowledgeable and friendly. Would recommend."
Sarah Hellyer
• Submitted 13 Mar 2020
"
My experience was very good. They understood the circumstance of Covid 19 and allowed me to use my travel cost for next trip. "
Myounghee Kang
• Submitted 13 Mar 2020
"
fantastic tour - The guide was very knowledgeable, well organised tour. "
Marilyn Goble
• Submitted 5 Mar 2020
Frequently asked questions about our Turkey group tours
Will I visit Istanbul?
Istanbul is probably Turkey's most popular destination, and you'll be glad to know that all of our Turkey tours (with the exception of our sailing holidays) start in the city formerly known as Constantinople. There's included sightseeing in the city on all Signature group tours, so you won't miss a thing.
You could also add on our 4-day
City of Sultans
short stay at the beginning or end of your trip, for even more time to explore Istanbul!
Can I visit Turkey to commemorate ANZAC Day?
The Gallipoli campaign during WWI tragically claimed the lives of many Australians and New Zealanders. We run annual tours to Gallipoli to coincide with the Dawn Service at ANZAC Cove on 25 April.
Our range of tours varies from a 4-day express visit to longer tours including sightseeing in Turkey and nearby Egypt. Browse our
ANZAC Day
page for more information about these trips.
How big are your tour groups and what is the age of your travellers?
On our Signature Turkey tours, the maximum group size is 24 but the average is more like 14. You'll travel with like-minded people from a variety of English-speaking countries and ages range from those in their 20s all the way up to people in their 60s and beyond - all with a shared passion for travel! The average age on our tours is around 45.
What is the standard of accommodation on your Turkey trips?
On our Signature Turkey holidays, you'll be staying in good quality accommodation - a mix of 4 and 5-star hotels. We select our hotels based on a wide array of criteria including great location, facilities, and comfort. You can see an example of the hotels we use on the tour pages for many of our trips.
When is the best time to visit Turkey?
While Turkey is a year-round destination, the summers can be very hot and the winters very cold, especially in central areas such as Cappadocia.
For this reason, we recommend travelling during spring from March to May and autumn from September to November. If joining one of our sailing holidays, then the warm summer months from June to August are best for topping up that tan!
Check out our extensive guide on
when to visit Turkey.
Can I visit Egypt at the same time as Turkey?
Yes! We know lots of travellers from North America and Oceania love to explore more of the region when travelling so far. Our 16-day
Turkey & Tutankhamun
tour includes guided sightseeing in Turkey, before travelling to Cairo in Egypt for touring of the Pyramids of Giza, Aswan and Luxor!
You can also explore some of the Greek islands and ancient Athens with our 14-day
Istanbul to Athens group tour
.
Ancient ruins, new-found friends
Walk the streets of the Ottoman Empire. Stand where the Romans once stood. Travel through time with our passionate guides, and discover the unique history of Turkey - making like-minded new friends as you explore.

And with our award-winning service, we put you first. From zero credit card fees to our 5% returning customer loyalty discount, you can book our Turkey holidays with confidence. Our commitment to quality doesn't end there, though. From the moment you arrive, we'll deliver the outstanding value we pride ourselves on.
Highlights of our Turkey tours
The kind-hearted hospitality of the locals is unlike anywhere else. Whether you're being offered a cup of traditional Turkish tea or chatting about local life, you'll leave with the fondest memories. And that's not the only thing that stands out about our Turkey trips...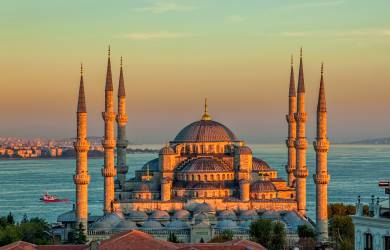 The perfect chance to find a unique souvenir. Barter, haggle, and negotiate bargains in the bustling markets of Istanbul. Then it's off to the Blue Mosque and Hagia Sofia. Find a tour.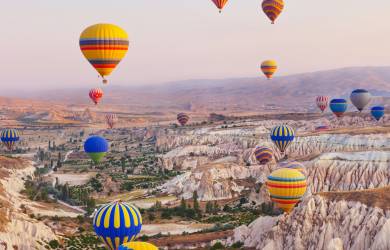 Explore the cave dwellings, ancient villages, and surreal landscapes of Cappadocia on our Turkey trips and opt to float over the area on a magical hot air balloon ride.
Find a tour.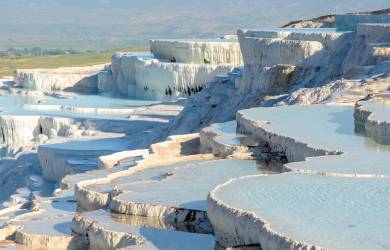 Known locally as the Cotton Castles, bask in the thermal pools that overlook the stunning cliffs of Pamukkale and walk along the beautiful terraces with our range of Turkey group tours. Find a tour.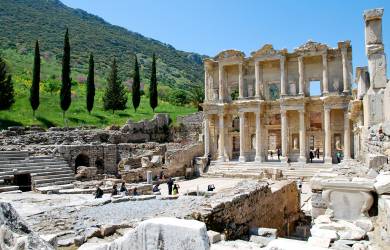 Transport yourself back in time and stroll around the magnificent and well-preserved ruins of Roman cities in Ephesus, Pergamum, and Troy. See it all with our turkey holidays. Find a tour.
Exciting Days, Comfortable Nights
Our Signature group tours place local interaction and authenticity at the heart of your travel experience.
For our Signature range, we maximize your days with excitement and then bring you home to specially selected accommodation with extra character, convenience and comfort, whether that's a five-star river boat on the Nile or a traditional Japanese Ryokan. Accommodation in this range features comfortable western standards, air-conditioning, WiFi and, where appropriate, a swimming pool.
On a Signature holiday, you'll be escorted throughout your trip by our qualified English-speaking local guides who'll show you all the must-see attractions and even the lesser-known sights.
To further add to that special touch, the group sizes in our Signature range are mid-sized: small enough to be intimate, but large enough that you can bond with new friends over common interests.
Iconic Experiences, Local Partners
On our Handpicked range we bring you the most iconic experiences in destinations where you'll join travellers from other travel brands on your tour, safari or sailing holiday. Collaborating with our carefully handpicked portfolio of local partners, these holidays represent exceptional value and there'll be plenty of cultural experiences shared with other like-minded travellers.
Group sizes and accommodation standards vary by destination where typical group size is 28 travellers and hotels, boats and safari lodges are of a 3-4 star standard.
