Top 7 Destinations in Dubai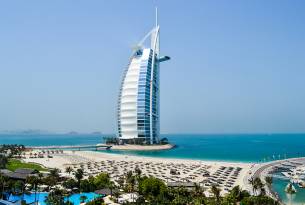 OUR PICK #1
Burj al Arab
Sitting on its own private island, the Burj al Arab has been described as the most luxurious hotel in the world. If you get the chance to experience one of the plush, palatial suites, there will be a whole host of delights awaiting you. From rooftop pools to a personal butler service to a chauffeur-driven Rolls Royce at your beck and call, the Burj al Arab is extravagance and opulence at its finest. The elegant and colourful property also encompasses nine different eateries, a sumptuous spa, gold-plated iPads and Apple Macs in every room, a helipad and an aquarium. If you want to spend your holiday feeling like royalty then look no further.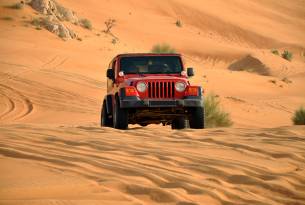 OUR PICK #2
Desert Safari
Prepare to be pleasantly surprised as you embark on one of Dubai's famous desert safaris. Choose from either a morning or evening trip and make sure your camera is fully charged as this is an experience you won't want to forget. Generally, the tours consist of several different aspects with the first section of the excursion including a drive through the dunes to a camel farm. As the day goes on you will get the chance to sand board, get covered in elaborate henna designs and watch some top notch belly dancing. When it comes to eating, travellers will be treated to a BBQ feast, complete with Arabic coffee and a shisha pipe to finish off. For those feeling adventurous, sand skiing and quad biking are also available as added extras.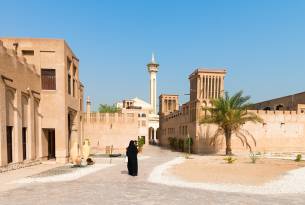 OUR PICK #3
Bastakia Quarter
There is one part of Dubai that has been left alone by developers and acts as a relic of the city's humble fishing village origins. The Bastakia Quarter is home to a sprawling textile souk as well as several old buildings that feature wind towers, a traditional form of air-conditioning that originated in Iran. Interesting sites in the area include the sole remaining part of the Old City Wall and a number of different galleries such as the XVA, Ave Gallery or Majilis Gallery, the latter Dubai's oldest commercial art house. There are plenty of traditional restaurants and cafes where you can stop for a quick bite or cup of mint tea. A popular choice for food is Bastakiah Nights, a Lebanese restaurant with an excellent rooftop area.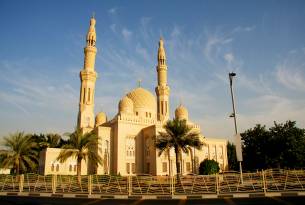 OUR PICK #4
Jumeirah Mosque
Pearly white and magnificent, the Jumeirah Mosque is the only mosque in Dubai that is open to non-Muslim guests although conservative clothing is required and women must wear a headscarf. Visitors can participate in a guided tour, led by the Sheikh Mohammed Centre for Cultural Understanding, which lasts an hour and offers a fantastic opportunity to learn all about Islam and Emirati culture. The tour includes Arabic coffee and a selection of traditional pastries. The mosque boasts awe-inspiring architecture with two minarets that perfectly frame the main dome of the building and an interior that is both intricate and vast. Its beauty is particularly accentuated when it is lit up at night, leaving viewers with no doubt as to why this is one of the most photographed landmarks in the country.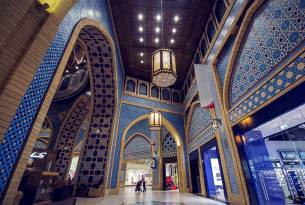 OUR PICK #5
Dubai Mall
Whether you're a shopaholic or not, a trip to the Dubai Mall is an absolute must. Spread out across an area the size of 200 football fields, this shopping and leisure centre is virtually a city in itself. The mall encompasses more than 1,200 different retailers, selling everything from designer fashion and jewellery to furniture and electronics. But the fun doesn't stop there. For those who think being dragged from shop to shop is pure torture, the mall has a whole range of other amusements, including the world's biggest aquarium, an Olympic-sized ice skating rink and a 22 screen cinema complex. When hunger strikes, there are too many eateries to count offering something for everyone from fine dining to fast food.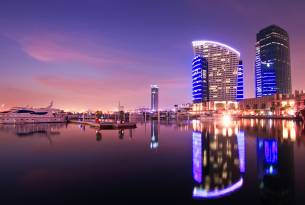 OUR PICK #6
Dubai Creek
The Dubai Creek flows through the heart of the region, connecting the desert to the sea trading port, and was originally Dubai's main point of contact with the outside world. Nowadays it is a hub of activity where you can see and do all sorts of things. To begin with, get an overview of the landscape by catching one of the cable cars that traverse the length of Dubai Creek Park whilst suspending you 30m in the air. Next, head to the main market and shop for spices, the perfect gift for anyone special you might have left at home. You could even peruse the gold merchants if your budget allows it but remember to haggle hard before you commit to buying anything. In the evening, pull up a chair at one of the gourmet restaurants that sit along the side of the creek and watch the sun set over the water.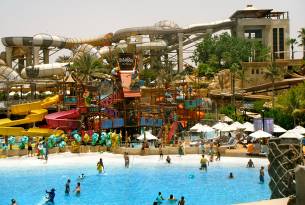 OUR PICK #7
Wild Wadi Waterpark
Channel your inner child and make a splash at this world of watery wonder. This family-friendly attraction is one of Dubai's premiere destinations and a great place to spend a day in the sunshine, though make sure you stock up on water and sun cream. Naturally, the park's main selling point is its plethora of rides, which range from thrilling slides that shoot you down at a top speed of 80km/h to the much more tame dhow-shaped play area. The Wild Wadi Waterpark also boasts the largest wave pool in the Middle East and a surf machine that spews out over seven tonnes of water per second in the form of a thin sheet, perfect for body boarding, knee boarding or even surfing if you're feeling brave. Of course, if the non-stop thrills get too much, there is plenty of space to have a gentle swim or to lounge around in the sun.