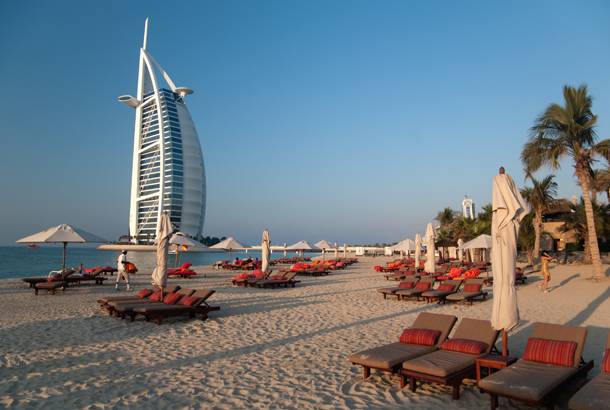 Dubai at a Glance: Best Time to Visit
Recommended time to visit: Dubai has two temperatures: hot, or very hot. February - April is the best time to visit, when temperatures are more bearable, but they'll still rarely drop below 25 degrees Centigrade. Perfect for some winter sun if you're travelling from Europe.

Less popular time to visit: June - August sees temperatures frequently hit 40 degrees Centigrade, which for most people is unpleasantly hot, unless you plan to spend your days sitting in an air-conditioned hotel or by the pool. Travelling to the city during winter is a much better option for those looking to explore.

Exciting time to visit: New Year's Eve is one of the best times to visit Dubai - the emirate is known for its extravagant firework celebrations. Prices are extremely high at this time of year though, so plan well in advance.

Anything to be aware of? The emirate of Dubai is largely Muslim, and during Ramadan (dates vary depending on the year), some shops, restaurants and the like may be closed during the day. But the city comes alive at night as people break their fasts.
Want to know more about Dubai? Check out our latest blog posts
Climate | Dubai
| | Jan | Feb | Mar | Apr | May | Jun | Jul | Aug | Sep | Oct | Nov | Dec |
| --- | --- | --- | --- | --- | --- | --- | --- | --- | --- | --- | --- | --- |
| Temp Min °C | 15 | 16 | 18 | 21 | 25 | 28 | 30 | 31 | 28 | 24 | 20 | 17 |
| Temp Max °C | 24 | 25 | 28 | 33 | 38 | 40 | 41 | 41 | 39 | 36 | 31 | 26 |
| Rainfall (mm) | 8 | 2 | 5 | 1 | 3 | 0 | 0 | 1 | 1 | 1 | 1 | 7 |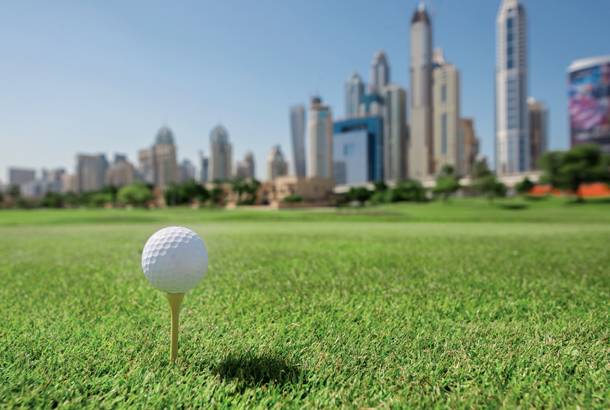 Festivals and Events
A gleaming oasis in the middle of the desert, Dubai is one of the world's most luxurious holiday destinations. But its appeal isn't just limited to fancy hotels and endless sunshine. Throughout the year, this city plays hosts to a number of festivals celebrating everything from religion to retail. Time your visit so that you can take part in some of the most extravagant events on the planet.
What is the Dubai Desert Classic?
Teeing off at the world famous Emirates Golf Club, this golf championship draws in some of the top players in the world for some intense ball-hitting and club-swinging action. Sponsored by Omega, winners of this tournament are rewarded with generous cash prizes. The winner of the 2016 tournament was awarded a staggering 400,000 euros!
What is Eid ul Fitr?
This festival celebrates the end of the holy month of Ramadan, an Islamic ceremony, which involves fasting from dawn to dusk. Live music, singing, dancing, smoking and even chewing gum are all strictly forbidden during this period. However, once the sun sets, banquets are set up under Iftar tents and people eat and mingle until bed time. Needless to say, when Ramadan comes to an end, people celebrate with lavish Arabian feasts and endless festivities, making it a good time to visit Dubai.
What is the Dubai Shopping Festival?
Lasting the whole month of January, this is a retail-fest unlike any other. Prices plummet as millions of shoppers flock from every corner of the globe to get their hands on a bargain. Along with the shopping frenzy, this festival is celebrated with live concerts, raffle draws for cash and cars, fireworks and flash mobs. You might even witness a Guinness world record being set if you're lucky.