Where to Travel in February 2024
Head to the awe-inspiring Abu Simbel to witness the bi-annual Sun Festival
Where to go on holiday in February
February brings with it a sense of fun as countries across the Caribbean and Southeast Asia enjoy perfect tropical weather that lends itself beautifully to carnivals and street parties, island getaways and archaeological discovery. It's summer in the Southern Hemisphere, which makes Latin America a great place to explore, with endless hiking opportunities in Patagonia. Meanwhile, winter drapes its coat of snow and frost over the Northern Hemisphere, perfect for frozen wilderness and hunting for the Northern Lights in Iceland and Finland.
If you're struggling to decide where to go in February 2024, take a look at our pick of destinations and experiences that this month has to offer. You'll also find a guide to the top beach breaks in February, as well as where's best for wildlife and a range of recommended tours to take advantage of these destinations.
Best Festivals in February
Every month of the year holds its own unique offering of special events and festivals. In February this means epic street parties and desert spectacles. Here's our choice of the best festivals that take place around the world.
Top Romantic Destinations for Valentine's Day
If you want to up the romance stakes this Valentine's Day then why not think outside the box, or even outside the country for that matter. What could be more romantic than whisking your partner off to an exotic, far-flung destination for an unforgettable holiday for two this February?
Best Beach Destinations in February
It's great exploring every corner of a destination, but sometimes you just need a sun lounger on the beach with a cocktail in hand to top off your holiday. While the Northern Hemisphere is still submerged in the chill of the winter, south of the equator summer is in full swing. The weather across Southeast Asia, Central America and the Indian Subcontinent is perfect for sunbathing, with plenty of beaches to choose from.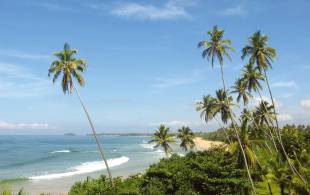 Sri Lanka
For such a compact country, Sri Lanka experiences a dramatic variety of weather conditions, with half of the island dry and the other wet at any given time. In February the southwest coast is experiencing dry conditions with sunny days and warm temperatures. This makes it the perfect time to enjoy the miles of coastline and palm-fringed beaches, as well as national parks in the south.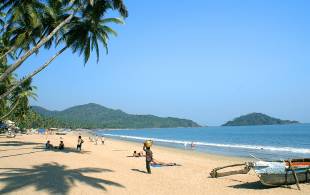 India
In India the southern region of Goa is pleasantly warm, with low humidity offering the perfect conditions to kick back and relax on palm-fringed shores. It's just after the peak season so you needn't worry about fighting over beach umbrellas. There's another reason to visit as the streets come alive with the revelry of the Goa Carnival, complete with music and colourful floats.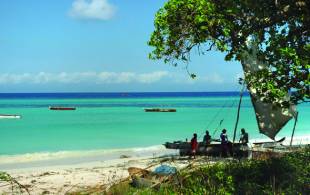 Zanzibar
East Africa experiences two dry seasons throughout the year and February marks the end of the second season, which starts in December. This means it's the last month for a while that offers perfect beach weather with dry, sunny days and cloudless skies. With wildlife spotting still good in Tanzania, it's a great beach choice at the end of a safari adventure.
Best Wildlife Destinations in February
If you're looking for a safari adventure in February then East Africa will be your best bet - the dry season means sparser vegetation, making it easier for spotting the Big 5. Whilst in Uganda, the mountain trails are in better condition for trekking to see the gorillas. Elsewhere, it's a good time to take a jeep safari through Yala National Park in Sri Lanka in search of the elusive leopard and Costa Rica has plenty of wildlife to keep you happy - from nesting turtles on the coast, to the dense interior forests - home to plentiful birdlife.
Recommended Tours and Holidays for February
Still can't decide where to travel in February? Here's a selection of our tours perfectly suited for February travel, from the pulsating cities of South America to the stunning coast of South Africa.
See more of our Travel Calendar