Home to ancient relics, traditional villages and the lost city of Petra. Discover the best of Jordan with On The Go Tours.
A land where time stands still, the lost city of Petra attracts travellers from all over the globe. And it's easy to see why; as you stroll through the ancient realms and relics, you'll catch an unforgettable glimpse of the life lived centuries ago.

The rose city of Petra will be at the top of everyone's list, travellers entering through the deep canyon to be greeted with the iconic image of the Treasury facade. The inspiring red sand desert of Wadi Rum is a close second. Here you can dine on a traditional Bedouin feast under a vast sky strewn with glittering stars. And for those who would like a dose of relaxation and rejuvenation, there are the therapeutic waters of the Dead Sea.

With our Jordan holidays, you'll get beyond the famous sights. You'll sleep under the stars in the desert. You'll make new friends around a crackling campfire. And you'll meet the welcoming Bedouin tribes.

Because we win British Travel Awards for a reason; our trips are packed with authentic experiences you'll never forget.
---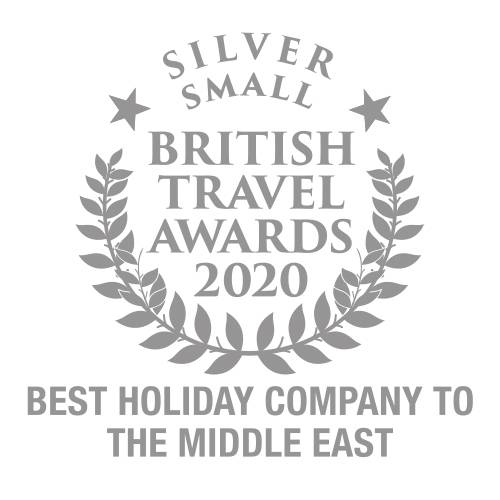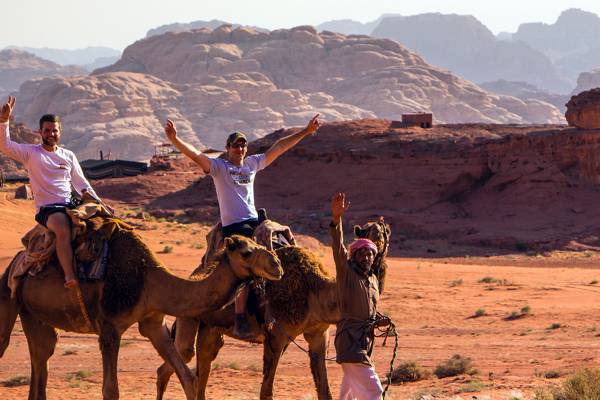 Maybe you're a history fiend longing to see the ancient realms of Petra. Or you might be an adventurous soul who can't wait to get the hiking boots out. Whatever makes you tick, we can design a Tailor-made holiday to Jordan - just for you. With your budget and time frame in mind, we'll plan a trip that works around you.

Click here to build your trip!
Jordan tour reviews
Scoring an average traveller rating of 4.94 out of 5 based on 31 recent reviews — See All Jordan Reviews
"
I cannot describe how wonderful this trip was..but I am going to try! Everything was perfect, the hotels (including the tent at Wadi Rum), the transport, the food. I mainly went to Jordan to see Petra but I ended up enjoying every single place we visited, it's unbelievable the history that this country has and how welcoming and kind Jordanians are. The time we spent in the desert, especially at night, was fascinating, and the trekking trail at Wadi Mujib is a must do if you have at least an average level of fitness. I would also recommend to do the optional tour to the Baptism of Jesus site and the hot spring.
What made this trip even more special was our guide, Mahmoud: his passion for his country, along with his excellent English, knowledge, sharp sense of humour, and caring for our needs, was one of the best highlights of Jordan.
Expect to walk quite a lot and, if your level of fitness is below average, you may consider skipping some tours or use horse/donkey rides in Petra. However, if you can make it, I can ensure that this trip is worth every single effort. "
ANGELA DI NUZZO
• Submitted 28 May 2022
"
Excellent Tour from start to finish!
Very easy to book and all information supplied included. "
Linda Evans
• Submitted 27 Apr 2020
"
Incredible Jordan discovery!
The New Year in Petra tour was a wonderful discovery of the extraordinary Ancient and Biblical history of this region. Our guide was exceptional in the way he delivered his extensive knowledge. Highly recommended! "
Peter Traverna
• Submitted 20 Apr 2020
Frequently asked questions about our Jordan holidays
Will I see Petra and how much time will I spend at the site?
The incredible Nabataean city of Petra is the country's top attraction and so it's included on all of our Jordan trips. A full day is spent exploring the temples, theatres and colonnaded streets of the ancient city, with entry via the siq to arrive at the extraordinary Treasury facade.
The next morning there is free time to return to Petra via al-Madras, with visits to the High Place of Sacrifice and Wadi Farasa. As two nights are spent at Petra, there is plenty of free time for you to opt for the Petra by Night experience or our
Petra Kitchen
add-on.
Many tour operators only spend one night in Petra on their Jordan holidays. But we want our travellers to have plenty of time to take in this unique world wonder!
What is your desert camp like in Wadi Rum and will I need a sleeping bag?
We also include a night in Wadi Rum on every one of our Signature tours in Jordan. The night is spent in a permanent desert camp with individual tents for two people.

Inside the tents are comfortable camp beds and warm bedding, so you don't need to bring a sleeping bag. However, you may wish to bring your own liner.

Showers and toilets are in an outhouse close by with hot running water. There's a communal area with rugs and cushions where food is eaten in the evening. The camp's position at the foot of an easily-climbed rocky hill makes it the perfect spot to watch the sunset.
How much walking is required on your Jordan tours?
Petra is a sprawling site and over the course of the day spent here, you'll be walking for a good six hours and cover approximately 14 km. The climb up to the Monastery alone involves 854 strenuous steps, however, this is an optional visit and donkeys are available if you require assistance.

On tours departing between April and October you'll embark on a moderate–paced two hour trek along the Siq Trail at Wadi Mujib. Depending on the water level this can be quite a challenging adventure as climbing is required in sections.

If you prefer to give this a miss, you can head straight to the Dead Sea after viewing Wadi Mujib from the entrance of the siq.
What should I wear whilst visiting Jordan?
Jordan is more liberal than many countries in the Middle East, yet it is still a conservative country. It's a good idea to dress respectfully and with modesty in mind throughout your Jordan holiday. This means opting for shorts or skirts that touch the knee, high necklines and keeping shoulders covered. Loose-fitting, opaque clothing is the best option, not only to avoid causing offense, but also to be more comfortable in the high summer heat.

We recommend choosing cotton over synthetic materials and packing a wide-brim hat to keep your face shaded from the intense sun. For footwear, take a good pair of walking shoes for the day of guided sightseeing in Petra.
How big are your tour groups and what is the age of your travellers?
Our average group size in Jordan is around 14 passengers and you'll be travelling with an eclectic mix of English-speaking people from all over the world. Our Christmas, New Year and Perseids Meteor Shower departures attract a larger group size due to the nature of these events.

You'll find a wide range of ages on tour from those in their 20s to those in their 60s or even 70s. On average the age is around the mid-40s.
What is the standard of hotels on your trips?
You'll be staying in comfortable, modern 4-star hotels in Jordan. We've chosen well-located properties that offer all the amenities you need. In Petra and the Dead Sea the hotels have a swimming pool where you can cool off after a day in the heat. At Wadi Rum we use a deluxe permanent desert camp with proper bathroom facilities.
What sort of transport do you use in Jordan?
Depending on the group size, you'll be travelling in air-conditioned coaches with toilets on board or in smaller mini-vans. At the entrance to the Wadi Rum protected area you'll board well-used 4x4 vehicles to navigate the rolling orange sands. Four passengers get in each vehicle plus a local driver. It's the quickest and easiest way to get to our desert camp.
When is the best time to visit Jordan for general sightseeing?
The months of March and April or September and October are the
best time to visit Jordan
as this is when temperatures are milder and more comfortable for sightseeing. In April some of the less arid landscapes in Jordan will be in bloom with colourful wildflowers, which makes the country even more photogenic.
The months between May and August are very hot and the temperatures can be overbearing for many people but if you want to witness the celestial display of the
Perseids Meteor Shower
then August is when you should time your visit.
Recent Travel Articles on Jordan
Read All
Awaken your adventurous side in Jordan
Our group tours to Jordan are bursting with unique experiences. With our seasoned local guides leading the pack, you can give in to your adventurous spirit. From trekking across vast desert lands to floating in the Dead Sea, you'll return home with stories that last a lifetime.

And with our Signature tours, you'll have the best of both worlds. After busy days packed full of adventure, you can rest in the comfort of 4-5 star hotels. It's just one of the reasons we win the British Travel Awards.
Highlights of our Jordan tours
A diverse country packed with iconic cities, sprawling deserts and ancient realms, Jordan is a must for any traveller who loves history and adventure.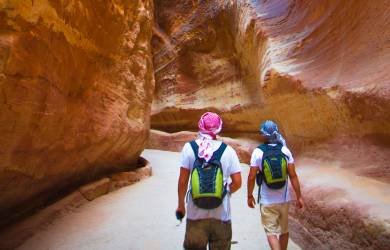 An essential part of a trip to Jordan, explore the ancient tombs and temples in the lost city of Petra. Most of our trips spend two nights here, so you have plenty of time to explore. Find a tour.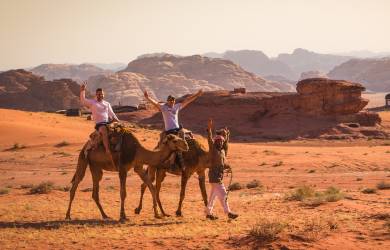 Explore the vast red sands of Wadi Rum and spend the night sleeping under the stars in our desert camp. Relax, eat delicious local food and watch a stunning sunset from a nearby hill. Find a tour.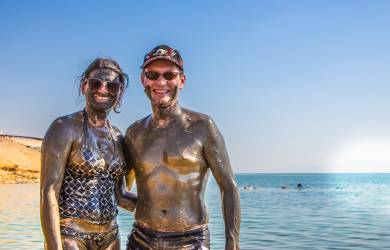 Float in the famously salty waters of the Dead Sea and soothe your skin with its mineral-rich mud. Our longer Jordan tours include an entire free day to relax here. Find a tour.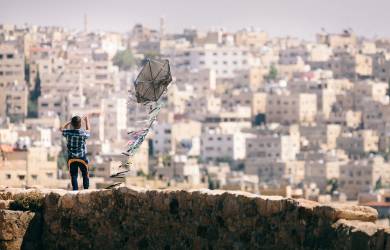 Discover the ancient Roman city of Jerash, the black basalt columns of Umm Qais, and roam around the ruins of the Amman Citadel, preserved for over 2,000 years. Find a tour.
Exciting Days, Comfortable Nights
Our Signature group tours place local interaction and authenticity at the heart of your travel experience.
For our Signature range, we maximize your days with excitement and then bring you home to specially selected accommodation with extra character, convenience and comfort, whether that's a five-star river boat on the Nile or a traditional Japanese Ryokan. Accommodation in this range features comfortable western standards, air-conditioning, WiFi and, where appropriate, a swimming pool.
On a Signature holiday, you'll be escorted throughout your trip by our qualified English-speaking local guides who'll show you all the must-see attractions and even the lesser-known sights.
To further add to that special touch, the group sizes in our Signature range are mid-sized: small enough to be intimate, but large enough that you can bond with new friends over common interests.
Iconic Experiences, Local Partners
On our Handpicked range we bring you the most iconic experiences in destinations where you'll join travellers from other travel brands on your tour, safari or sailing holiday. Collaborating with our carefully handpicked portfolio of local partners, these holidays represent exceptional value and there'll be plenty of cultural experiences shared with other like-minded travellers.
Group sizes and accommodation standards vary by destination where typical group size is 28 travellers and hotels, boats and safari lodges are of a 3-4 star standard.
Trek and Sightsee
Our Active range brings you thrilling trekking holidays to some of the world's most popular destinations. Whether it's trekking to the Lost City of Petra in Jordan or climbing Mount Kilimanjaro in Tanzania, you'll get to explore more of your chosen destination than just the standard highlights. You'll need a good level of fitness and an intrepid spirit for all of our private and group tour treks.
While trekking, the accommodation you'll be staying in reflects the off-the-beaten track nature of these trips with simple tea houses, wild & fixed camping, homestays, and local guest houses.
Tailored To Suit You
On our Tailor-made trips, we give you the flexibility and choice to do things just the way you want, all alongside the great service we're famous for.
Whether you're travelling solo, with a partner, family, extended family or as group of friends we'll customise your arrangements to suit your exact needs and budget. Our Tailor-made trips are designed for your needs and you don't have to join other travellers like you would on a group tour. Just tell us what you'd like to see and when you'd like to go, and we'll design the perfect holiday for you.
The Tailor-made itineraries we've suggested are designed to give you an idea of what you could do with us, they can be booked as they are, or adapted to suit you. If you'd like to change any aspect of the trips you see, please get in touch. If you aren't quite sure of what you want to do, that's no problem either! One of our experienced travel consultants can make suggestions then together you can tweak until it's the perfect fit.
