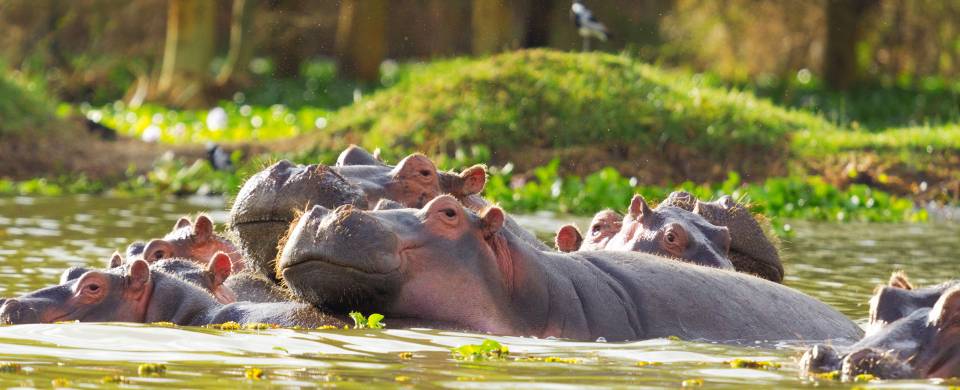 Trips and Tours to Lake Naivasha
About Lake Naivasha
Lake Naivasha is a freshwater lake, unlike many in the Rift Valley region which are soda lakes, and backed by purple-hued mountains with floating islands of vegetation dotting the water's surface. The lake is shallow and the area varies depending on the rainfall, ranging from 114 to 990 square kilometres. The name Naivasha is a British corruption of the original Masai name of Nai'posha, meaning 'rough water', so named for the surprisingly strong afternoon winds that can unsettle the lake's water and make it quite rough.
Read More
The fresh waters of Lake Naivasha are home to a sizeable population of hippo with a variable community of fish species, numbers and types of which change with the water levels, increases in temperatures, local fishing and sometimes disastrous introduction of non-native species. The fish in Lake Naivasha attracts a variety of birds including cormorants, pelicans and kingfishers. The unspoilt savannah and woodland surrounding the lake are also home to plenty of wildlife including the occasional giraffe. The lack of predators makes it a top spot for hiking.
Back in the mid 1900s the lake was used as a landing place for plane passengers heading to Nairobi. Today the Lake Naivasha Country Club marks the spot where aircraft would land and passengers disembark for a bus to continue their journey to Nairobi. When the water is low you can see the wooden posts that mapped out the runway. The fertile farmlands around Lake Naivasha have seen the region become a major producer of fruit and vegetables with a number of small vineyards starting up in recent years.