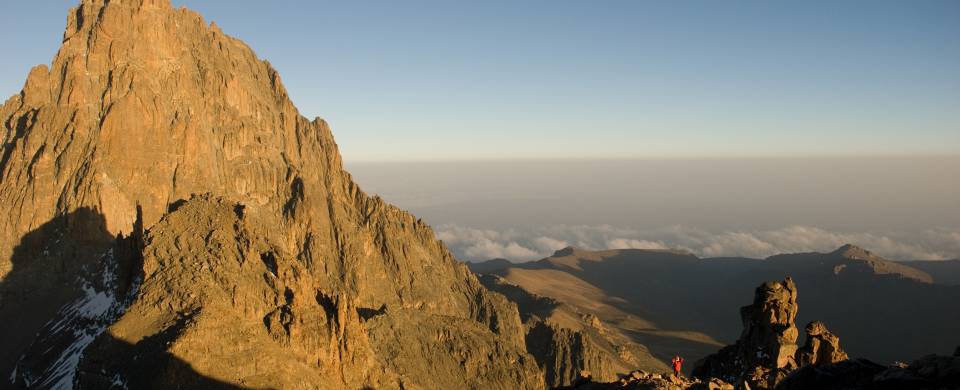 Trips and Tours to Mount Kenya National Park
About Mount Kenya National Park
The second highest mountain in Africa, Mount Kenya lies just a few kilometres from the equator yet is heavily glaciated with dramatic crevices. Rising 5,199 metres above sea level and surrounded by breathtaking scenery, Mount Kenya is also one of the world's largest freestanding volcanic mountains - the volcano is extinct and offers a thrilling adventure for experienced climbers. The scenic snow-capped peaks, magnificent cliffs and glaciers, spectacular waterfalls and valleys, and rolling slopes with thick forest cover provide some of the finest trekking routes in the world.
Read More
The mountain offers easy climbs as well as challenging ascents with stunning vistas for those who complete the challenge, especially from the top at dawn. Only a decent level of fitness is required to reach the peak of Lenana (4985m) at a suitable pace. The highest peaks of Batian (5,199m) and Nelion (5,188m) can only be accessed by experienced mountaineers with local guides. Regardless of which peak you choose to conquer you can enjoy exceptional views of tarns and alpine meadows on its higher slopes and lush rainforest and thickets of bamboo on the lower slopes.
Mount Kenya has been declared a UNESCO World Heritage Site for its outstanding ecology and forms the centrepiece of the Mount Kenya National Park. This natural wonder has a typical equatorial mountain climate with warm summery days and bitterly cold winter nights. Major wildlife attractions in and around the surrounding area include elephants, leopards, buffalo, Sykes monkeys, albino zebras, antelopes, black and white colobuses, black rhinos, olive baboons, bush pigs and hyenas. That's not to mention the variety of birds that are commonly found here including hyrax and eagles.