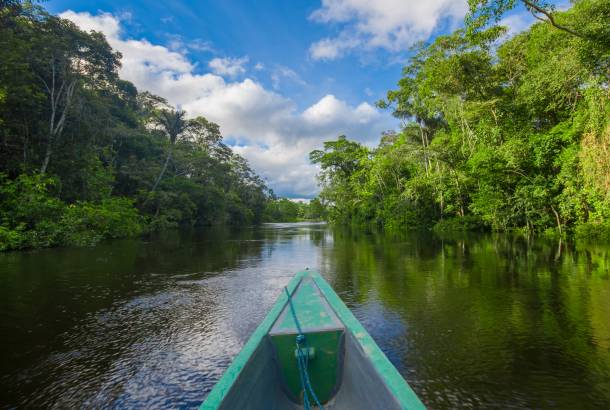 Occupying around 40% of South America, the Amazon is a vast ecosystem spanning eight countries and around 6.7 million square kilometres. Home to the world's largest rainforest, and one in ten of the known species on Earth, its scale and diversity is unparalleled. And stretching from the Peruvian Andes to the Atlantic coast of Brazil, the immense River Amazon remains the life force of it all.
Visiting the Amazon rainforest is high on many people's bucket lists when travelling South America. However, given its huge size, it can be hard to know which country is best to visit. To help you organize your perfect trip, here's our guide comparing visiting the Amazon rainforest in Brazil, Peru and Ecuador.
Best places to visit in the Amazon rainforest
As the River Amazon meanders across the continent, it passes different port cities that act as gateways to explore this ecosystem. Although over 60% of the Amazon is located in Brazil, the other main gateways are found in Peru and Ecuador. These gateway cities have the most options for booking excursions, cruises and lodges, so here's an overview of what each one has to offer.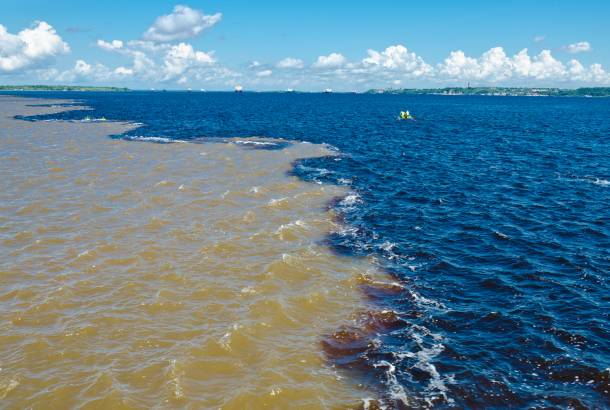 Manaus, Brazil
The largest city in the Brazilian Amazon and the country's main gateway, Manaus has a population of around 2 million. It is also only accessible by riverboat or plane. While there are attractions such as the Manaus Opera House, Manaus's proximity to the Central Amazon Biosphere is what draws visitors.
Being such a great visitor hub, there are plenty of tour operators offering day trips and multi-day river cruises into the Amazon. These range from budget to luxury, so there's sure to be one to suit your needs. The surrounding area also has a choice of jungle lodges, which offer excursions into the rainforest such as canoe trips and treks.
Why visit the Amazon rainforest in Brazil?
Whereas other gateways are set along tributaries or smaller sections of the River Amazon, Manaus allows you to see this river in all its glory. Despite being over 1,500 kilometres from the Atlantic coast, the river is 10 kilometres wide here. So this is the perfect destination for those wanting to marvel at its sheer size and scale.
Manaus also offers the opportunity to witness the 'Meeting of the Waters'. This is where the Rio Solimões and the Rio Negro merge to form what we know as the River Amazon. As each river is of a starkly different colour, they don't blend straight away, creating a fascinating natural phenomenon.
Contact our tailor-made holiday team to plan your visit to Brazil & the Amazon Rainforest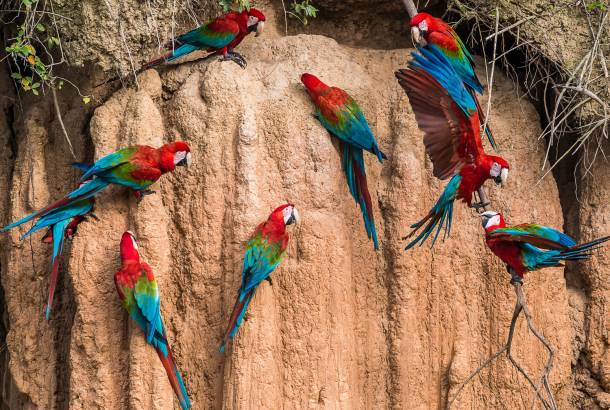 Puerto Maldonado and Iquitos, Peru
Peru has two main gateways for visiting the Amazon, known as Puerto Maldonado and Iquitos. Puerto Maldonado is in the southeast of the country at the confluence of the River Madre de Dios and the River Tambopata. It offers great access to the remarkable Tambopata National Reserve. The main way to experience the jungle here is by staying in a lodge close to or within the reserve and taking a guided rainforest tour.
By contrast, Iquitos is a much larger city in the northeast of Peru and situated on the River Amazon itself. It's known for its access to the Pacaya Samiria National Reserve, which boasts wildlife such as pink river dolphins. Visitors can opt to experience the jungle either by staying in a lodge or on a river cruise. Iquitos is a great starting point for a multi-day cruise, with boats ranging from adventure-style to the more luxurious.
Why visit the Amazon rainforest in Peru?
In comparison to the vast size of Brazil, travel to the Amazonian jungle of Peru is quicker and more cost effective. Puerto Maldonado can be accessed by road and is served by regular flights from
Cusco
and
Lima
. So it's easy to combine your visit with other iconic sights such as
Machu Picchu
within one, short holiday.
Peru also boasts the world's largest known parrot claylick. Found in Tambopata National Reserve by Puerto Maldonado, this clay deposit is a must-see for birdwatchers. At dawn, hundreds of colourful macaws, parakeets and other species arrive to feed on claylick's minerals. It's one of the Amazon's most vibrant natural spectacles.
Contact our tailor-made holiday team to plan your visit to Peru & the Amazon Rainforest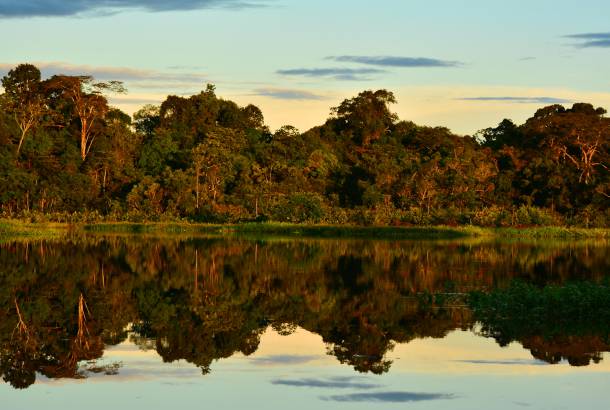 Coca, Ecuador
Also known as Puerto Francisco de Orellana, Coca is considered the best gateway to the Amazon rainforest in Ecuador. Situated on the Napo River, the city is in close proximity to two protected areas. Yasuni National Park, home to a record-breaking number of species, and Cuyabeno Wildlife Reserve.
Visitors to Coca can opt to stay in a jungle lodge and enjoy guided wildlife tours. On our Wilds of Ecuador private tour, we offer this experience at Sacha Lodge, which is set within its own pristine 5,000-acre ecological reserve. Alternatively, you can also take a multi-day Amazon cruise. Although options are limited to two main cruise boats, one of which is the only luxury cruise to be operating in the Ecuadorian Amazon.
Why visit the Amazon rainforest in Ecuador?
Similarly to Peru, Ecuador offers quicker and more cost effective access to the rainforest than Brazil. Flights from the capital city of Quito to Coca are just a short 40-minutes.
Ecuador's Amazon rainforest is also one of the most biodiverse places on Earth. Yasuni National Park is a must-visit for wildlife enthusiasts and particularly for birdwatchers. As many as 600 species have been sighted within the park, which represents around one third of all birdlife found within the Amazon basin.
Contact our tailor-made holiday team to plan your visit to Ecuador & the Amazon Rainforest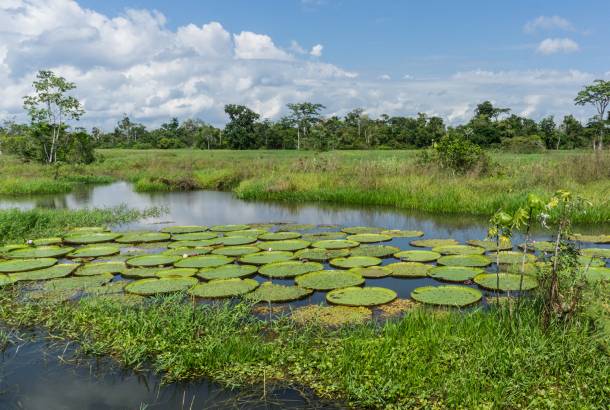 Best time to visit the Amazon rainforest
The Amazon rainforest can be visited throughout the year. Although, as the name suggests, rainfall is always to be expected. The best time to visit varies slightly depending on which country you choose to go to. However, there are two seasons that generally govern the Amazon basin.
High-water season
Lasting from January to June, high-water season brings showers on and off throughout the day. During these months the rivers will be higher, which allows for better accessibility and navigation by boat. However, it also brings cooler temperatures and more mosquitos, so you'll want to have a strong repellent.
Low-water season
In contrast, low-water season sees lower rivers and less rainfall – although heavy showers do still occour. Whilst this impacts river navigation, more walking trails become accessible for hiking. It's also much easier to spot wildlife such as caimans and birds, with fewer mosquitos for you to contend with.
Want to know more about the Amazon rainforest? Check out our latest blog posts
Jungle Lodge or River Cruise?
The two most popular ways to explore the Amazon rainforest are by staying in a jungle lodge or taking a cruise along the Amazon River. These options are available in Brazil, Peru and Ecuador. However, whilst both offer fantastic experiences, depending on your style of travel, one may be more suited to you than the other. To help you decide, here we take a closer look at what each one has to offer.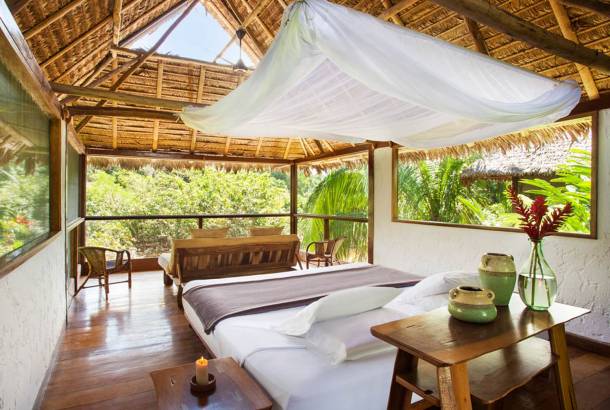 Jungle Lodges in the Amazon rainforest
Offering an immersive experience, lodges are set within or close to wildlife reserves. They are surrounded by the sights and sounds of the jungle. And by taking guided excursions, guests can explore the rainforest around them in greater depth. Generally, the more remote lodges offer greater wildlife sightings.
A visit of around three days is recommended to make the most of your stay. Depending on where you choose to visit the Amazon rainforest, you'll find both budget and more luxury options available. On several of our Peru tours, we travel to Puerto Maldonado to stay at a rustic jungle lodge. It's located close to Lake Sandoval, which is inhabited by wildlife such as Howler monkeys, caimans and giant river otters.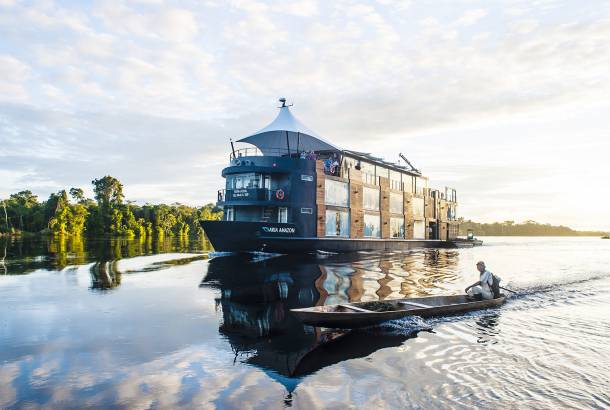 River Cruises in the Amazon rainforest
In contrast to jungle lodges, river cruises have the advantage of mobility. They allow you to discover a greater area and different ecosystems within the Amazon rainforest. You'll have several excursions where you disembark and enjoy activities during the day, then return to your cabin in the evening to sleep.
A range of cruise types are available depending on where you want to go. Smaller tourist boats can take you deeper into the Amazon rainforest along narrow tributaries. Larger luxury cruises offer a similar experience to a five-star hotel, with amenities such as air conditioning, private showers and gourmet food.
Whilst the experience is less immersive than a jungle lodge, a cruise is a great choice for those who prefer their creature-comforts. We offer this experience on our Peru and Iquitos Amazon Cruise tour, where we spend 3-nights aboard the Aria Amazon luxury cruise ship.
Remember that whatever way you decide to experience the Amazon rainforest, wildlife sightings aren't guaranteed. Simply be quiet, patient and grateful for whichever creatures you are lucky enough to see.
Recommended Tours visiting the Amazon
Check out our selection of recommended tours visiting the Amazon below. Alternatively, if you had something a little different in mind, our tailor-made team will be happy to create your very own unique itinerary.
South America Trip Styles