Colombia Trips & Package Tours
A country of biodiverse jungle and captivating colonial cities. Book your Colombia package today!
Forget everything you think you know about Colombia and discover why it's fast becoming South America's next great adventure destination. From the soaring peaks of the Andes to the pristine beaches of the Caribbean Sea coast, Colombia is home to a great natural diversity thanks largely to its position on the Equator, with a third of the country occupied by the wildlife-dense Amazon rainforest. It's not just the Amazon either, Colombia has one of the richest biodiversities of anywhere on Earth, and places such as Tayrona National Park are teeming with unique wildlife. Colombia is also the only South American country to have a coastline on both the Atlantic and the Pacific oceans, separated by the narrow sliver of Panama to the north.
Colombia also boasts some of South America's finest colonial cities, from the extraordinarily preserved Cartagena to the white-washed city of Popayan with cinematic cobbled streets and wide plazas. There's also a healthy spread of mysterious ancient ruins including San Agustin, where exquisitely carved stone statues depict surreal scenes of serpent-headed humans and frenzied monkeys. Definitely a trip to remember!
Catch Colombia on the cusp of worldwide attention and take in the main highlights on our Colombia trips whilst travelling with like-minded travellers. Alternatively, choose one of our private tours offering flexibility and off-the-beaten-track attractions.
Colombia Group Trips & Package Tours
Our 16-day Classic Colombia group tour is a deep dive into this incredible country. You'll take in all the main tourist sites, from classical Cartagena to the tropical trails of Tayrona National Park, coastal Santa Marta to enchanting Bogota.

This fully escorted group tour has a maximum group size of 20 travellers and is packed with inclusions. You'll stay in well-located 3-star accommodation and enjoy lots of guided sightseeing, plus optional activities such as a horseback ride in the countryside. We also include internal flights and airport transfers, for a hassle-free arrival and departure.
Colombia Private Trips & Package Tours
For more choice of itineraries, and if you would prefer to travel with just your family or friends, a private tour to Colombia may be just the ticket. Go trekking to the Lost City of Ciudad Perdida. Explore the infamous city of Pablo Escobar, Medellin, which is emerging from the drug lord's shadow. And discover Colombia's famous coffee region.

These Colombia trips can depart any day of the year and are ready to be booked today, so get in touch with our Reservations team to start planning your Colombia adventure.
Explore more countries like Colombia
Frequently asked questions about our Colombia trips
When is the best time to visit Colombia?
Colombia is a year-round destination, but the most suitable weather for cultural touring is during the shoulder seasons of December - March and June - September. Remember that much of Colombia is at altitude, so pack warm clothing to wear in the evenings whatever time of year you travel.
Will I have a tour guide on your Colombia trips?
Our Colombia tours are fully escorted by a qualified tour leader, and you will enjoy the services of specialist guides for sightseeing at the main attractions. They will also be able to help you get the most from Colombian culture, whether it's the best places to eat, shop, or advice about hidden gems to visit.

If you book a private Colombia package, you will enjoy the services of local guides for all included sightseeing, as per your itinerary.
How big are your tour groups in Colombia and what is the age of your travellers?
Our group tours to Colombia depart with a minimum of 4 travellers, and the maximum group size is 20.

The average age of our travellers is around 48, though we also welcome lots of people in their 20s and 30s on our holidays, as well as older passengers in their 70s. If you have a sense of adventure and a desire to see the world, then you'll fit right in and enjoy an amazing tour!
What is the standard of accommodation on these Colombia trips?
Our
Classic Colombia
group tour stays in well-located 3-star hotels with plenty of amenities. You can find out more about the hotels we typically use on this tour on the relevant webpage, though please note that we retain the right to use different hotels of a similar standard on tour when the need arises.
If booking aprivate Colombia package, you can choose your own standard of accommodation, and our Reservations team will pull together an itinerary based on your preferences.
What sort of transportation do you use?
Airport arrival and departure transfers are included on our Colombia group tours and most relevant transportation is in private vehicles.

We also make use of Colombia's domestic flight network. As one of the largest countries in South America, it would take too long to travel by land! These flights are included in the cost of your Colombia package and are clearly labelled on the itinerary.
Is Colombia a safe destination for travellers from the LGBTQ+ community?
According to the 2022 LGBTQ+ Travel Safety Index, Colombia scores a B rating for LGBTQ+ traveller safety, ranking 30th out of 203 countries.

Same sex marriage is legal, and there are broad constitutional and worker protections in place for people of all sexual orientations. Hate crimes against members of the LGBTQ+ community are criminalized and 51 - 75% of consulted citizens consider Colombia a good place to live for gay and lesbian people. There are no legal punishments for same sex relations and most trips for LGBTQ+ travellers to Colombia are trouble-free.

The LGBTQ+ Travel Safety Index is designed to provide a good overall picture of attitudes towards the LGBTQ+ community in each country and may not reflect the experience of foreign travellers to the country.
Can I drink the tap water in Colombia?
In big cities such as Bogota and Cartagena, the tap water is officially safe to drink. However, the water is heavily chlorinated and may cause stomach upsets in travellers unused to it. For this reason, we recommend sticking to filtered and bottled water throughout your Colombia tour.
As a solo traveller will I have to pay more for my Colombia package?
On our Colombia trips, we are able to match up solo travellers with another traveller of the same sex, so you don't need to pay a single supplement. If there is not a solo traveller of the same sex for you to share with, you will be given a single room to yourself at no extra cost. Please contact us if you would like to take up the room share option.

If you are a solo traveller who would prefer to guarantee the privacy of your own room then you can choose to pay the single supplement, the price of which is listed on each tour page.
What is the currency in Colombia?
The currency of Colombia is the Colombian Peso (COP). Check
OANDA
for current exchange rates.
What is the current travel advice for Colombia?
As a UK-based company, we follow the latest up to date advice from the Foreign and Commonwealth Office (FCDO).

You can see the latest travel advice for your Colombia trip here.
GO WILD ON OUR COLOMBIA TRIPS
With such a varied terrain Colombia is a playground for outdoor adventurers and nature lovers. Dive among untouched coral reefs off the coast in Tayrona National Park, explore the pre-Colombian site of San Agustin by horse and go mountain biking around the attractive colonial town of Villa de Leyva. White water raft in San Gil and hike through dense jungle to secluded beaches as part of your Colombia package.
The Best of our Colombia Trips
Tucked in the northwest corner of South America with terrain that stretches from the tropical beaches of the Caribbean coast to the dramatic mountain ranges of the Andes and the lush Amazon rainforest, Colombia is not short on natural beauty and impressive contrast with fun modern cities, charming colonial towns and beautiful coffee estates to boot. Here are some of our favourite spots in Colombia, which are definitely worth seeking out.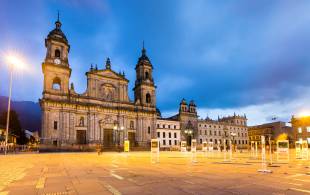 Bogota
Studded with skyscrapers and surrounded by mountains, Bogota is a pulsing city at the heart of Colombia. Having left its turbulent past behind, this capital city is now a trendy hub of activity, boasting a wealth of stylish boutiques, gourmet eateries and striking street art. Wander through the streets lined with colonial mansions, sparkling glass high-rises and other more humble dwellings as the energy of Bogota flows through you.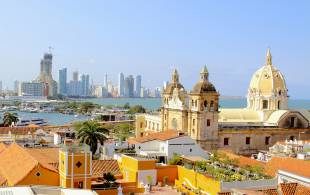 Cartagena de Indias
The jewel in Colombia's crown, Cartagena de Indias as it is officially known wins on all counts when it comes to beauty. With colourful colonial buildings lining the streets and Bocagrande beach spreading along the city's coastline, Cartagena de Indias is the kind of place that captivates your soul and delights your senses. Take a dip in the medicinal mud of the nearby Totumo volcano or grab a coffee in one of the numerous cafes while you immerse yourself in Cartagena's Caribbean vibe.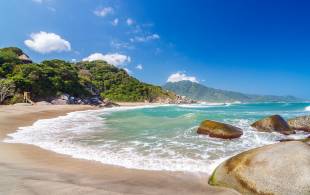 Tayrona National Park
With a dazzling bay comprising perfect Caribbean beaches and sparkling turquoise water, there's plenty to fall in love with at Tayrona National Park. Deeper into the park, coastline turns to thick, lush rainforest, in which dozens of endangered species roam freely. Seek out some magnificent wildlife as you make your way through the park's leafy canopy. Originally home to hundreds of ancient settlements, this park is ideal for nature lovers and history buffs alike.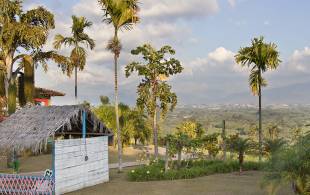 Zona Cafetera
Situated in the rolling hills of Colombia, the coffee-producing region known as Zona Cafetera will leave you breathless (and not just because of the altitude). The landscape here is made up of verdant plantations, surrounded by towering trees and wrapped up with low wisps of cloud. Check out one of the many coffee farms where the famed arabica bean is grown and processed or take a tour around one of the historic villages as you absorb the stunning scenery of the region.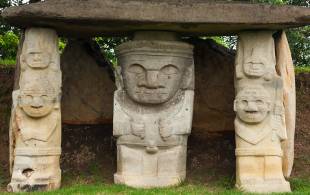 San Agustin
For those looking to delve into Colombia's ancient history, there are few places in the country better than the San Agustin Archaeological Park. Imbued with ancient mystery, this UNESCO World Heritage site boasts the largest number of religious, megalithic monuments found in any one site across the world. Here you can come face-to-face with dozens of intricately carved sculptures of various deities and mythical creatures with compelling expressions and features.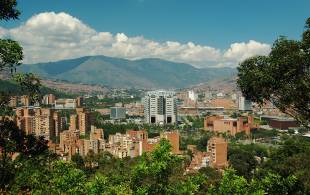 Medellin
Colombia's second city has long been associated with the scourge of Pablo Escobar and the infamous drug lord's reign of terror. But the city has worked hard to free itself of this reputation, and today Medellin is a safe and vibrant town to visit. Pristine green spaces, a bustling nightlife scene and a modern elevated cable car system that makes travelling around the city as pleasant as exploring the sights!