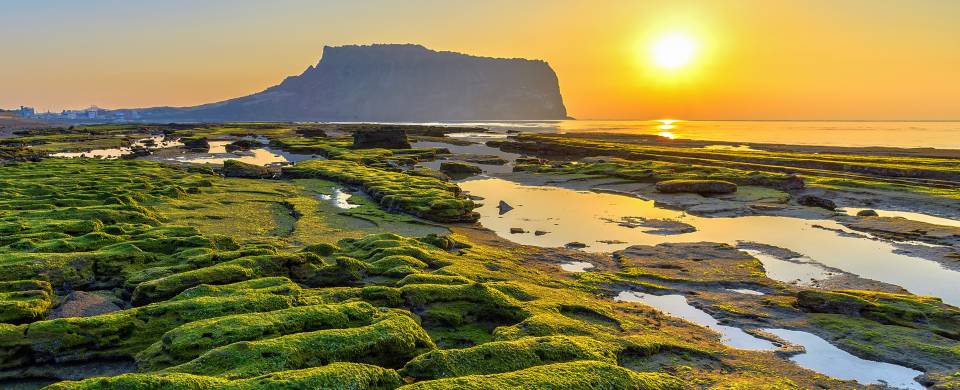 Trips and Tours to Seongsan Sunrise Peak
About Seongsan Sunrise Peak
The peak of Seongsan Ilchulbong rose from under the sea during a volcanic eruption over 100,000 years ago. Located at the eastern end of Jeju-do Island, it has a crater, which measures 600m in diameter and 90m in height, at its very peak. The 99 sharp rocks surrounding the crater give it a striking appearance that is often said to resemble a gigantic crown. The northwest side of the peak is a grassy hill that connects with the Seongsan Village and is a great place for walks and horse riding.
Read More
The peak of Seongsan is known as the Sunrise Peak because of the magnificent views of sunrise that can be had from the top. These glorious sunrises make it an exceptionally romantic setting and visitors come from far and wide just to witness this exquisite spectacle. Most travellers start the short ascent at around 4 or 5am in order to be there in time to see the sunrise. The hike takes around 20-40 minutes depending on your level of fitness and how often you stop to rest or take photos.
The locals even throw a New Year's Eve festival to celebrate the peak's glorious vista of the sun's early appearance. The local game of Ganggangsulle is played, where everyone gathers around in a large circle, holds hands and makes wishes for the year ahead. As the sun rises on the first day of the year a golden tape is cut and those fortunate enough to attend will be greeted with a theatrical play, jazz performances and even the mandarin eating contest! Attendees are encouraged to bring warm clothes and a nice hot flask of tea or coffee in order to enjoy the spectacle fully.
Seongsan Sunrise Peak Tours
Here are some popular itineraries that include a visit to Seongsan Sunrise Peak. Alternatively, if you would like to include a visit to Seongsan Sunrise Peak on a bespoke touring itinerary to South Korea, take a look at our tailor-made holiday planning section.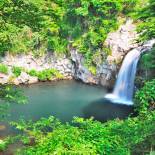 Show All Tours