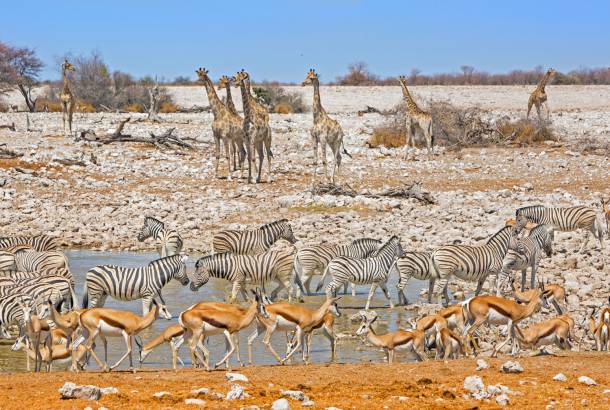 If you're planning a safari adventure to the land of sand dunes and skeleton coasts, there's a few things you should know before you go. Here's a great place to start with details on what vaccinations you'll need, when you should tip and what plugs you'll need plus a whole lot more.
What vaccinations do I need for Namibia?
You should seek medical advice from your local health practitioner before travelling to Namibia and ensure that you receive all of the appropriate vaccinations. As a guide Polio, Diphtheria, Hepatitis A & B and Tetanus is strongly recommended. Rabies is also recommended. A valid Yellow Fever vaccination certificate is also required if travelling into Namibia and from an infected country.
Do I need anti-malaria tablets for Namibia?
There is a high risk of malaria in the northern part of Namibia during certain times of the year so anti-malarials should be taken if you plan on visiting these parts. Atovaquone/proguanil, doxycycline or mefloquine are recommended when visiting risk areas. Generally, it is a good idea to avoid mosquito bites as much as possible whilst there. This can be achieved by wearing long sleeves and trousers, sleeping under a mosquito net and covering yourself in an insect repellent that contains at least 50% DEET. For more information on the malaria risk in Namibia visit the
NHS Fit to Travel
page or the
CDC Traveler's Health
page.
Is it safe to drink tap water in Namibia?
The tap water in Namibia is generally considered safe to drink, but as a precaution against stomach upsets you may want to drink bottled mineral water, which is readily available from shops, hotels and restaurants.
What's the food like in Namibia?
Thanks to the wide range of different cultures and ethnic groups in Namibia, the country's cuisine is incredibly diverse and enjoys the many different influences with which it has been infused over the years. In general, the cuisine is very meat-centric, though there are vegetarian options. Namibian food also involves a lot of maize-based accompaniments, such as mealie pap, a doughy maize paste.
Potjiekos are commonly found throughout Namibia and are made by throwing meat, vegetables and some seasoning into a huge pot and then leaving it to cook for a few hours. Braaivleis (barbecued meat) is also popular and is served with mealie pap, salad and veggie dishes. Having braai is quite a social event and allows people from the neighbourhood to congregate with plenty of good food and beer. While beef and chicken are commonly found on the barbecue, sausages and game such as antelope, oryx, kudu and even giraffe are all part of the Namibian diet as well. In coastal settlements such as Swakopmund, seafood also forms an important part of the local cuisine, and local Walvis Bay oysters are as good as any found in Europe or North America!
If you're looking for something a bit different in Namibia's culinary scene, mopane worm are a delicacy and a great source of protein. Biltong, which is the dried meat of a springbok, gemsbok or kudu, is a favourite snack food and is usually washed down with a local brew such as Windhoek.
Safe eating while travelling in Namibia
Generally, the biggest problem travellers will face in Namibia is the contrast between the local diet and what you are used to back home. The introduction of maize and other foods can cause stomach problems for more sensitive stomachs. Another issue is that meals might not have been prepared to the same food hygiene standard as back home. The best way to avoid getting unnecessarily sick is to avoid eating anything that looks old or poorly cooked.
Is it standard to tip in Namibia?
Most people travelling to Namibia will do so in order to take part in a safari tour, on which tips for your ranger, tracker/driver and camp staff are generally expected. We recommend leaving USD $15 per day for the ranger and USD $10 for the tracker or driver. A few dollars per day should be allocated for the back of house staff, which includes housekeeping and kitchen staff. When in the cities, adding 10% to restaurant bills and rounding up taxi fares are nice gestures and will contribute significantly to the workers' earnings.
What souvenirs can I shop for in Namibia?
A unique and lightweight souvenir to bring back from Namibia is a carved makelele nut. These usually have patterns engraved into them and can be customised with names and words if requested. They are inexpensive and easy to transport, making them excellent gifts. Another item worth buying is a Himba PVC bracelet, which often sports Africa patterns and is an authentic way to remember the country.
Driving along, travellers are bound to see local craftsmen selling wooden masks and sculptures at reasonably cheap prices. You might also find jewellery made from ostrich eggshells and other interesting trinkets. If you plan on purchasing diamonds or other gems, make sure you buy from a registered and legitimate seller and be sure to get a permit (if necessary) or you might have trouble bringing them home.
Is bargaining acceptable in Namibia?
Bargaining is common in Namibia and market vendors will often offer travellers inflated prices, expecting it to be haggled down. Sellers will very rarely part with an item if it they aren't going to make a profit from it, so don't worry about under-paying, however, be tactful when haggling and don't spend hours bargaining over a matter of pennies. If the item you are purchasing has been handmade by the vendor, it is a good idea to pay a little extra rather than relentlessly haggling as the profit they make will usually go directly to putting food on the table for them and their family.
Is it safe for a single woman to travel in Namibia?
If you are travelling on a safari tour, you are unlikely to encounter any problems other than those caused by wild animals but your ranger will make sure you are safe from these. If you are travelling independently, especially in the big cities, be sure to have your wits about you and avoid travelling alone at night as much as possible. The worst most women are likely to encounter is petty theft, which can be avoided by leaving your valuables in the hotel or concealing them on your person. Namibia is not regarded as a dangerous country, and you will find most people friendly and helpful on your travel. But always have your wits about you, as in any country you are travelling through.
What is the duty free allowance for Namibia?
Travellers are permitted to bring the following into Namibia:
200 cigarettes and 20 cigars and 250g of tobacco
2L of wine and 1L of spirits
50ml of perfume and 250ml of eau de toilette
Gifts to the value of N$3,000
The following are banned from being imported into the country: narcotics, automatic weapons, military weapons, unnumbered weapons, toxic and poisonous substances.
Hunting rifles need a permit issued by customs when entering the country. Special authorisation is required for the import of endangered species. Plants or plant materials require a permit obtained in advance.
What is the currency in Namibia?
The official currency in Namibia is the Namibian Dollar, however, the South African Rand can also be used at an identical rate to the Namibian Dollar. Check OANDA for the latest exchange rates.
Euro, British Pounds, US Dollars and other major currencies can be exchanged locally or in advance of departure. Additionally, exchange facilities are available at various bureau de changes and banks in major towns have ATMs. It's advisable to request bank notes in smaller denominations, as it can sometimes be hard to get change from large notes and smaller notes are handy for smaller purchases and gratuities.
Traveller's Cheques are not recommended as they're often difficult to exchange and incur high fees.
Please note that although South African Rand is used in Namibia, Namibian Dollars are NOT legal tender in South Africa so make sure you have used them or exchanged them before you leave Namibia.
What do things cost in Namibia?
Those travelling on safari tours will usually have all of their expenses covered in the package, however, those travelling through the cities will need to bear the following costs in mind. Accommodation is one of the more expensive factors to consider when visiting Namibia as mid-range hotels can cost anything from USD $50-100 per night. A decent meal in a restaurant will usually come to about USD $10 whereas street food will be significantly cheaper. Public transport is hard to come by in Namibia and most people opt to rent a car, which can be done for around USD $40-150 per day depending on whether or not you want a 4x4 (recommended).
What sort of plugs do I need for Namibia and what is the voltage?
Standard voltage is 220 - 230 volts., 50 Hz. Primary sockets generally require the three-round pin plugs that you get in South Africa. These can be quite tricky to locate in advance and Universal Travel Adaptors don't cater to this type of plug so be prepared to purchase one on arrival in South Africa or Namibia. You will need a voltage converter and plug adaptor in order to use U.S. appliances.
Is WiFi widely available in Namibia?
Many of the lodges in Namibia will have a WiFi connection as will restaurants, cafes, and hotels in the cities. Be aware that this connection might be much slower and less secure than what you are used to back home. As in many countries, the connection is likely to be better in large cities than in rural areas, where it may be patchy.
What time zone is Namibia on?
Namibia is 2 hours ahead of GMT. From the first Sunday in September to the first Sunday in April, Namibia observes daylight saving and is 1 hour ahead of GMT .
Travelling with Children
In southern Africa selected departures of our overland safaris are classified as 'Family Friendly' and these are noted under 'Prices and Dates' on the relevant tours. Family Friendly departures welcome children aged 6 – 17 years travelling with their parents on tour. Please note children will be occupying a seat on the Overland Truck, therefore they pay full price. Parents must be aware that travellers aged 18 years and older still frequent the trip and the tour is a participation overland tour.
Children aged 12 – 17 travelling with a parent or guardian are also welcome on Lodge Safaris on a request basis and subject to the agreement of the other passengers. Please note that children aged 12+ pay adult price. We can tailor-make private safaris for families.