Nepal Package Tours & Trekking Trips
Discover the mountains and wildlife of Nepal with a guided On The Go Tours package. Book today!


An outdoor paradise. Staggering natural beauty. Wonderful wildlife. Hypnotizing history. This is Nepal, home to Mount Everest, the world's highest mountain. Landlocked between the soaring snow-capped peaks of the Himalayas and the marshy grasslands along the border with India. Embrace unrivalled mountain trekking through sensational scenery, ancient Buddhist temples, and monasteries. Enrich your mind with the 2000-year history of Kathmandu. Explore the ancient trading town of Bhaktapur. Visit the birthplace of Buddha in Lumbini and track endangered tigers, rhinos and elephants in Chitwan National Park.

As expert Nepal tour operators, our trips give you everything. We explore ancient squares filled with stunning architecture, spot an array of wildlife in beautiful national parks and soak up the incredible views of Nepal's majestic mountain ranges. We also offer trekking in the Annapurna region of Nepal. We know how to piece together a trip you'll never forget, packed with the main highlights and plenty of hidden gems. So, leave the details to us and you can focus on having that adventure of a lifetime.
Nepal Group Tours & Trekking Packages
Our Signature Nepal tours take in the highlights of this country and neighbouring Bhutan, including the capital, Kathmandu and the biodiverse Chitwan National Park. Staying in 4-star hotels with plenty of guided sightseeing and internal flights included, these Nepal trips are the best way to take in the highlights of the Himalayas - the tallest mountains in the world!

Our Annapurna Panorama trekking holiday also takes in Kathmandu and Chitwan National Park, but the main focus of this tour is a six-day trek in the Annapurna Mountains, home to some of the most picturesque scenery in the world. An unforgettable Nepal adventure!
Nepal Private Package Trips
If group touring isn't for you, then our range of private Nepal tours give you the chance to explore this fascinating country with just your family or friends. These trips include all accommodation, internal flights, and airport transfers, so you can relax as we handle all the logistics of your adventure. Plus there is plenty of included sightseeing in Kathmandu, Chitwan National Park, Pokhara, and elsewhere. These tours can also make great family holidays for older children!
Explore more countries like Nepal
Frequently asked questions about our Nepal tour packages
Will I visit Kathmandu and Chitwan National Park on your tours?
The Nepalese capital Kathmandu is the start and end point for all of our trips to the country, as the main transport hub in Nepal. All of our group tours include a rickshaw ride around the city, and guided sightseeing to all of the main highlights.

Nepal's other main attraction is Chitwan National Park, home to wild tigers, rhinos, elephants, and the critically endangered gharial crocodile. All of our group tours spend two days in the park, with an included jeep safari and other included activities such as nature walks, canoeing, and visits to the gharial breeding centre, working to protect this rare species.
When is the best time to visit Nepal?
Nepal is a year-round destination, but the dry season from October - April offers the best weather and clear skies, meaning views of the Himalayas (including Mount Everest!) are at their best. For more information, check out our guide on when to visit Nepal.
Will I have a tour guide on my Nepal holiday?
We do not offer fully escorted tours in Nepal, but you will still benefit from the services of our local, English-speaking tour guides for all included sightseeing, as listed in the itinerary for each tour.

For the six-day trek on our Annapurna Panorama Nepal trip, you will be accompanied by a mountain guide and a team of porters as you hike through rural Nepal, home to some of the world's most spectacular scenery.
How big are your tour groups in Nepal and what is the age of your travellers?
Our small group tours in Nepal depart with a minimum of 4 passengers and have a maximum group size of 15 - 16.

The average age of our travellers is around 48, though we also welcome lots of people in their 20s and 30s on our holidays, as well as older passengers into their 70s. If you have a sense of adventure and a desire to see the world, then you'll fit right in with your fellow travellers! Please note that a good level of fitness is required for the six-day trek on our Annapurna Panorama tour.
What standard of accommodation do you offer on your Nepal trips?
On our Nepal group tours, you will stay in good quality, 4-star hotels. Information about the hotels we regularly use on tour can be found on each tour page. Accommodation in the Annapurna Mountains is limited so on the six-day trek as part of our Annapurna Panorama tour, you will stay in basic tea houses and trekking lodges.
What sort of transportation do you use in Nepal?
We use private, air-conditioned vehicles to travel around Nepal on our tours, although you will enjoy a fun rickshaw tour in Kathmandu. We also include internal flights on our group tours to travel longer distances - these are clearly labelled on the relevant tour pages.
Is Nepal a safe destination for travellers from the LGBTQ+ community?
According to the 2022 LGBTQ+ Travel Safety Index, Nepal scores a C rating for LGBTQ+ traveller safety, ranking 47th out of 203 countries.

Same sex marriage isn't legal but there are broad constitutional and worker protections in place for people of all sexual orientations. 76 - 100% of consulted citizens consider Nepal a good place to live for gay and lesbian people, and there are no legal punishments for same sex relations. Most trips for LGBTQ+ travellers to Nepal are trouble-free.

The LGBTQ+ Travel Safety Index is designed to provide a good overall picture of attitudes towards the LGBTQ+ community in each country and may not reflect the experience of foreign travellers to the country.
Can I drink the tap water in Nepal?
The tap water is not safe to drink in Nepal, so we recommend using filtered and bottled water to drink and for other purposes such as brushing your teeth. This is readily available across the country. We also recommend avoiding salads that may have been washed using the tap water throughout your Nepal trip.
What is the current travel advice for Nepal?
As a UK-based company, we follow the latest up to date advice from the Foreign and Commonwealth Office (FCDO). You can see the latest travel advice and local laws for Nepal here.
Go Wild in Chitwan on our Nepal package tours
Translating to the 'heart of the jungle', Chitwan National Park is Nepal's premier wildlife destination. This UNESCO-listed reserve is home to more than 700 species of animal including the elusive Bengal tiger, the endangered one-horned rhinoceros and wild Indian elephants. A jeep safari is an amazing experience and the best way to explore the park in search of these beautiful creatures though nature walks and canoe excursions are also on offer. A must-see if you are visiting Nepal!
The Best of our Nepal trips
With stunning mountains and lakes, beautiful temples and national parks, there's so much to see and do on your guided Nepal adventure. Fear not, we include all the must-see destinations on our tours. Here are some of the country's unmissable highlights, from the Kathmandu Valley to Chitwan National Park.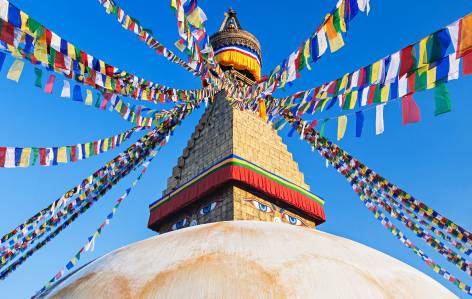 Kathmandu
Wander through the medieval Durbar Square on a walking tour of Nepal's capital. Visit the Swayambhunath stupa for panoramic views of the city. Ride a rickshaw around the bustling backstreets and shop at the Thamel Market. A city packed with UNESCO World Heritage Sites to discover.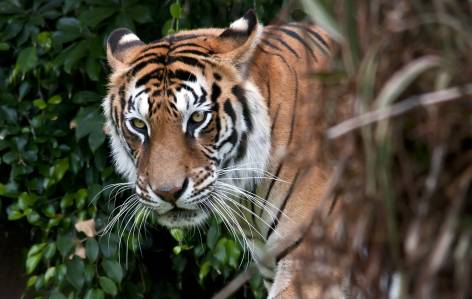 Chitwan National Park
Spend two nights in Chitwan National Park, one of Asia's finest, with game drives in search of the One-horned rhinoceros, Indian elephant and Bengal tiger, the population of which has been on the rise in recent years! Plus, choose from lots of other activities, including canoeing and nature walks.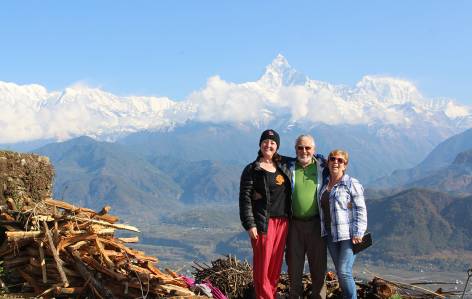 Pokhara
Watch the sunrise from the World Peace Pagoda - an amazing experience. Soak up the views of the Annapurna mountains and the rich local culture of the city. Savour a gentle sail across Phewa Lake with free time to relax or satisfy your adrenaline craving.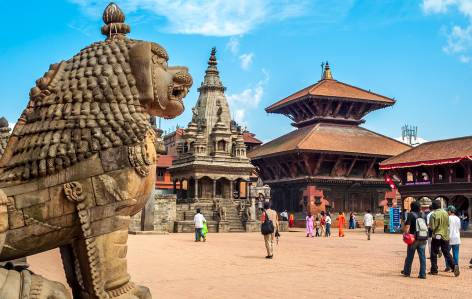 Bhaktapur
Discover the ancient heart of Bhaktapur and its beautiful Durbar Square in the Kathmandu Valley on tour with us. And take the chance to visit local families to see how local yoghurt is made - and try your hand at pottery making!