A Guide to Thailand's Best Beaches
Top off sightseeing with some fun in the sun
Thailand is without doubt one of the world's top beach destinations. After exploring the hustle and bustle of Bangkok and temples of Chiang Mai, nothing beats some downtime on the coast. And thanks to their turquoise waters, soft white sands and swaying palms, each of Thailand's beaches is a tiny slice of paradise.
With the Andaman Sea to the west and the Gulf of Thailand to the east, Thailand's coast is dotted with tropical islands. So to help you plan your perfect beach holiday, here are the best beaches the mainland and islands have to offer.
Phuket
As Thailand's largest island, Phuket is a well-developed tourist destination that has been drawing visitors to its shores for decades. This is largely due its impressive coastline, boasting long stretches of sandy beach interspersed with dramatic rock formations. There are also hundreds of accommodation options, alongside plenty of restaurants and a big party scene.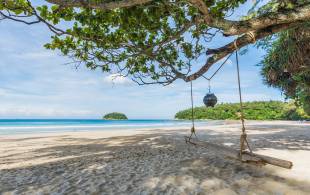 Kata Beach
Found in southern Phuket, Kata Beach offers a quieter, more relaxed stretch of sand than some of the island's other resort areas. Yet the beach still boasts everything that makes Phuket so popular, with sun-drenched sands, temperate waters and gorgeous scenery. Head here in the low season to catch the surf or enjoy sunbathing and snorkeling in the high season.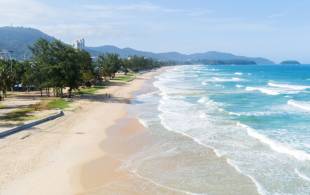 Karon Beach
Karon Beach boasts sands so fine and soft, that they make a squeaking sound as you walk. Set between two headlands, this 3.3 kilometre stretch of sand is close to perfectly straight, with volleyball nets at its southern end and beachfront restaurants in its northern half. Visitors will also find Karon Temple Market close by, giving you an insight into the local culture.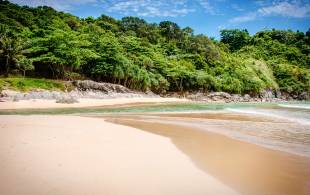 Nai Harn
Despite its recent increase in popularity, Nai Harn has managed to retain its quiet charm. Thanks to the relatively small size of the bay and large freshwater lagoon behind the beach, the area hasn't been overly developed. And with soft sands, a gentle sloping seabed and lifeguards on station, this is a great choice for families.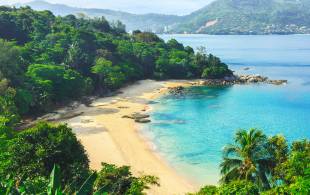 Laem Singh
Hiding on the west coast, Laem Singh is nestled in a steep sided bay. As it's currently only reachable by boat, the beach has a peaceful atmosphere, lined by swaying palm trees and dotted with giant boulders. Swimming and snorkeling are excellent here, with plenty of fish to see around the rocky headland separating its sands from those of Kamala Bay.
Koh Samui
Thailand's second largest island is just as blessed when it comes to beautiful beaches and clear waters. Found in the Gulf of Thailand, Koh Samui appears straight out of a holiday brochure. Expect pristine sands and tropical palm trees, with accommodation options ranging from luxury resorts to budget hostels.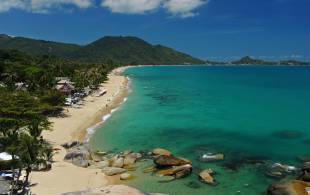 Lamai Beach
Offering a lively yet relaxed atmosphere, Lamai Beach is an exotic paradise with fine sands and crystal waters hemmed in by boulder-strewn headlands at each end. Towards its southern tip you'll find plenty of bars and restaurants, and if you're awake early enough, Lamai Beach is well-known its dazzling sunrises.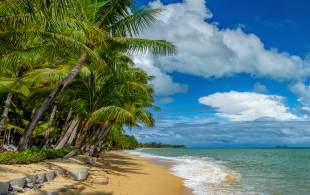 Maenam
Presenting five kilometers of narrow, palm-lined sands, Maenam is popular with both low budget and long term travellers looking to chill out. Resorts are set back from the beach, at the end of long pathways, offering more privacy than elsewhere on the island. There are also excellent views of Koh Phangan, which lies some 12 kilometres away.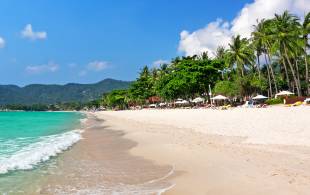 Chaweng
Backed by Koh Samui's biggest town, it's no surprise Chaweng Beach is best-known for its vibrant nightlife. With bars and restaurants to suit every taste, this area has a buzzing atmosphere and tends to draw a younger crowd. But with pale golden sands bending in a graceful arc, its beautiful beachfront is sure to impress anyone.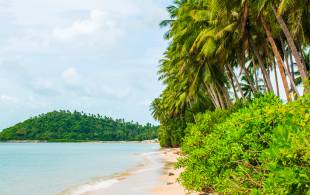 Lipa Noi
Far from Koh Samui's main tourist beaches, Lipa Noi offers three kilometers of fine sands in the middle of the island's west coast. As the water is very shallow, without rocks or corals, this is a great destination for families. The area has a quiet, village-like ambiance, with beautiful sunsets lighting up the sky in the tranquil evenings.
Krabi
Found in southern Thailand, the province of Krabi is famed for its towering karst formations, jungle-clad interior and turquoise waters. And with over 150 islands off its coastline, Krabi has a plethora of white-sand beaches to choose from. Visitors can enjoy activities such as island-hopping, sea kayaking, snorkeling, SCUBA diving, rock climbing and much more.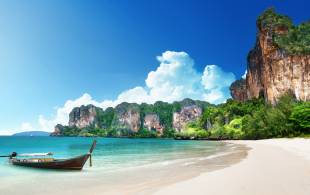 Railay Beach
Contrary to its name, Railay Beach actually refers to a small peninsula with four gorgeous white sand beaches. One of Thailand's most desirable beach areas, Railay also features viewpoints, caves and a lagoon, which is fed by the changing tides. And as it's only reachable by boat, the area has the look and feel of an island.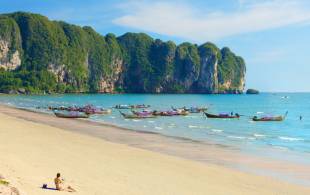 Ao Nang
As Krabi's vibrant tourist centre, it's no surprise Ao Nang is the most popular of all the provinces' beaches. Just a short walk from its golden sands and limestone headlands you'll find countless bars and restaurants, with boat trips easily arranged to other smaller islands. Just time your visit outside of the high season to avoid the crowds.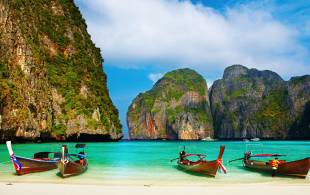 Maya Bay
Famed as the filming location for 'The Beach' starring Leonardo Di Caprio, Maya Bay is found on Ko Phi Phi Leh. Sheltered on all three sides by 100-metre high cliffs, the bay is a spectacular sight. However, word of its beauty is widespread, and Maya Bay is known for its crowds. So time your visit early in the day to make sure you avoid the tourist hordes.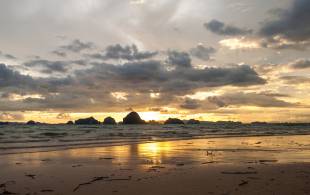 Tubkaak
Offering the ultimate escape, Tubkaak is the ideal destination for those wanting to get away from it all. Along its long stretch of sand, you'll find just a handful of resorts, most of which boast four or five-star ratings. To the north, trails take you through the thick rainforest of Mu Koh Phi Phi National Park, where you can hike to a viewpoint offering an incredible panorama over Krabi.
Koh Lanta
Located just off the coast of Krabi, Koh Lanta consists of several small islands, of which Koh Lanta Yai is the most visited. A true all-rounder, Koh Lanta offers something for everybody. Whether you're after beautiful beaches and nature reserves or friendly fishing villages and fun beach bars.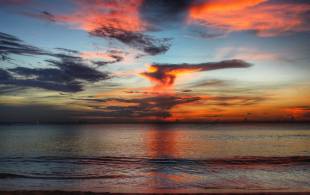 Long Beach
Also known as Phrae Ae, Long Beach features a selection of resorts and restaurants spread along 3.5 kilometres of white sands. Thanks to its south-facing position, the beach offers not only views of Koh Phi Phi on the horizon, but wonderful sunsets. Its softly sloping sands and temperate waters are also ideal for families.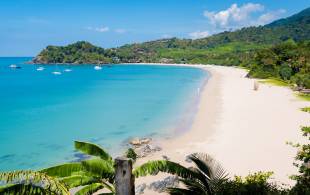 Kantiang Beach
Situated in the southern tip of Koh Lanta, Kantiang is the gateway to some of the best diving in Thailand. The area boasts spectacular reefs, great visibility and fantastic marine diversity, all just a short boat trip from the white sandy shore. A handful of accommodation options also range from family-run bungalows to luxury resorts.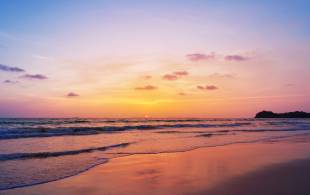 Klong Dao Beach
One of Koh Lanta Yai's most popular beaches, Klong Dao stretches for 3 kilometres in the north of the island. Its wide sands allow for good sunbathing at any time of day, with a collection of small shops, bars and restaurants just a short stroll away. There's also plenty of accommodation options making this beach a favourite for families.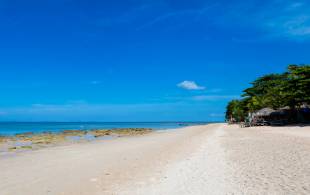 Klong Khong Beach
Offering a laid-back atmosphere, Klong Khong is the beach of choice for budget travellers. Basic beach bungalows offer cheap lodging, with a variety of beach bars making Klong Khong one of the top places in Koh Lanta for a party. Although compared to the rest of Thailand's famous full-moon events, it's likely to be a much more chilled affair.