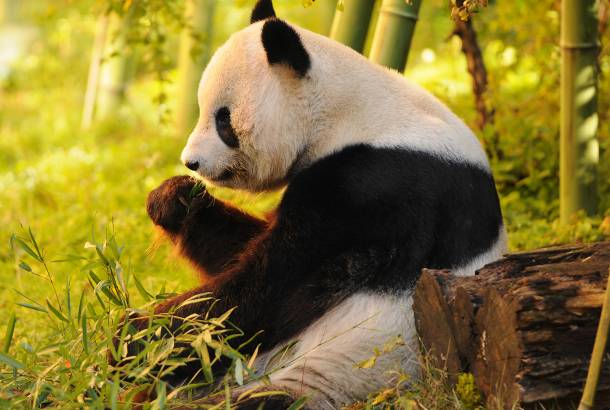 About Pandas
Known as the giant panda, the panda bear or simply panda, the adorably cute black-and-white creature has become one of China's most iconic images and an internet sensation with videos of their hilarious antics. Native to the south central region of China, pandas once roamed a vast area of China as well as small pockets of neighboring Burma (Myanmar) and the very north of Vietnam. After many years of deforestation and loss of habitat due to farming and urban development, pandas have been forced out of much of their original lowland habitat and the small number of pandas that exist in the wild today are now concentrated in six mountain ranges covered with small bamboo forests.
What do pandas eat?
Although classified as a carnivore, the panda's diet consists largely of bamboo, which has contributed to their demise as large areas of bamboo forest are cut down to make way for new highways and ever-increasing urban sprawl. Pandas in the wild will also forage for other types of grasses and wild tubers, occasionally feeding on small birds and rodents. Pandas in captivity enjoy a diet of fruit, yams and sugar cane alongside their much-loved bamboo.
How big are giant pandas?
Typical in appearance to other members of the bear family, the panda has a thick body, a large head, round ears and strong legs and arms for climbing. Adult male pandas are usually between 1.2 and 1.9 meters in length, weighing up to 160kg, while the female is typically 20% smaller and weighs anything between 70 and 125kg.
How do pandas behave?
A large portion of a wild panda's day is taken up with eating. As bamboo has little nutritional value, an adult panda must consume up to 20kg per day, which takes around 16 hours due to the time spent foraging and the amount of chewing required. The rest of a panda's time is spent sleeping or relaxing. In the wild pandas are territorial creatures and spend most of their time alone except during the brief mating season, which takes place between March and May. Pandas communicate with one another through scent markings and calls that can resemble the bleats of a young goat as well as more bear-like huffs and growls.
How long do pandas live for?
It's difficult to ascertain how long a panda may live for in the wild but the estimate is around 20 years while pandas in captivity fare much better with an average life expectancy of 30 years. On 28th July 2015 the female panda known as Jia Jia celebrated her 37th birthday at Hong Kong's Ocean Park, making her the oldest panda to have lived in captivity.
Interesting facts about the panda
The giant panda's paw has a pseudo thumb and five fingers that enable it to hold and tear bamboo
Despite claims that the panda was more strongly related to raccoons, it has been discovered that its closest living relative is the spectacled bear of South America
The panda may choose a largely vegetarian diet but it has one of the largest molar teeth among carnivores with an extra molar to slice through tough plant stems
The giant panda has the second longest tail in the bear family measuring on average between 10 and 15cm - the longest tail is claimed by the sloth bear with an average length of 15-18cm
Pandas may prefer a sedentary life but they possess the necessary survival skills and are adept tree climbers and able swimmers
Thinking of visiting China? Download a copy of our Asia brochure for inspiration.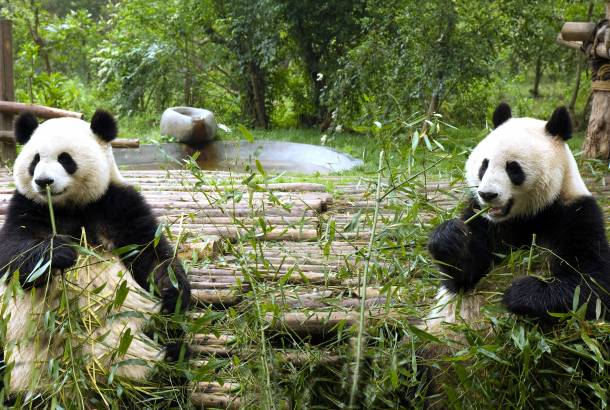 Conservation Efforts in China
A dedicated conservation effort by NGO's and the Chinese government has seen the giant panda's situation improve in recent years, and it is currently listed as Vulnerable by the International Union for Conservation of Nature (IUCN).

Habitat loss remains the biggest threat to the species, although captive breeding efforts have helped significantly. The Chinese government also plans to establish the Giant Panda National Park in the near future - the reserve will help to link fragmented panda populations and will be three times the size of Yellowstone National Park in the United States! This will benefit all sorts of other wildlife too! Siberian tigers, snow leopards, red pandas and the golden snub-nosed monkey are just some of the species that the park will help, and the government hopes to develop a booming eco-tourism industry - so watch this space!
Pandas are notoriously difficult to breed, with a short mating season, a lackadaisical attitude towards sex and low conception rates yet breeding programs in China's dedicated panda research bases have largely been considered a success with advancements in artificial insemination and neonatal nursing of the newborns. Infancy deaths have been slashed and there are now several hundred giant pandas in captive breeding programs.
Best Places to See Pandas in China
Many of China's panda research bases are located in the Sichuan province where wild pandas still exist today. The city of Chengdu is known as the panda capital of the world thanks to the important conservation centers situated here and it makes an obvious choice for those wanting a chance to see the cuddly animals. To help you plan your visit to China we've rounded up the top places where you can come face-to-face with the giant panda.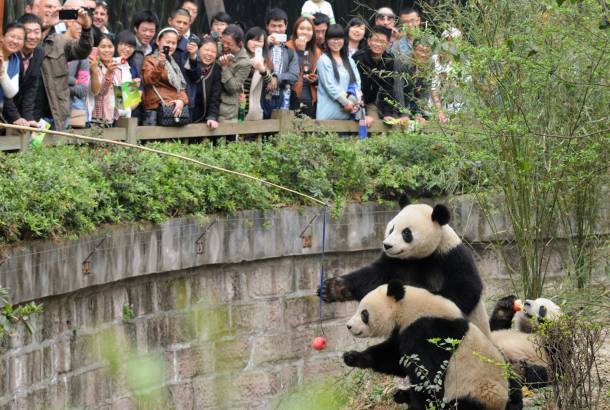 Chengdu Research Base of Giant Panda Breeding
Located around a 40 minute journey on the outskirts of the city, the Chengdu Research Base of Giant Panda Breeding is one of China's most popular places to see pandas. Since its founding in 1987 with just six giant pandas, the center has seen its captive panda population grow to around 70 pandas including cubs. This breeding center aims to recreate the panda's natural environment with 92 acres of rivers, lakes, green lawns, wild bamboo forests and rocky outcrops spread across the Futoushan Mountain to encourage breeding and rearing with training programs designed to one day release the captive animals back into the wild. The base is also home to lesser pandas, black-necked cranes and white storks as well as over 20 species of rare animals.
Within the center is the Giant Panda Museum, the only one of its kind with a variety of exhibitions covering everything you could possibly want to know about these creatures from their physical characteristics to the conservation efforts in place to ensure their survival.
IMPORTANT NOTICE: Activities involving human contact with the pandas are currently suspended and it is not possible for visitors to hold pandas or have their photo taken with the animals at the Chengdu Research Base of Giant Panda Breeding.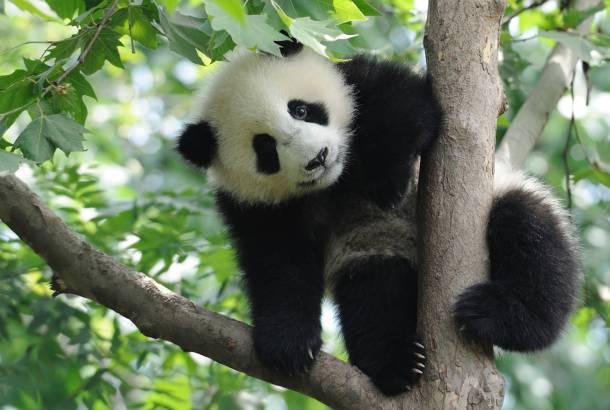 Bifengxia Giant Panda Base
Located in Ya'an city roughly a two and a half hour drive from downtown Chengdu, the Bifengxia Giant Panda Base is home to over 30 of the black-and-white animals, many of them rescued from the Wolong National Natural Reserve which suffered extensive damage after an earthquake in 2008, only four years after its opening. Spread across a V-shaped gorge, the grounds of the panda center encompass a varied terrain and vegetation with valleys and waterfalls reminiscent of the panda's natural environment. Here pandas are also trained on basic survival in the hopes that they may one day be returned to the wild.
Within the grounds of the base over 20 areas have been designated for particular activities with a kindergarten for baby pandas, a breeding zone, various bamboo forests to provide ample food and a research center with details on conservation efforts.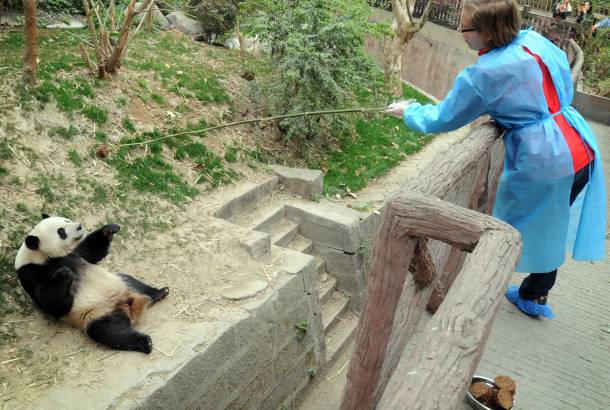 Dujiangyan Panda Base
The Dujiangyan Panda Base is the newest of China's research centers dedicated to the endangered breed and like its contemporaries provides large, natural enclosures with 760 acres at the foot of Qingcheng Mountain. Located about an hour and a half's drive from Chengdu, the base is home to some 40 giant pandas as well as five red pandas and is particularly popular thanks to its volunteer programs. The one-day program enables visitors to assist with maintaining the living quarters, feeding the pandas and planting bamboo trees to ensure a continuous supply of food. On top of this volunteers will explore the panda rescue exhibition hall and watch documentaries to learn more about the work that goes into looking after these animals.
A maximum of 20 visitors a day can have their picture taken with a young panda with a donation cost of around USD $280 per person. The Dujiangyan Panda Base is home to a number of well-known pandas that have returned to China after being born abroad so even if you're not volunteering or having your photo taken you'll still get the chance to observe the pandas at feeding time or during the day as they sit around and take it easy. The volunteer program costs around USD $100 per person per day and with limited numbers it's imperative you book in advance.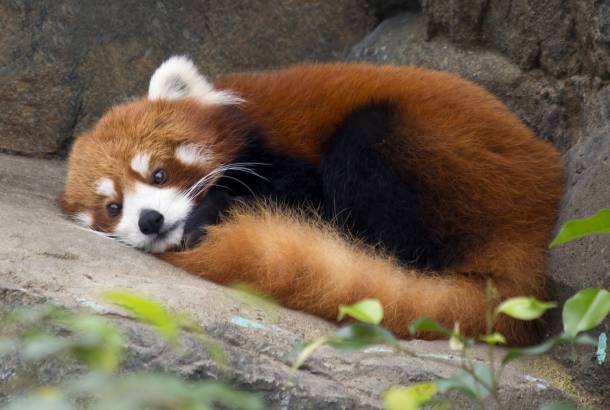 Shaanxi Rare Wildlife Rescue and Breeding Centre
Also known as the Louguantai Wild Animal Breeding and Protection Centre, this important research facility was founded in 1987 and has since nursed back to health over 300 animals and has bred no less than 400 which includes giant and red pandas as well as the red-crested ibis and golden monkeys. The 20 giant pandas are the star attraction with a number of panda cubs having been bred over the last decade including a male and female set of twins back in 2009. The pandas live in enclosures which have an indoor concrete section and outdoor grassy area and therefore it's not always possible to see them as they may be sleeping away from prying eyes. Conditions here are not as spacious as centers elsewhere but the ultimate goal is to one day release the pandas back into the wild.
The Shaanxi Rare Wildlife Rescue and Breeding Centre is a great option for those visiting China without the time to make it as far as Chengdu. Located at the foot of the Qingling Mountain range in Louguantai Forest Park a 1.5-2 hour drive north west of Xi'an, a half day visit here can be added to any itinerary that includes a trip to the Terracotta Warriors.
IMPORTANT NOTICE: This panda center has been closed to visitors since March 2015 after a virus caused the death of two of the resident pandas. At present it is not possible to visit the Shaanxi Rare Wildlife Rescue and Breeding Centre.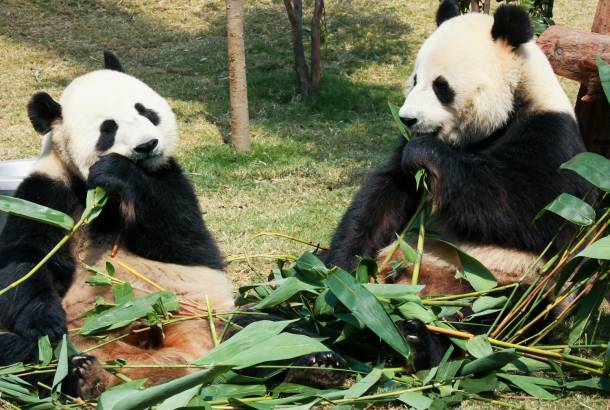 Best Time to Visit the Pandas
It's possible to see captive pandas throughout the year though August and September are particularly good times to visit as this coincides with the birthing season with newborn babies occupying the nurseries. The research centers have a viewing area in the nurseries where visitors can watch the pink cubs being looked after by human carers.
Pandas are rather idle creatures and enjoy their sleep so it's best to visit the centers during feeding time when they are at their most active. The morning feeding session is typically held between 8:30 and 10:00 am each day. For the rest of the day pandas are likely to be sleeping, possibly out of view in their indoor enclosures.
Recommended Panda Tours in China
Signature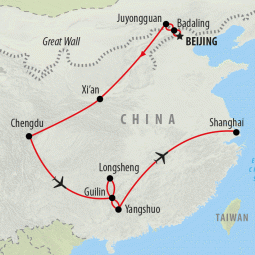 14 Days FROM $0
Signature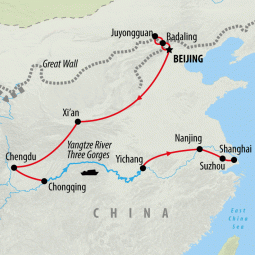 15 days FROM $4,265
Signature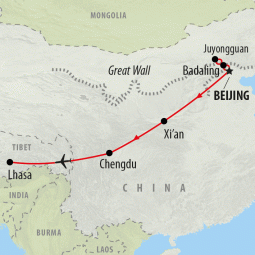 12 days FROM $0
See Also
To ensure your visit to China runs as smoothly as possible, have a browse through our other handy Travel Guide resources:
Best Places to Visit - our recommendations on China's best spots
Best Time to Visit - weather conditions and China's calendar of events
Tourist Visas - everything you need to know on visa procurement
Top Travel Tips - from pre-travel health advice to temple etiquette and more
Visiting the Great Wall - make the most of your visit to this world wonder
Traveler Reviews - see what our passengers think of our China tours
Video Lounge - captivating China caught on camera

China Trip Styles

Group Tours