Tours for Couples
Exploring the world together
Are you planning your honeymoon, celebrating an anniversary, or simply need a getaway? Check out our best tours for couples and book today!
Our range of group tours are perfect for couples who are looking to meet like-minded travelers and explore far off lands without the stress that travelling can sometimes bring!
Our escorted tours pack in plenty of sightseeing and romantic experiences for couples. Whether it's climbing the red sand dunes of Wadi Rum on a
Jordan package trip
or enjoying a spritz in St Mark's Square in Venice on our
Italy tours
.
Travelling with a group means you will meet lots of fellow travelers from English-speaking countries around the world, and many of our travelers keep in touch with the rest of their tour group long after they have returned home. But there is always free time for you to enjoy with your other half on our trips too! And there are always our private trip packages if you would prefer to travel just with your partner!
Tours we recommend for couples
Here are some of the tours we offer with experiences best suited to couples. But we have plenty more trips available, so search the website or contact us today for more information!
Why couples choose On The Go Tours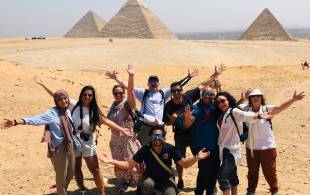 Meet like-minded travellers
We take people of all ages on tour, and our groups are made up of couples, solo travelers, friends and families. Many people make lifelong friends on tour, and some come back to us year after year to explore new places with their new friends.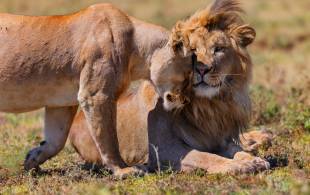 For new experiences
Whether it's spotting your first lion on a Tanzania safari, a romantic gondola ride on the canals of Venice, or getting your first glimpse of the Taj Mahal on our India trips, couples make memories that last a lifetime on our tours.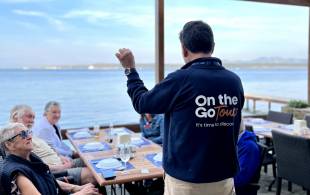 The best guides
Our tour guides are the best in the business, and they're on hand on our tours to make sure you get the most from whichever destination you visit. As well as guided touring, they can tell you the best restaurants to eat at, where to shop, and much more!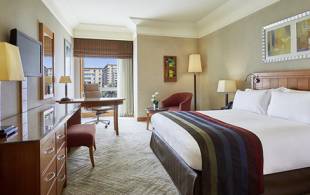 Great accommodation
On our Signature tours, we stay in centrally-located, comfortable 4-star hotels boasting amenities including swimming pools, fitness centers and complimentary Wi-Fi. Perfect for relaxing with your partner after a busy day of sightseeing!
Suggested honeymoon packages for couples
Here are just a handful of the trips we recommend if you're planning your honeymoon. We'd like to make your celebration extra special in any way we can, so get in touch today to let us start planning your trip!
Suggested tours for couples on a budget
Travel can be expensive, and some people think they need to wait until they're older to be able to afford bucket list trips. But we have plenty of trips designed for the budget conscious couple! Whether it's camping in Africa, sailing in Croatia or travelling across China and Japan by public transport and making use of hostels! These are some of our recommended tours for travelers on a budget.
How are you looking to travel?
START PLANNING YOUR ADVENTURE TODAY!