Tours for the over 30s
A new decade, a new adventure…
On The Go Tours for over 30s
Age is no barrier to travel and entering your 30s is the perfect excuse to tick a few more destinations off your bucket list. From Peru to Vietnam, our group tours offer the perfect mix of guided sightseeing and relaxation. Accompanied by an expert guide, you'll enjoy an array of authentic experiences with other, like-minded travelers from across the globe.
With our range of tours, you're sure to find the adventure that's right for you. From marvelling at the Pyramids of Giza in Egypt to exploring the Angkor Complex in Cambodia or taking an unforgettable African safari.
Top travel deals and upcoming trips for the over-30s
Why over 30s choose On The Go Tours
With over 20 years' experience running group tours across the world, we take the hassle out of planning your holiday. Our expert team can help you find the perfect trip, while our experienced guides will be there on the ground to show you the highlights of each destination.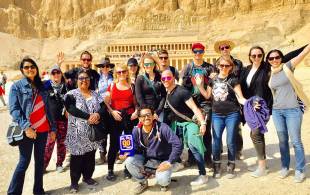 Our travellers
Our group tours cater for everyone from aged 18 to those over 70, but with 34% aged 21-40 you're sure to be in the company of like-minded people. Your fellow travelers will also be of a range of nationalities, travelling with partners, friends or as solo travelers.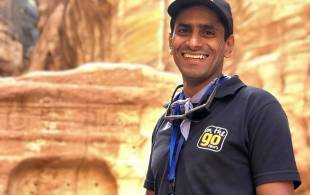 Expert Guides
We employ passionate, local guides on our group tours, who help really bring each destination to life. In fact, for many of our travelers, the guide is one of the highlights of their trip. You'll learn all about the history and culture of a destination, as well as gain lots of useful local tips.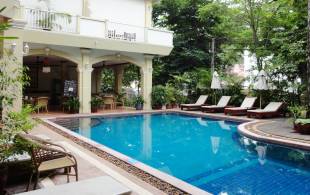 Accommodation
Alongside 3-5* hotels, our group tours include a range of authentic accommodation. From historic havelis in India, to Berber camps in Morocco and traditional ryokans in Japan. Most hotel information is available before you book, so you know where you'll be spending your nights.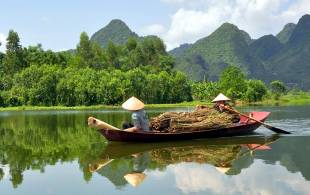 Transportation Included
Airport arrival and departure transfers are often included on our tours. As well as travelling by comfortable, air-conditioned vehicles, we like to give our travelers a taste of local forms of transport too. These include tuk-tuks, rickshaws, boats, trains and much more.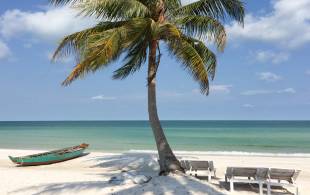 Flexibility
All our group tours combine guided sightseeing with free time to explore at your own pace or simply relax on the beach. We also offer a range of add ons, perfect for if you have extra time at the start or end of your trip and want to experience more of what the destination has to offer.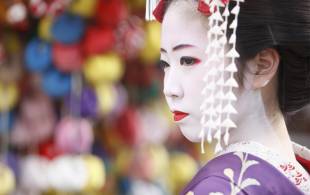 Authentic Experiences
Whether it's a local school visit in India, cycling in Vietnam or sleeping under the stars in the Sahara, our tours are packed with authentic experiences. These allow you to truly immerse yourself in each destination you visit and give you some incredible memories too.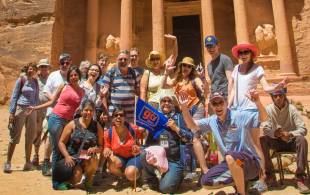 Great Group Sizes
All group sizes range by destination, however our tours have an average size of 16-18 travelers with many lasting friendships made on these trips. This small size means you'll really get to know the people you're travelling with while still enjoying a group experience.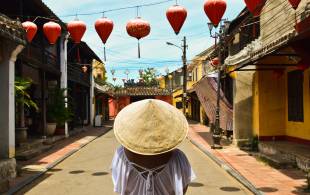 Single rooms at a modest price
On all of our tours we offer the option to book a single room. Single rooms offer added comfort and privacy and are available on all of our holidays, aside from Overlanding in Africa, at an affordable price. If travelling solo you will be required to book a single room, others can also opt for a single room if they choose.
Tours we recommend for the over 30s
To give you just a little more inspiration, here's a selection of our tours that perfectly suit those travelling in their 30s. However, these are just a small sample of the tours and itineraries we offer, so head to your chosen destination to view our full range.
Holiday ranges to suit the over 30s
We offer five ranges so you can easily choose the tour that's right for you. Our Signature tours offer exciting days and comfortable nights, while our Active range offers trekking and cycling holidays. Our Budget tours keep costs down and we've collaborated with trusted partners to bring you our Handpicked range. Our Independent tours then offer private itineraries tailored to suit you. Check out the links below to find out more.
Holidays for over 30s - Frequently Asked Questions
Here we've answered the most common questions travelers over the age of 30 have about our tours.
What's the average age of your travellers?
The average passenger age on our tours is in the 40s bracket. However, you'll find people from their 20s to their 70s travelling with us. 34% of our travelers are aged 21-40, so it's likely you'll be travelling with those of a similar age to you.
What's the average group size?
On most of our tours the average group size is between 16-18 passengers, although this varies by destination and departure date. Groups can be as small as 4-6 travelers or up to 28 on our popular festival tours.
How fit do I have to be to join your tours?
Our tours offer a mix of active sightseeing, where you'll be exploring on foot, with just enough free time to relax. A moderate level of fitness is required for most tours, however, if you're considering joining one of our Active tours such as a trekking holiday, then a higher standard of fitness is needed. Speak to a member of our team if you're questioning if a trip would be right for you.
Will I have to pay more as a solo traveller?
On our Signature tours, we offer a reasonably priced single room option, giving solo travelers the comfort and privacy of their own room.

On selected Handpicked tours, it is possible for solo travelers to room share with another traveler of the same sex, though you are of course welcome to pay the single supplement for the privacy of your own room on these trips. Please speak to our Reservations team for details.
What sort of accommodation is included on your trips?
We use well-located 3-4* hotels on most of our group tours, with the occasional 5* property in destinations offering great value for money. Where possible we combine modern hotels with heritage properties such as traditional riads in Morocco and havelis in India. In places such as the Sahara or the Wadi Rum, we also offer the opportunity to stay at permanent desert camps.
I don't want to travel with a group. Do you offer private options?
If you like the look of our group tour itineraries but would prefer to travel without the group, then you can opt for our Private Tour Supplement. This means you'll be travelling in private transport with the services of our local English-speaking guides all to yourself.
I'd like to organise a trip with my own group of friends and family. Is this possible?
We offer tailor-made holidays to the majority of our destinations and our expert team can put together the perfect itinerary to suit you and whoever you are travelling with. You choose hotels to suit your budget, the sights you want to see and the pace of travel. Best of all, there's no minimum or maximum numbers when it comes to private groups.
Bucket List Destinations and Experiences
Spend your 30s visiting destinations you've always wanted to go but haven't yet ticked off the bucket list. Turning 30 truly is the best excuse, so to give you an idea of the possibilities on offer, here's our pick of the top bucket list destinations.
GET IN TOUCH TO START PLANNING YOUR NEXT ADVENTURE →
If you're ready to get your next adventure booked, then get in touch! Our reservations team will be happy to chat about any of the destinations covered here or any other itineraries you may be thinking of. So feel free to contact us to start organizing your dream holiday.