Every year the streets of India become a riot of colour and frivolity as people across the country celebrate Holi. Dating back throughout the centuries, it's a festival that is highly significant to the Hindu religion and has, in recent years, been adopted by countries across the globe as a fun event that brings people together by celebrating unity and harmony. Whether you're planning to visit India and experience Holi firsthand or are simply interested in learning more about the festival, here you'll find a wealth of information to help you better understand this significant celebration.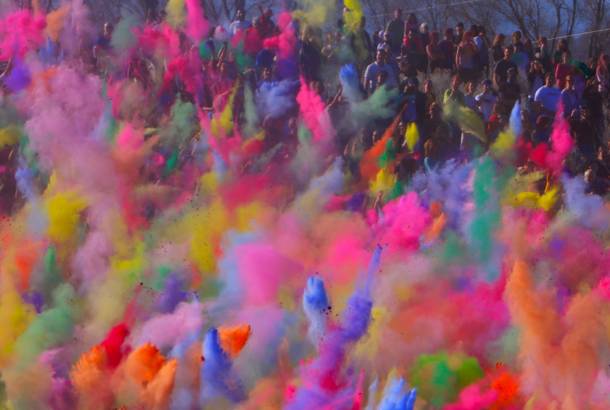 What is the Holi festival?
Holi is a spring festival that essentially celebrates the triumph of good over evil. Coinciding with the end of winter and the beginning of a new season, it is treated as a time to give thanks for a good harvest. It is also considered a time to come together and end any conflicts you might have in your relationships with others.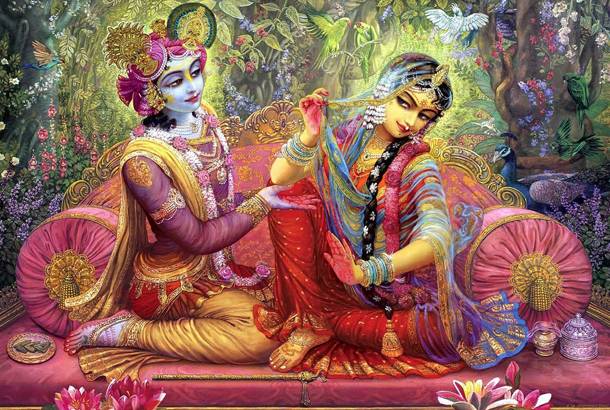 What is the history and religious significance of Holi?
It is not known exactly when Holi originated but there is mention of the celebration as early as the 4th century in ancient Sanskrit texts and poems. It has always been known as a festival of colour with the word 'Holi' deriving from the name of the Hindu demoness 'Holika'.
Legend has it that Holika was the sister of the arrogant demon king Hiranyakashyap, who demanded that everyone in his kingdom worship him. His son, Prahlada, remained loyal to Lord Vishnu, which enraged his father. In an attempt to kill his son for his treachery, Hiranyakashyap had Holika trick Prahlada into entering a burning pyre, knowing that his sister would be unharmed for she was immune to fire. Prahlada entered the fire chanting Lord Vishnu's name and he was blessed with his life, whereas Holika unknowingly sacrificed her own as she was only immune when entering fire alone.
It is thought that Lord Vishnu then appeared and killed Hiranyakashyap in an act of good over evil. The next day people gathered around the debris of the fire and smeared their faces with ash. Over time this morphed into the use of coloured powder.
Krishna is also associated with Holi due to his blue skin, which was a result of the she-demon Putana poisoning him with her breast milk. Young Krishna was worried that girls would not like the colour of his skin and so his mother encouraged him to playfully colour the face of Radha so that they would be equal. Their relationship is honoured in the act of applying coloured powder to friends, family and even strangers.
Thinking of visiting India? Download a copy of our Indian Subcontinent brochure for inspiration.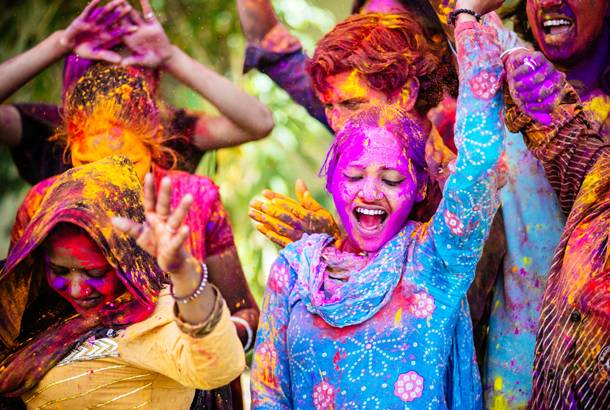 How is the Holi festival celebrated in India?
Holi festival begins with large bonfires where people gather to watch the burning of Holika effigies. Religious rituals and prayers are carried out in the hope that evil will be destroyed in the fire like Holika was. The following day is when the real fun starts as people hit the streets to throw coloured powder at anyone they can. Participants use water guns, water-filled balloons and even sprinklers to make the powder travel further and create a truly hilarious environment. These celebrations take place across cities, towns and villages, in urban parks, pedestrian streets and local temples. Small parades of musicians provide the soundtrack with drummers and singers moving from one place to another.
After the day of entertainment, families and friends gather to spend time in each other's company and share delicacies such as thandai - a creamy and delicately spiced milk drink, gujiya - sweet dumplings filled with dry fruits, and kachoris - round, puffed pastry filled with lentils and fragrant spices.
When is the Holi festival celebrated?
The Holi festival takes place over two days across India and also Nepal, where there is a large Hindu population. In some parts of India the festival is celebrated over the course of two weeks. It starts on the day of the full moon in the month of Phalguna, the twelfth month of the Hindu calendar. This coincides with the period between late February and mid March in the Gregorian calendar.
Forthcoming dates of the Holi festival
Holi will be celebrated on the following dates over the next few years:
2024 - Monday 25th March

Where are the best places in India to celebrate Holi?
Holi is celebrated with particular vigour in the north of India. Although it is celebrated across the country, in the south it tends to be a far more subdued affair. Every city, town and village will mark the occasion but if you're looking for something a little special, check out these top places to celebrate in India.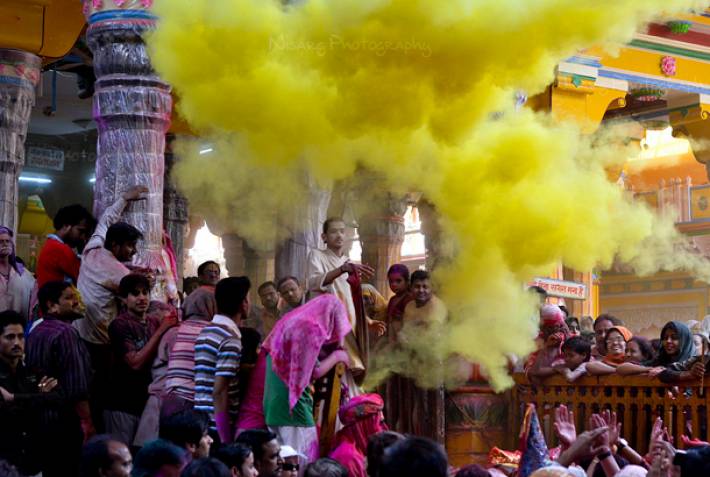 Traditional Holi experience
Mathura and Vrindavan
As the birthplace and childhood home of Krishna, the neighbouring temple towns of Mathura and Vrindavan focus on the traditional rituals of the Holi festival. Celebrations begin a good week in advance with the throwing of flowers, known as Phoolon Wali Holi, followed by a colourful procession in Mathura. On the day of Holi, colours are thrown according to tradition and one of the best spots to watch the spectacle is the Dwarkadheesh Temple.
Photo credit: Nisarg Lakhmani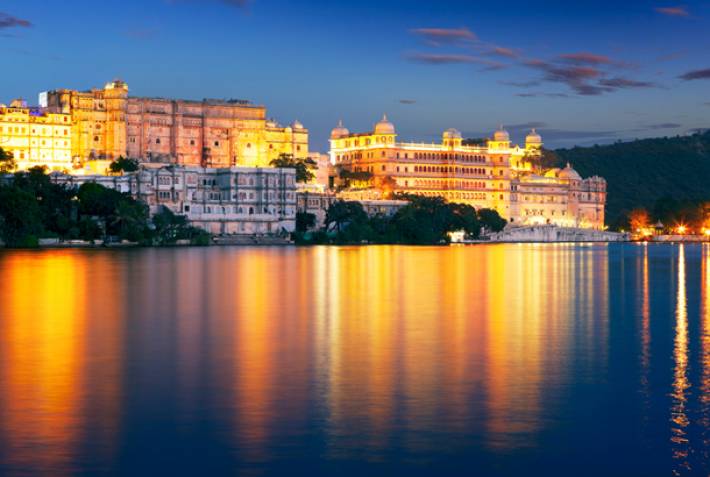 Royal celebrations
Udaipur
As the historic capital of the Rajput kingdom, the alluring city of Udaipur is home to a rich heritage and gorgeous imperial architecture. It's also home to the custodians of the Mewar Dynasty; and over Holi, the royal family host public celebrations with an extravagant procession through the city streets and a large function held at the City Palace. It's a chance to witness royal musicians and dancers perform before the traditional sacred fire. The following day the streets of Udaipur explode with activity, colour and happiness.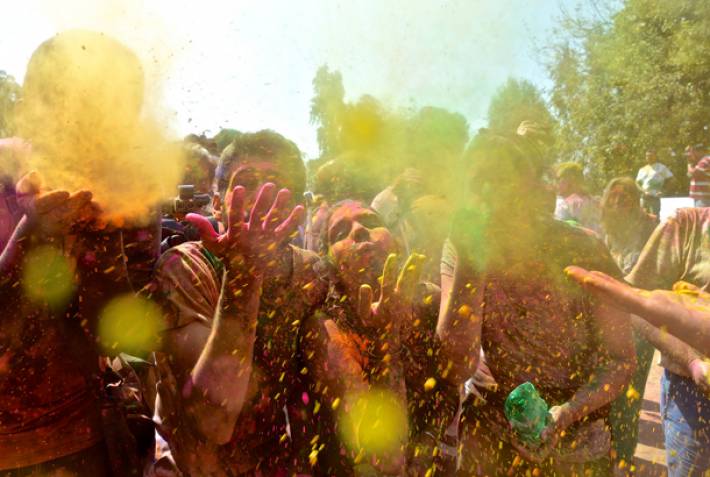 Capital city party
Delhi
The capital city sure knows how to put on a show when Holi arrives with lively events held across Delhi. One of the biggest events is the popular Holi Moo Festival with multiple stages hosting DJs and international music performers. What was once an underground collaborative between creatives is now a large-scale carnival that draws the crowds for a revelry of music and colour with food stalls filling the hunger gap.
Photo credit: Analucía Rodríguez Dávila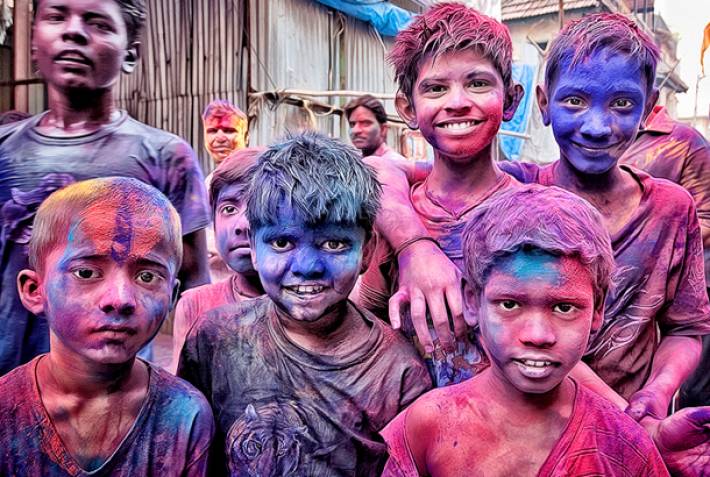 Community celebrations
Mumbai
The home of Bollywood and one of India's biggest cities, Mumbai is another place that puts on a show over Holi with rowdy parties and street celebrations. But if you're looking for a more philanthropic way to enjoy Holi then consider joining a guided visit to the Dharavi slums where you can learn all about life in this huge shanty town and celebrate this colourful festival with the residents. The best part about it is that 80% of proceeds go back into the community.
Photo credit: Jean-Marc Gargantiel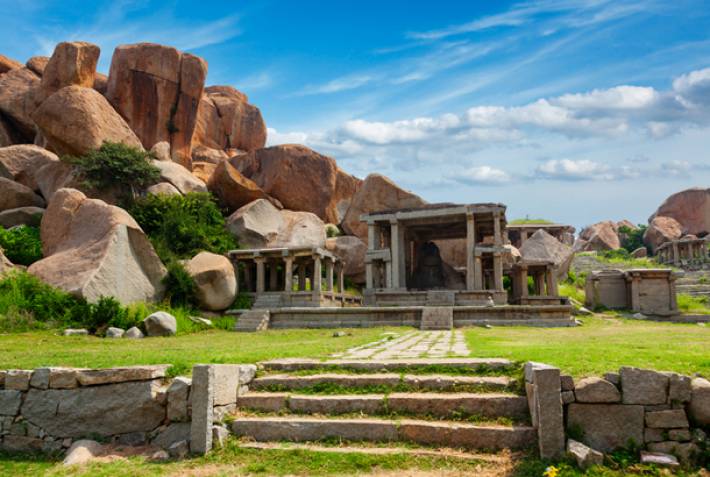 Holi among ruins
Hampi
The ancient Hindu capital of Hampi is one of the few places in southern India where Holi is celebrated with the same level of vigour as the north of the country. As a popular tourist destination, the stalls of Hampi's main bazaar sell mound upon mound of multi-coloured powder when Holi arrives, ready for the main event as locals and travellers head out to play among the crumbling ruins of the once mighty Vijayanagar empire.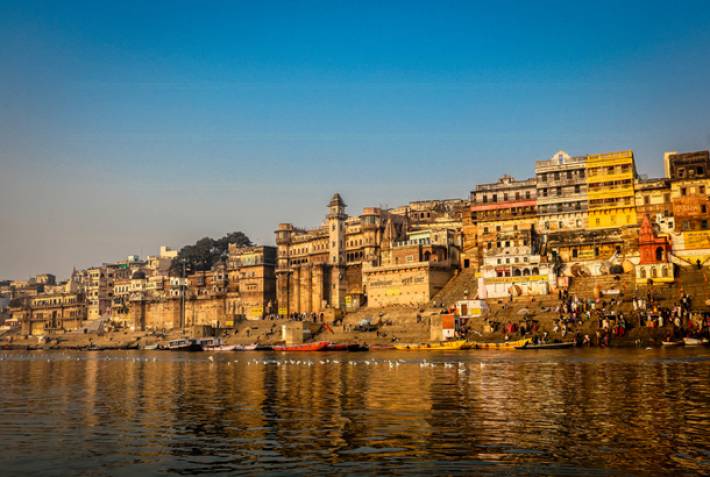 Spiritual Holi
Varanasi
As one of India's holiest cities, Varanasi offers a highly spiritual environment in which to honour the religious significance of Holi. The ghats become a paintbox of colour when the playful throwing starts and lead, like a rainbow, to the revered River Ganges. The frivolity is confined to the morning before people then head to their homes while the riverside returns to its solemn duties as the daily cremations are carried out.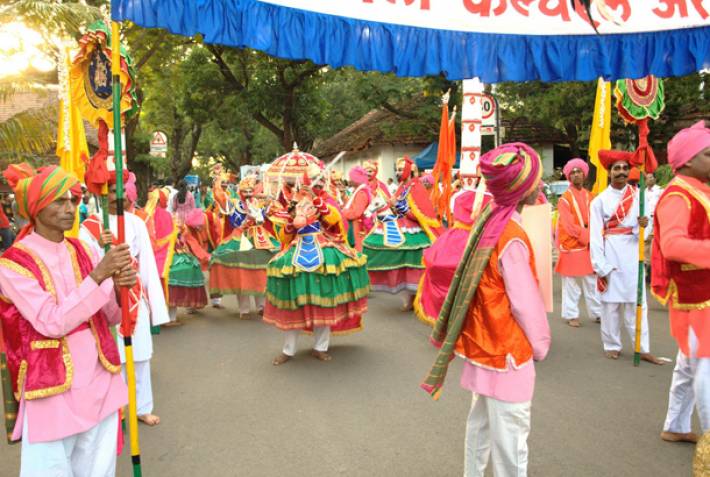 Laid-back Holi
Goa
The further south you travel in India, the more mellow the Holi celebrations become; and if you prefer a more laid-back affair with the added bonus of tropical beaches to enjoy then Goa is the perfect spot. There's also the option to join in the spring festival known as Shigmo, which features large-scale enactments of mythological stories and exuberant processions of dance and music troupes. Head to Panjim for the parades while the beaches remain blissfully quiet.
Photo credit: fredericknoronha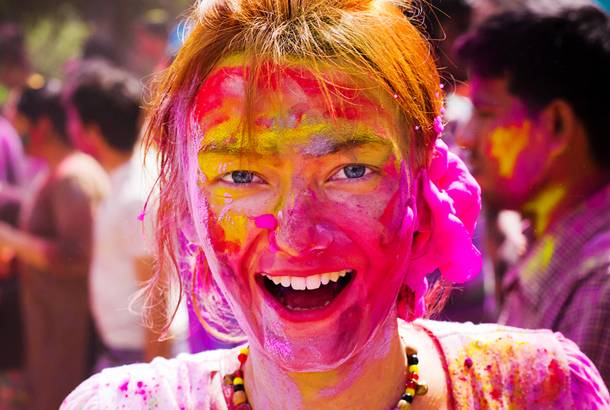 Essential tips to help you enjoy Holi
Brimming with vitality, Holi can be nevertheless be a potentially overwhelming event if you go in underprepared. Therefore it's a good idea to make sure you're properly ready before you head out onto the streets to join in the fun. Follow these basics to get the most out of your Holi experience.
Wear old clothes - The dyes used in the coloured powders leave stains so don't wear anything that you're not prepared to leave behind. Buy a white top and trousers when you get to India - clothing is cheap and the white shows off the colours beautifully.
Wear closed shoes - The streets throng with people during Holi and it's best to keep your toes covered as it's likely you'll have your feet trodden on during the furore.
Leave your valuables behind - On the day of Holi you'll want to be moving around as light as possible without the worry of anything getting broken, damaged or lost.
Cover your camera - There's no doubt you'll want to snap the event but the combination of water and fine powder can cause all sorts of trouble for your camera so wrap it securely in plastic, use a protective filter on the lens or ditch the expensive SLR for a cheap and cheerful disposable camera.
Protect your hair and eyes - Unless you want to have streaks of pink in your hair for weeks after Holi, consider applying coconut oil to your strands before you join the revelry. This will stop the dyes from staining your hair. Alternatively, wear a hat or tie your hair up in a scarf. And wear sunglasses to keep your eyes covered. It's also recommended to pre-apply an oil-based moisturiser to your skin to try and stop dyes sticking to your skin and paint your nails as a barrier against the dyes. If you're worried about staining your teeth, consider wearing a mouth guard.
Use naturally dyed colour powder - Shop around for quality powders and stick to red and pink colours as these are more likely to be made from natural dyes. It's much easier to wash off and is non-toxic.
Save washing until it's over - You may be tempted to wash as soon as you've had enough of the celebration but others may not yet be finished so wait until the very end of the day when you will no longer be out in public and away from anymore colour throwing!
Safety concerns during the Holi festival in India
As with any event where large numbers of people gather together, there are a few things that you should bear in mind when celebrating Holi in India like the locals do.
During the festival some men may consume bhang, an intoxicating drink that is prepared with an edible form of cannabis. Whether inebriated or not, some do behave inappropriately and use Holi as an opportunity to grope women in the crowds. If you are a solo female traveller, it's best to join a group of travellers for safety and avoid the peak time of celebrations when things can get out of hand.
Much of the coloured powder used nowadays is coloured with toxic chemicals and dyes which can aggravate your skin and eyes, especially if you have sensitive skin. Unfortunately there's no way of ensuring that others use naturally dyed powders so follow the advice given in our 'Essential Tips' to protect yourself as much as possible from potentially irritating substances.
Many travellers enjoy Holi festival out on the streets of India without any troubles at all bear in mind that it's a boisterous and busy event that can be relentless at times.
Recommended Tour for Holi Festival
If you want to visit India for Holi with other like-minded travellers, check out our dedicated Holi Festival group tour. Visiting the Golden Triangle of Delhi, Jaipur and the Taj Mahal, we celebrate Holi in the Pink City of Jaipur.
A special Holi party is held in Jaipur, where guests are invited to get messy with organic colours. This is a great way to enjoy the essence of Holi without having to tackle the large and raucous crowds out on the streets.