Thailand Tours & Package Trips
Save up to 20% on Thailand Group Tours
Our Handpicked Thailand tours are a great introduction to this sprawling and complex nation. Most tours start with an arrival day in Bangkok, though a handful set off from Chiang Mai. These coach tours take in all the highlights of the country with the services of an expert local guide. There are tours taking in the River Kwai on a cruise, and trips including a relaxing Phuket beach break, plus lots more! Browse our full range below.

Those looking for a more complete South East Asia tour may wish to book one of our tours combining Bangkok with Vietnam, Laos and Cambodia. Fully escorted by an expert guide, these Signature trips are the most all-encompassing tours we offer in the region!
It's no secret that Thailand boasts tropical beaches and jungle-clad islands. But travellers will soon discover there's a whole lot more to this rich cultural favourite.
With idyllic islands, palm-fringed beaches, and mouth-watering cuisine, it's little wonder that Thailand is such a popular travel destination. It's also home to one of the most visited cities in all of Asia, the raucous and exhilarating capital of Bangkok where contrasts abound as skyscrapers tower over golden pagodas and street vendors selling delicious Thai food.
The historic River Kwai is the perfect cruise destination, and the temples and hill tribes of Chiang Mai are waiting to be discovered. Add to this a population of smiling people ready to welcome you to their beloved country and you should start to understand the appeal.
Visit Thailand on one of our group tours, or combine bustling Bangkok with one of our longer packages in the region, exploring Vietnam, Cambodia and Laos. However you want to explore Thailand, we're sure to have the perfect trip for you!
Thailand Private Tours
Our private tours in Thailand offer all the same perks as our group tours, but you will travel with just your friends, family or private group! With all your accommodation, transportation, sightseeing with a local expert guide and many meals included, these private Thailand packages are the perfect way to see the best of Thailand! Our private tours range in length from a 3-day Bangkok city break to longer tours taking in the River Kwai, Chiang Mai and the incredible landscapes and wildlife of Khao Yai National Park!
Explore more countries like Thailand
Frequently asked questions about our Thailand Group Tours
Can I cruise the River Kwai in Thailand?
You sure can! We offer multi-day River Kwai cruising on many of our tours, including the 5-day Cruise River Kwai Express and 8-day Cruise River Kwai. On some you can explore the region in 5-star luxury, with a la carte meals, comfortable cabins and guided excursions to famous sites including the Bridge on the River Kwai.

On other tours, such as the 10-day Ancient Thailand & River Kwai, we offer shorter boat rides on the Kwai, and even spend a night on a jungle raft on the Kwai Noi River.
What sort of transport do you use in Thailand?
In Thailand we travel mainly in private, air-conditioned vehicles with the rest of the group. Airport arrival transfers are generally included on day 1 unless otherwise specified. Depending on the tour you book, you will also enjoy multi-day Kwai River cruising, and may also spend a night on an overnight train - this is a greener and more efficient way to navigate between Thailand's big cities.
What is the quality of accommodation on these Thailand tour packages?
We use a diverse mix of accommodation on tour in Thailand. In the main cities, such as Bangkok and Chiang Mai, we make use of modern, well-located 4-5 star hotels with plenty of amenities and creature comforts. If you book one of our River Kwai cruising tours then you will spend several nights on a 5-star cruiser. And some tours include a night aboard a floating jungle raft, with ensuite bathrooms, hammocks and no electricity - perfect for switching off from the world.

On some tours there is also a night spent aboard an air-conditioned overnight train. Although the accommodation standard on this train will not be as good as your hotel accommodation, it will be comfortable enough, and should be a fun cultural experience - stock up on snacks and enjoy the ride through Thailand's lush countryside!
Will I have a tour guide on your Thailand trips?
You will indeed! Our Thailand tours are not fully escorted, but you will enjoy the services of an expert local guide for all of your scheduled sightseeing. And your transportation is included so you never have to worry about how to get from A to B in Thailand!
I want to avoid the monsoons in Thailand, when should I visit?
Thailand's rainy season lasts from July - October, but you can certainly still visit during this time. Rain tends to arrive in short, sharp showers lasting no more than a few hours and it turns the countryside into a vibrant green. If you did prefer to be nice and dry, then you're best to visit Thailand during the cool, dry season from November - February or the hotter season from March - May. Thailand is a great year-round destination, and it's always wise to pack for a few showers!

There's more information in our guide on when to visit Thailand.
Is Thailand a safe destination for travellers from the LGBTQ+ community?
According to the
2023 LGBTQ+ Travel Safety Index
, Thailand scores a C- rating for LGBTQ+ traveller safety, ranking 60th out of 203 countries.
Although same sex marriage is not legal, there are broad worker protections in place for people of all sexual orientations. 51 – 75% of consulted citizens consider Thailand a good place to live for gay and lesbian people. There are no legal punishments for same sex relations and most trips for LGBTQ+ travellers to Thailand are trouble-free.
The LGBTQ+ Travel Safety Index is designed to provide a good overall picture of attitudes towards the LGBTQ+ community in each country and may not reflect the experience of foreign travellers to the country.
How big are your Thailand tour groups and what is the age of your travellers?
In Thailand the maximum group size on our tours is 24, though the average is more like 10 - 15. it depends when you are travelling, but you are sure to enjoy your experience with a small group of like-minded travellers. The average age of our passengers is around 50, but you are likely to be joined by travellers in their 20s and 30s up to their 60s, 70s and beyond from all over the English-speaking world. As long as you have a passion for travel and are fit and able to complete the tour, you're welcome to join us in Thailand!
What is the current travel advice for Thailand?
As a UK-based company, we follow the latest up to date advice from the Foreign Commonwealth Office (FCDO). You can see the latest travel advice for Thailand here. The advice can change so check regularly for updates!
The Best of our Thailand Trips
Thailand is a sprawling and diverse destination. With a bustling capital, endless pristine beaches and temples galore, there's plenty to see in Thailand. Some attractions have the edge however, and that's why we recommend these destinations to anyone taking a trip to Thailand: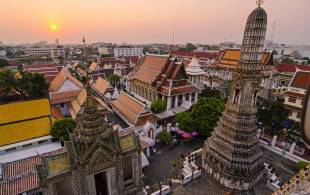 Bangkok
Beyond its vibrant cityscape and modernity, Bangkok boasts a rich tapestry of cultural wonders and historical gems. From the dazzling Grand Palace and the sacred Wat Pho Temple to the bustling markets and mouth-watering street food, Bangkok offers an unforgettable experience for travellers. The majority of our tours start in the Thai capital, with plenty fo time for you to explore!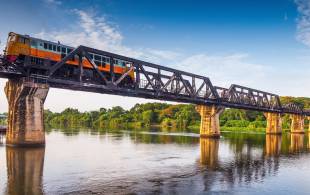 River Kwai
A river cruise along the picturesque River Kwai is an extraordinary journey. Meandering through lush landscapes and serene villages, cruisers can see the poignant and historic Bridge over the River Kwai, a sombre reminder of World War II's impact on the region. See floating markets, ancient temples, and traditional villages and enjoy a magical sunset over this enchanting waterway as you sail.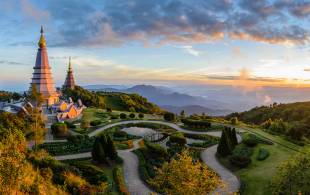 Chiang Mai
Nestled among mist-covered mountains and ancient temples, Chiang Mai beckons travellers with its timeless charm. The revered hilltop Doi Suthep Temple boasts panoramic views over the city, and the vibrant Night Bazaar entices visitors with an array of handicrafts. Trekking through surrounding jungles and encountering hill tribes is a captivating adventure, and the city's welcoming locals exude warmth and hospitality.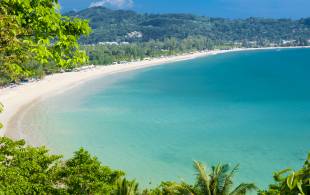 Phuket
The mountainous, forested island of Phuket lies off the cost of southern Thailand and is home to some of the country's most popular and exclusive beach resorts. Think golden sands and turquoise waters backing into lush tropical jungles, a picture postcard scene! Many of our Thailand trips include a few days of rest and relaxation in Phuket, perfect for recharging after a cultural sightseeing tour.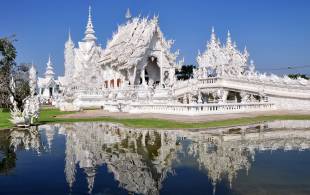 Chiang Rai
Sometimes overlooked as people head to the more popular Chiang Mai, Chiang Rai is definitely worth spending a few days in. Not only is it home to the glistening white 'White Temple' and many of the famous hill tribes of Thailand – it is also home to the famed 'Golden Triangle' – where Thailand, Laos and Myanmar meet and is the former heart of the world's opium trade.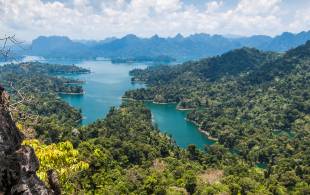 Khao Sok National Park
With craggy limestone peaks towering above the water, Khao Sok National Park is home to some of the world's oldest rainforest. Situated in the south of the country, visitors flock here to take advantage of the beautiful jungle trekking, to relax on scenic canoe rides and above all marvel at the breathtakingly beautiful scenery that this gem of a place has to offer.