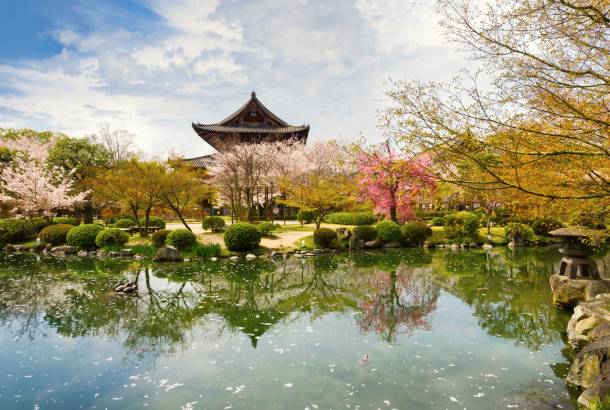 Japan at a Glance: Best Time to Visit
Recommended time to visit: Autumn from September - December and Spring from March - April are generally considered the best time to visit Japan, with pleasant temperatures and clear skies.

Less popular time to visit: There's no truly bad time to visit Japan but the rainy season from June - July and the typhoon season from August - September aren't as popular as other months.

Prettiest time to visit: The Cherry Blossom Festival occurs for a couple of weeks between the end of March and early May, depending on where in Japan you're visiting. The country bursts into hues of pink and locals take to the streets to party. A magical time to visit.
Want to know more about Japan? Check out our latest blog posts
Seasons and Weather in Japan
What are spring and autumn like in Japan?
Spring (March – May) sees a lot of the country ablaze with beautiful white and pink cherry blossom. The locals like to sit out beneath the cherry blossoms and it's an increasingly popular time to visit the country. Temperatures during these months begin to rise and it is before the hot rainy season. Autumn (September – November) sees similar temperatures, which are now a welcome respite from the muggy heat of the summer. The country also now changes into a haven of red and scarlet leaves which contrast strikingly against the deep blue clear skies.
What's summer like in Japan?
Summer (June – August) sees the start of the rainy season. The rains aren't seen every day like in some monsoonal countries but when they come they are heavy. The temperature after the rain is generally quite high and can be uncomfortable if you are moving around. Summer also sees lots of great festivals (or Matsuri) in Japan and there are lots of spectacular firework shows going on across the country.
What's winter like in Japan?
Winter (December – March) is a beautiful time to visit Japan, especially if you are venturing to the ski slopes of Hokkaido or Nagano. These areas are carpeted in a brilliant white coating of fresh powdery snow making the traditional Japanese onsen (hot springs) even more fun to sit in. Nagano is also a great place to visit in the winter because of the resident snow monkeys who appear in bigger numbers at this time of year. Most towns and cities in the northern regions of Honshu island experience some degree of snow but major cities like Tokyo, Kyoto and Osaka receive minimal snowfall during the winter months.
Climate | Tokyo
| | Jan | Feb | Mar | Apr | May | Jun | Jul | Aug | Sep | Oct | Nov | Dec |
| --- | --- | --- | --- | --- | --- | --- | --- | --- | --- | --- | --- | --- |
| Temp Min °C | 2 | 3 | 6 | 11 | 15 | 19 | 23 | 24 | 21 | 15 | 10 | 5 |
| Temp Max °C | 10 | 11 | 14 | 19 | 23 | 26 | 30 | 31 | 28 | 22 | 17 | 13 |
| Rainfall (mm) | 62 | 61 | 126 | 139 | 150 | 168 | 182 | 186 | 215 | 235 | 108 | 44 |
Climate | Kyoto
| | Jan | Feb | Mar | Apr | May | Jun | Jul | Aug | Sep | Oct | Nov | Dec |
| --- | --- | --- | --- | --- | --- | --- | --- | --- | --- | --- | --- | --- |
| Temp Min °C | 1 | 2 | 4 | 9 | 14 | 19 | 23 | 24 | 20 | 13 | 8 | 3 |
| Temp Max °C | 8 | 9 | 13 | 19 | 24 | 27 | 31 | 33 | 28 | 22 | 17 | 11 |
| Rainfall (mm) | 50 | 80 | 120 | 130 | 160 | 240 | 230 | 130 | 220 | 100 | 80 | 50 |
Best Time to Visit by Region
Japan may not be the largest country in the world, yet the climate varies considerably between the islands. From the temperate continental climate of the north - characterised by long, cold winters, to the humid subtropical climate of the small Ryukyu Islands in the southwest, you'll always find somewhere to go no matter the time of year.
When is the best time to visit Tokyo?
The futuristic capital of Tokyo sits on Honshu island, Japan's largest. It's considered a year-round destination though there are definite benefits to visiting in the shoulder seasons of spring and autumn. Firstly, these periods experience less extreme weather conditions with generally mild temperatures. Secondly, there's the beautiful colours of cherry blossom and autumnal leaves to enjoy.
Summers in Tokyo can be hot and stick, with high humidity and a short rainy season between May and June, while winters are cold. That's why spring and autumn are considered the best time to visit.
When is the best time to visit Hakone and Mount Fuji?
The notoriously camera shy Mt. Fuji and its surrounding national park is one of Japan's most popular attractions. Unfortunately the volcanic peak is often shrouded in cloud, especially during the warm and humid months between May and September. For the best chance of a clear view, visit in the cooler months of November to February.
Fuji is only a short distance away from Tokyo so the seasons here are similar to those of the capital. Expect beautiful pink-covered landscapes in spring and red leaves in autumn. If you're thinking of climbing Mt. Fuji, visit between July and mid-September.
When is the best time to visit Kyoto?
The city of Kyoto, and its many UNESCO World Heritage Sites, lies further west on Honshu island. Similarly to Tokyo, the best time to visit is either spring or autumn. In March and April Kyoto is awash with the delicate pink of cherry blossom season while between October and November the fiery reds of autumn take over. At these times of year, temperatures are more pleasant and better suited to sightseeing.
When is the best time to visit Hiroshima and Miyajima Island?
Located on Honshu island and close to Kyoto, the city of Hiroshima is also best visited in the spring months of March to April and autumn months of October and November. As elsewhere in Japan, the climate is mild and the landscapes stunning with seasonal colours. The same goes for the nearby island of Miyajima though it's important to consider the tide if you want to see the famed floating torii gate. High tide is best if you want to see it 'floating' on the water.
When is the best time to visit Hokkaido?
Hokkaido is Japan's second largest island and the northernmost prefecture. Here the winters (December to February) are long and cold while the summers are cooler than elsewhere in Japan. Thanks to its climatic conditions, the island is considered the country's prime winter destination with excellent skiing opportunities and the chance to experience traditional onsen out in the cold.
There are many great reasons to visit Japan in the winter but Hokkaido in particular is the place to go as it's home to the Sapporo snow festival. Each year the island's capital transforms into a winter wonderland with snow sculptures and fairground rides.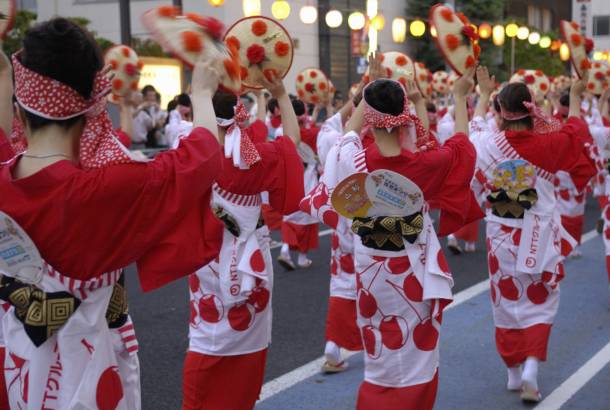 Festivals
Japan celebrates its highly unique cultural heritage with a number of festivals and special events held throughout the year. Here's our guide to the best of them.
When is the Cherry Blossom Festival?
Known as hanami in Japan, the traditional custom of 'flower viewing' has become one of the most popular times to visit Japan with cities decorated in beautiful cherry blossom. From the end of March to early May when the flowers bloom outdoor parties are held throughout the country with people heading to parks for picnics.The Cherry Blossom Festival is a particularly good time to visit in terms of weather also.
When is Tenjin Festival in Osaka?
Held on the 24th and 25th July every year, the highlights of the Tenjin Festival include processions of drummers, ceremonial floats and fireworks in the evening to honor the deity Sugawara and the Tenmangu Shrine.
When is Kanda Matsuri in Tokyo?
Taking place in mid-May in odd numbered years, the Kanda Matsuri festival honours the Kanda Myojin Shrine with a day-long procession and parades of shrines through central Tokyo. Other events are held over the week.
What is the Sapporo Snow Festival?
Held in the city of Sapporo on Hokkaido island, the Sapporo Snow Festival is Japan's largest winter event with hundreds of splendid snow and ice sculptures lining Odori Park. Large snow slides are set up Tsudome community dome and visitors flock here in February each year to enjoy the winter wonderland.
Recommended tours
Signature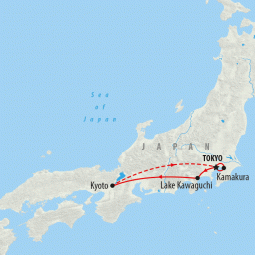 8 days FROM $4,365
Signature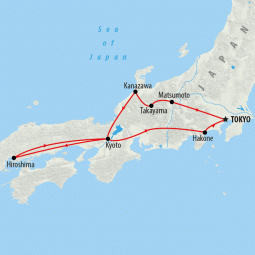 13 days FROM $8,715
Signature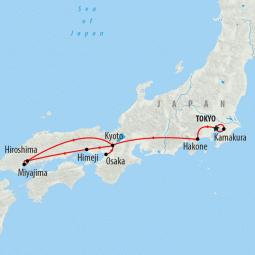 12 days FROM $6,005
Japan Trip Styles

Group Tours

Private Tours