CHRISTMAS AND NEW YEAR TOUR: Spend a cracking Christmas exploring the Atlas, snap up some bargains in the souks of Marrakech and ring in the New Year beachside in Essaouira, on Morocco's stunning Atlantic coast.
Trip Highlights
Marrakech - Take a guided tour of Morocco's most famous city, including the pretty medina and Djemaa el Fna
Dades Gorge - Spend Christmas Day exploring kasbah Amridil and Dades Gorge, where you'll tuck into a delicious Christmas dinner in the beautiful surroundings
Agadir - Stroll around this quaint fishing town, which was devastated by a major earthquake in 1960
Ouarzazate - Enjoy some time in Morocco's film capital, home to a famous studio responsible for many blockbuster movies
Ait Benhaddou - Discover Morocco's most famous kasbah and explore the narrow streets of this UNESCO-listed ancient site
Sahara Desert - Ride a camel into the desert, past the Erg Chebbi dunes, and spend a night at our Berber camp near Merzouga
Taroudant - Visit some saffron fields and take a guided tour of this historic city's vibrant souks
Essaouira - Celebrate the New Year with a group dinner and drinks in this charming walled port city, and enjoy time at leisure
Included
Breakfast daily, 4 lunches and 5 dinners inclusive of a traditional Berber meal at our Sahara camp
Guided sightseeing - Merzouga, Dades Gorge, Ait Benhaddou and Marrakech
Essaouira - Beachside bliss and free time
Specialist local guides at some sites
All transportation and transfers in private air-conditioned tourism vehicles
9 nights 3-4 star hotels and 1 night camping at a Berber desert camp in the Sahara Desert (hotel upgrade available)
Camel trek into the Sahara Desert
Escorted by a licensed English speaking Moroccan tour guide
Arrival transfer from Marrakech Airport on day 1
All road taxes and tolls
Not Included
International flights and visa
Note: On some road journeys, the tour leader may not be in your particular vehicle
Tipping Kitty: USD$30-40pp, paid in USD or local currency

Tip for your tour guide and driver. We recommend you allow USD$2-3 per day, per traveller for your guide and USD$1-2 per day, per traveller for your driver. Tipping your guide and driver is an entirely personal gesture
Entrance Fees: USD$30-50pp, paid in USD or local currency
23 December. Welcome to Morocco! Arrival transfer from Marrakech airport to our hotel. This evening (at 19:00) our welcome meeting takes place, where you'll meet your tour leader and fellow travellers.
Overnight: Marrakech
Marrakech
Marrakech – Ait Benhaddou – Skoura. This morning we drive onwards to the legendary Ait Benhaddou - a 'fortified city' situated along the former caravan route between the Sahara and Marrakech, boasts some beautiful examples of ancient kasbahs. Only a handful of which remain inhabited. Granted UNESCO World Heritage listing, this incredible site had been the setting for many films including Gladiator. After exploring Ait Benhaddou we travel onwards to Skoura where we have an evening at leisure.
Overnight: Skoura | Breakfast, Lunch, Dinner
Ait Benhaddou
Skoura – Dades Gorge. Merry Christmas! We spend the morning visiting the kasbah Amridil before continuing to Gorge du Dades in the Dades valley. On arrival we take some time to explore the gorges, admire the palm trees and see the kasbah ruins. We then have the evening to relax before enjoying a great Xmas dinner in the beautiful surroundings.
Overnight: Dades Gorge | Breakfast, Lunch, Dinner
Dades Gorge - Erg Chebbi. Crossing Jebel Sarhro, we enjoy lunch and a swim before travelling down to Erg Chebbi sand dunes, the start point of the mighty Sahara Desert. The Erg Chebbi dunes located near the remote frontier town of Merzouga are renowned for their incredible height and size. In parts the vast sand pile reaches skyward to heights of 150 metres!

The desert winds ensure this astonishing landscape is forever changing and no two days offer the same panorama. Mounting our camels, we trek across the vast rolling dunes of the Sahara and take in the breath-taking scenery. Arriving at our Berber camp, watch an incredible sunset across the dunes, enjoy simple local cuisine and then sit by the campfire under the spectacular Saharan stars.

If you would prefer the comfort of a hotel with en-suite facilities this evening, opt for our Sahara hotel alternative at no additional cost. Please do let us know your preferred option at the time of booking.
Overnight: Merzouga | Breakfast, Lunch, Dinner
Discover the Sahara
Erg Chebbi – Agdz – Ouarzazate. Today we travel through Mercissi and Nkob in the Saghro Moutain region, passing the incredible rock formations and wells that have been dug over centuries by the nomads to get access to water, along the way. Onwards to the small town of Agdz, with its Palmeries, ancient Kasbahs and incredible views of Jebel Kissane Mountain. Our final stop of the day is Ouarzazate – Morocco's film capital, where we lay our heads for the evening. Tonight, dinner is a group affair.
Overnight: Ouarzazate | Breakfast, Lunch, Dinner
Ouarzazate – Tarouddant. We begin our day taking in the landscape of saffron fields as we make our way to Talouine, where we visit a local saffron farm. Later, we continue to Tazenacht, where we visit a carpet cooperative to learn the art of carpet making before finally stopping in Tarouddant, the former berber capital and our home for the night.
Overnight: Taroudant | Breakfast
Tarouddant – Agadir. This morning we have some time to enjoy a guided tour of Tarouddant's souks. We spend the afternoon driving past banana plantations and fruit orchards along the coast as we make our way to Agadir, a quaint town along the coast which was destroyed by the 1960 earthquake. Here, we have the remainder of the day at leisure to wander around the harbour and perhaps try some of the fresh fish.
Overnight: Agadir | Breakfast, Dinner
This morning we continue along the coast until we reach Essaouira. With a laid back vibe Essaouira is Morocco's hippest coastal town. The windswept fishing port, broad beaches and ancient walled medina with ramparts built into the cliff have long been a favourite refuge for artists, sculptors, food lovers, surfers and backpackers. The medina surrounded by a fortress with 5 main gates you can navigate by, has retained its traditional styles and is laden with quirky shops, coffee houses, antiques, art studios, calligraphers, t-shirt designers and souvenir curios. There's a relaxed feel to the place and shopping here is a real delight. Locals and visitors alike enjoy strolling along the ramparts as the sun sets. The port is a hive of activity with fishing boats hauling in their daily catch.

On the evening of day 9 - New Year's Eve we'll all head out together for dinner and a few drinks.
Overnight: Essaouira | Breakfast x 1
Essaouira - Marrakech. Happy New Year! This morning is spent at leisure, sleep in or head to beach for your first swim of the year. This afternoon we stop at a local Argan oil cooperative en route to Marrakech. On arrival in Marrakech, we enjoy a guided tour of the bustling medina.
Overnight: Marrakech | Breakfast
02 January. Spend the morning relaxing or picking up a few last minute souvenirs. Our tour concludes upon hotel check out at 12 noon.
Breakfast
Departure dates marked with a 'G' are guaranteed to operate. All other departures are guaranteed with a minimum of 4 persons. 'Twin Share' prices are per person when there are 2 people sharing a room. 'Single Room' prices are applicable to those who don't have anyone to share a room with or anyone wanting the privacy of a single room.
Read More
2022
Twin Share
Single Room
2023
Twin Share
Single Room
Extra Prices
Twin Share
Single Room
Pre Tour Accommodation - Marrakech
AUD $145
AUD $225
Post Tour Accommodation - Marrakech
AUD $145
AUD $225
The hotels listed below are ones which we frequently use on this tour. We reserve the right to substitute these hotels to ones of a similar standard.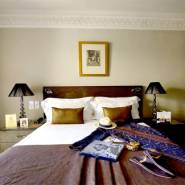 Adam Park Hotel & Spa, Marrakech
Guests can expect a very comfortable stay at the Adam Park Hotel & Spa. Each of the elegant rooms feature a patio or balcony with views of the surrounding area. Guests are spoilt for choice when it comes to dining. Several restaurants offer a variety of options including Italian specialities, Moroccan favourites and international cuisine. There are also plenty of ways to unwind after a day exploring Marrakech, with an outdoor pool, fitness centre and a spa offering rejuvenating massage treatments.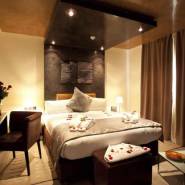 Dellarosa Hotel Suites & Spa, Marrakech
Just a short walk from the medina, Dellarosa Hotel Suites & Spa tastefully blends modern architecture with Moroccan authenticity. Guest rooms are tastefully decorated with comfortable beds and excellent en suite facilities. The hotel also has a restaurant Organza serving up a delicious array of Moroccan and International dishes as well as a bar for a tasty beverage or two. Those looking for some pampering should head to the onsite spa and wellness centre.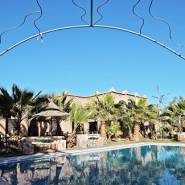 Sawadi Ecolodge, Skoura
This eco-friendly riad is located in the oasis of Skoura, in a 4-hectare farm, 40 km from the town of Ouarzazate. Located halfway between the desert and the Atlas Mountains, it offers air-conditioned rooms, an outdoor seawater pool and a hammam which can be enjoyed after using several of the sporting facilities including table tennis, a volleyball, a badminton and a bowling alley. On site, you can also arrange sightseeing excursions on foot, horseback, bicycle, camel or local transport. Rooms at the Sawadi are colourful and decorated in a traditional Moroccan style, with views of the Atlas Mountains or the riad's gardens. All the buildings of the Sawadi Estate are designed in the traditional Berber style, and are built with materials taken from the site, such as clay, straw and palm trees.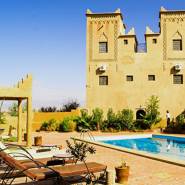 Kasbah Ait BenHadda, Skoura
Nestled in the heart of the Skoura pal grove, the Ait Benhadda boasts incredible mountain views, and stunning terraces and garden to enjoy the landscape. All guest rooms are en-suite and air-conditioned and are equipped with a satellite TV. Guests can cool off by the pool or taste some of the Moroccan and Mediterranean cuisine at the on-site restaurant.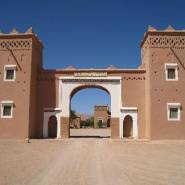 Kasbah Tizzaouirine , Dades Gorge
Overlooking Oued Dades, Kasbah Tizzarouine offers rustic Moroccan accommodation. Guest rooms vary from the quirky cave rooms to the more palatial Berber suites. The hotel also includes an outdoor pool and seating on a beautiful terrace giving great panoramic views of the surrounding hills and valley. Staff at the Kasbah are very helpful and the restaurant comes with great recommendations. Those who are in to local music can enjoy and join in with drumming sessions that take place each night.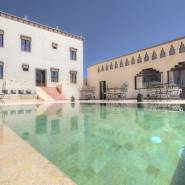 Ksar Sultan Dades, Dades Gorge
Ksar Sultan Dades is located in Boumalne Dades; a small town on the edge of the Dades Valley. Ait Benhaddou and Kasbah Ruins are local landmarks and the area's natural beauty can be seen at High Atlas and Monkey Paws, which are a short drive away. Each of the riad's 9 rooms has a unique design and overlook the pool or the stunning, remote views of the valley. The outdoor pool provides a welcome respite from a busy day exploring the incredible surrounds. The guesthouse has a cafe and restaurant and there are also plenty of dining options within a short drive.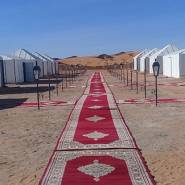 Camp Touareg, Merzouga
Set amongst the bright orange dunes of Erg Chebbi, Touareg Berber camp is designed with a traditional Moroccan theme. Tents are simply furnished with metal framed double, twin or triple beds. All bedding is provided including a pillow, sheets and a blanket (more blankets in winter). A Moroccan rug on the floor and solar generated electricity (after night fall). The camp has two toilet blocks and a large dining tent. Camping out in the desert is an incredible experience. Watch the sunset over the dunes, enjoy simple but tasty Moroccan cuisine and spend the evening by the camp fire, under a spectacular star filled sky.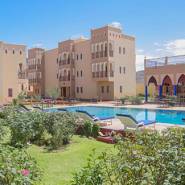 Ksar Ben Youssef, Ouarzazate
Ksar Ben Youssef is a newly built, traditional hotel located just 5kms from the centre of Ouarzazate. Offering 18 spacious air-conditioned rooms, with a variety of bedding configurations. Its large pool, overlooked by a rooftop terrace with shady nooks, is the perfect respite from the desert heat. Guests can enjoy a buffet style breakfast from the on-site restaurant or dine on one of the many terraces.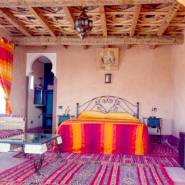 Dar Amoudou, Ouarzazate
Nestled in the heights of Ouarzazate's old district of Ait kdif, Dar Amoudou is a guest house with nine traditional styled rooms that offer all the modern comforts of a luxury hotel including; air conditioning, heating, free Wi-Fi, satellite channels and of course, en-suite facilities. Offering breathtaking views of Ouarzazate and the Atlas Mountains, the attractive terrace is the perfect place to relax and enjoy the magical surroundings, whilst also enjoying traditional Moroccan cuisine.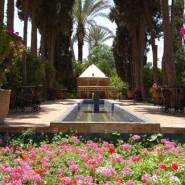 Riad Hida, Taroudant
The Riad Hida is a charming oasis in Taroudant, set in beautiful gardens. The restaurant serves traditional Moroccan food and there is a hammam, where guests can unwind after a day exploring the city. The rooms are a good size and come with stunning, authentic decor and plush furnishings, ensuring a comfortable night's sleep. With its central location, the Riad Hida is within easy reach of most tourist attractions and is next to the arab and berber souks.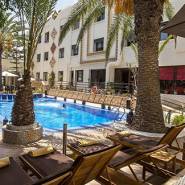 Hotel Atlantic Agadir, Agadir
The traditional Hotel Atlantic Agadir is ideally located a few minutes' drive (or short stroll) away from the promenade of Marina D'agadir. Its swimming pool is set amongst palm trees and sun lounges, and the hotel also boasts a delightful terrace where you can enjoy refreshments from the snack bar, or a delicious dinner from the a la carte restaurant. There are plenty of attractions within walking distance including the centre of Agadir, the Synagogue and Souk El Had market. You can also enjoy a relaxing few hours in the Turkish or steam baths, along with the sauna, jacuzzi and massage.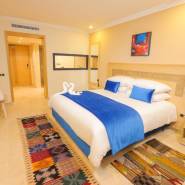 Hotel Cote Ocean Mogador, Essaouira
Perfectly located on the beach of Essaouira, with wonderful sea views. This hotel is just a 10 minute walk from the Othello Garden and offers a private beach area, onsite restaurant, sun terrace, outdoor swimming pool and a bar. Car rental and bike hire is available for those that would like to get out and explore this picturesque area. The rooms feature air conditioning, Wi-Fi, TV and a private bathroom. Sea view rooms are available, please enquire.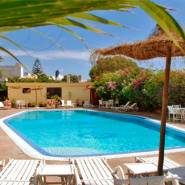 Riad Zahra , Essaouira
Located in the residential district, the Zahra offers calm, relaxation and a peaceful stay. Its comfortable guestrooms are decorated in traditional Moroccan style and are equipped with an en suite and satellite TV. The property has a restaurant serving Moroccan and international specialities. There is another restaurant that serves grilled dishes. Riad Zahra is an ideal starting point for nautical activities or to discover Essaouira and the surrounding area. For your entertainment, the hotel proposes numerous activities including desert trips in a 4x4, surfing and kite surfing lessons.
"
Jamal is a fantastic guide, knowledgeable and passionate about his country and able to answer all our questions. Nothing was too much bother and both Jamal and Sliman made sure that we had the best possible trip. I felt very safe with Sliman's driving. Thank you! "
Hilary Thain
• Submitted 21 Jan 2020
"
My wife and I had a marvelous time in Morocco! We would recommend it to all of our friends and family – and we would especially recommend that they request Jamal as their tour guide. He was an even better tour guide than we could have hoped for. Not only was he knowledgable about the sites, sounds, and people of Morocco, he was also quick to get the group laughing and having a good time. He knew how to read the group and adapted to our moods and interests. He made the trip truly special and memorable. Wouldn't have changed a thing!!!"
David McClendon
• Submitted 07 Jan 2018
Tour





Guide





Country





"
I have had a wonderful time. Morocco is a beautiful country and I believe this tour gives a very good idea of the beauty and diversity in it. Thank you. "
Kristian Thompson
• Submitted 21 Jan 2016
"
Jamal was a great guide. His knowledge of Morocco is outstanding and really added to the trip's good value. He has a good sense of humor and a good command of English. The tour was a success because of him. I also think the itinerary was well planned, a good mix of activities and scenery. "
Mary Masterilli
• Submitted 21 Jan 2016
"
Our tour guide jamal was very helpful, knowledgeable, good humour, patient and looked after us very well. Sliman is a very safe and competent driver, he didn't take risks on road and was very friendly and helpful. I will miss them both. "
Katrina Hill
• Submitted 21 Jan 2016
"
We had the best tour guide ever. He went over and above to see that the needs of the group were met. He was always cheerful and really, he is your best asset. I would look after him if I were you! The tour would have been a lesser one without him. "
Mary Mcclory
• Submitted 21 Jan 2016
"
The tour had a good mix of mountain, shore, city and desert. We covered a lot of ground, saw a lot of things, and had a lot of adventures - but without being too much. Our guide, Jamal, was very personable and added a lot to the tour with his knowledgeable commentary. The group size (12 people) was just right. The accommodations were very good. I would recommend this tour and On The Go to my family and friends. Looking forward to joining you on another adventure!"
Mary Masterilli
• Submitted 15 Jan 2016
Tour





Guide





Country





"
Just back from my most awesome New Years experience ever. I was on the Morrocan Surf the New Year and it was more than I could have ever expected. The group was great, our guide was brilliant and finishing in chilled out Essaouira was the best way to finish this tour. Thanks so much On The Go, already planning next years New Year trip with you guys."
Sim Piromalli
• Submitted 18 Apr 2012
"
Thanks for a brilliant Christmas and New Years On The Go. Morocco is a fantastic place and I highly recommend it to anyone and everybody. So impressed with On The Go - I have already booked an ANZAC tour with you guys. Thanks again."
H Mclean
• Submitted 18 Apr 2012
"
Thanks On The Go for my best trip ever. This was my third trip with you guys and you never fail to impress. Keep up the good work."
John Malcom
• Submitted 18 Apr 2012
In Brief
Range
Trip Type
Starts
Marrakech
Ends
Marrakech
Departs
23 December
Group Size
Min 4 / Max 24
Hotel Rating
3 - 4 star hotels & traditional riads
Tour Guide
Yes, - escorted by a tour guide
Meals
Breakfast: 9, Lunch: 4, Dinner: 5
Visiting
Marrakech, Skoura, Dades Gorge, Merzouga, Ouarzazate, Taroudant, Agadir, Essaouira, Ait Benhaddou, Erg Chebbi
Countries
"
Jamal is a fantastic guide, knowledgeable and passionate about his country and able to answer all our questions. Nothing was too much bother and both Jamal and Sliman made sure that we had the best possible trip. I felt very safe with Sliman's driving. Thank you! "
Hilary Thain
OTG000485
New Year's in Morocco - 11 Days
Middle East & North Africa
Signature
Middle East & North Africa
false
0
Morocco
https://www.onthegotours.com/au/Morocco/New-Years-in-Morocco-11-Days
https://www.onthegotours.com/repository/Essaouira-coastal-town--UNESCO-sites-in-Morocco--On-The-Go-Tours-333701487941708_crop_flip_300_300_f2f2f2_center-center.jpg
Group_Tours