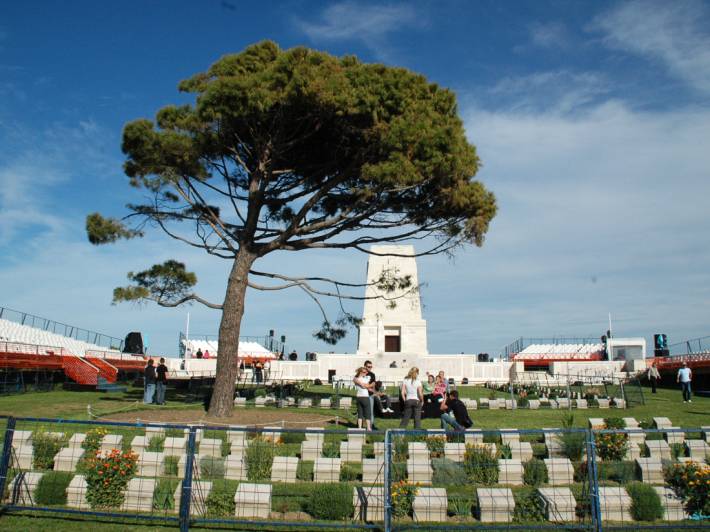 Are you thinking of a special visit to Turkey to commemorate ANZAC Day? Want to know a little bit more about the event so that you're properly prepared? Here you'll find lots of information and handy tips on how to get the most out of the day and what to expect.
Registration for ANZAC
For those attending the ANZAC commemorations at Gallipoli it is necessary for everyone to register for an attendance pass with the Australian Government in advance. The passes are offered free of charge by the Australian Government using a first in approach. You will need to register for your pass yourself and they will be instantly confirmed via email. Passes are now available to be booked for 2023 via: https://commemorations.teg.com.au/ gallipoli/
Arrival Transfers
On all our ANZAC Day tours, we include an airport arrival transfer on DAY 1 of your tour from Istanbul International Airport at any time of day or night (00:01 - 23:59 hours) or from Sabiha Gokcen International Airport at 11am and 3pm. Transfers are not private so you may need to wait for other On The Go travellers arriving at the same time as you.
Transfers take approx an hour from the airport to the hotel. During peak periods transfers can take up to 2 hours.
As you enter the arrivals hall, turn left and look out for an On The Go Tours representative who will be displaying a sign or sheet of paper with our logo.
As noted, transfers are available on Day 1 of your tour or if pre tour accommodation is booked with On The Go - transfers run anytime of day from Ataturk Airport and at 11am and 3pm from Sabiha Gokcen Airport. If you are not arriving on Day 1 or booking pre tour accommodation you will need to make your own way to your hotel, and later to our tour start hotel at your own expense.
Essential Packing
ANZAC Cove can get particularly chilly in the evening, especially if the wind is blowing in from the sea. You are best to carry a small day pack into the Cove with everything you need for the evening and leave your main luggage at the hotel in Gallipoli. We recommend that you pack the following in a small bag if spending the night at the Dawn Service:
Warm clothes that include a hat/beanie, scarf and gloves
Comfortable walking shoes
Torch or headlamp
Snacks and water
Toilet paper and wet wipes
Camera
Sleeping bag that is warm enough for sub-zero temperatures
Consider purchasing a foam cushion for the time you'll spend sitting in the grandstand or on the grass at ANZAC Cove and the National Services. Camping equipment (such as tents etc) is not allowed, nor is alcohol. Security checks are made on all bags entering the site.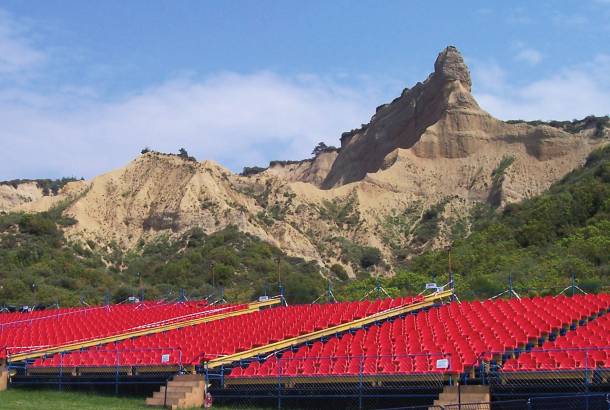 Seating
The site for the dawn service is situated south of ANZAC Cove overlooking the Aegean coastline. It has a small grassed area seating approx 1,000 and the remainder of the attendees enjoy views from the tiered grandstand. Although the grandstand can be a little uncomfortable, as dawn breaks the advantage is clear as you enjoy spectacular views across the coast and uninterrupted views as the ceremonies take place.
In conversations with the Department of Veterens Affairs they pointed out that those sitting in the grass area would be required to stand from approximately 03:00 to accommodate the last 1,000 or so entering the site. These people will have had hotel accommodation for the evening and need to arrive to the cove before all-access-roads to the national park are closed at this time. We are advising all On The Go travellers to gather and take up seating on the far right side of the grandstand. So when looking out to sea, this is the grand stand to your right.
After the Dawn Service
As soon as the Dawn Service concludes, start making your way to the Shell Beach turn-off to make the sometimes steep walk up to Lone Pine (Australia). Chunuk Bair (NZ) sits at the top of the service road that Lone Pine sits upon. Chunuk Bair is a further 60-70 mins uphill. You'll only have time to attend one National service, so head to the service for your country and take your place in readiness.
Assisted Mobility
If you require additional assistance to attend the services at Anzac Cove, the Australian Department of Veterans' affairs can offer some assistance to those who require it. An application must be submitted to the Department of Veterans' Affairs for consideration. For more information please contact the DVA by email or phone: [email protected] or +61 (02) 6289 6124.
Security
Security is always high during ANZAC commemoration at Gallipoli. The Turkish government works closely with the Australian and New Zealand governments to ensure that security is tight. Turkish Gendarmes are present in large numbers at the event to keep order, ensure traffic runs smoothly and carry out spot checks on persons and baggage being taken into the site.
Amenities
Vendors located just outside the Dawn Service seating area will be available to sell roadside-style hot food and drink for those that need a snack. The ANZAC Day organising committee also offers tea and coffee free of charge to all visitors throughout the night. There are toilet facilities located nearby and these are generally well-maintained. First Aiders and medical personnel are also available onsite should the need arise.
Time
Turkey is 2 hours ahead of Greenwich Meantime (GMT). From the last Sunday in March to the last Sunday in October, Turkey observes Daylight Saving and is 3 hours ahead of GMT.
Money
The official currency in Turkey is the Turkish Lira. Check OANDA for the latest exchange rates.
Euro, British Pounds, US Dollars and other major currencies can be exchanged locally or in advance of departure. Istanbul Airport offers speedy currency exchange facilities adjacent to the baggage hall. Additionally, exchange facilities are available at various bureau de changes and banks in major towns have ATMs. It's advisable to request bank notes in smaller denominations, as it can sometimes be hard to get change from large notes and smaller notes are handy for smaller purchases and gratuities.
Traveller's Cheques are not recommended as they're often difficult to exchange and incur high fees.
Voltage
Standard voltage in Tureky is 230 - 240 volts. Primary sockets generally require the 3 round-pin variety, similar though not identical to European sockets. We recommend that you pack a universal travel adaptor. You will need a voltage converter and plug adaptor in order to use U.S. appliances.
It's also a good idea to take a portable power pack with you for the ANZAC day of services as you'll be out for a long time with no access to electrical points. This will mean you have an emergency supply of power should your phone or camera run out of batteries during the day.
Food
Turkish food is famous throughout the world. Look forward to meze comprising houmous and other dips, dolma (stuffed vine leaves), cheese cigars, the ubiquitous doner kebab and pide - a kind of pizza. Exotic freshly squeezed juices, nuts and fruit are available everywhere. If you feel like a java jolt, try Turkish coffee - rich, dark and often laced with cardamom.
More particularly on our ANZAC packages, we tend to make lunch/refreshment stops (at your own expense) at the popular gas station restaurants. Our reasons for doing this are numerous: the well-prepared food (generally a serviced buffet) offers a wide variety of tasty Turkish staples, bread and a drink for a cheap price. There are plenty of tables to accommodate our group, the service is quick and allows us to have our fill and resume touring. In addition, the rest rooms at the majority of these establishments are clean and offer Western WCs as opposed to Asian 'squat-style' WCs.
Dinner (where included) tends to be smorgasbord-style. A wide range of hot and cold dishes are offered on a 'serve yourself' basis. We feel a smorgasbord selection is the best way to cater towards a variety of tastes.
Shopping
Turkey is a virtual Aladdin's Cave. The Grand Bazaar in Istanbul is cavernous and full of unusual and everyday objects. Known locally as Kapali Çarsi – the Grand Bazaar in Istanbul's Old City is a massive conglomeration of shops (some 4000) divided into areas specialising in gold, carpets, leather, souvenirs and clothing. Turkish handicrafts include a rich variety of textiles and embroideries, articles of copper, onyx and tile, mother-of-pearl, inlaid articles, leather and suede products. Jewellery, carpets and kilims represent top buys at the bazaar.
Opening hours: Mon - Saturday 0900 – 1900hrs (closed Sunday).
The Egyptian Spice Bazaar at Eminonu near Istanbul is an easy continuance from the Grand Bazaar or good start point before heading onto the cavernous Grand Bazaar. Here, you can buy a dizzying array of spices at a fraction of the cost you'd expect to pay back home. Pine Kernels, peppercorns, real Iranian saffron and other precious commodities are hawkered here at knockdown prices! Real Turkish delight is available by the tonne as well. Why not the milk-based Turkish delight studded with pistachios!
Opening hours: 0900 – 1900hrs Monday – Sunday.
Markets and bazaars abound in other towns, too. During your stay in Turkey, you may visit a leather manufacturer and emporium. Although the quality of some of the jackets and clothing at these places is outstanding, the initially quoted prices can also be rather outstanding. If you do fancy a particular item, it does pay to haggle, even if you are in the confines of what looks to be a smart emporium/showroom.
Tourist Site Closures
Popular sightseeing spots in Istanbul are closed on specific days. Please plan your visit accordingly.
Hagia Sofia - Closed Mondays
Topkapi Palace - Closed Tuesday
Blue Mosque - Closed during all prayer times
Spice Bazaar and Grand Bazaar closed 23 April, 01 May and 19 May.
Travelling with Children
On our ANZAC Day Tours we welcome young adults 16 years or older, accompanied by a parent or guardian.