Costa Rica Tours & Package Trips
A pristine natural environment, and plenty of cultural attractions to enjoy. Discover the wonders of Costa Rica with our group tour packages. Book today!
The tiny Central American nation of Costa Rica is probably the star of the region. It's a peaceful and staggeringly beautiful oasis located along the narrowest strip of Central America. Bordered by the Caribbean Sea and the Pacific Ocean, the country boasts idyllic white-sand beaches with world-class surf waves and a diversity of marine life.
Costa Rica is one of the most biologically diverse places on Earth, and it is an environmental champion that many countries could look to. Costa Rica has protected and expanded its forests, and renewable energy provides more than 99.5% of the country's power!
Landscapes vary from smouldering volcanoes and lofty mountains to lush cloud forests and marshy lowlands, home to a rich variety of flora and fauna. We offer a selection of group itineraries in Costa Rica, to help you discover this incredible nation and its neighbours, such as Guatemala, Nicaragua and Belize.
Costa Rica Group Tours
Uncover the highlights of Costa Rica for yourself with our group tours. Taking in the lush Monteverde Cloud Forest, the capital of San Jose, the mangroves of Tortuguero National Park and much more. Our Costa Rica tours also take in the country's neighbours, including Nicaragua, Guatemala and Belize. Staying in a mix of 3-4 star hotels and escorted by a tour guide, these trips are a great way to discover Costa Rica for yourself!
Explore more countries like Costa Rica
Frequently asked questions about our tours & trips in Costa Rica
What is the best time of year to visit Costa Rica?
Costa Rica is a small country, but its isolated position between the Atlantic and Pacific oceans means that it has a diverse and sometimes unpredictable climate. Typically, December - April offers the best weather on the Pacific coast, with Caribbean Sea sunseekers best to head to the country from March - September. There is more information about when to visit in our Travel Guide.
Will I be escorted by a tour guide in Costa Rica?
You sure will! All of our Central America and Costa Rica tours are fully escorted by a qualified tour leader. They will be on hand every step of the way to ensure the tour runs smoothly. You will also enjoy the services of local guides for sightseeing at some attractions.
How big are your tour groups in Costa Rica and what is the age of your travellers?
Our tours in Costa Rica depart with a minimum of 4 passengers, and the maximum group size on these trips is 20. The average age of our travellers in Central America is around 50, but we also take people on tour in their 20s and 30s, right up to their 70s and beyond. If you have a reasonable level of fitness, a passion for travel and want to uncover the highlights of Central America, you've come to the right place!
What is the standard of accommodation on your Costa Rica trips?
In Costa Rica and the rest of Central America, we make use of well-located 3-4 star hotels with plenty of amenities. Some hotels offer swimming pools and all serve a delicious daily breakfast.
What sort of transport do you use in Costa Rica?
Our Costa Rica package tours travel across Central America using private, air-conditioned vehicles. We make limited use of public transport too, for example a bus ride in Panama is included on some tours.
What is the currency in Costa Rica?
The currency of Costa Rica is the Costa Rican Colon (CRC). Check
OANDA
for current exchange rates.
Is Costa Rica a safe destination for travellers from the LGBTQ+ community?
According to the
2023 LGBTQ+ Travel Safety Index
, Costa Rica scores a B rating for LGBTQ+ traveller safety, ranking 31st out of 203 countries.
The country legalized same sex marriage in 2020 and there are some constitutional and worker protections in place for people of all sexual orientations. Hate crimes against members of the LGBTQ+ community are criminalized and 51 - 75% of consulted citizens consider Costa Rica a good place to live for gay and lesbian people. There are no legal punishments for same sex relations and most trips for LGBTQ+ travellers to Costa Rica are trouble-free.
The LGBTQ+ Travel Safety Index is designed to provide a good overall picture of attitudes towards the LGBTQ+ community in each country and may not reflect the experience of foreign travellers to the country.
Can I drink the tap water?
This may come as a surprise, but yes! The tap water in the majority of Costa Rica is safe to drink, including the capital of San Jose. This means you can bring a re-usable water bottle on tour with you, helping to save you money and reduce your environmental footprint.

When travelling in more rural parts of the country, we would recommend sticking to bottled water instead, just to be on the safe side and to prevent stomach upsets.
As a solo traveller will I have to pay more for my Costa Rica package?
On our Costa Rica trips, we are able to match up solo travellers with another traveller of the same sex, so you don't need to pay a single supplement. If there is not a solo traveller of the same sex for you to share with, you will be given a single room to yourself at no extra cost. Please contact us if you would like to take up the room share option.

If you are a solo traveller who would prefer to guarantee the privacy of your own room then you can choose to pay the single supplement, the price of which is listed on each tour page.
What is the current travel advice for Costa Rica?
As a UK-based company, we follow the latest up to date advice from the Foreign and Commonwealth Office (FCDO). You can see the latest travel advice for your Costa Rica trip
here.
The Best of Costa Rica
For a small country, Costa Rica really packs a punch! These are the highlights of our Costa Rica trips, from the lofty Monteverde Cloud Forest to the turtle-strewn beaches of Tortuguero National Park.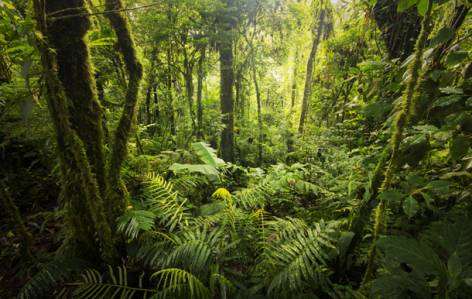 Monteverde Cloud Forest
Encompassing 26,000 acres of pristine cloud forest, the Monteverde Reserve is home to a diverse range of species including the resplendent quetzal, howler monkeys and sloths, alongside some 2,500 different plant species. It's also a fantastic example of sustainable tourism with income from entrance fees directed back into educative, preservation and research programs.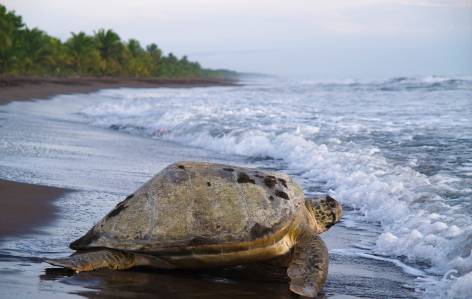 Tortuguero National Park
Situated in the northeast of the country on the Caribbean coast, Tortuguero National Park is famous for the numerous turtles that come to its stunning beaches to nest. Giant leatherback, hawksbill, loggerhead and the endangered green turtles all come here during the nesting season from July to October with 22 miles of beach protected for this very reason.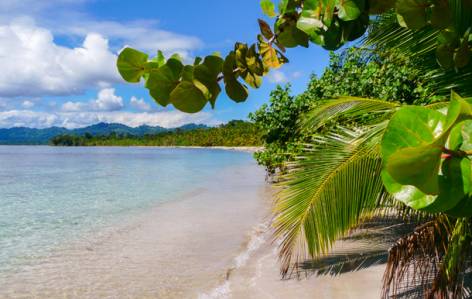 Cahuita National Park
Founded in 1970 to protect the coral reef that runs alongside the coast, Cahuita National Park is home to plenty of wildlife on land, as well as in its waters. Swamp, rainforest and woodland all thrive within its boundaries, supporting a rich diversity of life. Hiking trails wind their way around the reserve and the palm-fringed beaches of Cahuita itself are hardly a bad place to rest up after a hike!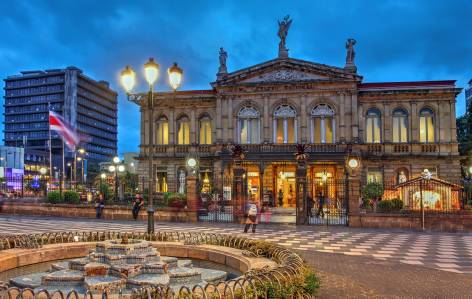 San Jose
Arriving at Juan Santamaria Airport in San Jose, it can be tempting to dash straight for the nearest rainforest to start discovering Costa Rica's incredible natural heritage! But a day or two spent exploring the country's capital is time well spent. The city is Costa Rica's cultural hub, with plenty of museums to explore, and beautiful plazas in which to enjoy a coffee or a meal and learn more about this fascinating country.