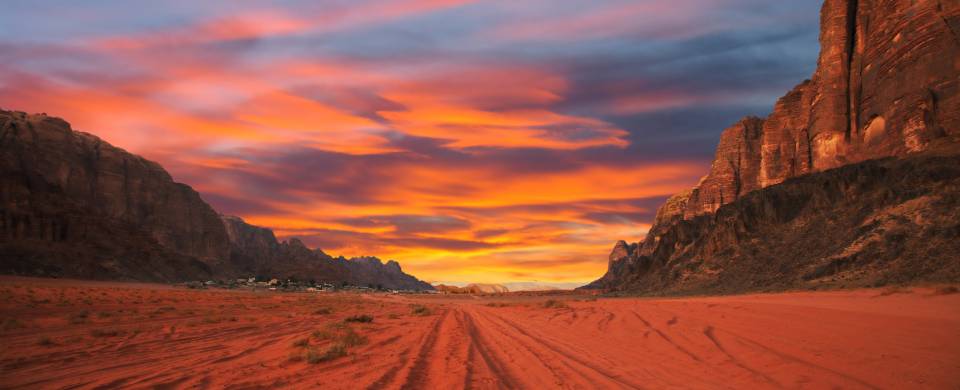 Trips and Tours to Wadi Rum
About Wadi Rum
With a vast, silent landscape of ancient riverbeds, pastel coloured stretches of sandy desert and amazing rock formations known as jebels, the desertscape of Wadi Rum encompasses some of the most stunning scenery in all of Jordan. Wadi Rum possesses unspoiled natural beauty forged by millions of years of geological formation, erosion and evolution. Split by networks of canyons and ravines, spanned by naturally formed rock bridges and watered by hidden springs, the jebels (essentially mountains) offer awesome opportunities for scrambling, rock climbing and trekking. Optional excursions aboard 4x4 vehicles allow visitors to view the surrounding scenery up-close.
Read More
Although arid and essentially a desert, the Rum is far from depopulated. Indeed, the region is home to the semi-nomadic Bedouin who live in great goat hair tents, tending their herds of sheep and goat and preserving an ancient lifestyle. British soldier T.E. Lawrence, renowned especially for his liaison role during the Arab Revolt of 1916-18 and whose vivid personality and writings made him the object of fascination throughout the world, waxed lyrical about the Rum area, describing it as 'vast, echoing and godlike'.
Much of the epic 'Lawrence of Arabia' starring Peter O'Toole was filmed here in the early 1960s, prompting afterwards the arrival of tourism to Jordan which has continued with the recent release of 'The Martian' starring Matt Damon. The otherworldly vistas of Wadi Rum and the burnt red sands lends itself perfectly to the role of Mars without the unfathomable distances involved.