Poland Trips & Package Tours
Poland Group Tours & Trips
Our Poland trips take in the best of the destination, from Warsaw to Krakow and Gdansk. Our longer group tour also visits the Baltic countries of Lithuania, Latvia and Estonia. An escorted tour with us also means 4-star accommodation and plenty of guided sightseeing, daily breakfast and airport transfers, plus all of your internal transportation.
Experience Poland's historic cities, culture, and natural beauty while making new friends with our group tours.
Hovering between central and eastern Europe is Poland. Home to the charming medieval city of Krakow and wonderful Warsaw. Travellers here can gaze out over the magnificent Masurian Lake District. Spot bison in the Bialowieza Forest. Breathe in the fresh air and discover natural beauty of this remarkable country.
Steeped in World War II history. Home to fascinating medieval cities. Graced with sensational natural beauty. Rugged mountain peaks, pristine lakes, wooded hills, and unspoiled countryside make an outdoor lover's paradise.
Our Poland tours take you to the heart of the country. With a great mix of guided sightseeing and free time to explore independently, you'll be able to really get the most from your destination. Whether it's historic Warsaw, beautiful Krakow, or the Baltic port city of Gdansk, Poland is just waiting to be explored! Check out our Poland tour packages below.
Explore more countries like Poland
Frequently asked questions about our Poland packages
Will I explore Warsaw on your Poland trips?
Yes. Both of our Poland tours spend two nights in Warsaw and include a guided sightseeing tour to highlights including the Old Town, which was rebuilt after almost complete destruction during World War II. Our tours also include guided sightseeing in Krakow, Bialowieza National Park, Gdansk and more.
How big are the groups on these tours?
The maximum group size on our Poland tours is 31 travellers, but the average is closer to 20, particularly if travelling outside of the peak months.
When is the best time to visit Poland?
Peak season for visiting Poland is during the warmer summer months of June - August, and in December when the country's famous Christmas markets spring into life. For good weather and fewer crowds, the shoulder seasons of March - April and September - October are also a good time for a Poland adventure.
What standard of accommodation is included in your Poland packages?
On our Poland trips, accommodation is in well-located 4-star hotels with plenty of amenities. You can see information regarding the hotels we typically use on the relevant tour page for each of our holidays.
Will I have a tour guide on my Poland tour?
Our Poland trips are fully-escorted by an English-speaking bi-lingual tour leader who will be on hand throughout the trip to make sure everything runs smoothly. You will also enjoy the services of specialist local guides for all included sightseeing in Poland.
Is Poland a safe destination for travellers from the LGBTQ+ community?
According to the 2022 LGBTQ+ Travel Safety Index, Poland scores a D+ rating for LGBTQ+ traveller safety, ranking 81st out of 203 countries.

Same sex marriage is not legal, but there are some legal protections for workers based on their sexual orientation, and 26 – 50% of consulted citizens consider Poland a good place to live for gay and lesbian people. There are no legal punishments for same sex relations and most trips for LGBTQ+ travellers to Poland are trouble-free.

The LGBTQ+ Travel Safety Index is designed to provide a good overall picture of attitudes towards the LGBTQ+ community in each country and may not reflect the experience of foreign travellers to the country.
Can I drink the tap water?
Yes, the tap water in Poland is safe to drink. We recommend bringing a reusable water bottle with you when you visit Poland. This will save you money and is also good for the environment, reducing the plastic footprint of your trip.
What is the currency in Poland?
Poland has been a member of the European Union since 2004, but it is not currently a member of the Eurozone. The currency of Poland is the Polish Zloty. Check OANDA for the latest exchange rates.
What is the current travel advice for Poland?
As a UK-based tour operator, we follow the travel advice of the Foreign and Commonwealth Office (FCDO). You can see the most up to date advice for Poland travel here.
TAKE IN THE BALTICS
If you'd like to combine this pat of Central Europe with less-visited Eastern Europe then our Poland and Baltic Discovery 13-day tour also takes in the charming Baltic countries of Lithuania, Latvia and Estonia!

From the jaw-dropping Hill of Crosses in Siauliai to the up-and-coming Estonian capital of Tallinn, why visit one country in Eastern Europe, when you can take in four?
The Best of Poland
Are you heading to Poland? Here are a couple of places you definitely won't want to miss on your trip, from Warsaw to Krakow! If you'd like more information about one of our Poland packages then don't hesitate to get in touch with our team!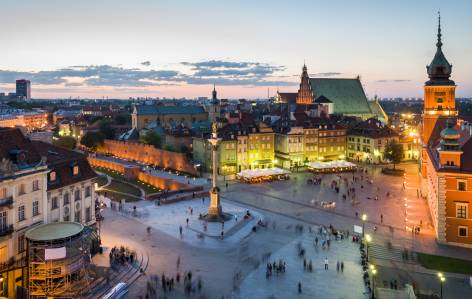 Warsaw
An enchanting mix of the old and the new, Warsaw had to be virtually rebuilt after the Second World War, having been razed to the ground during years of fighting. A mix of surviving original architecture, Soviet-era Communist blocks and modern high-rises, it's an amazing place to explore. The Old Town is the place to start, and there are two beautiful green parks to visit too.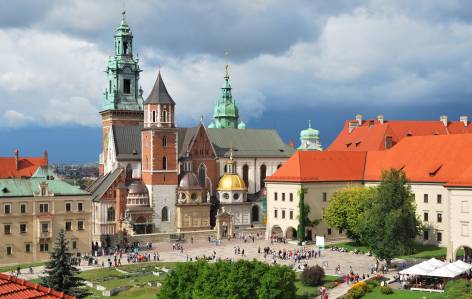 Krakow
Spared significant damage during WWII, Krakow's medieval Old Town is well-preserved and listed as a UNESCO World Heritage Site. Visitors to the city will want to start in Rynek Glowny, Krakow's main square and the largest square in Europe. Auschwitz Birkenau concentration camp is just an hour away by road, a sobering but worthwhile visit to remember the horrors of the conflict in which 6 million Polish citizens were killed.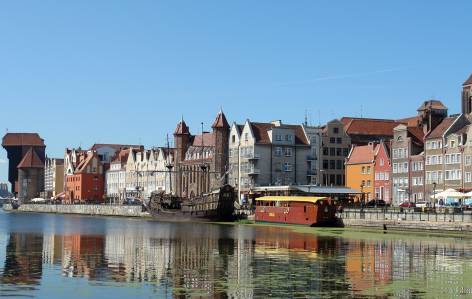 Gdansk
Located on the Baltic coast, Gdansk is one of Poland's prettiest cities. The Motlawa River flows through the heart of Gdansk and first-time visitors should walk along the Royal Way path, which winds through the city and alongside the river. An architectural highlight is the Gothic St Mary's Church which has the capacity to hold 25,000 worshippers.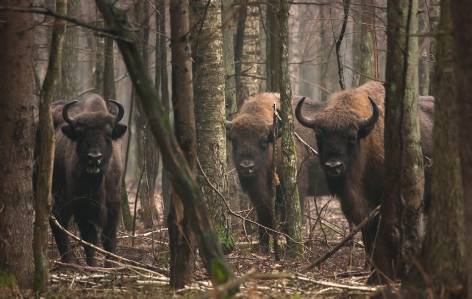 Białowieza National Park
The primeval Bialowieza Forest is one of Europe's last great wildernesses, located on the border between Poland and Belarus. This forest once stretched across the majority of Europe and it is now the surviving stronghold of the European bison, a species once hunted to the brink of extinction but now making a comeback alongside beavers, lynx and other European species.