Experience the awe-inspiring 7-days Inca Trail trek to Machu Picchu, a 42 km trek that traverses diverse Andean landscapes, including cloud forests and alpine tundra. Explore ancient Inca ruins like Winay Wayña and Phuyupatamarca amidst rich biodiversity, boasting orchids, foxes, Peru's national bird, the spectacled bear. Trek to the majestic Machu Picchu, its breath-taking architecture and mountainous backdrop create an indescribable beauty.
Trip Highlights
Cusco – Discover the highlights of the Spanish captivating capital of the Inca Empire at leisure.
Machu Picchu – Trek the spectacular Inca citadel, marvel at the legendary Lost City of the Incas
Winay Wayna and Phuyupatamarca- Explore ancient Inca ruins and its rich biodiversity
Inca Trail - Hike through some of the most stunning scenery of Peru.
Included
5 breakfasts, 3 lunch and 3 dinner
Airport transfers on day 1 and day 7
A chef trained for cooking on trekking routes and an assistant cook
Entrance ticket and guided tours of the Inca Trail & Machu Picchu
3 Nights in a standard hotel and 3 nights Inca trail camp.
Escorted by an English-speaking local tour leader
Expedition train: Aguas Calientes to Ollantaytambo
Not Included
International flights and visas
Sleeping bag and walking stick
Tipping - refer to the Tipping paragraph in the Trip Notes for further information
Evacuation: in the event of a serious medical injury, we will coordinate with your travel insurance company to arrange evacuation.
Upon our arrival in Cusco, you'll be transferred to our hotel. The day allows for exploration of Cusco, the historic capital of the Inca Empire nestled in the breath-taking Andes Mountains. With the unique blend of Spanish colonial architecture alongside remnants of the Inca civilization. Visit the vibrant San Pedro market offering an array of goods, from traditional handicrafts to fresh produce, local juices, and items used in traditional Andean ceremonies.
Overnight: Cusco
After our breakfast, the day is free for you to explore Cusco at you own pace. Known as the heart of the Inca Empire and holding the title of the foremost archaeological capital in the Americas, it's also the oldest inhabited city on the continent. There's an array of optional activities available to book and pay locally, from visiting local archaeological sites such as Saqsaywaman, Tambomachay, and Qenqo, to engaging in a hands-on Peruvian cooking or chocolate making class.
Overnight: Cusco | Breakfast
The Sacred Valley and Lares
Today starts early as we depart from our hotel and head to Calca, a small town in the Sacred Valley. Our route to Lares, lasting about three hours, passes through scenic landscapes, including the highest point at 4,265 meters above sea level, showcasing the picturesque Sawasiray and Pitusiray mountains. The region is known for its alpacas, before descending into the Lares Valley and arriving in the village of Lares.

Setting off from Lares after lunch, we hike towards Huacawasi, a charming town situated at around 3,600 meters above sea level, taking approximately four to five hours. Here, we dine and camp for the night, surrounded by adobe houses and grazing llamas. Huacawasi, known for its traditional weaving.
Overnight: Huacawasi Campsite | Lunch, Dinner
Apex of Lares Trek
Leaving our campsite early we begin with a strenuous uphill climb towards a mountain pass at approximately 4,500 meters above sea level, the highest point in our Lares journey. The panoramic view from this vantage point is breath-taking, offering a stunning vista of the surrounding mountains and the picturesque Aruraycocha Lake below.

Descending toward the lake, we stop to admire its crystal-clear glacial waters before journeying through the Mantanay conservation area. After lunch, our trek continues downhill until we reach Mantanay village, our second campsite nestled at around 3,800 meters. In Mantanay, a delightful dinner awaits, and we settle in for the night, cherishing the cultural experience offered by this unique setting.
Overnight: Mantanay | Breakfast, Lunch, Dinner
Trek to the Phuyupatamarca
After breakfast, we'll embark on a moderate uphill trek to the Phuyupatamarca archaeological site, sitting at around 3,680 meters. This Inca ruin offers terraced slopes and stone baths with stunning views of distant snow-capped peaks like Salkantay and Veronica. Then, we'll traverse over 1,000 Inca steps, leading us through the cloud forest to the lesser-known but remarkable Intipata agricultural site, showcasing impressive terraces.

Continuing our journey, we'll reach our third campsite at Winay Wayna (2,680 meters) after a 4 to 5-hour trek. After lunch and a brief rest, we'll explore the Winay Wayna ruins, featuring remarkable agricultural terraces, Inca buildings, and a series of baths.
Overnight: Winay Wayna | Breakfast, Lunch, Dinner
After breakfast we set off early at 4:30 a.m. on the final trail section. After walking about 1.5 hours, we'll reach Intipunku (the "Sun Gate") before sunrise at Machu Picchu, witnessing the sun gradually illuminating the landscape, unveiling our first view of this ancient site. Following a short walk to Machu Picchu, our guides will lead a comprehensive two-hour tour, visiting notable spots like the House of the Guardian, Intihuatana, Temple of the Sun, Sacred Plaza, and other significant locations, offering stunning views of the terraces and surrounding mountains.

With enough time spend at Macchu Picchu, we'll head down to Aguas Calientes, the town below Machu Picchu. After lunch in Aguas Calientes, we board the train back to Poroy and travel to Cusco for our final night.
Overnight: Cusco | Breakfast
Today your incredible trek adventure comes to an end and you'll be transferred to the airport.
Breakfast
The hotels listed below are ones which we frequently use on this tour. We reserve the right to substitute these hotels to ones of a similar standard.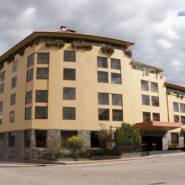 Jose Antonio Hotel, Cusco
The recently built Jose Antonio Cusco Hotel is the ideal blend of modern architecture and fine colonial details. The comfortable guestrooms are a welcoming palette of neutral and earthy tones with excellent amenities. Discover Andean and Peruvian cuisine at the El Rejo restaurant or sip on a flavoursome cocktail at the spacious El Molino bar. The hotel also boasts its own Jacuzzi and sauna, perfect for a soak after a long day of sightseeing.
At a Glance
Range
Starts
Cusco
Ends
Cusco
Hotel Rating
Standard Hotel & Campsite
Tour Guide
0
Meals
Breakfast: 5, Lunch: 3, Dinner: 3
Minimum Age
15 yrs, accompanied by an adult
Arr. Transfer
Yes
Dep. Transfer
Yes
OTG002790
Inca Trail trek to Machu Picchu - 7 days
South America
South America
false
https://www.onthegotours.com/nz/Peru/Inca-Trail-Trek-To-Machu-Picchu-7-Days
https://www.onthegotours.com/repository/Machu-Picchu-Sunset--Peru--On-The-Go-Tours-768911576081044_crop_flip_300_300_f2f2f2_center-center.jpg