Switzerland Tours & Package Trips
Switzerland is Europe's scenic gem. Jagged mountain peaks, clear blue lakes, and lush green valleys abound.
Landlocked Switzerland is located in central Europe, a popular skiing destination thanks to its high altitude and numerous mountain peaks. The Alps mountain range makes up 60% of the country's land area, meaning travellers are never far from incredible scenery.
Our Switzerland group tours combine this mountainous European nation with neighbouring Italy. Escorted by an expert guide and with a mix of included sightseeing and free time, this means you can combine the Matterhorn, St Moritz and Interlaken with Italian highlights including Milan, Lake Como, Cinque Terre and Florence.
Enquire about our Switzerland tours today, and start planning your alpine adventure!
Switzerland Group Tours
Taking in the best of Switzerland and Italy, these tours uncover highlights including St Moritz, the Matterhorn, Lausanne and Interlaken. There are train rides on the famous Bernina Express and free time to explore pretty alpine towns and admire the picturesque scenery of the region. We offer some small group tours in Switzerland and some larger group coach tours, but all are fully escorted by expert guides to help you get the most from your time in Switzerland.
Explore more countries like Switzerland
Frequently asked questions about our tours & package trips to Switzerland
Do you have any tours that only visit Switzerland?
At this time, all of our Switzerland trips combine the country with neighbouring Italy. We find many travellers from outside of Europe like to combine several countries in one trip. However, we will be looking to add standalone Switzerland tours to our portfolio in future, so watch this space!
What is the pace of these Switzerland trips like?
Our Switzerland tours are quite fast-moving. You will see lots of different places but we often visit two or three destinations in a day, stopping for a couple of hours at a time. There is plenty of free time in which to further sightsee independently, and some included sightseeing and experiences.

If it is your first time visiting Switzerland and you want to experience as much of the country as possible, then these tours are a great option.
When is the best time to visit Switzerland?
Our cultural Swiss sightseeing tours run in the warmer months, from April - November. This is when Switzerland is at its most beautiful, with crisp, clear alpine weather, lakes and waterfalls swelled by snowmelt and firm ground, perfect for hiking. For a skiing holiday, Switzerland is best visited in the winter months, from November to around March.
What transport do you use in Switzerland?
We offer two different types of tour in Switzerland. Most of our trips are small group tours, with a maximum group size of just 16 - these tours travel in a luxury minibus. Our Milan, Lakes & the Alps by Train trip is a coach tour, with a larger group of up to 25.

In Switzerland we also include train rides on our tours. On some tours you will ride the scenic Bernina Express railway to St Moritz, and on others you will take the train from Tasch to Zermatt for views of the mighty Matterhorn. All relevant train tickets are included in your tour package.
How big are the groups on your Switzerland trips?
The maximum group size on our Milan, Lakes & the Alps by Train tour is 25, whilst our other Switzerland tours have an even smaller maximum group size of just 16.
Will I be escorted by a tour guide?
Yes - in Switzerland we offer escorted tours. Your English-speaking tour leader will travel with you and will act as the tour guide for your trip. When exploring destinations during free time, you will be given an allocated meeting point to re-join the guide at the vehicle.
Is Switzerland a safe destination for travellers from the LGBTQ+ community?
According to the 2023 LGBTQ+ Travel Safety Index, Switzerland scores an A- rating for LGBTQ+ traveller safety, ranking 13th out of 203 countries.

Same sex marriage was legalized in 2022, and there are worker and constitutional protections in place for people of all sexual orientations. 76 - 100% of consulted citizens consider Switzerland a good place to live for gay and lesbian people. There are no legal punishments for same sex relations and most trips for LGBTQ+ travellers to Switzerland are trouble-free.

The LGBTQ+ Travel Safety Index is designed to provide a good overall picture of attitudes towards the LGBTQ+ community in each country and may not reflect the experience of foreign travellers to the country.
Can I drink the tap water in Switzerland?
Thanks to its network of crisp alpine rivers and streams, and its high snowfall, Switzerland has some of the highest quality tap water of any country in the world, and the tap water is perfectly safe to drink throughout the country. We recommend bringing a re-usable water bottle on tour with you. This will save you money and reduce your plastic footprint, helping to protect Switzerland's fragile environment.
What is the current travel advice for Switzerland?
As a UK-based company, we follow the latest up to date advice from the UK Foreign and Commonwealth Office (FCDO). You can see the latest travel advice for Switzerland here.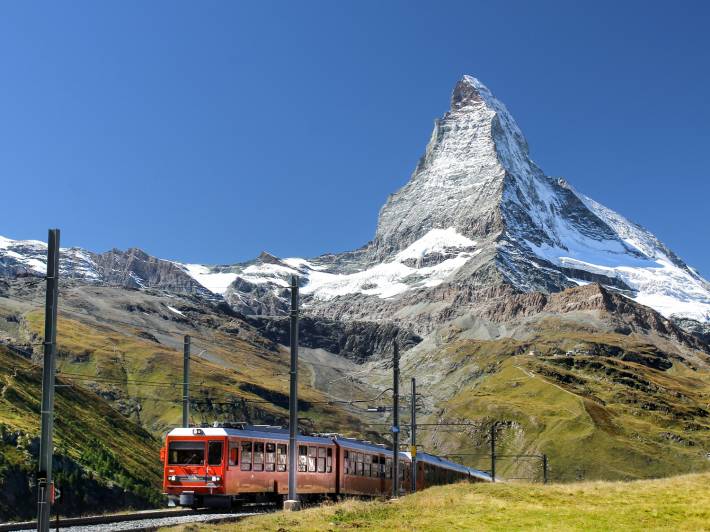 The near-symmetrical pyramidal peak of the Matterhorn makes it one of the most famous mountains in the Alps. Rising to nearly 4,500-metres, it is one of Europe's most impressive natural landmarks, located on the border between Italy and Switzerland. On our 6-day Lake Como & the Swiss Alps group tour, you will take the train to Zermatt for panoramic views of this stunning peak.

Find out more... →
The Best of our Switzerland Trips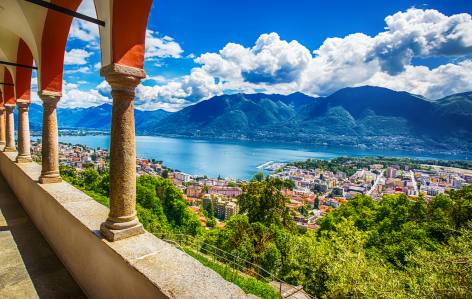 Locarno
Near the Italian border and offering sweeping views of Lake Maggiore, Locarno is the perfect place to while away a day or two in Switzerland. Take a summer boat trip on the lake, or explore the charming piazzas of the historic Old Town. The medieval Castello Visconteo castle is well worth visiting and on the Brissago islands in the lake, travellers will find a welcoming botanical garden.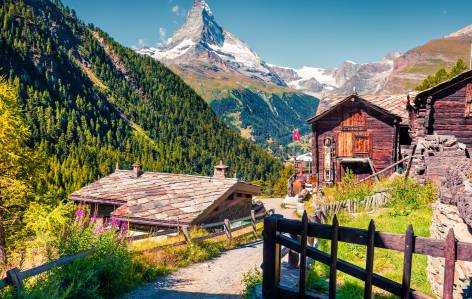 Zermatt
Renowned for its proximity to the Matterhorn, Zermatt is the place to head for incredible views of this famous peak. A ski resort in the winter months, in summer Zermatt becomes a great place for hiking and relaxation, with cars (apart from electric taxis) banned from the town. Find a local restaurant to sample cheesy raclette and enjoy a warming drink.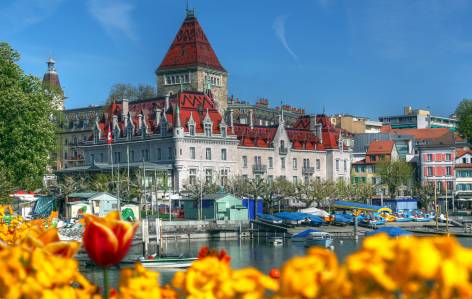 Lausanne
Home to the International Olympic Committee, Lausanne is a great place to learn more about the history of the games, the Olympic Museum being one of the city's main attractions. Located on the northern shore of Lake Geneva, you're never far from a waterside view, and the long promenade is a great place to find a bar or restaurant in which to dine.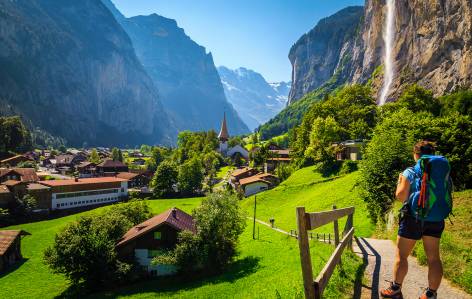 Lauterbrunnen
Like a scene straight from The Sound of Music, Lauterbrunnen is a tiny village located in a steep valley, home to tumbling waterfalls, snow-capped peaks, hiking trails and cable cars. It's one of the best places in Switzerland to connect with nature, so we recommend you strike out and explore, breathing in the fresh mountain air as you go!