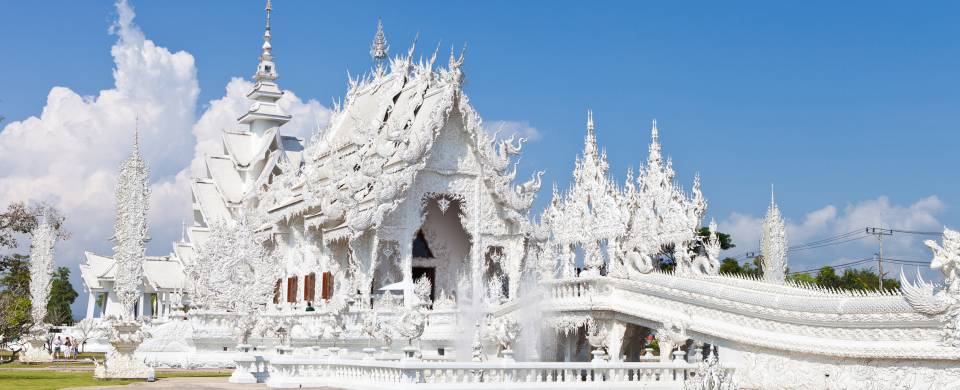 Trips and Tours to Chiang Rai
About Chiang Rai
Located in the highlands of northern Thailand overlooking the Kok River, Chiang Rai is home to beautiful wilderness, colourful hill tribes, exotic wildlife and an abundance of trekking routes. The city centre is small enough to wander around and take in the sights by foot, and despite its small size offers a surprising wealth of attractions, good choice of accommodation and delicious food.
Read More
The historic Wat Phra Kaew is the city's most important temple, the original home of the Emerald Buddha that now resides in Bangkok. Within the temple complex is a collection of artifacts from the Lanna kingdom that ruled parts of northern Thailand from the 13th to the 18th centuries. Chiang Rai is also home to the unconventional White Temple, or Wat Rong Khun as it's known in Thailand. Construction began in 1997 and with nine buildings planned on the site, likely to continue until 2070. What distinguishes the White Temple from other temples is that faces from popular Western culture are combined with traditional Buddhist iconography - here you'll find Michael Jackson and scenes from the Matrix interspersed with murals of Naga serpents and stories of good and evil. There is also an excellent Hilltribe Education Centre, where trekking enthusiasts can find valuable information about the surrounding wilderness.
Outside of the centre, the Chiang Rai province itself is beautiful. This area, more commonly known as the Golden Triangle, is historically synonymous with the opium and heroin trades, and where Burma, Laos and Thailand all meet. Superb vistas abound, as well as the historical towns of Chiang Saen – one of the oldest in Thailand with a lovely setting on the banks of the Mekong and Mae Sai, the northern most Thai town, on the Burmese border.