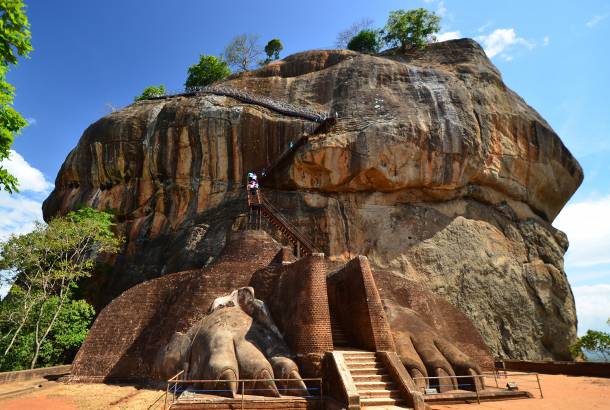 Planning a trip to Sri Lanka and in need of a little pre-travel advice? Want to know what delicious food to expect and what to look out for at the markets? Look no further than our Top Travel Tips with plenty of useful information on topics ranging from currency to WiFi and bargaining.
What vaccinations do I need for Sri Lanka?
You should seek medical advice from your local health practitioner before travelling to Sri Lanka and ensure that you receive all of the appropriate vaccinations. As a guide Tetanus, Polio, Hepatitis A, Hepatitis B and Typhoid are strongly recommended.
Do I need anti-malaria tablets for Sri Lanka?
There is a low risk of malaria in Sri Lanka but check with your local health practitioner before travelling to see if anti-malarials are required. Regardless, it is important to avoid mosquito bites as much as possible. This can be achieved by wearing long sleeves and trousers, sleeping under a mosquito net and wearing an insect repellent that contains at least 50% DEET. For more information on the malaria risk in Sri Lanka visit the
NHS Fit to Travel
page or the
CDC Traveler's Health
page.
Is it safe to drink tap water in Sri Lanka?
As tap water is not safe to drink in Sri Lanka, only drink bottled mineral water, which is readily available in hotels, shops and restaurants. You should also avoid salads, which may be washed in unhygienic water, and ice, which may have been made with it.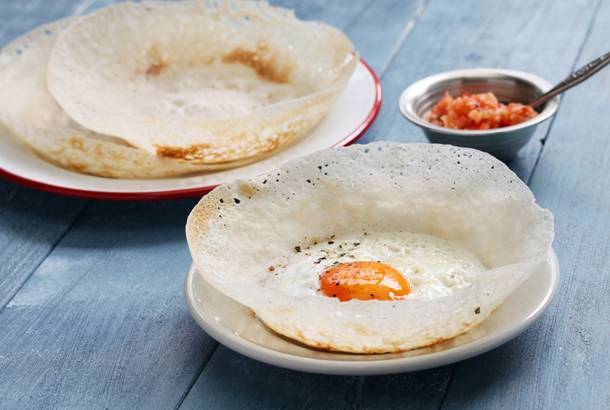 What's the food like in Sri Lanka?
Sri Lanka offers a diverse cuisine full of spice, flavour and colour. The national dish in Sri Lanka is rice and curry, which is so popular that it's not unusual to have it for breakfast! A typical Sri Lankan meal consists of a meat, fish or vegetable curry served alongside side dishes including vegetables, chutneys and sambol. Made of ground coconut, onion, chilli, dried fish and lime, sambol is fiendishly hot.
Excellent seafood can be found along the coast, including local crab, prawns and tuna. Local specialities include appa or hoppers which are small rice-batter pancakes eaten with palm treacle and yogurt. Roti stuffed with fresh chilli, onions and cooked eggs, griddled meats or fish are also popular. Kotu roti is chopped roti with onions, vegetables and meat.
Colonialism left an indelible stamp on the local cuisine. A popular Dutch-Portuguese dish is Lamprais (rice steeped in stock with a special curry), accompanied by frikkadels (meatballs), baked and served in banana leaves.
Sri Lanka grows some of the finest tea in the world for export. Your best chance for a good cuppa is in the hill country, where tea plantations and hotels serve the pick of the locally harvested crop.
Safe eating while travelling in Sri Lanka
The food hygiene standards in Sri Lanka might be different to what you are used to back home so be sure to take care when eating out, especially when it comes to meat and fish, which should be thoroughly cooked through. Avoid anything that might have come into contact with water and anything that looks old or left outside for a long time.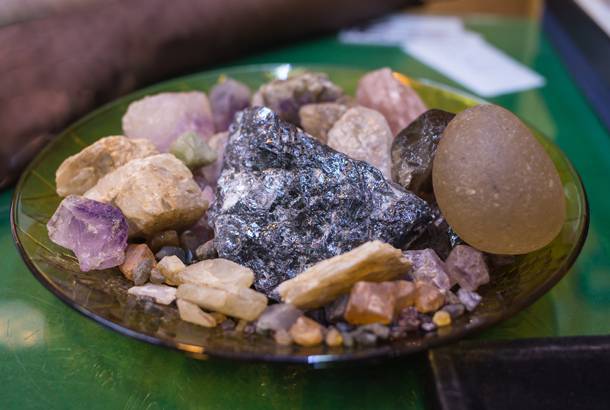 What is good to shop for in Sri Lanka?
Sri Lanka is excellent for gemstones especially sapphires, moon-stones and cats-eye. Other items to look out for include spices, wood carvings and other handicrafts like batik and hand-woven textiles, brassware, handmade lace from Galle and of course tea. Tea varies in quality, so if you're buying in bulk, ask for a tasting.
If seeking modern local chic, Colombo offers a selection of department stores and stylish boutiques. Refrain from buying souvenirs made of coral - which contributes to the destruction of Sri Lanka's reefs, ivory or the hides of animals which may have been obtained illegally and are also illegal to export.
Is bargaining acceptable in Sri Lanka?
Haggling is very much part of everyday life in Sri Lanka and there are very few shops that will have "fixed" prices. Markets, taxis and tuk tuks, hotels and food stalls can all be haggled but it is important to understand when no means no and not to be pushy about prices. If you feel you are being ripped off and a seller refuses to budge on the price then simply walk away. At the same time remember that an extra dollar or two means much more to a Sri Lankan street seller than to a Western holiday-maker.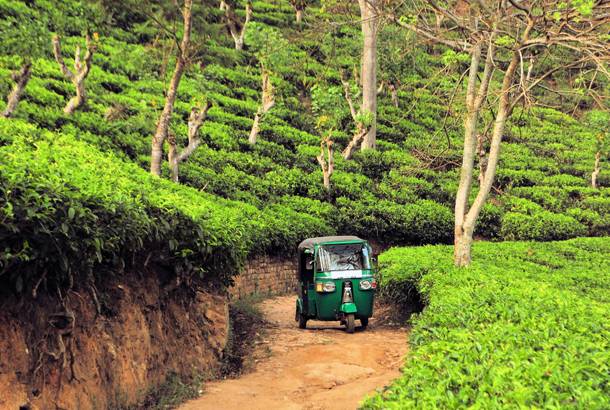 What is the best way of getting around Sri Lanka?
On our Sri Lanka group tours, we generally travel by road. Roads are of a good standard and are well-maintained, though like in many Asian cities, congestion is an issue and traffic can be very slow. Investment in recent years has brought about better roads from Colombo to Kandy, Puttalam and Galle.
Cabs
Taxicabs, identified by their yellow tops and white number plates with red writing, are available in the capital and most towns. Negotiate the price before setting off. Radio cabs such as Ace, Quick and GNTC are more expensive. They have a higher minimum charge, but offer fixed price journeys thanks to the benefit of working digital meters. They're also usually air-conditioned. Radio cabs are available in Colombo and Kandy. In tourist locales, taxis are often in the guise of a minivan, which can carry up to 10 passengers. Ask your tour leader or hotel for a fare estimation.
Auto rickshaw (tuk tuk or bajaj)
Motorised three-wheel rickshaws are available for hire throughout the country. Whilst fun to ride as the rickshaw drivers weave their way through oncoming traffic, the fare for an auto rickshaw ride when compared to that of a cab ride will usually always be more expensive; however, the ride will be fast, efficient and usually a lot of fun! Always negotiate the price you want to pay before setting off. Offering around 50% of the asking price is the general rule of thumb, though you'll always pay more than the going rate for a local! On our Signature group tours, you'll experience a tuk-tuk ride around Kandy, which is quite the amazing experience.
Is it standard to tip in Sri Lanka?
Tipping is generally expected in Sri Lanka but how much you leave depends very much on the context. Restaurants will usually expect around 10% on top of the bill, regardless of what taxes and charges have been added on. If you have hired a private driver or tour guide for the day then a tip of around USD $5-10 per day is a good way of showing your appreciation if their service has been up to scratch. Taxi and tuk tuk drivers won't be expecting a tip but rounding up the fare of leaving some small change certainly won't do any harm.
Is it safe for a single woman to travel in Sri Lanka?
Most women will find that the people of Sri Lanka are warm, welcoming, friendly and helpful and will have very few problems. However, there have been cases of women being harassed, or worse, when walking around alone late at night. If you find yourself alone at night, take a taxi back to somewhere with a crowd rather than walking. Women should also dress conservatively if they want to avoid being stared at or receiving any unwanted attention. This is essential if you want to visit temples as women who are not covered up will not be permitted to enter.
What is the expected etiquette in Sri Lanka?
Despite the inevitable ups and downs of travelling abroad, you will generally be shown great hospitality in Sri Lanka. In return, please demonstrate sensitivity and respect for the local customs. Sri Lanka is a conservative country, so care should be taken to dress respectfully in large cities and towns, for example when at markets or public places.
-Don't try to sneak into temples and mosques that forbid non-Hindus or non-Muslims
-Never touch a carving or statue of a deity within a temple
-Do not touch locals on the head or point the soles of your feet at a person, religious shrine or image of a deity. This is very disrespectful.
-Take care to dress conservatively and ensure that limbs are covered when entering any place of religion. Please also ensure footwear and headwear is removed if entering any Buddhist, Hindu or Muslim place of worship.
-Both ladies and gentlemen will need to dress conservatively and cover all shoulders and knees when visiting any sacred site in Sri Lanka including Dambulla, Kandy Temple of the Tooth, Polonnaruwa and Anuradhapura.
-Ladies should avoid wearing 'clingy, tight or suggestive attire, and stick to cool, flowing cottons in busy city areas and markets. T-shirts are fine.
-Beach attire is fine on beaches, in a resort or by a hotel pool and at tourist sites only.
-Nudity and topless bathing are prohibited. Heavy fines can be imposed.
-Displays of intimacy are not considered suitable in public.
-Ex-military style clothing should not be worn.
-It is polite to ask permission before taking photos of people.
-Use your right hand for giving, taking, eating or shaking hands as the left is considered to be unclean.
-Don't be surprised if you are frequently the centre of attention when travelling around the country. Staring unabashedly is not a social taboo.
-Do carry toilet paper with you (or adjust to the Sri Lankan way of using water instead), but don't throw it down the toilet without first checking to see if there's a basket to put it in (narrow pipes clog easily).
-Don't be surprised to see men defecating or urinating in public when restrooms are not available. Women, in the same circumstance, tend to use cover of darkness and huddle in groups.
-Mosques are open to non-Muslims but cannot be visited during prayer time, particularly noon on Friday.
-Photography is prohibited in certain sections of sacred sites. Do not attempt to be photographed with Buddhist bhikkus (monks) or to pose for photos with statues of Buddha or other deities or paintings.
-Do be open and friendly in conversations with locals. Sri Lankans can be quite talkative
What do things cost in Sri Lanka?
While not as cheap as neighbouring India, Sri Lanka is still inexpensive when it comes to travelling. Accommodation can often be found for USD $10-15 for basic guesthouses and slightly more upmarket places won't cost more than USD $30-50 per night. Lunch can be as little as USD $3-5 and dinner won't be more than USD $10 for a decent meal. Beer is usually around USD $2 for a large bottle. Hiring a private driver for the day will come to about USD $50 whereas public transport is a matter of a few dollars for rides that can take as long as 8 hours.
What is the currency in Sri Lanka?
The currency of Sri Lanka is the Sri Lankan Rupee (LKR). Check OANDA for the latest exchange rates.
LKR can be purchased in advance of your arrival and major currencies can be exchanged locally. There are ATMs in Colombo and Kandy and some accept foreign-issued cards. Credit cards are widely accepted for purchases. Visa and Mastercard withdrawals can be performed at banks.
Traveller's Cheques are not recommended as they're often difficult to exchange and incur high fees.
What is the duty free allowance for Sri Lanka?
Travellers are permitted to bring the following into Sri Lanka:
Two bottles of wine and 1.5 litres of spirits
A small quantity of perfume and 250ml of eau de toilette
Souvenirs up to USD $250 in value
There is no duty free allowance for tobacco products. You must declare valuable items such as cameras and laptops on arrival and must take these out of the country again when you leave. Non-prescription drugs and pornography are banned from importation into the country.
What sort of plugs do I need for Sri Lanka and what is the voltage?
Standard voltage is 230-240 volts; 50Hz AC. Primary sockets require round three pin plugs that are similar but not identical to European plugs. We recommend that you pack a universal travel adaptor. You will need a voltage converter and plug adaptor in order to use U.S. appliances.
Is WiFi widely available in Sri Lanka?
WiFi can usually be found in most hotels, restaurants and cafes in Sri Lanka although the speed and security of the connections can vary dramatically. Internet cafes can also be found throughout the country.
What time zone is Sri Lanka on?
Sri Lanka is 5 and a half hours ahead of Greenwich Meantime (GMT) and does not observe Daylight Saving.