Ancient wonders. Hidden treasures. Endless seas and golden sand. Make lifelong memories on our award-winning Egypt trips.
Once a land of dynasties and decadence; now a land where time stands still. We'll take you into the shadows of history with our Egypt tour packages.
Egypt is home to more ancient wonders than you can possibly see in one visit - though we'll give it a good go on our trips! From the iconic Pyramids of Giza in Cairo to Luxor's Valley of the Kings, you'll never run out of things to see if you come back to explore Egypt time and time again.
Discover the tombs of pharaohs in Luxor, one of the world's greatest open-air museums, and head south to the awe-inspiring temple of Abu Simbel. Cruise the mighty Nile by traditional felucca sailing boat, or by luxury Nile cruiser. For those in need of some sun, sea, and sand, many of our tours visit the popular resort of Hurghada, which is ideally located on the Red Sea with plenty of water-based activities to keep you entertained.
As a leading operator of small group tours in Egypt, we offer a wide range of award-winning itineraries, plus a selection of private tours, family holidays, and unique adventures that take in the Sun Festival at Abu Simbel.
Egypt Group Tours
Egypt was our first destination, way back in 1998. This means we've had a long time to perfect our Signature escorted tours and give you the best trip possible to the Land of the Pharaohs! You won't miss a thing on tour, from the Pyramids of Giza to the Valley of the Kings. Sail the Nile aboard a felucca (or upgrade to a luxury Nile cruise!), unwind on the beaches of Hurghada and delve into Cairo's best museums. You'll be escorted the entire way by a degree-qualified local English-speaking tour guide, and you'll stay in the best centrally-located 4-5 star hotels Egypt has to offer.

We also offer a range of combination tours, so you can visit Egypt and then go on to explore Jordan and Israel, or Turkey. And our range of festive tours means you can enjoy an extra special Christmas and New Year's celebration. See our full range of tours below. You can book online, or do not hesitate to contact our team if you have any questions or would like to enquire about a trip!
Egypt Private Tours
If you would like to explore Egypt on a private tour, with just a group of your friends and family, then this can be arranged for you. We can do many of our group itineraries on a private basis, or you can book some of the private tours below off the shelf. Reach out to our team for more information!
Egypt Family Tours
These Egypt family holidays are designed with families in mind. Our family tours are suitable for children aged 5 and over, whilst our teenager tours cater for families with older children of 10 and above. These tours have all the same great benefits of our Signature group tours, but with a bit more free time to relax by the pool. And they are a great way for kids and parents alike to meet like-minded families on holiday!
Egypt Sun Festival Tours
Every year on the 22 February and 22 October, the rising sun illuminates the inner sanctum of Abu Simbel, the temple of Ramses II. It was so designed by the king himself, in order to celebrate his birthday and the anniversary of his ascension to the throne. Centuries later, travellers and locals alike come together at Abu Simbel at dawn to celebrate. For an extra special trip to Egypt, browse our range of Sun Festival tours.
Egypt Short Stays
These trips are great if you're short on time, and want to spend a couple of nights in Cairo in order to see the Pyramids of Giza. These trips can also be booked in conjunction with our longer tours if you'd like to extend your stay in Egypt.
The Grand Egyptian Museum
After years of delays, the Grand Egyptian Museum is finally slated to open in 2023. As soon as the museum opens to the public, we will stop visiting the existing Egyptian Museum in Tahrir Square and will explore the new facility instead. The Grand Egyptian Museum will display never before seen artifacts, feature the near-complete Tutankhamun collection (including his gold funerary mask), and make use of exciting new technology such as virtual reality to give visitors a museum experience like no other, all in the shadow of the pyramids!
Egypt tour reviews
Scoring an average traveller rating of 4.82 out of 5 based on 28 recent reviews — See All Egypt Reviews
"
[New testimonial]I just wanted to say that we so enjoyed our recent holiday to Egypt with On-the-Go. All the arrangements were very smooth and there were no disruptions or issues on our whole tour. The boat Princess Sarah which took us from Aswan to Luxor was clean but I would say tired however the staff were excellent. We loved the Movenpick Hotel in Aswan and the Sonesta St George in Luxor and ideally we would have spent an extra night in either of those hotels and one less night on the boat.
I would like to particularly recommend our guides who were fantastic. Both were incredibly knowledgeable and personable and really helped us understand and appreciate the sites we were visiting. We had Nash in Cairo and then Dr Mo Hosny from Aswan to Luxor. Dr Hosny had worked researching for 5 years at Karnak Temple and so had incredible knowledge to share with us. However he was also very good at providing simple explanations and key information to take away.
We would recommend OntheGo to anyone wanting an more adventurous holiday. Some people commented to us before we went that we were brave to go to Egypt but we felt very safe for the whole tour. "
Linda Taylor
• Submitted 6 Mar 2023
"
I have recently returned from a wonderful fortnight in Egypt. This took in the ancient port city of Alexandria, the war cemeteries and sites of El Alamein, and then carried on from the hustling capital city of Cairo to all the impressive monuments and temples that Egypt is famed for. The tour was made even better by the organisation that OTG provided, both at home, and also in Egypt. From the time I was met at Cairo airport by a representative, to the time I left, the whole tour ran like clockwork. We had three guides in Egypt. Shariff, who took us around Alex and El Alamein; Alam who guided us on the optional excursion around the 'Back Streets of Cairo', and finally Nader who accompanied us for the remainder of the tour. All three without exception were brilliant. Very easy to approach and converse with, fun and full of anecdotes about their country, and of life in Egypt generally. They are clearly all very proud to represent their country, and all should take groups for OTG around Egypt in the future. The trip was held together by Amr, the local rep who did all the behind the scenes work and admin. Again, nothing was too much trouble for him. The transport and drivers we had were also very good. The drivers were prompt and efficient, and the buses were clean, comfortable and very spacious. I enjoyed the felucca trip up the Nile, although the bathroom facilities were rather limited. That aside, the crew were very polite and efficient, and the chef cooked up some excellent meals for us! Possibly the only transport I wasn't so taken by was the overnight sleeper train service, particularly the journey from Cairo to Aswan. I didn't find it very comfortable, and spent most of the night awake! However, this is only a minor 'grumble', and I didn't let it detract from what was otherwise a first rate holiday. I personally had a terrific time, and would definitely recommend On The Go, and this tour, if anyone is thinking of visiting Egypt soon. "
Stephen Gosney
• Submitted 16 Nov 2022
"
We toured for 23 days through Egypt, Jordan and Israel. The tour was well structured - a great itinerary and great/good guides. Our guide in Egypt Mahmoud Ramadan as excellent. He is the main reason I would recommend OnTheGo Tours. This is my fifth trip overseas and I have had countless short tour guides. He is the best! You want to request him if touring with On The Go in Egypt.
I also thoroughly enjoyed my time in Jordan. I was looking forward to Petra but was surprised by how much I loved Wadi Rum, Wadi Mujib and the Dead Sea. This was such a varied experience and a great time. We added a few days at the beginning in Cairo and a few days at the end in Tel Aviv which I would definitely recommend. Overall this was a great trip.
On The Go took very good care of us from meeting us at the airport to the transfer to the airport at the end. Great Service."
Paul Bruce
• Submitted 25 Jul 2022
Frequently asked questions about our touring holidays in Egypt
Will I see the Great Pyramids?
You most certainly will. The world's last remaining ancient wonder has attracted travellers to Egypt throughout the ages and we include this must-see attraction on all our tours. You'll also see the famous Sphinx with the option to ride a camel close to the Pyramids and enter the interior of Khufu. The day of sightseeing also includes the ancient necropolis of Saqqara, home to Zhoser's step pyramid. Your tour guide will be able to tell you all about these legendary sites, as well as show you the best places to take photos.
What options do you offer to cruise the Nile River?
On our tours that travel as far south as Aswan, we include a two night felucca cruise as standard. Feluccas are traditional sail boats with mattresses on the deck where you'll sleep at night. A support vessel accompanies the felucca with an on-board toilet and shower.
There is always the option to
upgrade to a 5 star Nile cruise
, which offers well–appointed, outward facing cabins with air-conditioning and private bathrooms. Alternatively, our
Jewel of the Nile
tour features a 5 star, three night cruise as standard.
Is it safe to visit Egypt?
It's impossible to deem a country safe when you have no control over events but our Egypt holidays have been departing as scheduled ever since the initial travel ban that surrounded the Arab Spring in 2011.
There are rarely any dangerous events in Egypt these days and these are not directed at tourists. The popular sightseeing area along the Nile has no travel restrictions in place. The FCO advises that there is a heightened risk of terrorism in some parts of Egypt but that same advice is also applied to Belgium and France. We do not visit anywhere deemed unsafe by the British Foreign Office on our tours.
In other words, Egypt is no less safe than European destinations during these uncertain times. Consult our
Egypt Travel Advice
page for up-to-date information on the security situation in Egypt.
I want to include a visit to Petra in neighbouring Jordan - is this possible?
If you want to explore more of the region's ancient wonders, we offer a number of tours that combine Egypt with
Jordan
and even
Israel
. Ranging from 12 to 18 days, these multi-country combo tours feature the highlights of both countries including the Rose City of Petra, the otherworldly Dead Sea and the remarkable Wadi Rum. Browse our full collection of Egypt holidays for more details.
How big are your tour groups and what is the age of your travellers?
Our average group size is around 14 passengers and it will never be bigger than 24, so you're guaranteed an intimate small group tour experience. And you'll be travelling with an eclectic mix of English-speaking internationals. You can expect a wide range of ages from those in their 20s to those in their 60s or even 70s. On average though the age hovers somewhere around the early to mid 40s.
What is the standard of hotels on your trips?
You'll be staying in 4-5 star accommodation on our small group Egypt holidays, with a mix of modern properties and grand, classical buildings that are well-known. Our hotels have been chosen for their great locations, amenities and comfort.
What sort of transport do you use?
For transfers between Cairo International Airport, our hotels and local sites, we travel by private, modern air-conditioned vehicles.
You'll also be travelling by 1st class overnight sleeper train between Cairo and Luxor/Aswan. For more information on the sleeper train in Egypt, check out our
Top Travel Tips
page. Between Luxor and Aswan you'll cruise the Nile by felucca for a taste of navigation that has been used in these parts for centuries.
Is Egypt a safe destination for travellers from the LGBTQ+ community?
According to the 2022 LGBTQ+ Travel Safety Index, Egypt scores an F rating for LGBTQ+ traveller safety, ranking 177th out of 203 countries.

Same sex marriage is illegal and there are no constitutional or worker protections in place for the LGBTQ+ community. 0 - 25% of consulted citizens consider Egypt a good place to live for gay and lesbian people. Laws prevent the discussion of pro-LGBTQ+ issues and homosexuality earns a fine and up to 3 years in prison. Possessing homosexual materials receives up to 2 years in prison and a fine.

This does not mean members of the LGBTQ+ community shouldn't visit Egypt, but precautions should be taken when travelling. As long as you use common sense, travelling in Egypt shouldn't be a problem. We take people of all ages, races, genders and sexualities on tour and there are rarely any issues for our travellers in the destination.

The LGBTQ+ Travel Safety Index is designed to provide a good overall picture of attitudes towards the LGBTQ+ community in each country and may not reflect the experience of foreign travellers to the country.
When is the best time to visit Egypt for general sightseeing?
Visit between September and April for the most comfortable temperatures and ideal sightseeing conditions. Between March and August temperatures are high and the heat dry. Many of Egypt's ancient temples are quite exposed, so it can be too hot for sightseeing at these times.
You could consider going for the bi-annual Abu Simbel Sun Festival, which takes place in February and October each year. Not only is the weather great at these times of year but it means you can also coincide your trip with this special event. For more information see our
best time to visit Egypt
page.
Nile felucca cruise VS Luxury River Nile cruise
Many of our Egypt trips include a 2-night felucca cruise, a felucca being a traditional Egyptian sailing boat. Or you will have the option of upgrading to a 3-night luxury cruise on the Nile River. Which should you choose for your Egypt tour? There are some similarities - you'll see all the same riverside temples and sites. So it's down to you to choose which experience best suits you...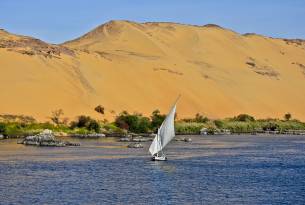 An outdoor adventure
Felucca cruise
Travelling by felucca is an authentic adventure and a great dose of genuine Egyptian culture. By day you'll lounge on comfortable cushions, jump in the Nile River for a swim and eat delicious food prepared by your onboard crew. By night you'll sleep on the same cushions, with curtains drawn around you to keep out the elements. Feluccas have a toilet onboard and are accompanied by a support boat for eating, showering, and socializing. The food is basic but hearty, and there's plenty of it. Find out more with our guide to felucca sailing.
A touch of class
Nile cruising
If you choose to upgrade to a Nile cruise, then you'll spend three nights in 5-star luxury, with one less night in the hotel at Aswan. Cabins are comfortable, with floor-to-ceiling windows for those stunning Nile-side views. You get lots of amenities, including air-conditioning, TV and mini-bar. And there's a sun deck and plunge pool to enjoy while you sail. Food is served buffet style aboard the luxury cruise, with a variety of local and international cuisine on offer. Find out more with our guide to Nile cruising.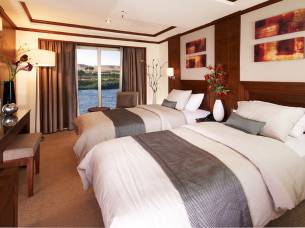 COMBINE EGYPT WITH JORDAN, ISRAEL OR TURKEY
Discover the remarkable history and incredible sights of Egypt, from the mighty pyramids to the awe-inspiring temples of Abu Simbel. Then why not continue to neighbouring Jordan for the Lost City of Petra or Israel for its many important religious sites? Alternatively, you could combine with Turkey for natural wonders and Roman ruins.

Recommended tour: Pyramids, Petra, Promised Land →
The Best of Egypt
Egypt is packed to the rafters with unmissable highlights. From the legendary pyramids to the Valley of the Kings and the beaches of Hurghada, here are our highlights.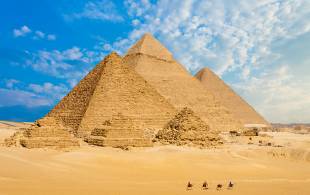 The Pyramids of Giza
The last surviving Ancient Wonder of the World and possibly the most recognizable landmark on the planet. No trip to Egypt is complete without a visit to the great pyramids, which is why we visit on all our Egypt tours.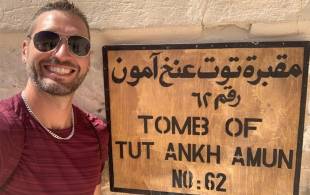 Valley of the Kings
More than 60 pharaohs were entombed here, including the Boy King Tutankhamun. Decorated in hieroglyphs with cavernous burial chambers and secret passages, delve into the tombs of ancient kings.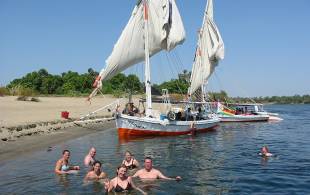 River Nile
The Nile is the lifeblood of Africa, and millions of Egyptians depend on it for growing food in the Nile Valley. Watch the world go by from a traditional felucca sailing boat or take in the scenery from a luxury 5-star Nile cruise between Aswan and Luxor.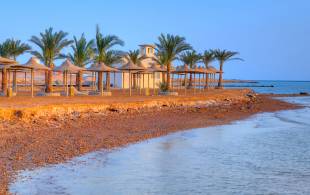 Hurghada
Egypt's Red Sea coast is home to several popular resort towns, but Hurghada is the best. Incredible beaches, watersports, and shopping opportunities abound, with great snorkelling and scuba diving opportunities in the turquoise Red Sea waters too.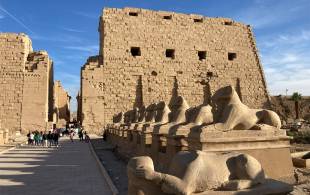 Karnak
One of the largest temple complexes in the ancient world, Karnak was built over centuries, as one pharaoh after another added their own mark. From the towering columns of Hypostyle Hall to the incredible Avenue of the Sphinxes, you won't want to miss it.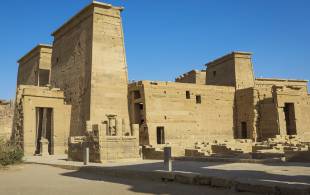 Philae
One of Egypt's prettiest temples, Philae is located near Aswan, on an island on the Nile. Incredibly well-preserved, it's another of Egypt's ancient sites that you may not have heard of but will stay with you forever.