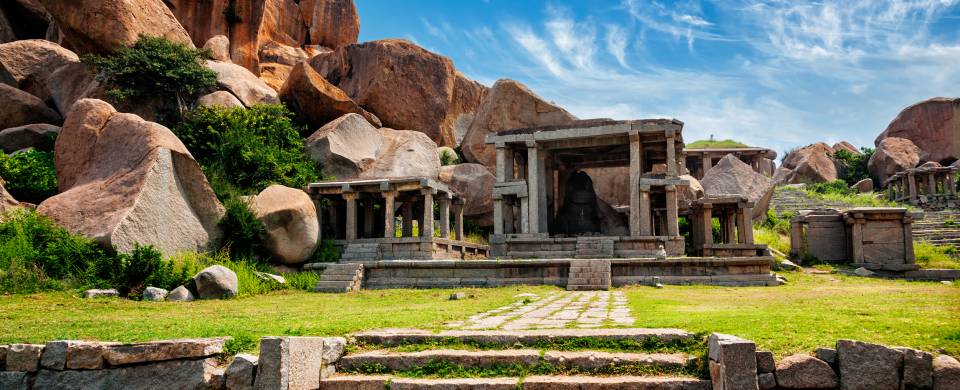 Trips and Tours to Hampi
About Hampi
Steeped in mystery and filled with ancient, crumbling ruins, Hampi is a city unlike any other. With rice paddies stretching out across rolling hills, peppered with banana trees and colossal boulders, the landscape here is sure to enchant you, while the awe-inspiring collection of temples will captivate you even further. Every crack, crumble and fallen brick tells a story in this fascinating region so why not spend a few days marvelling at these tumbling temples. Realistically, the sights and sounds of Hampi could be seen and heard in a day, however, speeding through jars with the laid back vibe here, so take your time and meander at a leisurely pace.
Read More
Naturally, the ruins that characterise this city are the main reason people visit Hampi. The best way to make the most of your time here is to hire a guide to take you through the maze of paths, they will be able to explain some of the history surrounding each of the temples and palaces. The Vittala Temple and the Virupaksha Temple are two of the most frequently visited sites but there are also dozens of smaller, less well-known structures that are equally impressive.
Imbued with rich spiritualism, Hampi is an excellent place for those seeking to reconnect with nature and detox from the chaos of modern life. Yoga classes are readily available and often take place at sunrise. Alternatively, wander through the various markets and bazaars and ogle the beautiful handicrafts. Visitors might also want to pay a visit to 'hippie island', located on the other side of the river and only accessible by boat, or they might prefer seeking out some of Hampi's indigenous wildlife.