Norway Package Trips & Tours
Norway Group Trips
Our Norway group tours are the best way to take in the highlights of this stunning Nordic country, from beautiful Oslo to the dazzling Norwegian fjords and the pretty wooden houses of Bergen. You can visit Norway at any time of the year, but we have separate itineraries for winter and summer. These are clearly marked below, so you just need to decide when you would like to visit!

Whichever Norway tour you choose, you will stay in great quality 3 - 4 star accommodation, and you'll be escorted by an English-speaking tour leader. There will be lots of included sightseeing and optional activities too, to give you the flexibility to see exactly what you want to see in Norway.
Norway Adventure Cruises
For a true adventure, why not head above northern Norway to the little-known archipelago of Svalbard, located deep in the Arctic Circle and home to more polar bears than people? Our Wild Wonders of the Arctic escorted summer tour departs in 2023 & 2024 on a brand new expedition cruiser, which launched in November 2022. You'll take in jaw-dropping glaciers, colossal icebergs, and tiny human settlements. And you'll get to see an array of iconic wildlife on this truly off-the-beaten-track adventure to northern Norway!
Experience the great outdoors and Scandi sophistication with our Norway package trips. Book today!
Let On The Go Tours transport you to a place of supreme beauty and abundant outdoor adventure: visit Norway. Within the Article Circle, Norway holds a wonderful wintry landscape. Envisage picture-perfect Norwegian fjords. Forest-clad mountains. Pristine lakes. Gigantic glaciers. Rugged coastlines. Affording travelers opportunities for fishing, hiking, climbing, kayaking, and biking. Charming cities and towns punctuate these landscapes, from picturesque UNESCO-listed Bergen to lively Tromsø and the idyllic village of Balestrand.
Discover the magic of Norway for yourself on a guided small group tour. Our Norway trips explore the fjords by boat, ride the scenic Flåm railway, delve into the country's chequered Viking history, and enjoy the vibrant capital of Oslo. Journey to the extreme north of the country or the Svalbard archipelago for an Arctic adventure. Whether you want to experience Norway in the summer when the countryside is alive with color or in the depths of winter when it becomes a snowy wonderland illuminated by the Northern Lights at night, we've got the package for you.
Norway Short Stays & City Breaks
In Oslo and Bergen, we offer 3-4 day short breaks, perfect for a Norwegian long weekend or for bolting onto one of our longer tours in Scandinavia. You'll stay in quality 4-star accommodation and enjoy a great mix of included sightseeing and free time.
Explore more countries like Norway
Frequently asked questions about our Norway trips
Will I visit Oslo on your Norway tours?
All of our Norway group tour packages (and our Wild Wonders of the Arctic expedition cruise) start or finish in the Norwegian capital, and most include a guided sightseeing tour of the city. We can also book pre or post-tour accommodation for you, if you would like to spend a few extra days exploring captivating Oslo.
What sort of accommodation do you use in Norway?
We use good quality, well-located 3-4 star hotels on our Norway trips. You can see some of the hotels we typically use for each tour on the relevant webpage, though we do reserve the right to switch these for other hotels of a similar standard.

On our Wild Wonders of the Arctic Norway tour, you will be staying aboard the brand new Ocean Albatros expedition cruiser, which launched in November 2022.
How big are the groups on your Norway tours and what is the age of your travellers?
The maximum group size on our Norway group tours ranges between 30 and 40, depending on the tour. These tours depart with a minimum of two passengers. The capacity of the Ocean Albatros for our Wild Wonders of the Arctic expedition cruise is 198.

Our Norway tours attract travelers of a range of ages, from their late twenties and thirties, up into their 60s and beyond. As long as you are relatively fit and active, you will have a great time on your Norway tour, and are sure to make new friends during your trip!
What sort of transport do you use on your Norway trips?
We use a mixture of transportation on tour in Norway. As well as some travel by coach, you can expect a fjord cruise or two, ferry crossings and a ride on the spectacular panoramic Flam railway. This is perhaps the most scenic rail journey in the world, and certainly one of the steepest! It is sure to be a highlight of your trip, as will discovering the Norwegian fjords! You will also benefit from an included arrival transfer by taxi at the start of your tour.
When is the best time to visit Norway?
Norway is a year-round destination, which is why we offer both summer and winter itineraries. Temperatures are milder from May - October, but the scenery in winter is stunning if you are willing to put up with the cold!

If heading deep into the Arctic Circle to explore Svalbard, then the waters off the Norwegian coast are only navigable during the short summer months, when the extent of sea ice is reduced. At this time of year, Svalbard experiences midnight sun. This is when the sun stays above the horizon for the entire day - so pack an eye mask if you want some sleep!

For more information about the best time to visit Norway, we have put together a useful guide for you.
Is Norway a safe destination for travellers from the LGBTQ+ community?
According to the 2022 LGBTQ+ Travel Safety Index, Norway scores an A- rating for LGBTQ+ traveler safety, ranking 8th out of 203 countries.

Same sex marriage is legal, and there are constitutional and worker protections in place for people of all sexual orientations. Hate crimes against members of the LGBTQ+ community are partially criminalized and 76 - 100% of consulted citizens consider Norway a good place to live for gay and lesbian people. There are no legal punishments for same sex relations and most trips for LGBTQ+ travelers to Norway are trouble-free.

The LGBTQ+ Travel Safety Index is designed to provide a good overall picture of attitudes towards the LGBTQ+ community in each country and may not reflect the experience of foreign travelers to the country.
Can I drink the tap water on your Norway package tours?
Yes! Thanks to its numerous clean rivers, glaciers, and summer snowmelt, the water in Norway is some of the purest to be found anywhere in the world and the tap water is perfectly safe and delicious! When you visit Norway, we recommend bringing a reusable bottle on tour to save you money and reduce your plastic footprint.
Will I see the Northern Lights on tour in Norway?
The Northern Lights are visible in Norway during the winter months, from around September to March. They are most visible in the more northerly parts of the country, deep inside the Arctic Circle, which our tours generally don't visit. We tend to stay in southern Norway, where the main settlements of Oslo and Bergen are found.

However, despite being outside the Arctic Circle, it is certainly not unheard of for the Northern Lights to illuminate the skies around Oslo, so don't rule it out! If you're out in the countryside, away from the bright lights of the city, then you will have an even better chance to spot the famous Aurora Borealis.

In Svalbard, which sits inside the Arctic Circle, you will have an even better chance to spot the Northern Lights, with longer, darker nights and less light pollution once you're outside Longyearbyen (the world's most northern town!). Just make sure to keep an eye out for polar bears! Please note that our Svalbard expedition cruise only operates in the summer months, when there is midnight sun instead of Northern Lights!
Will I have a tour guide in Norway?
Yes, you will have a local English-speaking guide for sightseeing when you visit Norway on a small group tour with us. This will generally include a guided tour in key destinations such as Oslo, and Bergen. You will be escorted throughout your Norway small group tour. So you can focus on enjoying your holiday, without worrying about the logistics!
What is the currency in Norway?
The official currency in Norway is the Norwegian krone, written as NOK. Banknotes come in denominations of 50kr, 100kr, 200kr, 500kr and 1000kr. Check OANDA for the latest exchange rates.

Pound Sterling, US Dollars, Euro and other major currencies can be easily exchanged for Norwegian krone in Norway, with banks and bureau de changes offering better exchange rates once in the destination.
What is the current travel advice for Norway?
As a UK-based company, we follow the latest up to date advice from the Foreign and Commonwealth Office (FCDO). You can see the latest travel advice and local laws for when visiting Norway here. The advice can change so check regularly for updates!
The Magic of the Fjords on our Norway Trips
Discover some of Norway's most famous landscapes with a ferry cruise through the dramatic fjords: they are Norway in a nutshell. Spectacular scenery. Vast natural wonders. Fresh, crisp air. Where forest-clad mountains plunge into the deep waters below. Practically untouched since the ice ages when vast glaciers cut their way through ancient mountains, the Norwegian fjords are a magical destination with cascading waterfalls, quiet villages, spectacular scenery and prime wilderness.
The Best of our Norway Trips
From the captivating capital of Oslo, to beautiful Bergen and the wild Svalbard archipelago, here are the places you simply cannot miss when you visit Norway on a package tour.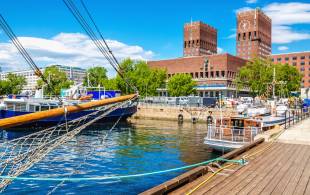 Oslo
Growing in popularity as a city break destination, Oslo has something for everyone and is a must when visiting Norway. A selection of world-class museums, beautiful green spaces, stunning architecture, and delicious food - what's not to like?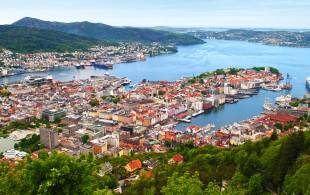 Bergen
Surrounded by dramatic mountain scenery and dense forest, Bergen in southern Norway is best known for its colorful UNESCO-listed wharf, home to pretty wooden houses. It's also the gateway to the Norwegian fjords, with incredible scenery and picturesque fjords all around.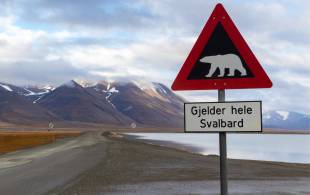 Svalbard
Deep inside the Arctic Circle, this remote archipelago is located several hundred miles north of northern Norway! The main settlement Longyearbyen is home to just a handful of people, and there are more polar bears than human inhabitants. An incredible place to explore on an expedition cruise.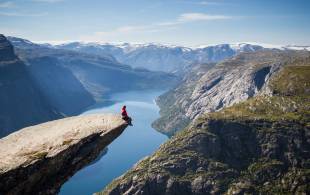 The Sognefjord
Norway is famous for its beautiful network of fjords, and the Sognefjord is the deepest and second-longest in the country. A memorable fjord cruise yields views of cascading waterfalls, rugged mountain peaks and emerald vegetation rising up the steep slopes.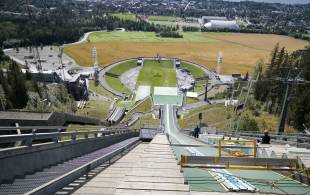 Lillehammer
Lillehammer hosted the 1994 Winter Olympics and remains a fascinating place to explore, particularly if you're after a skiing holiday! The landscapes here are stunning and it is very accessible from Oslo, making it a great option for visiting before or after your tour.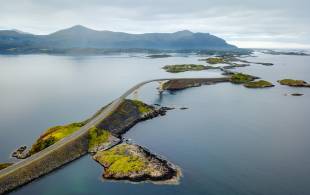 The Atlantic Road
You've definitely seen the photos of the Atlantic Road. This beautiful ribbon of tarmac features seven bridges across the ocean, hopping from island to island and past stunning scenery on what is surely one of the world's finest road trips.