Tibet Travel with On The Go Tours
For centuries the Buddhist Kingdom of Tibet was hidden away from the rest of the world, nestled in the vast snow-capped peaks of the Himalayas. Not any more. A land of mysterious treasures, rich history, sublime beauty, and welcoming people, Tibet is enthralling for travelers. With breathtaking mountain peaks, glistening lakes, and a wealth of trekking trails, the adventurous will delight in this Land of Snows.
Your Tibet tour is best combined with a trip to China, and our
Highlights of China & Tibet
group tour is a great option. Or you can visit Tibet with one of our private tours, which can be designed to suit you!
As the home of the Dalai Lama, and brimming with sacred temples and ancient monasteries draped in prayer flags, Tibet also offers a unique insight into Buddhism. Browse our range of Tibet tours below and don't hesitate to
reach out to our team
if you would like to start planning your own visit to Tibet.
Tibet Group Tours
Browse our selection of Tibet group tours, taking in all the vibrant highlights of this less-explored but fascinating region. From the thirteen-story Potala Palace, once home to the Dalai Lama, to the vast untamed wilderness of the Tibetan Plateau, see it all with our award-winning trips. Escorted as always by a local, English-speaking tour guide.
Tailor-made Holidays
The mystical "roof of the world" is a land of immense natural beauty and unique culture shaped by Buddhism and left untouched until the 1950s, and whether you're looking to explore the incredible capital home to imposing palaces and impressive temples, or head off the beaten track for stunning high altitude lakes and open grasslands, we're here to help. Our Tailor-made team are on hand to create your perfect Tibet tour, building the perfect itinerary for your individual requirements and interests.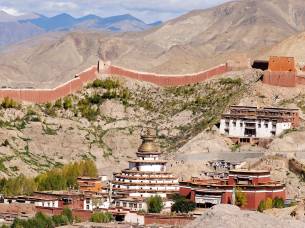 monasteries and mountains
Travelling Beyond Lhasa
Your Tibetan trip is likely to be based in beautiful Lhasa, home to the spectacular Potala Palace. Outside of Lhasa, explore the charming town of Gyantse, marvel at Tibet's three sacred lakes. Visit a myriad of ancient monasteries and sacred temples in Shigatse – Tibet's second most important city, and discover Yumbulakhang Palace – the oldest palace in Tibet. Wherever you visit on your Tibet tour, you'll experience the best of Tibetan culture and architecture.
pretty potala palace
Tibet's Number One Destination
This spectacular dzong fortress in Lhasa was the winter home of the Dalai Lama for more than 300 years, from 1649 until the spiritual leader's exile to India in 1959. Since then it has become a museum, and it is by far the most visited destination in Tibet. Listed by UNESCO in 1994, it features 13 stories of shrines, offices, and apartments, ripe for exploration! Whether you join us in Tibet on a group or private tour, we'll make sure you take in this most important of highlights.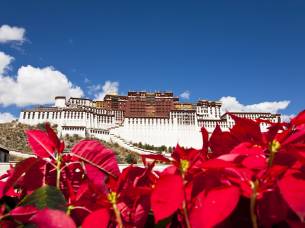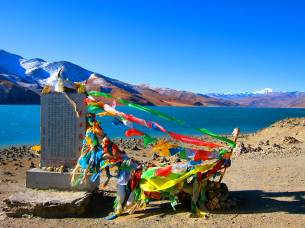 three sacred lakes
Spectacular Yamdrok Lake
Of Tibet's three holy lakes, Yamdrok is the most famous, and for good reason. You can catch a glimpse of Mount Everest on a clear day, and soak up some of the Himalayas' famous scenery. Yamdrok Lake is surrounded by snow-capped mountains and is a popular pilgrimage destination. It's a tranquil, peaceful place, and is sure to be one of the highlights of your Tibet tour.
Recommended places to visit in Tibet
Nestled between China and Nepal along the Himalayan mountain range, Tibet is not short on incredible natural scenery and panoramic vistas. but it's also home to imposing palaces, beautiful cities, and peaceful monasteries. If you're looking to explore Tibet for yourself, then here is our pick of the best places to visit on your Tibet trip.